AW | 2018 01 15 17:37 | AIRPORTS
Los aeropuertos regionales de Francia se benefician del impulso del tráfico aéreo y las aerolíneas de bajo costo
Burdeos, Marsella y Nantes registraron un aumento en el tráfico de pasajeros, a pesar de la competencia del tren de alta velocidad.
La tensión del debate en torno al proyecto del Aeropuerto de Notre-Dame-des-Landes no impide que los británicos tomen el avión. El tráfico aéreo en la región de Nantes está creciendo, logrando que ni los debates políticos ni la aceleración del TGV impidiesen que el Aeropuerto de Nantes Atlantique rompiera todos sus récords, superando en 2017 los 5 millones de pasajeros, un incremento del orden del 10% con respecto del añño anterior.
Nuevo Aeropuerto Notre-Dame-des-Landes
Una pequeña discrepancia que debería hacer a todos los expertos más modestos que los estudios previos, los que justificaron la inversión del nuevo Aeropuerto Notre-Dame-des-Landes, debería ser capaz de absorber un aumento significativo en el tráfico aéreo. Muchos lugareños se oponen al proyecto, mientras que otros subrayan la urgencia de una nueva infraestructura aeroportuaria.
La extensión de las líneas ferroviarias de alta velocidad a Rennes y Burdeos debería haber tenido un impacto muy negativo en el transporte aéreo hacia el oeste y el suroeste. El año pasado, ocurrió lo contrario, el Aeropuerto de Burdeos vio aumentar su tráfico en casi un 8%, mientras que la ciudad está a solo dos horas en tren. 
French regional airport traffic increase
France's regional airports benefit from the boost in air traffic and low-cost airlines
Bordeaux, Marseille and Nantes registered an increase in passenger traffic, despite competition from the high-speed train.
The tension of the debate surrounding the Notre-Dame-des-Landes Airport project does not prevent the British from taking the plane. Air traffic in the Nantes region is growing, so that neither the political debates nor the acceleration of the TGV prevented the Nantes Atlantique Airport from breaking all its records, exceeding in 2017 the 5 million passengers, an increase of the order of 10% with respect to the previous year.
New Notre-Dame-des-Landes Airport
A small discrepancy that should make all experts more modest than the previous studies, which justified the investment of the new Notre-Dame-des-Landes Airport, should be able to absorb a significant increase in air traffic. Many locals oppose the project, while others stress the urgency of a new airport infrastructure.
The extension of the high-speed rail lines to Rennes and Bordeaux should have had a very negative impact on air transport to the west and the southwest. Last year, the opposite happened, the Bordeaux Airport saw its traffic increase by almost 8%, while the city is only two hours by train. A \ W
Augmentation du trafic de l'aéroport régional français
Les aéroports régionaux bénéficient de l'essor du trafic aérien et des compagnies aériennes low-cost
Bordeaux, Marseille et Nantes ont enregistré une augmentation du trafic passagers, malgré la concurrence du train à grande vitesse.
La tension du débat entourant le projet de l'Aéroport Notre-Dame-des-Landes n'empêche pas les Britanniques de prendre l'avion. Le trafic aérien dans la région nantaise est en croissance, de sorte que ni les débats politiques ni l'accélération du TGV n'ont empêché l'aéroport de Nantes Atlantique de battre tous ses records, dépassant en 2017 les 5 millions de passagers, soit une augmentation de l'ordre de 10% par rapport à l'année précédente.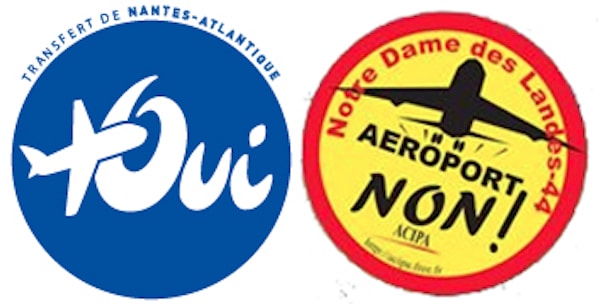 Nouvel aéroport de Notre-Dame-des-Landes
Une petite divergence qui devrait rendre tous les experts plus modestes que les études précédentes, ce qui justifiait l'investissement du nouvel Aéroport de Notre-Dame-des-Landes, devrait permettre d'absorber une augmentation significative du trafic aérien. De nombreuses sections locales s'opposent au projet, tandis que d'autres soulignent l'urgence d'une nouvelle infrastructure aéroportuaire.
L'extension des lignes ferroviaires à grande vitesse vers Rennes et Bordeaux aurait dû avoir un impact très négatif sur le transport aérien à l'ouest et au sud-ouest. L'année dernière, le contraire s'est produit, l'aéroport de Bordeaux a vu son trafic augmenter de près de 8%, alors que la ville n'est qu'à deux heures de train. A \ W
Ξ A I R G W A Y S Ξ
SOURCE:  Airgways.com
DBk: Storage.canalblog.com / Leparisien.fr / La-croix.com / Oncheray / Francetvinfo.fr
AW-POST: 2018011737AR
A\W   A I R G W A Y S ®