AW | 2018 10 29 19:09 | INDUSTRY
Nuevo Presidente electo de Brasil, Jair Bolsonaro, aprueba alianza de Boeing-Embraer
Después de la victoria electoral en Brasil, los cielos entre la futura alianza Boeing-Embraer son más reales. Por medio de un Joint Venture, The Boeing Company tomaría el control de la línea de aviones comerciales brasileños, para contrarrestar la alianza Airbus-Bombardier.
Boeing y Embraer, como en una jugada de ajedrez, están moviendo las piezas para fortalecer posiciones estratégicas. Los dos fabricantes acordaron la creación de un Joint Venture, una empresa conjunta con 80% propiedad del gigante de los Estados Unidos, Boeing, y a la que la brasileña Embraer trae su división regional de aviones aportando un 30% de la participación accionarial de la nueva alianza industrial. La operación le costará a Boeing US$ 3.8 mil millones para responder a la alianza de Airbus-Bombardier en torno al Programa CSeries, ahora denominado A220.
Posición política
Tras la victoria en las Elecciones Presidenciales 2018 en Brasil de Jair Bolsonaro, la nueva política vislumbra un acercamiento y robustecimiento de las relaciones entre Embraer y Boeing. El actual Ministro de Defensa, Joaquim Silva y Luna expresó que esta operación podría ser aprobada por la actual administración del Presidente Michel Temer, pero que al equipo de Jair Bolsonaro le gustaría conocer los detalles de este proyecto.
El control por parte de Boeing de la división principal de Embraer parece ser positiva para Brasil, y el acuerdo de las dos compañías todavía pueden ser firmados en el Gobierno el Presidente Michel Temer, a pesar de que el equipo de transición del Presidente electo Jair Bolsonaro (PSL) quiere conocer los detalles de la operación, dijo el lunes el futuro Ministro de Defensa, Augusto Heleno.
Boeing y Embraer anunciaron a principios de Julio 2018 la creación de una empresa conjunta valorada en unos US$ 4,75 mil millones de dólares (€ 4,17 mil millones de euros) que otorga al grupo estadounidense una participación de control en la división de aviones comerciales brasileños. En el Programa de la línea de aeronaves Embraer se encuentran los Emb-120 turboprop, la familia E-135/145, E175, E190/195.
El control de Boeing en el Joint Venture permitirá al constructor americano ingresar nuevamente al sector regional, recordando su paso por el dominio en la década de 1980, cuando el Gobierno de Canadá privatizó De Havilland Canadá (DHC) y en 1986 vendió la compañía de aviones comerciales a The Boeing Company, en aquel entonces con sede en Seattle, Washington. DHC fue finalmente adquirida por Bombardier Aerospace con sede en Montreal en 1992.
Boeing tiene ante sí una nueva oportunidad de poder dominar la segmentación completa de la aviación comercial,algo que en la actualidad tendrá que compartir con su archirival Airbus y los nuevos programas industriales que se asoman en todo el mundo. 
Boeing-Embraer in the final straight
New President-elect of Brazil, Jair Bolsonaro, approves alliance of Boeing-Embraer
After the electoral victory in Brazil, the skies between the future Boeing-Embraer alliance are more real. Through a Joint Venture, The Boeing Company would take control of the line of Brazilian commercial aircraft, to counter the Airbus-Bombardier alliance.
Boeing and Embraer, as in a chess move, are moving the pieces to strengthen strategic positions. The two manufacturers agreed on the creation of a Joint Venture, a joint venture with 80% owned by the giant of the United States, Boeing, and to which the Brazilian Embraer brings its regional division of aircraft contributing 30% of the shareholding of the new industrial alliance The operation will cost Boeing US $ 3.8 billion to respond to the Airbus-Bombardier alliance around the CSeries Program, now called A220.
Political position
After the victory in the Presidential Elections 2018 in Brazil by Jair Bolsonaro, the new policy envisages a rapprochement and strengthening of relations between Embraer and Boeing. The current Minister of Defense, Joaquim Silva and Luna said that this operation could be approved by the current administration of President Michel Temer, but that the team of Jair Bolsonaro would like to know the details of this project.
E190/195 E2 IS THE AIRCRAFT REGIONAL COMMERCIAL AVIATION THAT WILL COMPETE WITH THE A220
Boeing's control of Embraer's main division appears to be positive for Brazil, and the agreement of the two companies can still be signed in the government by President Michel Temer, despite the fact that the transition team of President-elect Jair Bolsonaro (PSL) wants to know the details of the operation, said on Monday the future Minister of Defense, Augusto Heleno.
Boeing and Embraer announced in early July 2018 the creation of a joint venture valued at some US $ 4.75 billion (€ 4.17 billion) that gives the US group a controlling interest in the division of Brazilian commercial aircraft. The Embraer Aircraft Line Program includes the Emb-120 turboprop, the E-135/145, E175, E190 / 195 family.
The control of Boeing in the Joint Venture will allow the American constructor to enter the regional sector again, remembering his passage through the domain in the 1980s, when the Government of Canada privatized De Havilland Canada (DHC) and in 1986 sold the aircraft company commercials to The Boeing Company, then based in Seattle, Washington. DHC was finally acquired by Bombardier Aerospace based in Montreal in 1992.
Boeing has before it a new opportunity to be able to master the complete segmentation of commercial aviation, something that at present it will have to share with its archirival Airbus and the new industrial programs that appear around the world. A \ W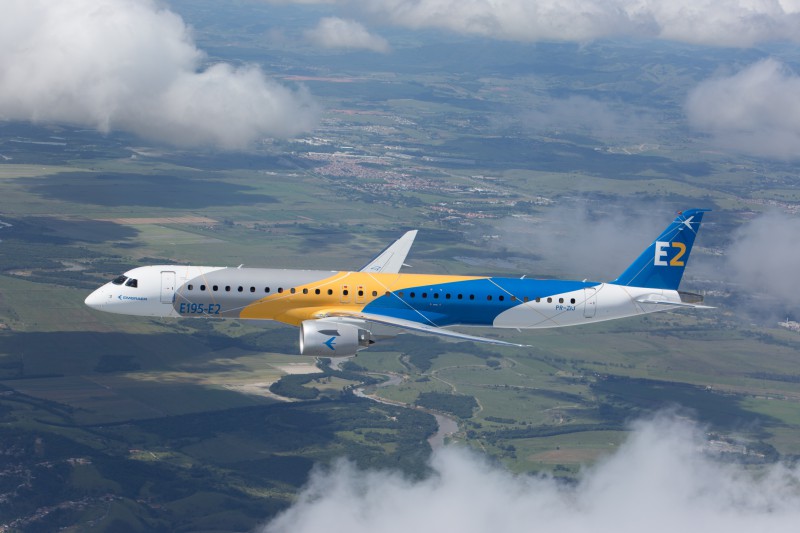 Boeing-Embraer na reta final
Novo presidente eleito do Brasil, Jair Bolsonaro, aprova aliança da Boeing-Embraer
Depois da vitória eleitoral no Brasil, os céus entre a futura aliança Boeing-Embraer são mais reais. Por meio de uma joint venture, a The Boeing Company assumiria o controle da linha de aeronaves comerciais brasileiras, para combater a aliança Airbus-Bombardier.
A Boeing e a Embraer, como em um movimento de xadrez, estão movendo as peças para fortalecer posições estratégicas. Os dois fabricantes concordaram em criar uma joint venture, uma joint venture de 80% de propriedade da gigante americana, Boeing e Embraer brasileira traz sua divisão de aeronaves regionais contribuindo 30% do capital social da nova aliança industrial A operação custará à Boeing US $ 3,8 bilhões para responder à aliança Airbus-Bombardier em torno do Programa CSeries, agora chamado de A220.
Posição política
Após a vitória nas eleições presidenciais de 2018 no Brasil por Jair Bolsonaro, a nova política prevê uma aproximação e fortalecimento das relações entre a Embraer e a Boeing. O atual ministro da Defesa, Joaquim Silva e Luna, disse que esta operação poderia ser aprovada pela atual administração do presidente Michel Temer, mas que a equipe de Jair Bolsonaro gostaria de conhecer os detalhes deste projeto.
Controle pela Boeing da principal divisão da Embraer parece ser positiva para o Brasil, e o acordo das duas empresas podem ainda ser assinado no governo do presidente Michel Temer, embora a equipe de transição do presidente eleito Jair Bolsonaro (PSL) quer saber os detalhes da operação, disse na segunda-feira o futuro ministro da Defesa, Augusto Heleno.
A Boeing e a Embraer anunciaram no início de julho de 2018 a criação de uma joint venture avaliada em cerca de US $ 4,75 bilhões (4,17 bilhões de euros) que dá ao grupo norte-americano uma participação majoritária na divisão de Aeronaves comerciais brasileiras. O programa da Embraer Aircraft Line inclui o turboprop Emb-120, a família E-135/145, E175, E190/195.
Controle Boeing na Joint Venture irá permitir que o construtor americano re-entrar na indústria regional, recordando o seu passo pelo domínio na década de 1980, quando o Governo do Canadá privatizada De Havilland Canada (DHC) e em 1986 vendeu a aeronave empresa comerciais para a The Boeing Company, então sediada em Seattle, Washington. A DHC foi finalmente adquirida pela Bombardier Aerospace, com sede em Montreal, em 1992.
A Boeing tem diante de si uma nova oportunidade de poder dominar a segmentação completa da aviação comercial, algo que atualmente terá que compartilhar com seu Airbus arquirrival e os novos programas industriais que aparecem ao redor do mundo. A\W
Ξ A I R G W A Y S Ξ
SOURCE: Airgways.com
DBk: Boeing.com / Embraer.com / Airgways.com / Lefigaro.fr
AW-POST: 201810291909AR
A\W   A I R G W A Y S ®