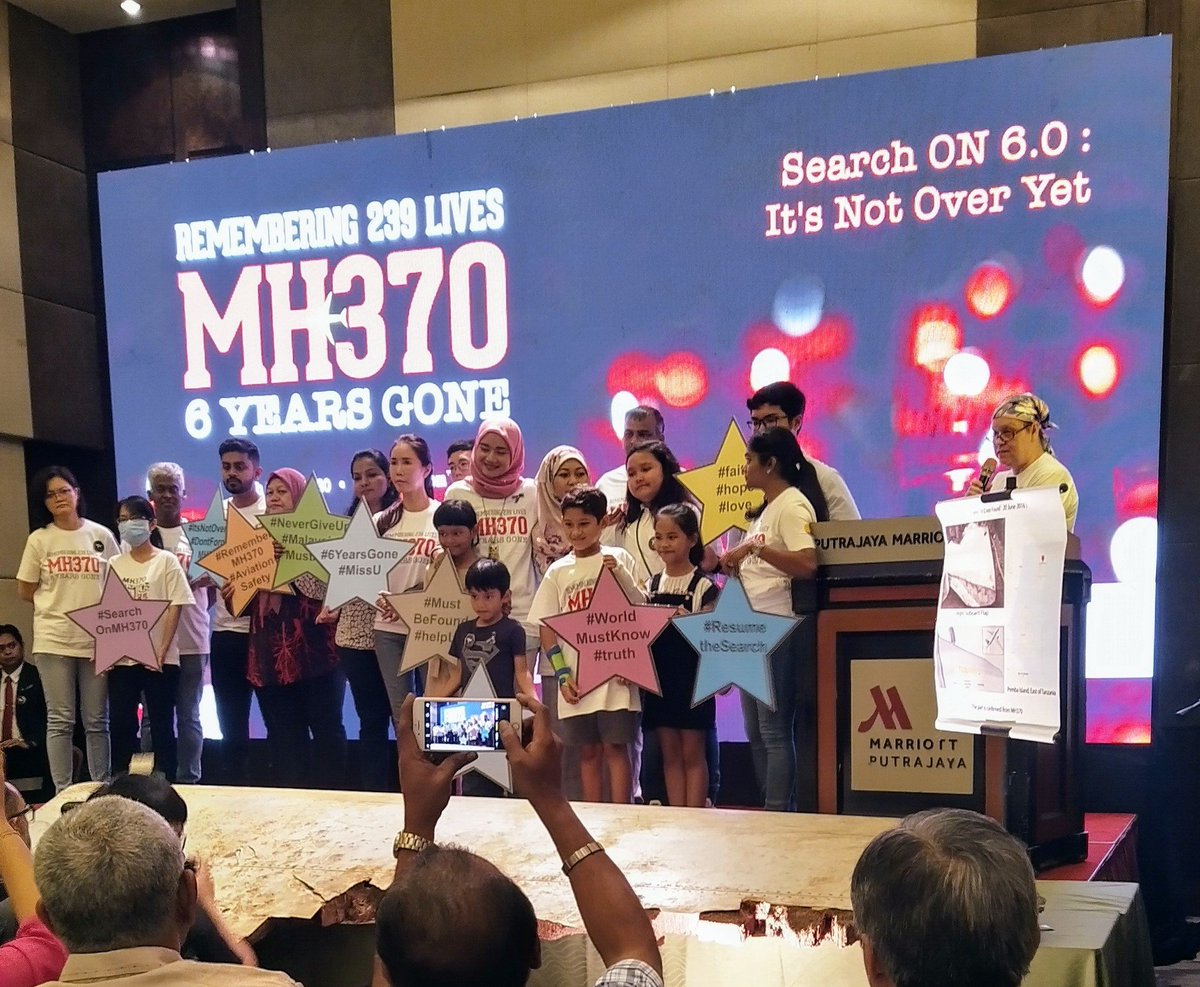 AW | 2020 03 08 09:19 | AIR INVESTIGATION / AVIATION SAFETY
El vuelo MH-370 de Malaysia Airlines sigue siendo un misterio seis años después, mientras las familias apelan por una nueva búsqueda
La desaparición del vuelo MH-370 de Malaysia Airlines hace seis años el domingo sigue siendo uno de los acertijos de aviación más inquietantes del mundo. El avión Boeing 777-200ER efectuaba la ruta desde Kuala Lumpur a Beijing el 8 Marzo 2014 cuando desapareció con 239 personas a bordo. Las búsquedas masivas en los años posteriores no han podido localizar el avión, sólo se han encontrado restos de partes de la aeronave desaparecida.
Reclamo familiares
Un pedazo de escombros, que se cree que proviene del avión desaparecido, se exhibió en la reunión como lo fue hace un año atrás. Los familiares marcaron el sexto aniversario del vuelo MH-370 con nuevos llamamientos a las autoridades para obtener respuestas, el 8 Marzo 2020 al reunirse para conmemorar el 6º año de la desaparición del vuelo MH-370. «El dolor sigue siendo el mismo, el hecho de que el avión sigue desaparecido sigue siendo el mismo, y el hecho de que no sabemos lo que sucedió con el avión sigue siendo el mismo. Hay más preguntas que respuestas y ese no debería ser el caso después de seis años», dijo Grace Nathan, una abogada cuya madre era en el vuelo.
Búsquedas sin resultados
Malasia, China y Australia terminaron una búsqueda submarina de dos años en el sur del Océano Índico en enero de 2017 después de no encontrar rastros del avión. La búsqueda le costó a los países US$ 132.90 millones. En 2018, Malasia contrató a la compañía estadounidense Ocean Infinity para reanudar la búsqueda en una base de sin honorarios, lo que significa que pagaría a la empresa hasta US$ 70 millones si encontrara el avión. Una búsqueda de 138 días también fue infructuosa.
El ex Primer ministro de Malasia, Najib Razak, dijo que esperaba que el nuevo gobierno reiniciara los esfuerzos de búsqueda. Se espera que el Ministerio de Transporte de Malaysia se reúna con el primer ministro Tan Sri Muhyiddin Yassin la próxima semana para presentar un documento del Gabinete sobre indemnización a los familiares de las víctimas a bordo de Malaysian Airlines MH-370 que desapareció el 8 Marzo 2014.
Su Secretario General, Datuk Isham Ishak, dijo que la compensación sería un acuerdo extrajudicial por las demandas presentadas por los beneficiarios de las víctimas involucradas contra el gobierno de Malasia y agencias relacionadas. «Ya presenté mi solicitud para reunirme con el Primer Ministro la próxima semana para poder presentar el documento. Haré todo lo posible para obtener el apoyo que ustedes anhelaron durante los últimos seis años», dijo en el sexto aniversario de la desaparición del vuelo MH-370. Isham dijo que el ministerio también continuará buscando el apoyo del nuevo Gobierno para reanudar la búsqueda del avión perdido.
Ξ 6TH MALAYSIA MH370 ANNIVERSARY Ξ
Malaysia Airlines flight MH-370 remains a mystery six years later, while families appeal for a new search
The disappearance of Malaysia Airlines flight MH-370 six years ago on Sunday remains one of the most disturbing aviation puzzles in the world. The Boeing 777-200ER plane made the route from Kuala Lumpur to Beijing on March 8, 2014, when it disappeared with 239 people on board. Massive searches in subsequent years have failed to locate the plane, only remains of parts of the missing aircraft have been found.
Family claim
A piece of rubble, believed to be coming from the missing plane, was exhibited at the meeting as it was a year ago. Family members marked the sixth anniversary of flight MH-370 with new appeals to the authorities for answers, on March 8, 2020, when they met to commemorate the 6th year of the disappearance of flight MH-370. «The pain remains the same, the fact that the plane is still missing remains the same, and the fact that we don't know what happened to the plane remains the same. There are more questions than answers and that shouldn't be the case after six years», said Grace Nathan, a lawyer whose mother was on the flight.
Searches without results
Malaysia, China and Australia completed a two-year underwater search in the southern Indian Ocean in January 2017 after finding no traces of the plane. The search cost the countries US$ 132.90 million. In 2018, Malaysia hired the American company Ocean Infinity to resume the search on a no-fee basis, which means it would pay the company up to US$ 70 million if it found the plane. A 138-day search was also unsuccessful.
Former Malaysian Prime Minister Najib Razak said he expected the new government to restart search efforts. The Malaysian Ministry of Transportation is expected to meet with Prime Minister Tan Sri Muhyiddin Yassin next week to present a document from the Cabinet on compensation to the families of victims aboard Malaysian Airlines MH-370 that disappeared on March 8, 2014.
Its Secretary-General, Datuk Isham Ishak, said the compensation would be an out-of-court settlement for the lawsuits filed by the beneficiaries of the victims involved against the Malaysian government and related agencies. «I have already submitted my request to meet with the Prime Minister next week to be able to present the document. I will do my best to obtain the support that you longed for during the last six years», he said on the sixth anniversary of the disappearance of the MH- flight. 370. Isham said the ministry will also continue to seek support from the new government to resume the search for the lost plane.
Ξ 6TH ANNIVERSARY MALAYSIA MH370 Ξ
Penerbangan Malaysia Airlines MH-370 kekal sebagai misteri enam tahun kemudian, sementara keluarga merayu untuk mencari baru
Kehilangan pesawat Malaysia Airlines MH-370 enam tahun lalu pada Ahad kekal sebagai salah satu teka-teki penerbangan yang paling mengganggu di dunia. Pesawat Boeing 777-200ER membuat laluan dari Kuala Lumpur ke Beijing pada 8 Mac 2014 apabila ia hilang dengan 239 orang di atas kapal. Pencarian besar-besaran pada tahun-tahun berikutnya telah gagal untuk mencari pesawat, hanya sebahagian dari pesawat yang hilang.
Tuntutan keluarga
Sebatang runtuhan, yang dipercayai berasal dari pesawat yang hilang, dipamerkan pada mesyuarat itu seawal tahun lalu. Anggota keluarga menandakan ulang tahun keenam penerbangan MH-370 dengan rayuan baru kepada pihak berkuasa untuk jawapan, pada 8 Mac, 2020, ketika mereka bertemu untuk memperingati tahun ke-6 hilangnya pesawat MH-370. «Kesakitan masih sama, hakikat bahawa pesawat masih hilang masih sama, dan hakikat bahawa kita tidak tahu apa yang terjadi pada pesawat tetap sama. Ada banyak pertanyaan daripada jawapan dan itu tidak sepatutnya kes selepas enam tahun», kata Grace Nathan, seorang peguam yang ibunya berada dalam penerbangan.
Carian tanpa hasil
Malaysia, China dan Australia melengkapkan pencarian dua tahun bawah air di selatan Lautan Hindi pada Januari 2017 selepas tidak menemukan jejak pesawat. Kos carian negara-negara AS $ 132.90 juta. Pada tahun 2018, Malaysia mengupah syarikat American Ocean Infinity untuk meneruskan pencarian tanpa bayaran, yang bermaksud ia akan membayar syarikat itu sehingga US$ 70 juta jika ia mendapati pesawat itu. Carian selama 138 hari juga tidak berjaya.
Bekas Perdana Menteri Malaysia, Najib Razak berkata beliau menjangkakan kerajaan baru memulakan usaha mencari semula. Kementerian Pengangkutan Malaysia dijangka bertemu dengan Perdana Menteri Tan Sri Muhyiddin Yassin minggu depan untuk membentangkan dokumen dari Kabinet mengenai pampasan kepada saudara-mara mangsa di Malaysia Airlines MH-370 yang hilang pada 8 Mac 2014 .
Setiausaha Agungnya, Datuk Isham Ishak, berkata pampasan itu akan menjadi penyelesaian luar bagi tuntutan undang-undang yang difailkan oleh penerima manfaat yang terlibat terhadap kerajaan Malaysia dan agensi berkaitan. «Saya telah mengemukakan permintaan saya untuk bertemu dengan Perdana Menteri minggu depan untuk dapat mengemukakan dokumen itu. Saya akan melakukan yang terbaik untuk mendapatkan sokongan yang anda rindu selama enam tahun yang lalu», katanya pada ulang tahun keenam kehilangan penerbangan MH. 370. Isham berkata kementerian itu juga akan terus mendapatkan sokongan daripada kerajaan baru untuk meneruskan pencarian pesawat yang hilang itu.
Ξ A I R G W A Y S Ξ
SOURCE: Airgways.com
DBk: Thestar.com.my / Internewscat.com / Airgways.com
AW-POST: 202003080919AR
A\W   A I R G W A Y S ®