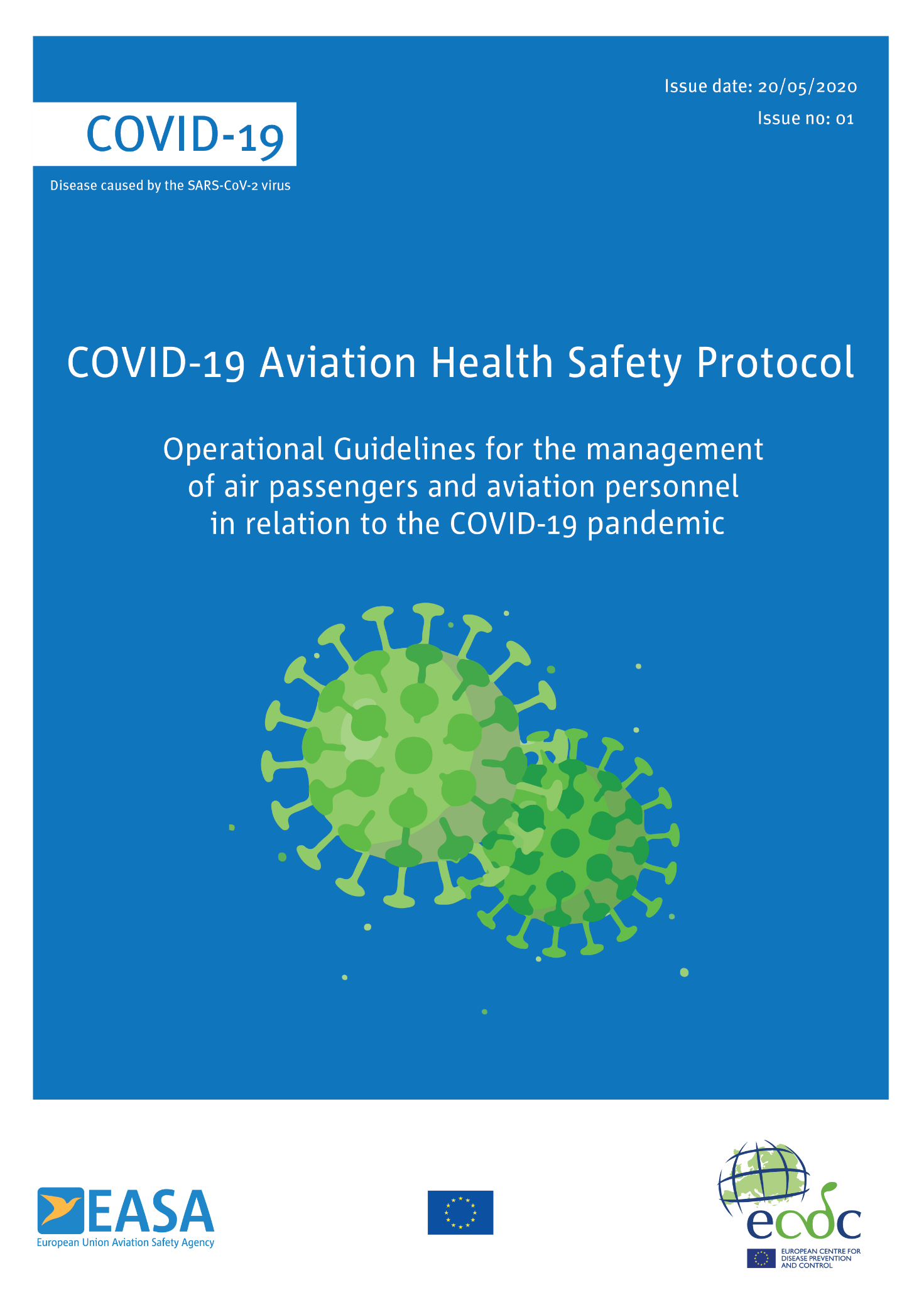 AW | 2020 05 21 11:33 | AVIATION SAFETY / AVIATION ORGANISMS
La IATA ha acogido protocolos seguridad de EASA/ECDC
La Asociación Internacional de Transporte Aéreo (IATA) ha acogido con beneplácito la publicación por parte de la Agencia Europea de Seguridad Aérea (EASA) y el Centro Europeo para la Prevención y Control de Enfermedades (ECDC) de las Directrices del Protocolo de Seguridad de la Salud de la Aviación COVID-19 para el reinicio seguro del aire transporte en Europa.
Las directrices de EASA y ECDC están alineadas con las recomendaciones proporcionadas tanto por el sector de la aerolínea como del aeropuerto para un enfoque en capas de medidas temporales para proteger la salud pública al tiempo que permite servicios aéreos viables para ayudar a impulsar la recuperación económica europea. Pero las directrices solo serán efectivas si todos los estados europeos ofrecen una implementación armonizada y se reconocen mutuamente los esfuerzos de los demás. No hacerlo dañaría la confianza del público en el sistema de aviación, con consecuencias negativas para la economía y el empleo.
Las medidas clave en las directrices de EASA incluyen:
1. Se debe mantener el distanciamiento físico en el aeropuerto. La infraestructura de la terminal, como la entrega y el reclamo de equipaje, y en seguridad, debe optimizarse para evitar las colas
2. Se recomienda el uso de máscaras en todo momento en el aeropuerto y a bordo, así como la provisión de equipo de protección personal (PPE) apropiado para el personal
3. Se recomiendan procedimientos de limpieza mejorados tanto en el aeropuerto como en la aeronave, especialmente para superficies que se tocan con frecuencia.
4. Cuando lo permitan la carga de pasajeros, la configuración de la cabina y los requisitos de masa y equilibrio, las aerolíneas deben garantizar, en la medida de lo posible, el distanciamiento físico entre los pasajeros. Los miembros de la familia y las personas que viajan juntas como parte del mismo hogar pueden sentarse uno al lado del otro.
"EASA y ECDC han brindado un marco razonable para reiniciar la aviación y proteger la salud pública. La guía es clara en que, si bien las aerolíneas deben tratar de mantener el distanciamiento físico donde sea posible, se permite flexibilidad en la disposición de los asientos. Y los requisitos de cuarentena no son necesarios. Pero es absolutamente esencial que todos los estados europeos apliquen estas directrices de manera armonizada y mutuamente reconocida. Las desviaciones y excepciones locales dañarán la confianza del público y dificultarán su funcionamiento efectivo. Esto sería perjudicial para la salud pública y la recuperación económica. IATA apoyará a los estados para implementar estas pautas de la manera más rápida y eficiente", dijo Rafael Schvartzman, Vicepresidente Regional de IATA para Europa.
En una declaración que acompaña al Protocolo, EASA explicó que las medidas recomendadas se evaluarán y actualizarán periódicamente de acuerdo con los cambios en el conocimiento del riesgo de transmisión, así como con el desarrollo de otras medidas de diagnóstico o prevención. IATA está lista para apoyar a las autoridades en este proceso de refinamiento y optimización de las recomendaciones y directrices.
Estándares globales
Las directrices de la EASA y el ECDC harán una contribución importante a las discusiones que está llevando a cabo el Grupo de trabajo de recuperación de la aviación COVID-19 de la Organización Internacional de Aviación Civil (CART de la OACI), que tiene la tarea de desarrollar los estándares globales necesarios para el reinicio seguro de la aviación.
Para ayudar con el proceso CART, IATA ha estado trabajando continuamente con autoridades y socios de la industria para desarrollar posiciones comunes. Con el sector aeroportuario, un documento- con seguridad reinicio de Aviación: ACI y el Enfoque Común de la IATA se ha publicado. Además, los 31 CEO de la Junta de Gobernadores de la IATA acordaron una Declaración de los Cinco Principios para reiniciar la aviación.
1. La aviación siempre pondrá la seguridad primero
2. La aviación responderá con flexibilidad a medida que la crisis y la ciencia evolucionen
3. La aviación será un impulsor clave de la recuperación económica.
4. La aviación cumplirá sus objetivos ambientales
5. La aviación operará de acuerdo con estándares globales armonizados y mutuamente reconocidos por los gobiernos.
"La seguridad de nuestros pasajeros y tripulación es la principal preocupación. Ninguna medida por sí sola va a lograr eso. Es por eso que estamos adoptando un enfoque en capas que se guía por la ciencia y que está alineado con las recomendaciones de EASA. A medida que la situación médica y la ciencia evolucionen, trabajaremos en estrecha colaboración con los reguladores para garantizar que las medidas implementadas se adapten en consecuencia. Y nuestros cinco principios nos guiarán hacia un reinicio seguro y sostenible para los viajes aéreos y un impulso vital para la actividad económica", dijo Schvartzman.
"En Europa, hemos estado encerrados durante muchas semanas. El sector turístico, que representa millones de empleos en toda Europa, depende particularmente del reinicio de la conectividad. El aislamiento forzado nos ha dejado anhelando volver a conectarnos con el mundo, para disfrutar una vez más de la libertad de explorar, compartir experiencias con nuestros seres queridos y escapar de las presiones de la vida cotidiana. Con estas pautas sensatas, todos podemos esperar la libertad que solo el vuelo puede proporcionar", concluyó.
IATA welcomes EASA/ECDC guidelines
IATA has embraced EASA/ECDC security protocols
The International Air Transport Association (IATA) has welcomed the publication by the European Aviation Safety Agency (EASA) and the European Center for Disease Prevention and Control (ECDC) of the Guidelines of the Safety Protocol of the COVID-19 Aviation Health for the safe restart of air transport in Europe.
The EASA and ECDC guidelines are aligned with the recommendations provided by both the airline and airport sectors for a layered approach of temporary measures to protect public health while enabling viable air services to help drive the European economic recovery. But the guidelines will only be effective if all European states offer a harmonized implementation and mutually acknowledge each other's efforts. Failure to do so would harm public confidence in the aviation system, with negative consequences for the economy and employment.
Key measures in the EASA guidelines include:
1. The physical distance must be maintained at the airport. The infrastructure of the terminal, such as delivery and baggage claim, and security, must be optimized to avoid queues
2. The use of masks is recommended at all times in the airport and onboard, as well as the provision of appropriate personal protective equipment (PPE) for personnel.
3. Improved cleaning procedures are recommended at both the airport and on the aircraft, especially for frequently touched surfaces.
4. When permitted by passenger load, cabin configuration, and mass and balance requirements, airlines should ensure, to the extent possible, the physical distance between passengers. Family members and people traveling together as part of the same home can sit next to each other.
"EASA and ECDC have provided a reasonable framework to restart aviation and protect public health. The guide is clear that while airlines should try to maintain physical distance where possible, flexibility in seating arrangements is allowed. And quarantine requirements are not necessary. But it is absolutely essential that all European states apply these guidelines in a harmonized and mutually recognized way. Local deviations and exceptions will harm public confidence and hinder their effective operation. This would be detrimental to public health and economic recovery. IATA will support states to implement these guidelines in the fastest and most efficient way", said Rafael Schvartzman, IATA Regional Vice President for Europe.
In a statement accompanying the Protocol, EASA explained that the recommended measures will be periodically evaluated and updated in accordance with changes in knowledge of the risk of transmission, as well as with the development of other diagnostic or preventive measures. IATA is ready to support the authorities in this process of refining and optimizing the recommendations and guidelines.
Global standards
The EASA and ECDC guidelines will make an important contribution to the discussions being conducted by the International Civil Aviation Organization (ICAO CART) Aviation Recovery Task Force COVID-19. to develop the global standards necessary for the safe restart of aviation.
To assist with the CART process, IATA has been continuously working with authorities and industry partners to develop common positions. With the airport sector, a document safely restarting Aviation: ACI and the IATA Common Approach – has been published. In addition, the 31 CEOs of the IATA Board of Governors agreed on a Declaration of the Five Principles to restart aviation.
1. Aviation will always put safety first
2. Aviation will respond flexibly as the crisis and science evolve
3. Aviation will be a key driver of economic recovery.
4. Aviation will meet its environmental objectives
5. Aviation will operate in accordance with harmonized global standards mutually recognized by governments.
"The safety of our passengers and crew is the main concern. No single measure is going to achieve that. That is why we are adopting a layered approach that is guided by science and aligned with EASA's recommendations. As the medical and science situation evolves, we will work closely with regulators to ensure that the measures implemented are tailored accordingly. And our five principles will guide us toward a safe and sustainable restart for air travel and a vital boost to economic activity", said Schvartzman.
"In Europe, we have been locked up for many weeks. The tourism sector, which represents millions of jobs across Europe, is particularly dependent on the restart of connectivity. Forced isolation has left us longing to reconnect with the world, to once again enjoy the freedom to explore, share experiences with loved ones, and escape the pressures of everyday life. With these sensible guidelines, we can all hope for the freedom that only flight can provide", he concluded.
Ξ A I R G W A Y S Ξ
SOURCE: Airgways.com
DBk: Easa.europa.eu / Iata.org / Airgways.com / Aviationpros.com / Aviationnews-online.com
AW-POST: 202005211133AR
A\W   A I R G W A Y S ®