AW | 2020 10 20 12:47 | AIRPORTS / AVIATION HISTORY
Aeropuerto Campinas Viracopos 60 años trayectoria
El Aeropuerto Internacional de Campinas/Viracopos (IATA: VCP/ICAO: SBKP), está festejando sus 60º aniversarios de trayectoria como aeropuerto de categoría internacional, homologado para aviones a reacción, iniciando una historia como una referencia importante en la aviación comercial brasileña. El Aeropuerto Viracopos a veces conocido como Sao Paulo/Campinas o Sao Paulo/Viracopos es un aeropuerto internacional que sirve al Municipio de Campinas, en el Estado de Sao Paulo. El 6 de Enero de 1987, el nombre del aeropuerto se normalizó oficialmente a su forma actual. Se llama así por el vecindario donde se encuentra. Es operado por la concesionaria Aeroportos Brasil Viracopos.
Historia de un nombre
Hay dos versiones del origen del nombre Viracopos, que significa "girar o volcar vasos" en portugués y se puede entender metafóricamente como beber una gran cantidad de una bebida alcohólica a la vez. Según la primera versión, a principios del siglo XX, durante una feria anual, hubo un malentendido entre el párroco y los residentes del barrio. Esto dio lugar a una bebida excesiva y peleas, en las que las cabinas del festival fueron derribadas, o anuladas, durante la confusión. El nombre "Viracopos" fue utilizado más tarde por el sacerdote en sermones para referirse al evento. Otra versión dice que, en el sitio del actual aeropuerto, anteriormente había habido un bar donde los pastores se habían reunido regularmente para intercambiar puntos de vista y beber "gafas de giro". Así que "Viracopos" fue primero el nombre del distrito y más tarde del aeropuerto.
Inicios Aeropuerto Viracopos
El origen del Aeródromo Viracopos se remonta a un simple aeródromo cerca de Campinas construido durante la Revolución Constitucionalista de 1932 en Sao Paulo. Durante la década de 1950 comenzó a ser utilizado por compañías de carga. En 1960 fue mejorado con una pista de 3.240 m, el tiempo suficiente para acomodar la primera generación de aviones a reacción intercontinentales como el Boeing 707, de Havilland Comet, Vickers VC10, Convair 990 y Douglas DC-8, y recibió su primer vuelo internacional. Además, Viracopos sirvió y continúa sirviendo como un aeropuerto alternativo para el Aeropuerto Internacional de Río de Janeiro-Galeo y los aeropuertos de Sao Paulo, particularmente porque rara vez cierra debido a las malas condiciones climáticas, un promedio de sólo 5 días por año. Pronto aerolíneas como VARIG, VASP y Real establecieron servicios a Viracopos.
Después de 1960, Viracopos se convirtió en el aeropuerto internacional de Sao Paulo,porque la pista del aeropuerto de Sao Paulo-Congonhas era demasiado corta para acomodar aviones a reacción intercontinentales. En la práctica, sin embargo, la distancia de casi 100 km de Viracopos a Sao Paulo lo hizo muy incómodo para los pasajeros y las aerolíneas. Como resultado, el servicio de pasajeros internacionales directo fue limitado, porque la mayoría de los pasajeros internacionales simplemente optaron por volar en su lugar al Aeropuerto Internacional de Río de Janeiro-Galeo y luego conectarse al Aeropuerto de Congonhas, que se encuentra muy cerca del centro de la ciudad. En ese momento, Viracopos incluso apareció en el Libro Guinness de los Récords como el aeropuerto más lejano de la ciudad a la que supuestamente sirvió. La posición del Aeropuerto Internacional de Sao Paulo se perdió en 1985 con la apertura del Aeropuerto Internacional de Guarulhos y Viracopos entró en una década de estancamiento, con todos los vuelos internacionales y la mayoría de los vuelos nacionales transferidos a Guarulhos y Congonhas.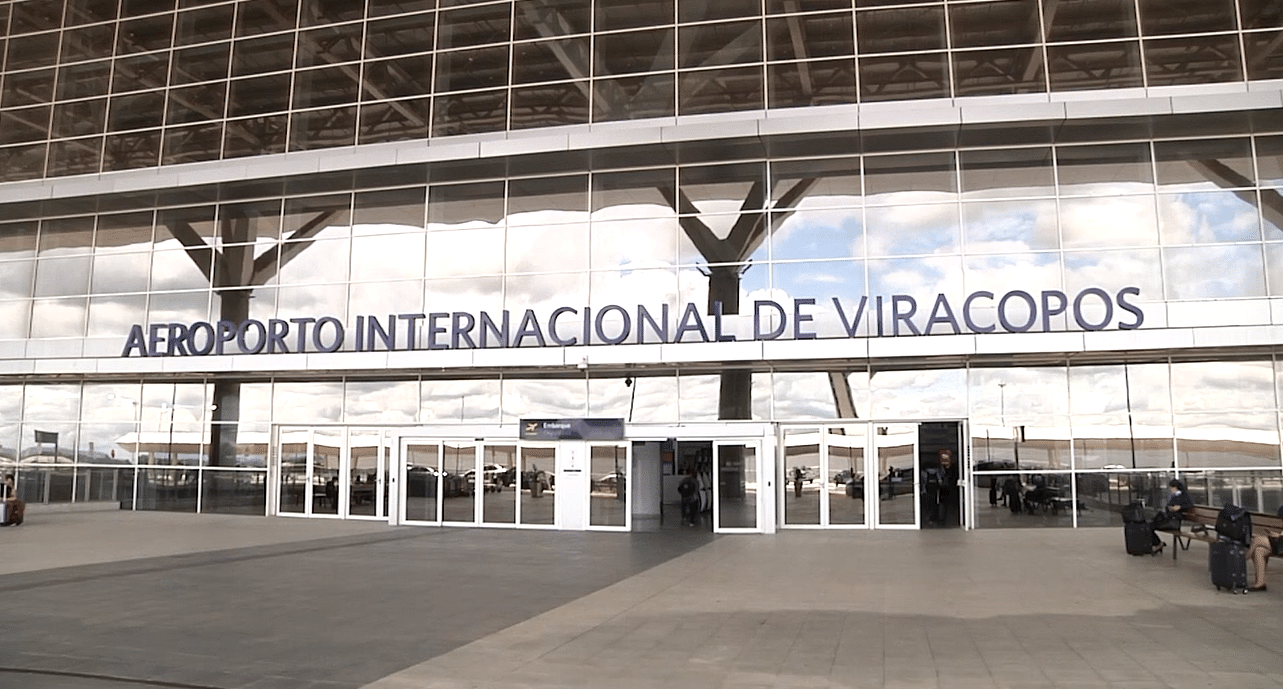 Plan estratégico
Sin embargo, reconociendo la importancia estratégica de Viracopos para la economía, Infraero, el administrador del aeropuerto en 1995 comenzó a implementar un plan maestro de renovaciones con el objetivo de la construcción de un nuevo aeropuerto, centrando sus esfuerzos en el segmento del transporte de carga. La primera fase se completó en el primer semestre de 2004, cuando el aeropuerto recibió nuevas salas de salida y llegada de pasajeros, áreas públicas, concesiones comerciales y una nueva terminal de carga. La segunda fase del proyecto de ampliación de la terminal de pasajeros se completó en 2005 y se construyó una nueva torre de control, se ampliaron las instalaciones de almacenamiento y procesamiento de la terminal de carga, y la terminal de pasajeros fue completamente renovada. Se proyectó una tercera fase de expansión, que construiría una segunda pista para 2013. Sin embargo, desde que el aeropuerto fue concedido en 2012, el plazo para la nueva pista se pospuso hasta 2018.
Siendo el segundo aeropuerto de carga más concurrido de Brasil, Viracopos tiene 77.000 metros cuadrados (646.000 pies cuadrados) de terminales de carga, 1.700 metros cuadrados (18.300 pies cuadrados) para carga animal, y 1.480 metros cúbicos (52.200 pies cuadrados) de espacio refrigerado. Como importante centro de importación/exportación, Viracopos goza de carriles express para el tráfico de mensajería que son excepcionalmente rápidos y poco burocráticos según las normas brasileñas.
Entre 2008 y 2010, el tráfico de pasajeros pasó de 1,02 millones en 2008 a 7,5 millones en 2011. El aeropuerto puede manejar 7 millones de pasajeros/año. El número de vuelos ofrecidos ha aumentado drásticamente desde que Azul Brazilian Airlines hizo de Viracopos su principal hub de operaciones elevando la posición del aeropuerto como uno de los referentes en Brasil.
Tras una decisión adoptada el 26 de Abril de 2011 por el Gobierno Federal para las empresas privadas que recibieron concesiones para operar algunos aeropuertos de Infraero, el 6 de Febrero de 2012, la administración del aeropuerto fue concedida, durante 30 años, al Consorcio Aeroportos Brasil compuesto por el Triunfo Brasileño, una Sociedad de Inversiones y Fondos (45%), UTC Engenharia e Participas, una Sociedad de Ingeniería e Inversiones (45%) y la Francesa Aeroportgis E Avia (10%). Infraero, la organización estatal, sigue siendo con el 49% de las acciones de la compañía constituida para la administración.
El 31 de Agosto de 2009, el anterior operador Infraero dio a conocer un plan de inversión de R$ 2.814 millones (US$ 1.482,6 millones; € 1.038,8 millones de Euros) plan de inversión para el Aeropuerto Internacional Viracopos de grado próximo centrado en los preparativos para la Copa Mundial de la FIFA 2014 y los Juegos Olímpicos de Verano en 2016 que se celebran en Brasil. La inversión pretendía proporcionar infraestructura al aeropuerto, aliviando el tráfico aéreo concentrado en el Aeropuerto Internacional de Sao Paulo-Guarulhos. Se suponía que la inversión se distribuiría de la siguiente manera: Construcción de una segunda pista con vencimiento en 2018. Inauguración de la fase 1 de una nueva terminal de pasajeros inaugurada en Mayo de 2015. Construcción del tren CPTM a Campinas y Sao Paulo. Sin embargo, debido a problemas legales y burocráticos, el plan original de Infraero nunca ocurrió.
Perspectivas Viracopos
Desde la concesión al Consorcio Aeroportos Brasil, se anunció un nuevo programa de inversiones centrado especialmente en la construcción de una nueva terminal. La fase 1 de la nueva terminal de pasajeros se inauguró en Mayo de 2015. Actualmente, la nueva y moderna Terminal de Pasajeros con capacidad para hasta 25 millones de personas por año, con varios reconocimientos de premios por su eficiencia y calidad en los servicios prestados a los usuarios, continuará siendo un aeropuerto con futuro, gracias a la adaptación estratégica que ha cambiado el rumbo a la región.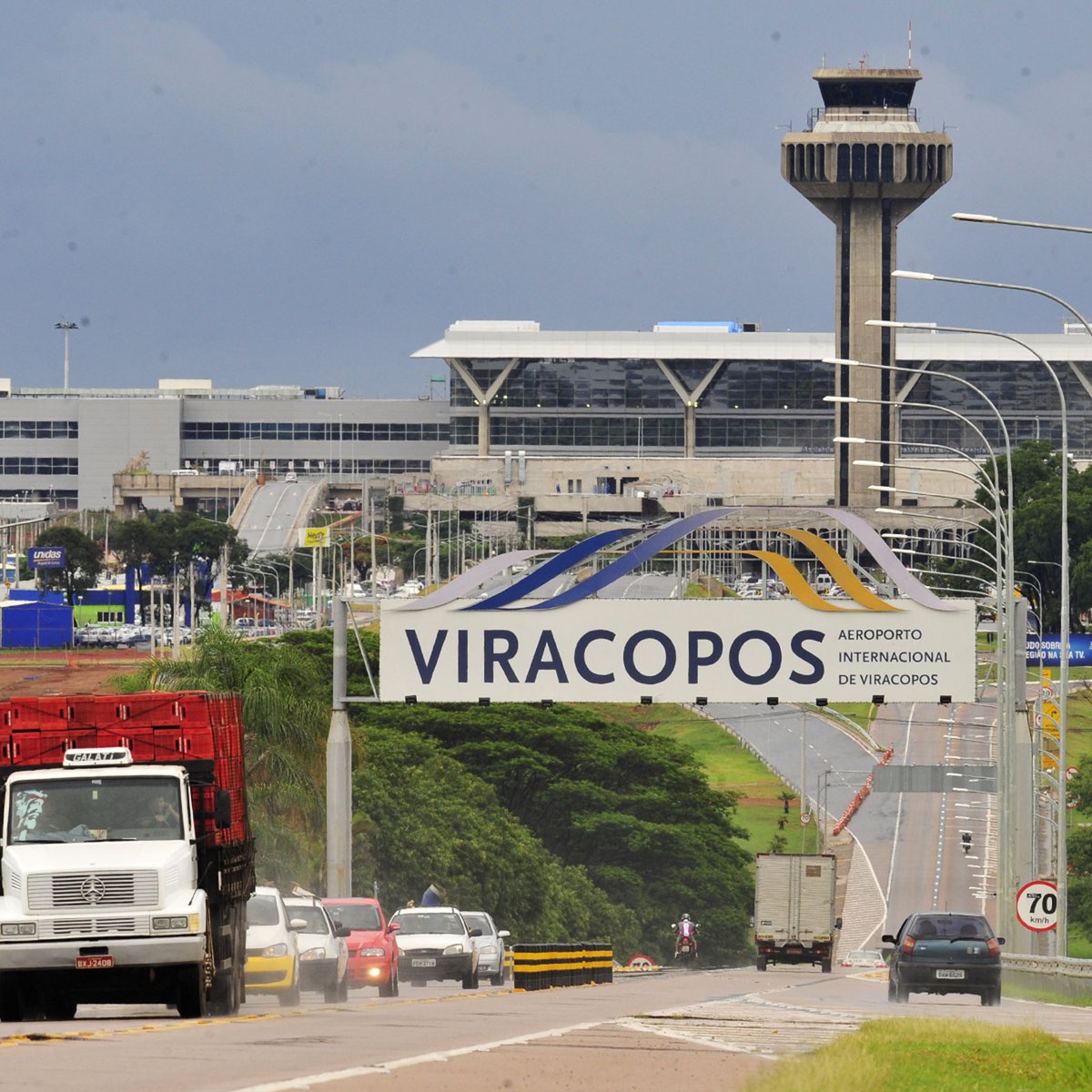 Ξ 60th Anniversaries of Viracopos Ξ
Campinas Viracopos Airport 60 years of experience
The Campinas/Viracopos International Airport (IATA: VCP/ICAO: SBKP), is celebrating its 60th anniversary of history as an international category airport, approved for jet aircraft, beginning a history as an important reference in Brazilian commercial aviation. Viracopos Airport sometimes known as Sao Paulo/Campinas or Sao Paulo/Viracopos is an international airport that serves the Municipality of Campinas, in the State of Sao Paulo. On January 6, 1987, the airport's name was officially normalized to its current form. It is named for the neighborhood where it is located. It is operated by concessionaire Aeroportos Brasil Viracopos.
History of a name
There are two versions of the origin of the name Viracopos, which means "to turn or overturn glasses" in Portuguese and can be understood metaphorically as drinking a large amount of an alcoholic beverage at a time. According to the first version, at the beginning of the 20th century, during an annual fair, there was a misunderstanding between the parish priest and the residents of the neighborhood. This resulted in excessive drinking and fighting, in which the festival booths were torn down, or annulled, during the confusion. The name "Viracopos" was later used by the priest in sermons to refer to the event. Another version says that, on the site of the current airport, there had previously been a bar where the shepherds had met regularly to exchange views and drink "spin glasses". So "Viracopos" was first the name of the district and later of the airport.
Viracopos Airport beginnings
The origin of the Viracopos Aerodrome can be traced back to a simple airfield near Campinas built during the Constitutionalist Revolution of 1932 in Sao Paulo. During the 1950s it began to be used by freight companies. In 1960 it was upgraded to a 3,240 m runway, long enough to accommodate the first generation of intercontinental jet aircraft such as the Boeing 707, de Havilland Comet, Vickers VC10, Convair 990 and Douglas DC-8, and received its first international flight. In addition, Viracopos served and continues to serve as an alternative airport for the Rio de Janeiro-Galeo International Airport and the Sao Paulo airports, particularly because it rarely closes due to bad weather conditions, an average of only 5 days per year. Soon airlines such as VARIG, VASP and Real established services to Viracopos.
After 1960, Viracopos became the Sao Paulo International Airport, because the Sao Paulo-Congonhas Airport runway was too short to accommodate intercontinental jets. In practice, however, the distance of almost 100 km from Viracopos to Sao Paulo made it very uncomfortable for passengers and airlines. As a result, direct international passenger service was limited, because most international passengers simply chose to fly into Rio de Janeiro-Galeo International Airport instead and then connect to Congonhas Airport, which is very close to downtown. from the city. At the time, Viracopos even appeared in the Guinness Book of Records as the farthest airport from the city it supposedly served. The position of the Sao Paulo International Airport was lost in 1985 with the opening of the Guarulhos International Airport and Viracopos entered a decade of stagnation, with all international flights and most domestic flights transferred to Guarulhos and Congonhas.
Strategic plan
However, recognizing the strategic importance of Viracopos for the economy, Infraero, the airport administrator in 1995 began to implement a master renovation plan with the aim of building a new airport, focusing its efforts on the cargo transport segment. The first phase was completed in the first half of 2004, when the airport received new passenger departure and arrival rooms, public areas, commercial concessions and a new cargo terminal. The second phase of the passenger terminal expansion project was completed in 2005 and a new control tower was built, the cargo terminal storage and processing facilities were expanded, and the passenger terminal was completely renovated. A third phase of expansion was projected, which would build a second runway for 2013. However, since the airport was granted in 2012, the deadline for the new runway has been postponed until 2018.
As the second busiest cargo airport in Brazil, Viracopos has 77,000 square meters (646,000 square feet) of cargo terminals, 1,700 square meters (18,300 square feet) for animal cargo, and 1,480 cubic meters (52,200 square feet) of refrigerated space . As an important import/export center, Viracopos has express lanes for courier traffic that are exceptionally fast and little bureaucratic according to Brazilian regulations.
Between 2008 and 2010, passenger traffic went from 1.02 million in 2008 to 7.5 million in 2011. The airport can handle 7 million passengers/year. The number of flights offered has increased dramatically since Azul Brazilian Airlines made Viracopos its main hub of operations, raising the airport's position as one of the benchmarks in Brazil.
Following a decision adopted on April 26, 2011 by the Federal Government for private companies that received concessions to operate some Infraero airports, on February 6, 2012, the administration of the airport was granted, for 30 years, to the Aeroportos Brasil Consortium composed of the Brazilian Triumph, an Investment and Fund Company (45%), UTC Engenharia e Participas, an Engineering and Investment Company (45%) and the French Aeroportgis E Avia (10%). Infraero, the state organization, continues to hold 49% of the shares of the company established for administration.
On August 31, 2009, the previous operator Infraero announced an investment plan of R$ 2,814 million (US$ 1,482.6 million; € 1,038.8 million Euros) investment plan for the next grade Viracopos International Airport focused on the preparations for the 2014 FIFA World Cup and the 2016 Summer Olympics in Brazil. The investment was intended to provide infrastructure to the airport, alleviating air traffic concentrated at the São Paulo-Guarulhos International Airport. The investment was supposed to be distributed as follows: Construction of a second runway due in 2018. Inauguration of phase 1 of a new passenger terminal inaugurated in May 2015. Construction of the CPTM train to Campinas and Sao Paulo. However, due to legal and bureaucratic problems, Infraero's original plan never happened.
Viracopos perspectives
Since the concession to the Brazilian Aeroportos Consortium, a new investment program was announced, especially focused on the construction of a new terminal. Phase 1 of the new passenger terminal was inaugurated in May 2015. Currently, the new and modern Passenger Terminal with capacity for up to 25 million people per year, with several awards for its efficiency and quality in the services provided to users, it will continue to be an airport with a future, thanks to the strategic adaptation that has changed the course of the region.
Ξ 60 anos de Viracopos Ξ
Aeroporto de Campinas Viracopos 60 anos de experiência
O Aeroporto Internacional de Campinas/Viracopos (IATA: VCP/ICAO: SBKP), está comemorando 60 anos de história como aeroporto de categoria internacional, homologado para aeronaves a jato, iniciando uma história como importante referência na aviação comercial brasileira. O Aeroporto de Viracopos também conhecido como São Paulo/Campinas ou São Paulo/Viracopos é um aeroporto internacional que atende o Município de Campinas, no Estado de São Paulo. Em 6 de janeiro de 1987, o nome do aeroporto foi oficialmente normalizado para sua forma atual. Seu nome deriva do bairro onde está localizado. É operado pela concessionária Aeroportos Brasil Viracopos.
História de um nome
Existem duas versões da origem do nome Viracopos, que significa "virar ou virar copos" em português e pode ser entendido metaforicamente como beber uma grande quantidade de uma bebida alcoólica por vez. Segundo a primeira versão, no início do século XX, durante uma feira anual, havia um desentendimento entre o pároco e os moradores do bairro. Isso resultou em bebedeira e brigas excessivas, nas quais as barracas do festival foram demolidas, ou anuladas, durante a confusão. O nome "Viracopos" foi posteriormente usado pelo padre em sermões para se referir ao evento. Outra versão diz que, no local do atual aeroporto, existia anteriormente um bar onde os pastores se reuniam regularmente para trocar opiniões e beber "copos de spin". Assim, "Viracopos" foi primeiro o nome do distrito e depois do aeroporto.
Início do Aeroporto de Viracopos
A origem do Aeródromo de Viracopos pode ser rastreada até um simples campo de aviação perto de Campinas, construído durante a Revolução Constitucionalista de 1932 em São Paulo. Durante a década de 1950 começou a ser utilizado por empresas de transporte de mercadorias. Em 1960, foi atualizado para uma pista de 3.240 m, longa o suficiente para acomodar a primeira geração de aeronaves a jato intercontinentais, como o Boeing 707, de Havilland Comet, Vickers VC10, Convair 990 e Douglas DC-8, e recebeu seu primeiro voo internacional. . Além disso, Viracopos serviu e continua servindo como aeroporto alternativo para o Aeroporto Internacional do Rio de Janeiro-Galeo e os aeroportos de São Paulo, principalmente porque raramente fecha devido às más condições climáticas, em média apenas 5 dias por ano. Logo, companhias aéreas como VARIG, VASP e Real estabeleceram serviços para Viracopos.
Depois de 1960, Viracopos se tornou o Aeroporto Internacional de São Paulo, porque a pista do Aeroporto São Paulo-Congonhas era curta demais para acomodar jatos intercontinentais. Na prática, porém, a distância de quase 100 km de Viracopos a São Paulo tornava muito desconfortável para passageiros e companhias aéreas. Como resultado, o serviço direto de passageiros internacionais foi limitado, porque a maioria dos passageiros internacionais simplesmente escolheu voar para o Aeroporto Internacional do Rio de Janeiro-Galeo e, em seguida, conectar-se ao Aeroporto de Congonhas, que fica muito próximo ao centro da cidade. da cidade. Na época, Viracopos até aparecia no Guinness Book of Records como o aeroporto mais distante da cidade que supostamente servia. A posição do Aeroporto Internacional de São Paulo foi perdida em 1985 com a inauguração do Aeroporto Internacional de Guarulhos e Viracopos entrou em uma década de estagnação, com todos os voos internacionais e a maioria dos voos domésticos transferidos para Guarulhos e Congonhas.
Plano estratégico
Porém, reconhecendo a importância estratégica de Viracopos para a economia, a Infraero, administradora do aeroporto, em 1995, começou a implantar um plano diretor de reformas com o objetivo de construir um novo aeroporto, concentrando seus esforços no segmento de transporte de cargas. . A primeira fase foi concluída no primeiro semestre de 2004, quando o aeroporto ganhou novas salas de embarque e desembarque de passageiros, áreas públicas, concessões comerciais e um novo terminal de cargas. A segunda fase do projeto de expansão do terminal de passageiros foi concluída em 2005 e uma nova torre de controle foi construída, as instalações de armazenamento e processamento do terminal de carga foram ampliadas e o terminal de passageiros foi totalmente reformado. Foi projetada uma terceira fase de expansão, que construiria uma segunda pista para 2013. No entanto, como o aeroporto foi concedido em 2012, o prazo para a nova pista foi adiado para 2018.
Sendo o segundo aeroporto de carga mais movimentado do Brasil, Viracopos tem 77.000 metros quadrados (646.000 pés quadrados) de terminais de carga, 1.700 metros quadrados (18.300 pés quadrados) para carga de animais e 1.480 metros cúbicos (52.200 pés quadrados) de espaço refrigerado. Como um importante centro de importação/exportação, Viracopos possui vias expressas para o tráfego de correio que são excepcionalmente rápidas e pouco burocráticas de acordo com a regulamentação brasileira.
Entre 2008 e 2010, o tráfego de passageiros passou de 1,02 milhão em 2008 para 7,5 milhões em 2011. O aeroporto pode receber 7 milhões de passageiros/ano. O número de voos oferecidos aumentou drasticamente desde que a Azul Brazilian Airlines fez de Viracopos seu principal hub de operações, elevando a posição do aeroporto como uma das referências no Brasil.
Após decisão adotada em 26 de abril de 2011 pelo Governo Federal para empresas privadas que receberam concessões para operar alguns aeroportos da Infraero, em 6 de fevereiro de 2012, a administração do aeroporto foi concedida, por 30 anos, ao Consórcio Aeroportos Brasil composta pela brasileira Triumph, empresa de investimentos e fundos (45%), UTC Engenharia e Participas, empresa de engenharia e investimentos (45%) e pela francesa Aeroportgis E Avia (10%). A Infraero, órgão estadual, continua detendo 49% das ações da empresa instituída para administração.
Em 31 de agosto de 2009, a operadora anterior Infraero anunciou um plano de investimentos de R$ 2.814 milhões (US$ 1.482,6 milhões; € 1.038,8 milhões de euros) para o próximo grau do Aeroporto Internacional de Viracopos focado nos preparativos para a Copa do Mundo FIFA 2014 e os Jogos Olímpicos de 2016 no Brasil. O investimento teve como objetivo fornecer infraestrutura para o aeroporto, amenizando o tráfego aéreo concentrado no Aeroporto Internacional de São Paulo-Guarulhos. O investimento deveria ser distribuído da seguinte forma: Construção da segunda pista com vencimento em 2018. Inauguração da fase 1 de um novo terminal de passageiros inaugurado em maio de 2015. Construção do trem da CPTM para Campinas e São Paulo. Porém, por problemas legais e burocráticos, o plano original da Infraero nunca aconteceu.
Perspectivas de Viracopos
Desde a concessão ao Consórcio Aeroportos Brasileiro, foi anunciado um novo programa de investimentos, especialmente focado na construção de um novo terminal. A Fase 1 do novo terminal de passageiros foi inaugurada em maio de 2015. Atualmente, o novo e moderno Terminal de Passageiros com capacidade para até 25 milhões de pessoas por ano, com diversos prêmios de reconhecimento por sua eficiência e qualidade nos serviços prestados para os usuários, continuará a ser um aeroporto com futuro, graças à adaptação estratégica que mudou o rumo da região.

PUBLISHER: Airgways.com
DBk: Viracopos.com / Infraero.gov.br / Flickr.com / Airgways.com / Voeazul.com.br
AW-POST: 202010201247AR
A\W A I R G W A Y S ®