AW | 2018 09 01 11:30 | AIRLINES HISTORY
El Museo Aeronáutico American Airlines CR Smith
El Museo American Airlines CR Smith reabre al público este fin de semana con motivo del Día del Trabajo en Estados Unidos, que se celebra el 3 Septiembre 2018, después de completar el rediseño de sus exposiciones permanentes. Para celebrarlo, el museo ofrecerá la entrada gratuita a los niños durante el sábado y domingo.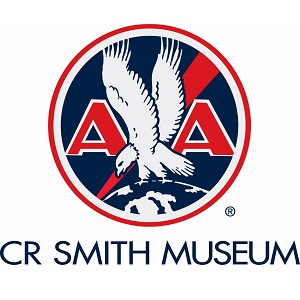 El Museo CR Smith conserva la historia de American Airlines y explica lo que se necesita para operar la aerolínea, según lo explican los miembros del equipo que trabajan allí. A través de sus actividades, el museo sirve a los empleados de American Airlines y la industria de la aviación, en el pasado y el presente, y a los miembros interesados ​​del público en general. El museo está comprometido con la educación, con un enfoque en el aprendizaje interactivo y práctico.
Este rediseño ha sido posible por las donaciones del American Airlines Group y las donaciones de Pacmin y Boeing. Más de 300 voluntarios de American Airlines han colaborado en el proceso de desarrollo del nuevo contenido y exposiciones, que está concebido para mostrar a los visitantes los diferentes puestos de los miembros de la aerolínea y cómo trabajan juntos en todas las operaciones a nivel global. Las nuevas exposiciones incluyen el Airline Command Center, que permite a los visitantes descubrir como es el trabajo de quien toma las decisiones en una aerolínea; una cabina del famoso McDonnell Douglas MD-80, que incluye una visita guiada por la cabina de pilotaje ofrecida por un capitán de la aerolínea; y una exposición de almacenamiento de equipaje, donde los visitantes podrán probar a cargar las maletas en el menor tiempo posible. El Museo CR Smith es una organización independiente sin lucro localizado en las instalaciones de American Airlines y cuyas funciones son preservar y dar a conocer la historia de la aerolínea y de la industria de la aviación en general, así como la educación de los visitantes sobre la ciencia aeronáutica, las operaciones aéreas y las diferentes carreras de aviación. 
American Airlines CR Smith Museum Reopens
The American Airlines RC Smith Aeronautical Museum
The American Airlines CR Smith Museum reopens to the public this weekend on the occasion of Labor Day in the United States, which is celebrated on September 3, 2018, after completing the redesign of its permanent exhibitions. To celebrate, the museum will offer free admission to children during Saturday and Sunday.
The CR Smith Museum preserves the history of American Airlines and explains what is needed to operate the airline, as explained by the team members who work there. Through its activities, the museum serves American Airlines employees and the aviation industry, in the past and present, and interested members of the general public. The museum is committed to education, with a focus on interactive and practical learning.
This redesign has been made possible by donations from the American Airlines Group and donations from Pacmin and Boeing. More than 300 American Airlines volunteers have collaborated in the development process of the new content and exhibitions, which is designed to show visitors the different positions of airline members and how they work together in all operations worldwide. The new exhibitions include the Airline Command Center, which allows visitors to discover what is the work of the decision maker in an airline; a cabin of the famous McDonnell Douglas MD-80, which includes a guided tour of the cockpit offered by a captain of the airline; and a baggage storage exhibition, where visitors can try to load their bags in the shortest possible time. The CR Smith Museum is an independent non-profit organization located at American Airlines facilities and whose functions are to preserve and publicize the history of the airline and the aviation industry in general, as well as the education of visitors on the aeronautical science, air operations and different aviation careers. A \ W
Ξ A I R G W A Y S Ξ
SOURCE:  Airgways.com
DBk: Crsmithmuseum.org / Mytexasvow.com / Artandseek.com
AW-POST: 201809011130AR
A\W   A I R G W A Y S ®