AW | 2018 09 19 16:44 | AIRLINES
Copa Airlines incorpora primer Boeing 737-9 MAX
Copa Airlines ha incorporado el primer Boeing 737-9 MAX los cuales recibirá de manera progresiva hasta completar un pedido de 71 aeronaves para 2025, anunciaron directivos de la compañía panameña. Este avión, de 166 pasajeros, es un 40% más silencioso, capaz de consumir un 14% menos de combustible y de reducir a la mitad la emisión de gases contaminantes. La tecnología del MAX 9 es un 40% más silenciosa, mejora el consumo de combustible en 14% y emite un 50% menos de gases contaminantes.
Pedro Heilbron, Presidente Ejecutivo de Copa Airlines, manifestó que el contrato original por los 61 aviones fue por un monto de US$ 6.000 millones, aunque no especificó el monto total por los 71 aparatos. Cuatro aviones más se incorporarán a la flota este año, mientras que otros 17 comenzarán operaciones antes de acabar 2020. El resto llegarán en años posteriores de manera progresiva.
Copa Airlines, subsidiaria de Copa Holdings, miembro de la red global de aerolíneas Star Alliance, ingresa a la nueva era 737MAX con la incorporación a su flota del primer Boeing 737-9 MAX, una de las aeronaves más modernas del mercado.
"El MAX 9 significa una nueva era en los más de 70 años de Copa Airlines. Con la llegada de esta aeronave incorporamos la última tecnología de Boeing, que formará parte de una de las flotas más modernas y jóvenes de la industria. Además, el MAX 9 es un símbolo de desarrollo y crecimiento que nos llena de orgullo y motiva a seguir innovando, ser cada día más eficientes en nuestras operaciones y dejar en lo más alto el nombre de Panamá en todo el continente", comentó Pedro Heilbron.
"Copa Airlines ha tenido un gran éxito con los Boeing 737NG, y el futuro se ve aún mejor. En esta nueva era, Copa continuará liderando en la industria al aprovechar los beneficios de vanguardia que ofrece el 737 MAX", destacó Ricardo Cavero, Vicepresidente de Ventas de aviones comerciales Boeing para América Latina y el Caribe. La introducción de esta nueva aeronave a la flota de Panamá representa el alto nivel tecnológico y de complejidad que tiene la aviación de nuestro país.
La nueva era 737 MAX de confort y conveniencia se caracteriza por la moderna configuración de la aeronave, que cuenta con 166 asientos distribuidos en dos clases y compartimientos superiores cerca de un 50% más espaciosos. Además, los modernos motores del MAX 9 reducen el sonido en un 40%, haciendo la experiencia del viaje más silenciosa y placentera. Como elemento destacado en esta renovada configuración, la Aerolínea presentó la nueva Clase Ejecutiva Dreams, con 16 asientos reclinables tipo cama. Cada uno de los asientos cuenta con una pantalla táctil de 16 pulgadas con control remoto, conectores de electricidad y USB, y espacios para almacenar elementos personales. Todos los pasajeros a bordo del MAX 9 podrán deleitarse con la gran variedad de contenidos que brinda el sistema de entretenimiento inalámbrico Copa Showpass.
El nuevo MAX 9 inicia operaciones este mes de Septiembre 2018, y será utilizado a partir de Enero 2019 en las rutas más largas de la amplia red de 80 destinos en 32 países de Copa Airlines.
Copa Airlines volará a Puerto Vallarta
Copa Airlines abrirá el 16 de diciembre dos vuelos diarios a Puerto Vallarta, el destino de playa con mayor crecimiento en México. En un comunicado de prensa, el Vicepresidente de Ventas de Copa, Christophe Didier, precisó que en un inicio los viajes se realizarán jueves y domingo. Actualmente esta línea área, presente desde hace 27 años en México, vuela a cinco ciudades de ese país: Distrito Federal, con cinco frecuencias diarias; Cancún, con siete; y Monterrey, con cinco semanales. Considerada la aerolínea más puntual de América Latina, Copa cuenta con 80 destinos y su secreto radica en volar a ciudades secundarias, donde otras homólogas no llegan, apuntó Didier.
Copa apertura oficina en Rosario
Copa Airlines anuncia la apertura de sus nuevas oficinas comerciales en Rosario, consolidando así el liderazgo de la compañía en la ciudad santafesina. La ruta Rosario-Panamá, que comenzó con 4 frecuencias semanales hacia mediados de 2016, ofrece actualmente un vuelo diario, conectando a los rosarinos con Norteamérica, Centroamérica y el Caribe a través del Hub de las Américas en Panamá.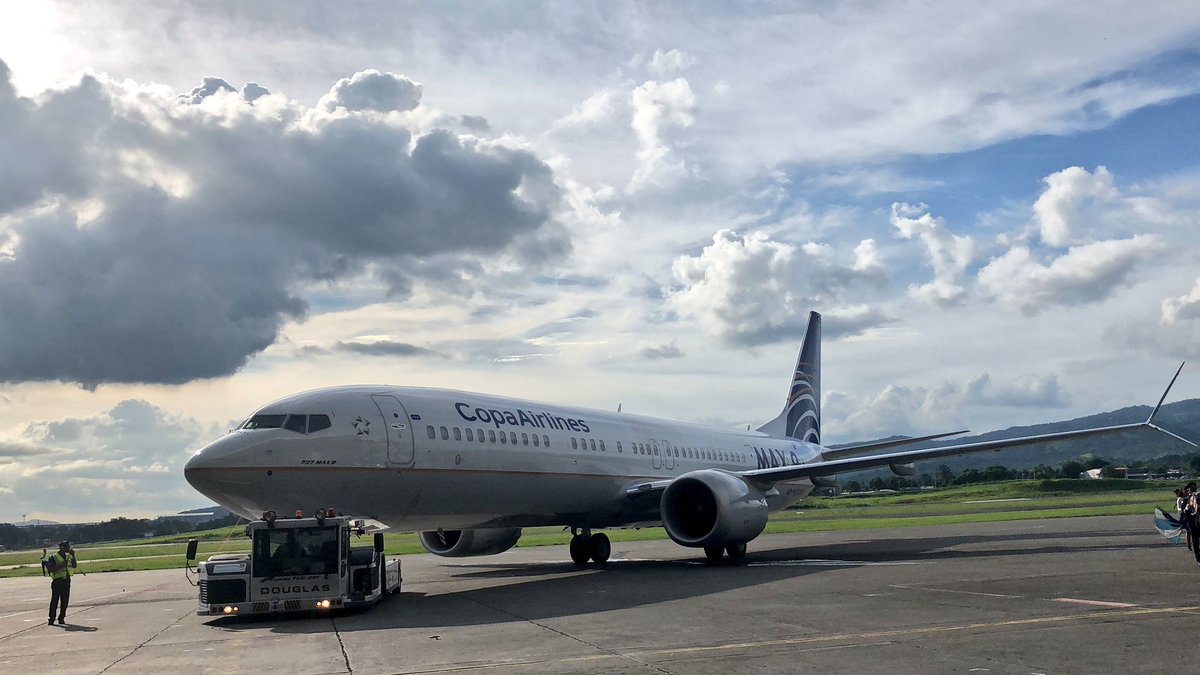 Copa Airlines incorporates 1st Boeing 737-9 MAX
Copa Airlines incorporates the first Boeing 737-9 MAX
Copa Airlines has incorporated the first Boeing 737-9 MAX which will receive progressively until completing an order for 71 aircraft by 2025, announced directors of the Panamanian company. This 166-passenger plane is 40% quieter, able to consume 14% less fuel and reduce the emission of polluting gases by half. The technology of the MAX 9 is 40% quieter, improves fuel consumption by 14% and emits 50% less polluting gases.
Pedro Heilbron, Executive President of Copa Airlines, said that the original contract for the 61 aircraft was for an amount of US $ 6,000 million, although he did not specify the total amount for the 71 aircraft. Four more aircraft will join the fleet this year, while another 17 will begin operations before the end of 2020. The rest will arrive in later years progressively.
Copa Airlines, a subsidiary of Copa Holdings, a member of the global Star Alliance airline network, enters the new 737 MAX era with the addition of the first Boeing 737-9 MAX, one of the most modern aircraft on the market.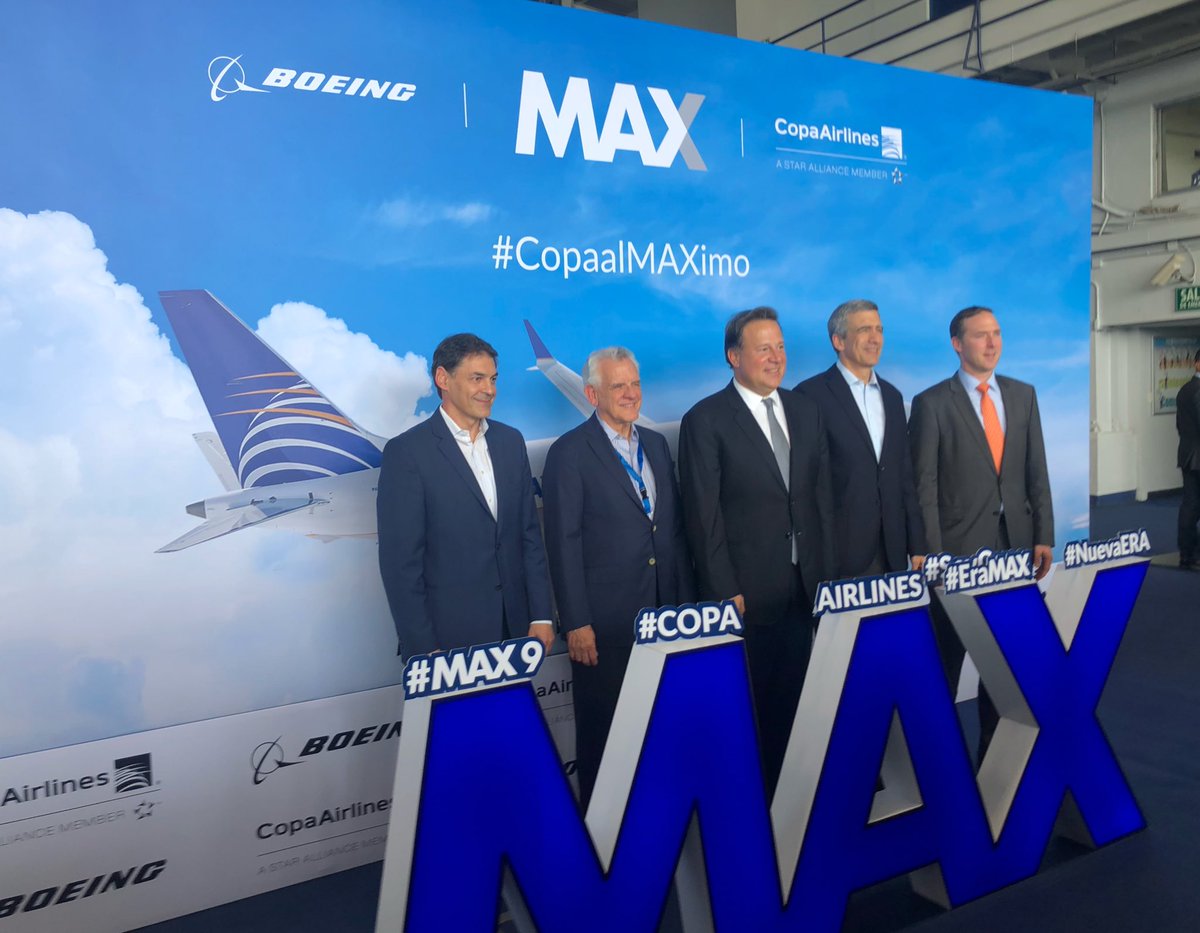 "The MAX 9 means a new era in the more than 70 years of Copa Airlines. With the arrival of this aircraft we incorporate the latest Boeing technology, which will be part of one of the most modern and young fleets in the industry. In addition, the MAX 9 is a symbol of development and growth that fills us with pride and motivates us to continue innovating, to be more efficient in our operations every day and to leave the name of Panama on the whole continent", said Pedro Heilbron.
"Copa Airlines has had great success with the Boeing 737NG, and the future looks even better. In this new era, Copa will continue to lead the industry by taking advantage of the vanguard benefits offered by the 737 MAX", said Ricardo Cavero, Vice President of Sales of Boeing commercial aircraft for Latin America and the Caribbean. The introduction of this new aircraft to the Panama fleet represents the high technological level and complexity of our country's aviation.
The new 737 MAX era of comfort and convenience is characterized by the modern configuration of the aircraft, which has 166 seats distributed in two classes and upper compartments about 50% more spacious. In addition, the modern engines of the MAX 9 reduce the sound by 40%, making the experience of the trip quieter and more pleasant. As an outstanding element in this renewed configuration, the airline presented the new Executive Class Dreams, with 16 reclining seats type bed. Each of the seats has a 16-inch touch screen with remote control, power and USB connectors, and spaces to store personal items. All passengers on board the MAX 9 will be able to enjoy the wide variety of contents offered by the Showpass Cup wireless entertainment system.
The new MAX 9 starts operations this September 2018, and will be used from January 2019 on the longest routes of the extensive network of 80 destinations in 32 Copa Airlines countries.
Copa Airlines will fly to Puerto Vallarta
Copa Airlines will open two daily flights to Puerto Vallarta on December 16, the fastest growing beach destination in Mexico. In a press release, the Vice-president of Sales of Copa, Christophe Didier, said that in the beginning the trips will be made Thursday and Sunday. Currently this line area, present for 27 years in Mexico, flies to five cities in that country: Federal District, with five daily frequencies; Cancun, with seven; and Monterrey, with five weekly. Considered the most punctual airline in Latin America, Copa has 80 destinations and its secret lies in flying to secondary cities, where other counterparts do not arrive, said Didier.
Copa opening office in Rosario
Copa Airlines announces the opening of its new commercial offices in Rosario, consolidating the company's leadership in the city of Santa Fe. The Rosario-Panama route, which began with 4 weekly frequencies by mid-2016, currently offers a daily flight, connecting Rosario with North America, Central America and the Caribbean through the Hub of the Americas in Panama. A \ W
Ξ A I R G W A Y S Ξ
SOURCE:  Airgways.com
DBk: Copaair.com / Airgways.com
AW-POST: 201809191644AR
A\W   A I R G W A Y S ®