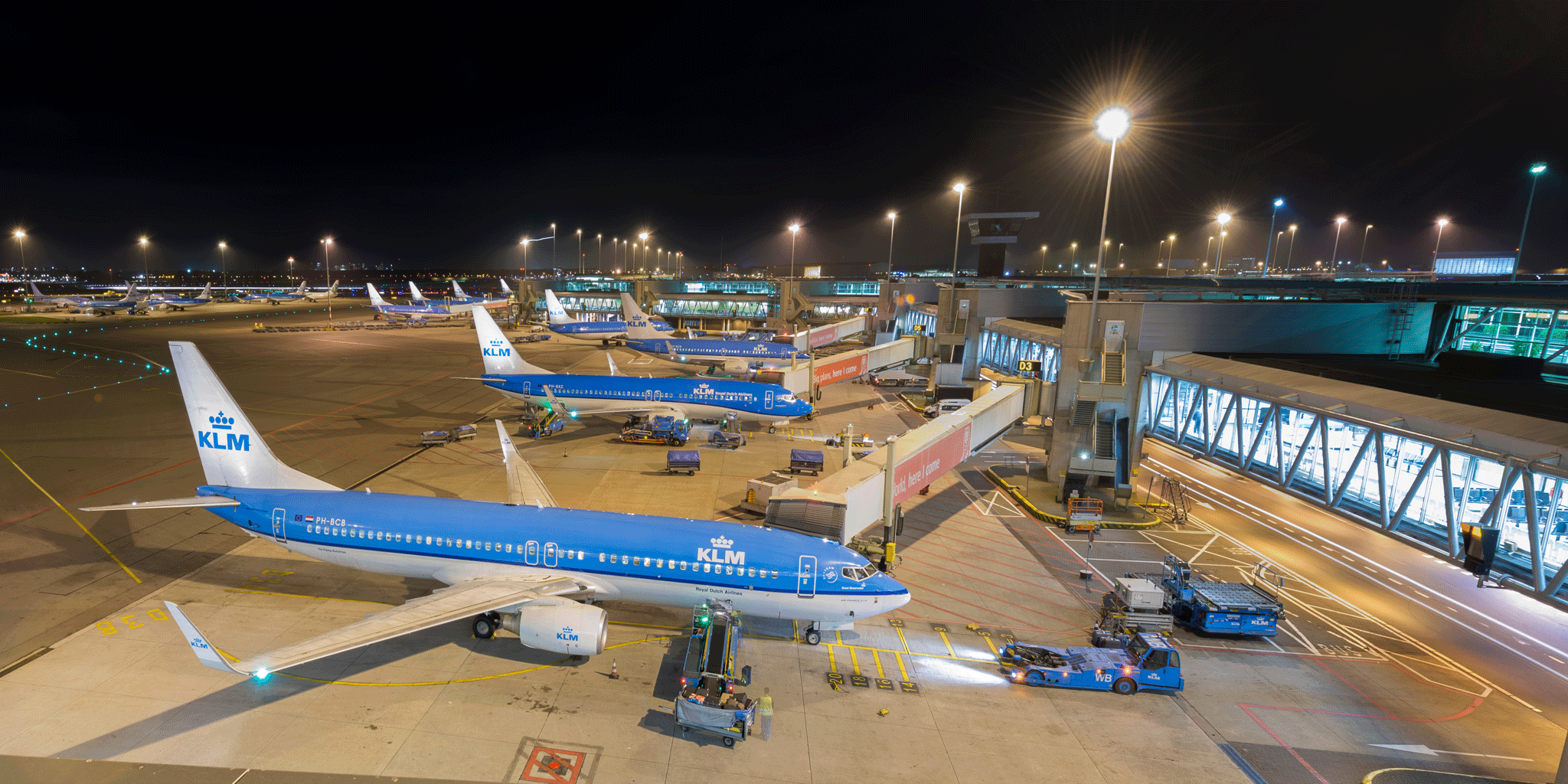 AW | 2018 10 17 11:20 | AIRPORTS
La disputa sobre el crecimiento de Schiphol se intensifica
Ha surgido una violenta disputa sobre el espacio de crecimiento del Aeropuerto Schiphol en los Países Bajos, que es esencial para el futuro del aeropuerto. Las partes en el Consejo de Medio Ambiente de Schiphol (SRO), incluidos la aviación, los residentes, las autoridades provinciales y los municipios, están discutiendo cada vez más sobre la interpretación exacta de la llamada Evaluación de Impacto Ambiental (EIA) y, en particular, los principios y métodos de cálculo. Este órgano de consulta pública más importante debe informar al Ministro de Infraestructura antes de Navidad sobre el posible crecimiento del aeropuerto entre 2020 y 2030. "Las diferencias pueden llegar a 50,000 vuelos más o menos. Si no llegamos rápidamente a un acuerdo sobre esto, la EIA tendrá que dejarse de lado por el momento para poder forzar un acuerdo en la ORS", dice un iniciador.
La disputa se centra en los parámetros que deben utilizarse en el nuevo modelo de cálculo europeo. "Las sumas de sonido se calculan en lugar de medirse con micrófonos, porque se trata del tráfico aéreo futuro. Siempre lo hemos hecho, pero este modelo europeo es más refinado. Podemos abordar mejor la realidad", dice Paul Eijssen, del Laboratorio Aeroespacial de los Países Bajos. En el pasado, por ejemplo, se tomaron en cuenta tres tipos de aproximación al aeropuerto, ahora cuenta con 38 procedimientos de aterrizaje diferentes.
Todos los que hablan de los números, bajo pena de acción legal hasta mediados de noviembre, han recibido una prohibición estricta. Sin embargo, los residentes locales críticos no quieren ser silenciados. La industria de la aviación y la industria quieren poder crecer al menos 650,000 movimientos de vuelo en 2030 para adaptarse a la enorme demanda de vuelos desde y hacia los Países Bajos. La gran pregunta es si esto se debe hacer en el abarrotado Haarlemmermeer, donde los inconvenientes causados ​​por los residentes sufren los efectos de la corrupción. Están manipulados con figuras sonoras. Su negociador de ORS Kees van Ojik no puede decir nada. "Ahora estoy obligado por mi obligación de guardar silencio".
Aeropuerto Lelystad
Si el Aeropuerto de Lelystad ampliado se puede abrir en 2020 como un 'aeropuerto de desbordamiento' de Schiphol es altamente cuestionable. Los opositores de las rutas de bajo vuelo primero quieren que el espacio aéreo sea reclasificado en 2023. La resistencia a la expansión de los vuelos también está aumentando alrededor del aeropuerto de Eindhoven. Rotterdam ya está en el límite superior. En una respuesta, Schiphol dice que aguarda el resultado de la consulta de disputa y luego finaliza el mer, según un portavoz. "Buscamos un crecimiento seguro, moderado y controlado". 
Dispute growth of Schiphol
The dispute over the growth of Schiphol intensifies
A violent dispute has arisen over the growth space of Schiphol Airport in the Netherlands, which is essential for the future of the airport. The parties to the Schiphol Environment Council (SRO), including aviation, residents, provincial authorities and municipalities, are increasingly discussing the exact interpretation of the so-called Environmental Impact Assessment (EIA) and, in particular, the principles and methods of calculation. This most important public consultation body should inform the Minister of Infrastructure before Christmas about the possible growth of the airport between 2020 and 2030. "The differences can reach 50,000 flights more or less. If we do not quickly reach an agreement on this, the EIA will have to be set aside for the moment to be able to force an agreement in the ORS", says one initiator.
The dispute focuses on the parameters that should be used in the new European calculation model. "The sums of sound are calculated instead of being measured with microphones, because it is about future air traffic, we have always done it, but this European model is more refined, we can better approach reality", says Paul Eijssen, from the Aerospace Laboratory of the Netherlands. In the past, for example, three types of approach to the airport were taken into account, now it has 38 different landing procedures.
All those who talk about the numbers, under penalty of legal action until mid-November, have received a strict ban. However, critical local residents do not want to be silenced. The aviation industry and industry want to be able to grow at least 650,000 flight movements by 2030 to accommodate the huge demand for flights to and from the Netherlands. The big question is whether this should be done in the crowded Haarlemmermeer, where the inconveniences caused by residents suffer the effects of corruption. They are manipulated with sound figures. Your ORS negotiator Kees van Ojik can not say anything. "Now I am bound by my obligation to remain silent".
Lelystad Airport
If the expanded Lelystad Airport can be opened in 2020 as an 'overflow airport' of Schiphol it is highly questionable. Opponents of low-flying routes first want airspace to be reclassified in 2023. Resistance to flight expansion is also increasing around the Eindhoven airport. Rotterdam is already at the upper limit. In an answer, Schiphol says he awaits the outcome of the dispute consultation and then finishes the mer, according to a spokesman. "We look for a safe, moderate and controlled growth". A \ W
Geschillengroei van Schiphol
Het geschil over de groei van Schiphol intensiveert
Er is een gewelddadig geschil ontstaan ​​over de groeiruimte van Schiphol Luchthaven in Nederland, hetgeen essentieel is voor de toekomst van de luchthaven. De partijen bij de Raad Milieu Schiphol (SRO), met inbegrip van de luchtvaart, bewoners, provincies en gemeenten worden steeds vaker bespreken over de precieze invulling van de zogenaamde milieu-effectrapportage (MER) en, met name de beginselen en berekeningsmethoden. belangrijkste openbare raadpleging van dit orgaan moet informeert de minister van Infrastructuur voor de kerst over de mogelijke groei van de luchthaven tussen 2020 en 2030. ,,Verschillen kunnen 50.000 vluchten of zo te bereiken. Als niet snel een akkoord bereikt over dit, MER zal voorlopig opzij moeten worden gezet om een ​​overeenkomst in de ORS te kunnen afdwingen", zegt een initiatiefnemer.
Het geschil concentreert zich op de parameters die in het nieuwe Europese berekeningsmodel zouden moeten worden gebruikt. ,,De bedragen van het geluid worden in plaats van berekend dan gemeten met microfoons, omdat het luchtverkeer toekomst. We hebben altijd gedaan, maar het Europese model is meer verfijnd. We kunnen beter de realiteit aan te pakken", zegt Paul Eijssen, Lucht- en Ruimtevaartlaboratorium Nederland. In het verleden werden bijvoorbeeld drie soorten vluchten naar de luchthaven in aanmerking genomen, nu zijn er 38 verschillende landingsprocedures.
Iedereen die praat over de cijfers, heeft op straffe van gerechtelijke stappen tot medio november een strikt verbod gekregen. Kritieke buurtbewoners willen echter niet het zwijgen worden opgelegd. De luchtvaartindustrie en de industrie willen op zijn minst 650.000 vliegbewegingen groeien in 2030 aan de enorme vraag naar vluchten naar en vanuit Nederland tegemoet te komen. De grote vraag is of dit moet worden gedaan in de overvolle Haarlemmermeer, waar de overlast van de bewoners lijden onder de effecten van corruptie. Ze worden gemanipuleerd met geluidsfiguren. Je ORS-onderhandelaar Kees van Ojik kan niets zeggen. ,,Nu ben ik gebonden aan mijn plicht om te zwijgen".
Lelystad Airport
Als de uitgebreide luchthaven van Lelystad in 2020 als 'overloopluchthaven' van Schiphol kan worden geopend, is het zeer de vraag. Tegenstanders van laagvliegende routes willen eerst het luchtruim wordt heringedeeld in 2023. De weerstand tegen uitbreiding van de vluchten wordt ook steeds rond de luchthaven van Eindhoven. Rotterdam staat al op de bovenste limiet. In een antwoord zegt Schiphol dat hij de uitkomst van de geschillenbespreking afwacht en vervolgens de mer voltooit, aldus een woordvoerder. ,,We zijn op zoek naar een veilige, gematigde en gecontroleerde groei". A\W
Ξ A I R G W A Y S Ξ
SOURCE: Airgways.com
DBk: Telegraaf.nl / Theplan.it / Bouwenuitvoering.nl / Luchtvaartnieuws.nl 
AW-POST: 201810171120AR
A\W   A I R G W A Y S ®