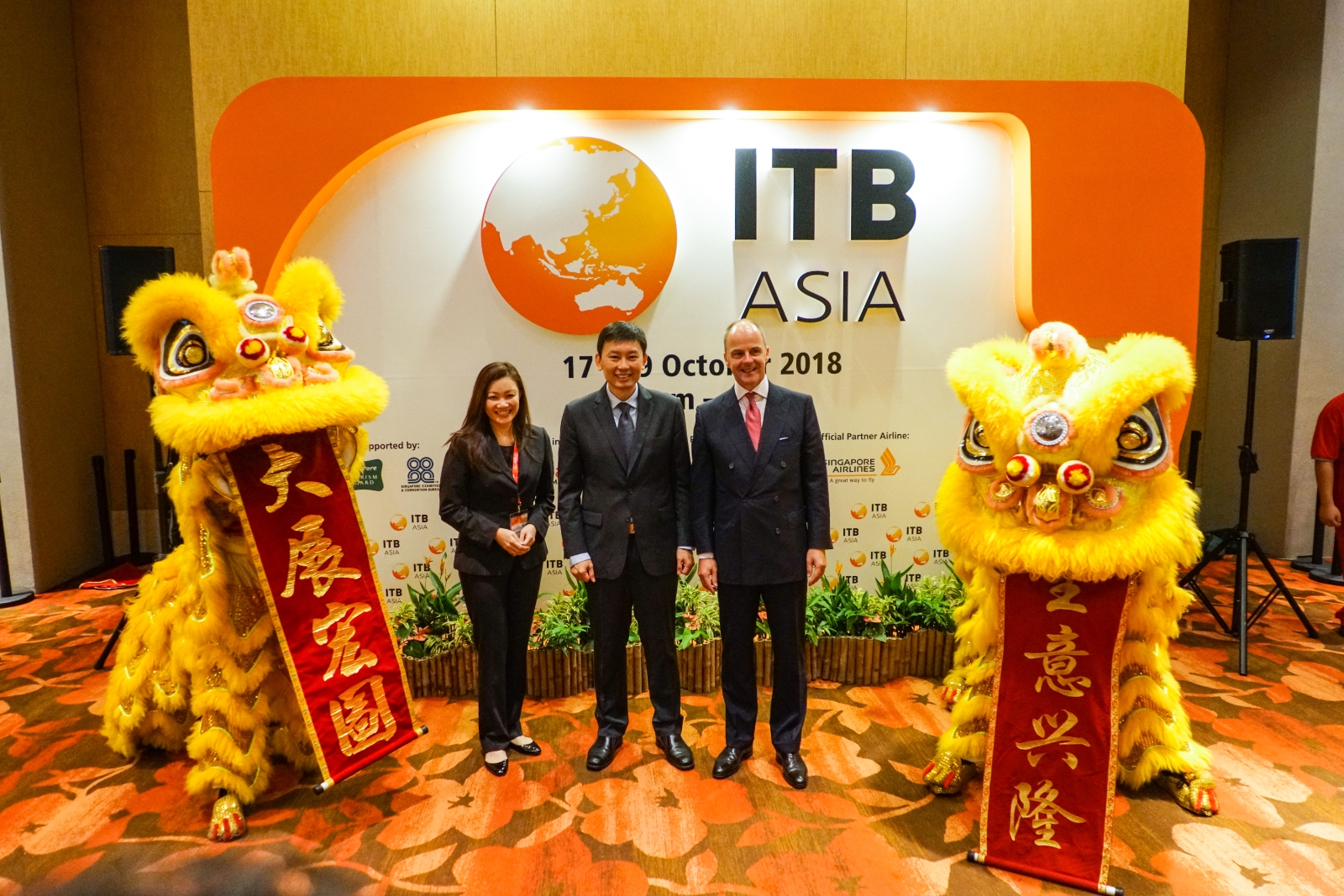 AW | 2018 10 17 10:25 | TOURISM / FAIR / CONGRESS
Inicia ITB Asia 2018 en Singapure
ITB Asia 2018, es una feria comercial de viajes líder en Asia, que ha iniciado su edición en este 2018 en el Sands Expo and Convention Center en Marina Bay Sands, en Singapur. La conferencia y exposición de tres días desde el 17-19 Octubre 2018 albergará a la industria del turismo. La ITB Asia es una feria de la corporación ITB Berlín (Internationale Tourismus-Börse Berlin) que otras ferias complementarias como ITB Global y la ITB China.
La 11 ª edición de ITB Asia 2018 abre sus puertas esta mañana durante tres días de la compra y venta en la capital del comercio de Singapur de la región. Durante los tres días, del 17-19 Octubre 2018, más de 11,000 personas se reunirán en la sala de exposiciones y conferencias en la Marina Sands con la determinación de firmar contratos, crear nuevas asociaciones y tener una buena relación con los viajes y el turismo.
ITB Asia es probablemente el show de viajes más exitoso de la región en varios frentes, pero sin duda el mayor elogio se debe a los extensos temas de la conferencia que se desarrollan al margen de la feria comercial de formato estándar.
"Viajes reimaginados"
Los principales líderes de la industria brindarán información sobre las tendencias clave que provocan trastornos en toda la industria de viajes y cómo las marcas están innovando para mantenerse competitivas. Los esperados más de 1.000 expositores y más de 1.000 compradores podrán apreciar el emocionante evento de exhibición y el programa de la conferencia, que presenta la línea más fuerte de expositores y oradores.
"ITB Asia continúa manteniendo su posición como la feria comercial de viajes líder en Asia. Sigue siendo una de las plataformas de negocios más importantes para conectar expositores y socios con tomadores de decisiones clave en la industria de viajes MICE, Corporate y Leisure. Trabajando en estrecha colaboración con nuestros socios y expositores, estamos encantados de presentar uno de nuestros programas más atractivos y emocionantes hasta el momento. ¡Esperamos dar la bienvenida a los visitantes al espectáculo de este año!", expresó Katrina Leung, Directora General de Messe Berlin (Singapur), la organizadora de ITB Asia.
Como parte de la conferencia de apertura de hoy, Microsoft y Google brindarán información sobre lo que afectará y cambiará la forma en que viajamos y hacemos negocios, mientras que Ctrip arrojará luz sobre cómo desafiar al mercado internacional de viajes. Mañana, las principales compañías que discuten el futuro de la distribución de viajes, incluirán Booking.com, Hotelbeds Group, Jacobs Media Group, KAYAK, Skyscanner y Triptease. El viernes, el último día del espectáculo, Thomas Cook, Mileslife, Tujia, Fliggy y Dragon Trail Interactive hablarán sobre cómo los viajeros chinos están cambiando el mundo y cómo las marcas pueden conquistarlos.
El número de participantes corporativos y de MICE en ITB Asia ha aumentado en un 49% en comparación con el año pasado. Para reflejar este fuerte apoyo y el mayor enfoque en esta área, ITB Asia lanzará varias iniciativas nuevas para los segmentos MICE y Corporativo, incluida la reunión de líderes de la industria en el recientemente inaugurado MICE & Corporate Hub. Los socios y oradores confirmados incluyen Airbnb for Work, CWT Meetings & Events, site y Troovo, por nombrar algunos. Otras iniciativas nuevas incluyen las sesiones dedicadas de MICE y Corporate Speed ​​Networking que ya se agotaron, y el MICE Tech Showcase, que presentará algunas de las innovaciones más emocionantes que ayudan a resolver los complejos problemas de la industria MICE.
El programa ha visto un aumento del 20%, en comparación con 2017, en los nuevos expositores que se inscribieron en el programa de este año tras el crecimiento de la demanda de los participantes asiáticos y europeos. Las nuevas inscripciones de este año incluyen las Organizaciones Nacionales de Turismo (NTO) y las Organizaciones Regionales de Turismo (RTO). ITB Asia se complace en dar la bienvenida a los nuevos expositores de NTO de Abu Dhabi, Botswana, Croacia, Mauricio, Papua Nueva Guinea, así como a expositores de RTO como Fukuoka, Kansai, Rovaniemi y más.
Mientras los expositores asiáticos continúan dominando el piso de exhibición este año, hemos visto un fuerte crecimiento en la cantidad de expositores europeos que participan en el show por primera vez. Estos incluyen el Ministerio de Transporte y Construcción de la República Eslovaca, la Organización de Turismo de Polonia, la Asociación de Turismo del Cantón de Sarajevo y Visit Ucrania.
En comparación con el año pasado, ITB Asia 2018 ha experimentado un crecimiento de más del 125% en el número de grupos de hoteles que se inscriben como parte de los Socios del Programa de Compradores. Se ha recibido un apoyo excepcional de los principales grupos hoteleros como Best Western International, InterContinental Hotels Group (IHG), Melia Hotels International y Worldwide Hotels, Pan Pacific Hotel Group, Radisson Hotel Group, WorldHotels AG y Wyndham Hotel Group.
El lanzamiento de un dedicado Pabellón Musulmán, que alberga a Muslim Travel Showcase, considera que los viajes musulmanes son un tema clave para la ITB Asia este año. Con el lanzamiento del Informe Digital de Viajes Musulmanas (DMTR) 2018 de Mastercard-Halal Trip, se presentarán los últimos conocimientos y análisis en profundidad del mercado de viajes musulmán y los comportamientos en lo que respecta a la planificación de viajes, la investigación y el compromiso en el espacio digital. . CrescentRating presentará su 'Halal in Travel Asia Summit' que se centrará en el tema clave de 'Innovación y tecnología en el espacio de viaje musulmán' mientras continúa su asociación por tercer año consecutivo.
ITB Asia 2018 dará la bienvenida a una serie de agencias de medios y creativas líderes en el centro de presentaciones este año, incluidos líderes de opinión de alto nivel de BBC Global News, ESL Gaming, Google, LaLiga, Ogilvy & Mather y Twitter, que hablarán sobre la innovación en el marketing de destinos. El marketing de destinos es un tema nuevo para este año, y estos líderes proporcionarán información clave sobre cómo los destinos pueden promocionarse mejor entre los diferentes grupos de viajeros. Esto incluye tocar la última tecnología disponible en el mercado para mejorar la experiencia del cliente y aprovechar los múltiples puntos de contacto con los viajeros. 
ITB Asia 2018
ITB Asia 2018 starts in Singapore
ITB Asia 2018, is a leading travel trade fair in Asia, which has started its edition in 2018 at the Sands Expo and Convention Center in Marina Bay Sands, Singapore. The conference and three-day exhibition from 17-19 October 2018 will house the tourism industry. ITB Asia is a fair of the ITB Berlin corporation (Internationale Tourismus-Börse Berlin) than other complementary fairs such as ITB Global and ITB China.
The 11th edition of ITB Asia 2018 opens its doors this morning for three days of purchase and sale in Singapore's trade capital of the region. During the three days, from October 17 to 19, more than 11,000 people will gather in the exhibition and conference room at the Marina Sands with the determination to sign contracts, create new partnerships and have a good relationship with travel and tourism. .
ITB Asia is probably the most successful travel show in the region on several fronts, but undoubtedly the highest praise is due to the extensive topics of the conference that take place outside the standard format trade show.
"Journeys reimagined"
Leading industry leaders will provide information on key trends that cause disruption throughout the travel industry and how brands are innovating to stay competitive. Expected more than 1,000 exhibitors and more than 1,000 buyers will appreciate the exciting exhibition event and the conference program, which presents the strongest line of exhibitors and speakers.
"ITB Asia continues to maintain its position as the leading travel trade fair in Asia. It remains one of the most important business platforms for connecting exhibitors and partners with key decision makers in the MICE, Corporate and Leisure travel industry. Working in close collaboration with our partners and exhibitors, we are pleased to present one of our most attractive and exciting programs so far. We look forward to welcoming visitors to this year's show!", said Katrina Leung, Managing Director of Messe Berlin (Singapore), the organizer of ITB Asia.
As part of today's opening conference, Microsoft and Google will provide information on what will affect and change the way we travel and do business, while Ctrip will shed light on how to challenge the international travel market. Tomorrow, the main companies that discuss the future of travel distribution will include Booking.com, Hotelbeds Group, Jacobs Media Group, KAYAK, Skyscanner and Triptease. On Friday, the last day of the show, Thomas Cook, Mileslife, Tujia, Fliggy and Dragon Trail Interactive will talk about how Chinese travelers are changing the world and how brands can conquer them.
The number of corporate and MICE participants in ITB Asia has increased by 49% compared to last year. To reflect this strong support and greater focus in this area, ITB Asia will launch several new initiatives for the MICE and Corporate segments, including the meeting of industry leaders at the recently opened MICE & Corporate Hub. Confirmed partners and speakers include Airbnb for Work, CWT Meetings & Events, site and Troovo, to name a few. Other new initiatives include the dedicated sessions of MICE and Corporate Speed ​​Networking that have already been sold out, and the MICE Tech Showcase, which will present some of the most exciting innovations that help solve the complex problems of the MICE industry.
The program has seen an increase of 20%, compared to 2017, in the new exhibitors who signed up for this year's program following the growth of demand from Asian and European participants. New entries this year include the National Tourism Organizations (NTO) and the Regional Tourism Organizations (RTO). ITB Asia is pleased to welcome the new NTO exhibitors from Abu Dhabi, Botswana, Croatia, Mauritius, Papua New Guinea, as well as RTO exhibitors such as Fukuoka, Kansai, Rovaniemi and more.
While Asian exhibitors continue to dominate the exhibition floor this year, we have seen strong growth in the number of European exhibitors participating in the show for the first time. These include the Ministry of Transport and Construction of the Slovak Republic, the Tourism Organization of Poland, the Tourism Association of the Canton of Sarajevo and Visit Ukraine.
Compared to last year, ITB Asia 2018 has experienced growth of more than 125% in the number of hotel groups that register as part of the Buyers Program Partners. Exceptional support has been received from major hotel groups such as Best Western International, InterContinental Hotels Group (IHG), Melia Hotels International and Worldwide Hotels, Pan Pacific Hotel Group, Radisson Hotel Group, WorldHotels AG and Wyndham Hotel Group.
The launch of a dedicated Muslim Pavilion, which houses the Muslim Travel Showcase, sees Muslim travel as a key issue for ITB Asia this year. With the launch of Mastercard-Halal Trip's Muslim Travel Digital Report (DMTR) 2018, the latest in-depth knowledge and analysis of the Muslim travel market and behaviors will be presented in terms of travel planning, research and development. commitment in the digital space. CrescentRating will present its 'Halal in Travel Asia Summit' which will focus on the key theme of 'Innovation and technology in the Muslim travel space' as it continues its partnership for the third year in a row.
ITB Asia 2018 will welcome a number of leading media and creative agencies at the presentation center this year, including top-level opinion leaders from BBC Global News, ESL Gaming, Google, LaLiga, Ogilvy & Mather and Twitter, which They will talk about innovation in destination marketing. Destination marketing is a new theme for this year, and these leaders will provide key information on how destinations can be better promoted among different groups of travelers. This includes touching the latest technology available in the market to improve the customer experience and take advantage of multiple points of contact with travelers. A \ W
Ξ A I R G W A Y S Ξ
SOURCE: Airgways.com
DBk: Itb-asia.com / Breakimgnews.co.id
AW-POST: 201810171025AR
A\W   A I R G W A Y S ®