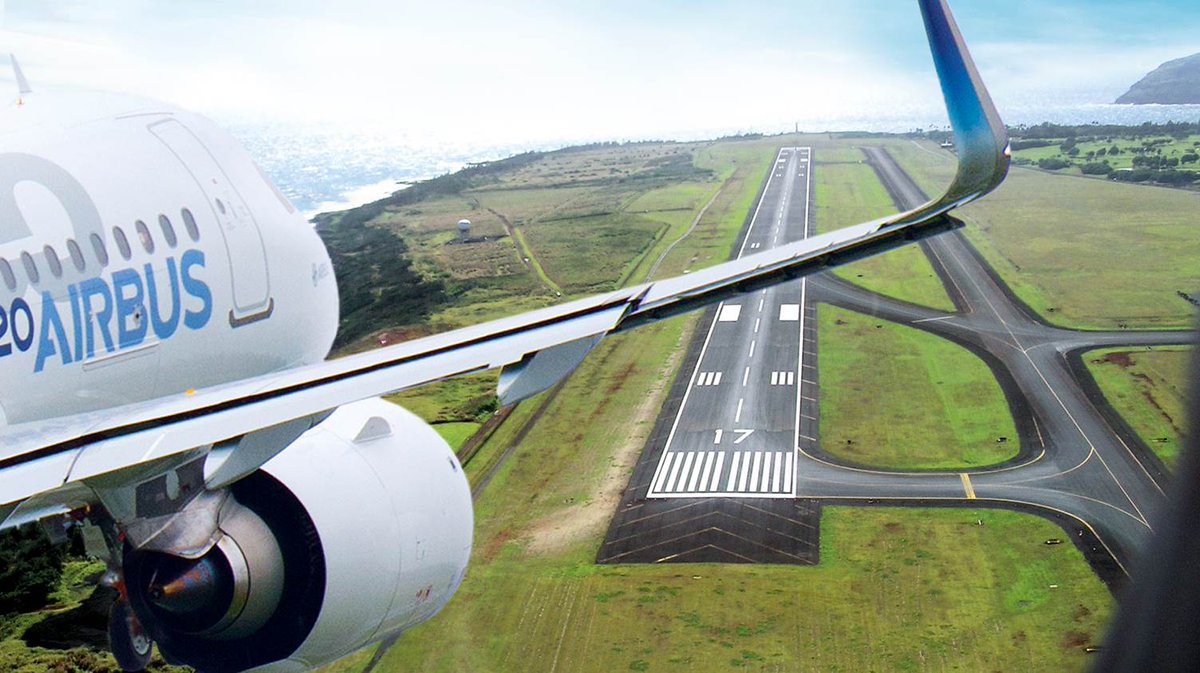 AW | 2019 04 23 14:48 | ENGINEERING
EASA certifica el sistema de alerta de aterrizaje para la familia A320
EASA ha certificado una nueva función de monitoreo de altitud en los aviones de la familia Airbus A320, según NAVBLUE, la filial de operaciones de vuelo y gestión del tráfico aéreo de Airbus. El monitor de configuración del altímetro, un elemento del sistema Honeywell SmartLanding, verifica la altitud del GPS contra la altitud corregida barométrica y emite una alerta a los pilotos si se detecta un error en la configuración de la referencia barométrica. Es la primera de las tres funciones de una suite de vigilancia de aterrizaje que NAVBLUE está desarrollando para complementar el Sistema de Protección de Desbordamiento de Pistas de Airbus (ROPS).
NAVBLUE, Airbus, Honeywell y Lufthansa Group están trabajando juntos en el desarrollo y certificación de las nuevas funcionalidades. Un monitor de estabilización de aproximación para verificar la altura y/o desviaciones de velocidad excesivas en la aproximación y un monitor de aterrizaje en la calle de rodaje para advertir a los pilotos si una aeronave no está alineada con una pista a una cierta altitud, se certificará en la próxima versión de software, dijo NAVBLUE el 17 Abril 2019. La ROPS supervisa continuamente la posición de una aeronave con respecto a la longitud de pista restante y calcula si la aeronave puede detenerse de forma segura. El sistema SmartLanding de Honeywell es una actualización de software para el sistema de advertencia de proximidad al suelo mejorado de la compañía. "Estamos encantados de presentar la primera parte del trío de vigilancia de aterrizaje, que ofrecerá a nuestros clientes un producto innovador adicional para complementar ROPS ya ha realizado más de tres millones de aterrizajes seguros y cuenta con la confianza de más de 90 operadores en todo el mundo", dijo el Vicepresidente de Sistemas NAVBLUE, Pierre Madrange.
EASA certifies SmartLanding
EASA certifies the landing warning system for the A320 family
EASA has certified a new altitude monitoring function on Airbus A320 family aircraft, according to NAVBLUE, Airbus' flight operations and air traffic management subsidiary. The altimeter configuration monitor, an element of the Honeywell SmartLanding system, checks the altitude of the GPS against the corrected barometric altitude and issues an alert to the pilots if an error is detected in the configuration of the barometric reference. It is the first of the three functions of a landing surveillance suite that NAVBLUE is developing to complement the Airbus Overflow Protection System (ROPS).
NAVBLUE, Airbus, Honeywell and Lufthansa Group are working together in the development and certification of the new functionalities. An approach stabilization monitor to verify the height and/or excessive speed deviations in the approach and a taxiway landing monitor to warn the pilots if an aircraft is not aligned with a runway at a certain altitude, will certify in the next software version, said NAVBLUE on April 17, 2019. ROPS continuously monitors the position of an aircraft with respect to the remaining runway length and calculates whether the aircraft can stop safely. Honeywell's SmartLanding system is a software update for the company's improved ground proximity warning system. "We are delighted to present the first part of the landing surveillance trio, which will offer our customers an additional innovative product to complement ROPS, has already made more than three million safe landings and has the confidence of more than 90 operators throughout the world. world", said Vice President of NAVBLUE Systems, Pierre Madrange. A \ W
Ξ A I R G W A Y S Ξ
SOURCE: Airgways.com
DBk: Easa.europa.eu / Honeywell.com / Navblue.aero / Airbus.com
AW-POST: 201904231448AR
A\W   A I R G W A Y S ®