AW | 2017 02 12 17:33| INDUSTRY
Airbus ha completado el montaje y la pintura del segundo prototipo del A330-900, para la serie de pruebas y certificación.
El cn1813  (F-WTTE) fue visto en las pasarelas de Toulouse-Blagnac Jueves, 9 de febrero de totalmente montado, con la excepción de los motores, y cuenta con su librea de la fábrica.
Los primeros A330-900 (cn1795) fueron presentado oficialmente por el fabricante fin en diciembre de 2016, también sin sus motores. Airbus continuación, indicó que las pruebas en tierra y vuelo comenzarían "en 2017," sin dar más detalles.
Recuerde, Airbus tiene previsto construir dos prototipos del A330-900 de certificación, y uno de los A330-800. Ambas variantes tienen 99% de los elementos comunes y compartir con toda la flota A330 una comunidad de alrededor del 95% – una ventaja para los operadores en términos de coste y flexibilidad.
La primera serie A330-900 será entregado a TAP Portugal, la compañía de lanzamiento. Hasta el momento, la entrega se anunció para el cuarto trimestre de 2017, pero en realidad sería fuera por varias semanas y no intervendría hasta el primer trimestre de 2018. Un retraso atribuido a Rolls-Royce Trent 7000, que de nuevo se verían afectados por desarrollo de pequeñas preocupaciones.
A finales de enero de 2017, el A330neo registró 214 pedidos en firme de las dos variantes, con los principales clientes de Air Asia X (66 A330-900), Iran Air (28 A330-900), Delta Air Lines (25) y A330-900 Air Lease Corporation (25 A330-900). Añadir las operaciones de TAP Portugal (14 A330-900), Hawaiian Airlines (6 A330-800), Avolon (15 A330-900), CIT (15 A330-900), Transasia Airways suspende (4 A330-800) y dieciséis A330-900 o permanecer anónimos compradores. El otoño pasado, Aire Caledonia Internacional (Aircalin) firmó un memorando de entendimiento incluyendo, en particular, dos A330-900, sino que se contraen para ser finalizado.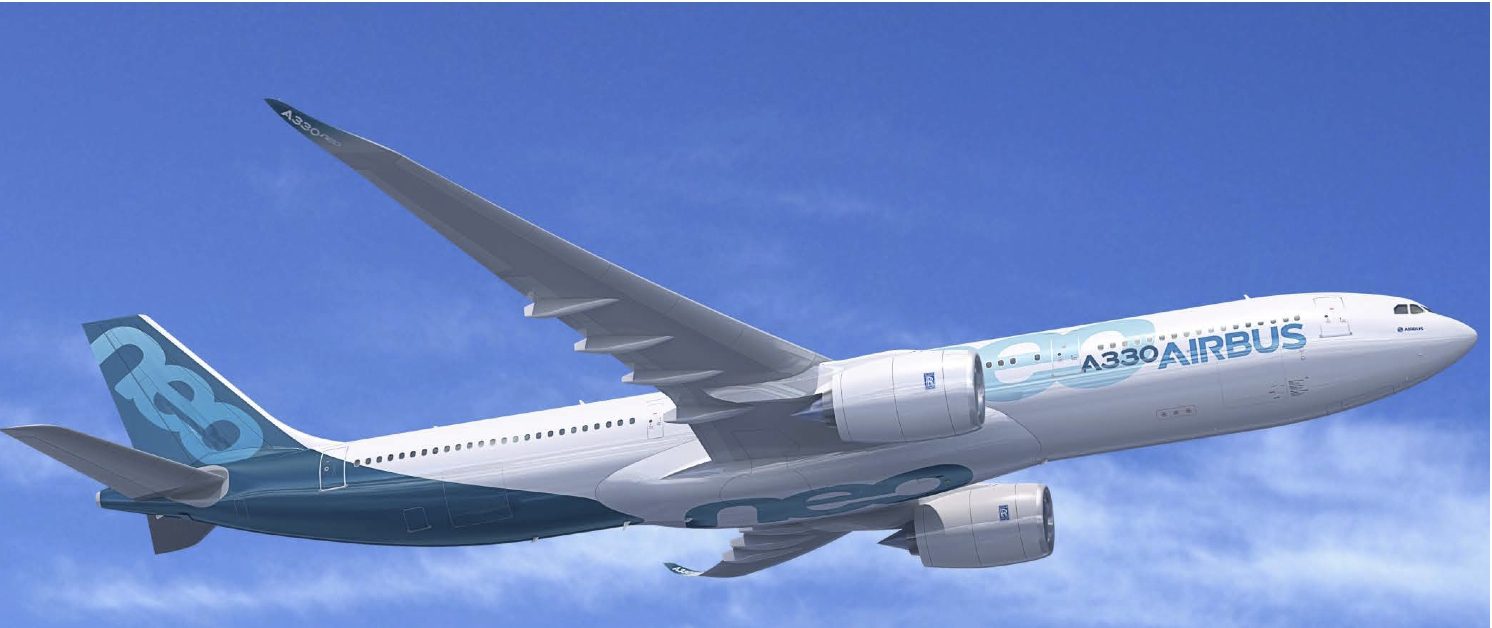 Airbus: the second A330neo is preparing
Airbus completed the assembly and painting of the second prototype of the A330-900 for the testing and certification campaign.
The copy cn1813 (F-WTTE) was seen on the Toulouse-Blagnac tracks on Thursday, February 9, fully assembled, except engines, and bearing its factory livery.
The first A330-900 (cn1795) was officially presented by the manufacturer at the end of December 2016, also without its engines. Airbus indicated that ground and flight tests would begin "in 2017", without further details.
As a reminder, Airbus plans to build two prototypes of the A330-900 for certification, and another of the A330-800. The two variants have 99% elements in common and will share with the entire fleet of A330 a commonality of the order of 95% – an advantage for the operators, in terms of cost and flexibility.
The first A330-900 series is to be handed over to TAP Portugal, the launch company. Until now, this delivery was announced for the fourth quarter of 2017, but it would in fact be postponed for several weeks and would not occur before the first quarter of 2018. A delay attributed to the Rolls-Royce engine manufacturer whose new Trent 7000 would be affected by Slight development concerns.
At the end of January 2017, the A330neo recorded 214 firm orders for both variants, with Air Asia X (66 A330-900), Iran Air (28 A330-900), Delta Air Lines (25 A330-900) and Air Lease Corporation (25 A330-900). Transasia Airways, which suspended its operations (4 A330-800), TAP Portugal (14 A330-900), Hawaiian Airlines (6 A330-800), Avolon (15 A330-900), CIT (15 A330-900) And sixteen A330-900 to one or more purchasers remaining anonymous. Last autumn, Air Calédonie International (Aircalin) signed a memorandum of understanding including two A330-900s but this contract remains to be finalized.  A\W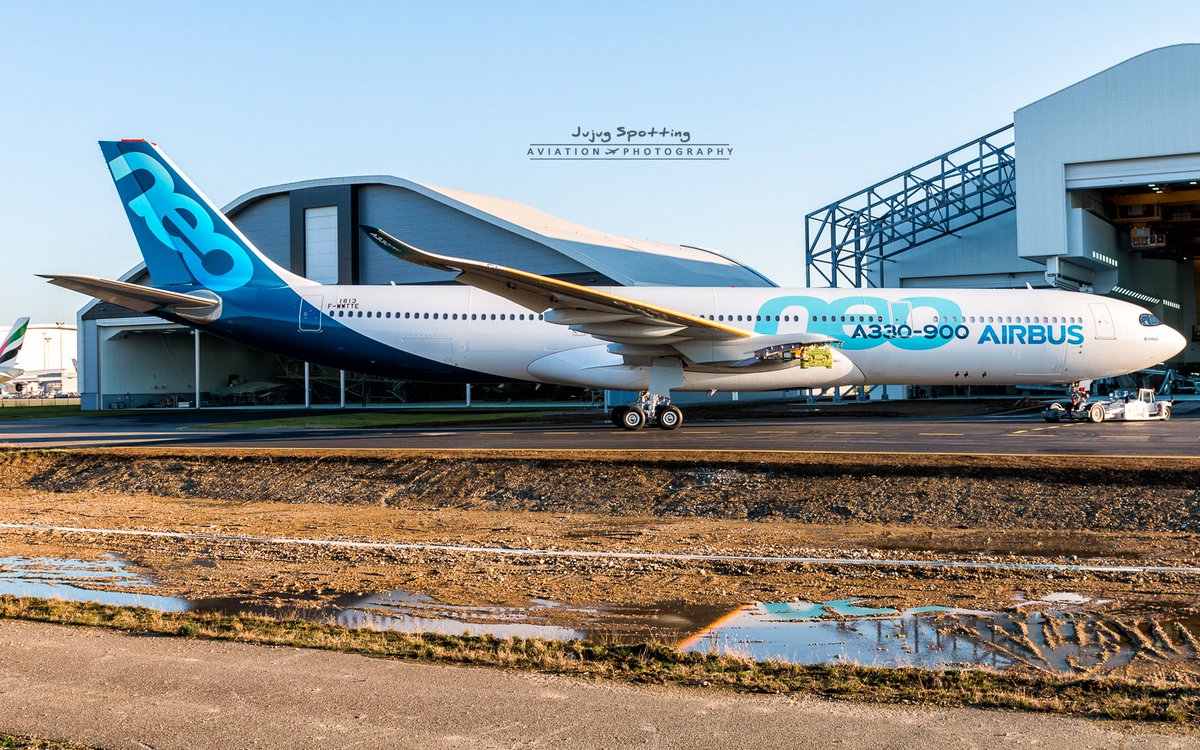 Airbus : le deuxième A330neo se prépare
Airbus a terminé l'assemblage et la mise en peinture du deuxième prototype de l'A330-900, en vue de la campagne d'essais et de certification.
L'exemplaire cn1813 (F-WTTE) a été aperçu sur les pistes de Toulouse-Blagnac jeudi 9 février, entièrement assemblé, à l'exception des moteurs, et arborant sa livrée d'usine.
Le premier A330-900 (cn1795) a été officiellement présenté par le constructeur fin décembre 2016, également sans ses moteurs. Airbus indiquait alors que les essais au sol et en vol débuteraient « en 2017 » , sans autres précisions.
Pour rappel, Airbus a prévu de construire deux prototypes de l'A330-900 en vue de la certification, et un autre de l'A330-800. Les deux variantes ont 99% d'éléments en commun et partageront avec l'ensemble de la flotte d'A330 une commonalité de l'ordre de 95% – un avantage pour les opérateurs, en termes de coûts et de flexibilité.
Le premier A330-900 de série doit être remis à TAP Portugal, la compagnie de lancement. Jusqu'à présent, cette livraison était annoncée pour le quatrième trimestre 2017 mais elle serait en fait décalée de plusieurs semaines et n'interviendrait pas avant le premier trimestre 2018. Un retard attribué au motoriste Rolls-Royce dont le nouveau Trent 7000 serait affecté par de légers soucis de développement.
À fin janvier 2017, l'A330neo enregistre 214 commandes fermes pour les deux variantes, avec comme principaux clients Air Asia X (66 A330-900), Iran Air (28 A330-900), Delta Air Lines (25 A330-900) et Air Lease Corporation (25 A330-900). S'ajoutent TAP Portugal (14 A330-900), Hawaiian Airlines (6 A330-800), Avolon (15 A330-900), CIT (15 A330-900), Transasia Airways qui a suspendu ses opérations (4 A330-800) et seize A330-900 à un ou des acheteurs restant anonymes. L'automne dernier, Air Calédonie International (Aircalin) a signé un protocole d'accord incluant notamment deux A330-900 mais ce contrat reste à finaliser.  A\W
Ξ A I R G W A Y S Ξ
SOURCE: Airinfo.org
DBk: Clement Alloing / Airbus.com / Jujug Spotting
AW-POST: 201702121733AR
A\W A I R G W A Y S ®