AW | 2017 02 26 17:17 | INDUSTRY


Cuando el no.

1 del Airbus A320 realizó su vuelo inaugural hace 30 años, pocos podían haber predicho cómo este avión de un solo pasillo transformaría la industria del transporte aéreo  y Airbus mismo




El despegue inicial del A320, realizado desde el aeropuerto Toulouse-Blagnac de Francia, adyacente a la sede de Airbus, abrió nuevos estándares con el revolucionario uso de controles digitales computarizados fly-by-wire en un avión civil y la introducción de una sección transversal más amplia del fuselaje que permitió a las aerolíneas para ofrecer a los pasajeros asientos más espaciosos y un pasillo más ancho.
Tres décadas más tarde, la línea de productos A320 continúa siendo la familia de aviones de pasillo único más vendida del mundo, con pedidos totales de más de 13.000 y una tasa de producción que da como resultado que un avión salga de una línea de montaje final de Airbus cada siete horas.
ROLLOUT A320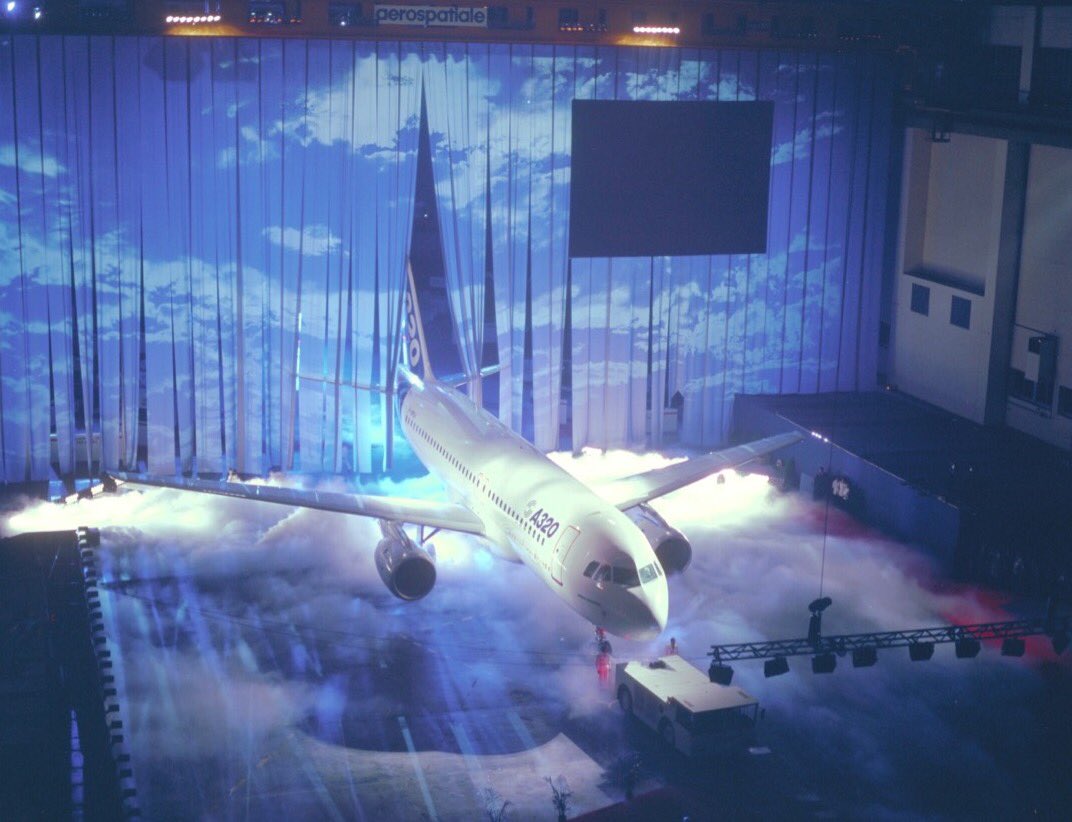 Los números registrados por el no. 1 del A320 durante su vida como un avión de prueba fueron igualmente impresionantes. Este avión jalón fue pilotado por 110 pilotos de prueba diferentes de Airbus, acompañados por 20 ingenieros de vuelo de prueba y 70 ingenieros de pruebas de vuelo; Con sus tareas incluyendo las evaluaciones en vuelo de 29 motores de reacción diferentes, así como el desarrollo y la certificación de muchos sistemas de Airbus.
Antes de su jubilación en 2016, el no. 1 El A320 se convirtió en "Flight Lab 1", utilizado para pruebas en apoyo de la iniciativa de investigación Clean Sky patrocinada por la Unión Europea y del programa de investigación SESAR Single European Sky.
El primer vuelo del A320 el 22 de febrero de 1987 duró 3 horas y 23 minutos. Hoy en día, un avión de la familia A320 despega o aterriza en algún lugar del mundo cada dos segundos – con más de 7.400 aviones entregados por Airbus y más de 11.500 millones de pasajeros transportados.
La familia A320
El Airbus A320 es un avión comercial de reacción, de fuselaje estrecho y de corto a medio alcance, desarrollado por Airbus, un consorcio de compañías aeroespaciales europeas actualmente controlado por la corporación EADS. Existen diversos modelos derivados del A320, entre los que se incluyen las versiones cortas A318 y A319, la versión alargada A321, y los aviones de negocios ACJ. El ensamblaje final de estos aviones en Europa se lleva a cabo en Toulouse, Francia, y Hamburgo, Alemania. Desde 2009, también se puso en funcionamiento una planta de ensamblaje en Tianjin, China, donde se produce este tipo de aeronave para las aerolíneas chinas. Además, el 14 de septiembre de 2015, Airbus inauguró una planta de montaje de la familia A320 en Mobile, Alabama, Estados Unidos y, el 21 de marzo de 2016, efectuó su primer vuelo el primero de los aparatos montados en ella, un A321 sharklets destinado a la compañía JetBlue.
Los modelos derivados del A320 tienen una capacidad máxima de 220 pasajeros y un alcance que va desde los 3100 hasta los 12 000 km, dependiendo del modelo.
La primera versión del A320 se lanzó en marzo de 1984, siendo su primer vuelo el 22 de febrero de 1987, y puesto en servicio el 28 de marzo de 1988 con la aerolínea Air France. Posteriormente se desarrollaron el A321, que entró en servicio en 1994; el A319, que lo hizo en 1996; y el A318, en 2003. El A320 fue el primer modelo de avión comercial con sistema de control de vuelo con mandos electrónicos digitales y también con palancas de control laterales. En este aspecto ha habido un proceso de mejora continua desde su introducción.
El 1 de diciembre de 2010, Airbus lanzó oficialmente una nueva generación de la familia A320 denominada A320NEO (New Engine Option). Esta nueva generación se ofrece con motores CFM International LEAP-X o Pratt & Whitney PW1000G, que combinados con mejoras en la estructura y la incorporación de sharklets, permitirá un ahorro de combustible de hasta un 15 %.
Virgin America era el cliente de lanzamiento previsto del A320NEO para la primavera de 2016, pero se cambió a Qatar Airways, que rechazó su primera entrega por problemas con los motores Pratt & Whitney PW1000G. Finalmente, fue Lufthansa quien, el 20 de enero de 2016, recibió el primer A320NEO equipado con motores CFM International LEAP-X, registrado D-AINA, y que entró en servicio comercial el 24 de enero de 2016 entre Frankfurt y Munich.
A fecha de 31 de diciembre de 2011, unas 21 aerolíneas ya habían hecho pedidos que sumaban un total de 1196 aviones de la familia A320NEO, convirtiéndolo en el avión comercial más rápidamente vendido.
A finales de diciembre de 2015, se habían entregado un total de 4075 aviones del modelo A320 y, de un total de 7633 pedidos, quedaban 3558 unidades aún por ser entregadas.
La familia fue clasificada como la de aviones comerciales de reacción más rápidamente vendida del mundo según los registros desde 2005 a 2007, y el avión de una única generación mejor vendido.
Tecnología en el A320


Las novedades tecnológicas que introdujo este avión fueron:

Fue el primer avión civil con mandos de control completamente digitales del tipo fly-by-wire (el A310 había tenido algunos, pero todavía conservaba otros analógicos).

Es la primera aeronave en usar una palanca de mando sidestick o joystick en lugar de los clásicos "cuernos".

Para pilotarlo solo se necesitan dos personas (es decir, no se necesita de un ingeniero de vuelo).

Es el primer avión de fuselaje estrecho con una cantidad significativa de su estructura hecha de fibra y materiales compuestos.

Es la primera aeronave de su tipo que incluye un sistema de carga de contenedores.

Sus sistemas de mantenimiento y diagnóstico son centralizados, los cuales permiten a los mecánicos comprobar los sistemas del avión desde la cabina.
Variantes
El A320 ha generado una familia de aeronaves que comparten un diseño común, pero que son un poco más pequeños o más grandes. La capacidad de pasajeros oscila entre uno y dos centenares. Un piloto que pueda pilotar un avión de esta familia puede pilotarlos todos con un pequeño curso de diferencias.
El A320 en sí tiene tres variantes:
A320-100
Fue la versión original, pocos aviones de este tipo fueron producidos, porque la serie 200 superaba con creces las prestaciones de la serie 100, que era simplemente una versión con pesos reducidos. La veintena de aviones construidos quedaron en manos de los clientes lanzadores: Air France, Air Inter (heredados después por Air France también) y British Airways, que había absorbido poco antes a Caledonian Airways, la compañía británica que los había encargado en realidad. Todos los aviones de la serie 100, 13 de Air France y 5 de Britsh Airways, han sido ya almacenados o desguazados .
A320-200
Su diseño aerodinámico fue mejorado, añadiéndole winglets en los años 80. En 2012 se comenzó a producir una versión con sharklets, y el año siguiente se añadió la posibilidad de adecuar los A319 y A320 anteriores a esta nueva modalidad. También se aumentó la capacidad de combustible, así como otros cambios menores.

A320NEO
El principal cambio de esta variante es el uso de motores de mayor potencia y más eficientes, que ofrecen frente a las anteriores versiones del A320, un consumo un 15 % menor, un coste operativo un 8 % menor, una reducción del 50 % en emisiones de NOx, y menor impacto acústico, de acuerdo a los datos estimados por Airbus. Los operadores de estas aeronaves tienen la opción de elegir entre la planta motriz CFM International LEAP-1A o la Pratt & Whitney PW1000G. El fuselaje así como las alas, también reciben diversas modificaciones, entre las que se incluye la instalación de unos dispositivos de punta alar denominados "Sharklet", así como diversas mejoras en el interior del fuselaje.
Fábrica europea de Airbus y en China
La producción inicial del Airbus Industries A320 fue pospuesta debido a un desacuerdo entre los países socios; U.K., Francia y Alemania Occidental. Cada uno quería tener un papel más importante. Estos "argumentos de trabajo compartido" se centraron en el prestigio, así como el dinero. Al final, se llegó a la voluntad de los respectivos gobiernos para subvencionar sus empresas aeroespaciales. En marzo de 1984 se alcanzó un acuerdo y se inició la producción con 96 aviones pedidos a 5 transportistas.
El gráfico de abajo, cortesía de Airbus, describe mejor la colaboración internacional necesaria para producir un A320. Desde lugares como; Mobile Alabama a Saint Nazaire Francia, Hamburgo Alemania, Getafe España, Taijin China, Broughton Reino Unido, las piezas se crean para ser enviados a las varias plantas de ensamblaje. El transporte es por carretera, roll-on, roll-off buques, tren y especialmente construido Beluga transportistas aéreos.
Como con cualquier avión moderno, la construcción de varios componentes se extiende a través de decenas de empresas de muchos países alrededor del mundo. Ellos van desde fabricantes de sujetadores, adhesivos y rodamientos de bolas hasta secciones de fuselaje y alas.
Para que el A320 sea rápido al mercado, Airbus ha construido fábricas en Toulouse, Hamburgo, Mobile Alabama y Taijin China. Toulouse es responsable del montaje de A320s, mientras que Hamburgo reúne A318s, A319s y A321s. Taijin en China produce A319s y A320s, mientras que Mobile Alabama ensambla A319s, A320s y A321s, bajo el nombre de la planta de fabricación de Airbus US.
Línea de ensamblaje
Los fuselajes llegan a las plantas de ensamblaje por cualquiera de los aviones Beluga en el caso de Hamburgo y Toulouse o buque portacontenedores en el caso de Taijin y Mobile. La sección delantera se construye en Francia mientras que la sección posterior se construye en Alemania. En la planta de ensamblaje primero se mueven a la Estación 41 donde las dos partes se unen y así comienza el proceso.

LÍNEA DE ENSAMBLAJE EN HAMBURGO, ALEMANIA

Desde la estación 41 el fuselaje unido se mueve entonces a la Estación 40 o 35 que realizan la misma función. Las alas que se fabricaron en el Reino Unido se unen entonces al fuselaje como son los pilones del motor, tren de aterrizaje y otros componentes principales. A continuación, el avión emergente se traslada a una bahía multiuso donde los sistemas internos y la cabina se instalan y se prueban completamente. A partir de aquí se completan las pruebas de presión, las pruebas de combustible, la instalación del motor y las pruebas de arranque y pintura. A continuación, el avión es probado y preparado para ser aceptado por el cliente.

Armonizando como un reloj en Mobile



"Estamos operativos, a tiempo y en presupuesto, como lo planeamos hace muchos meses", afirma Ulrich Weber, Vicepresidente y Gerente General de Airbus Assembly Line en Mobile, Alabama. "El proyecto está funcionando como un reloj suizo". Armonizar como un reloj.
"Estamos operativos, a tiempo y en presupuesto, como lo planeamos hace muchos meses", afirma Ulrich Weber, Vicepresidente y Gerente General de Airbus Assembly Line en Mobile, Alabama. "El proyecto funciona como un reloj suizo".
Los primeros componentes del A320 comenzaron a llegar a la línea de montaje de EE.UU. en junio de 2015, pero Weber ha estado trabajando en el proyecto desde 2012. Y este trabajo de fabricación de aviones es algo nuevo para él: lideró el lanzamiento de otras dos líneas de montaje final de Airbus (FAL) en Hamburgo y Tianjin, China.
Produciendo cuerpos estrechos actualizados y rearmados, Airbus Assembly Line en Mobile alcanzará una tasa de producción de cuatro aviones al mes para principios de 2018. "Pero podríamos incrementar la producción hasta ocho aviones al mes, si es necesario", dice Weber .
Airbus y Mobile: Un ajuste perfecto
Mobile tiene una serie de características que convencieron a Airbus para seleccionarlo como el principal sitio de fabricación de aviones de la compañía. Junto con su fondo aeroespacial, la ciudad tiene un puerto de aguas profundas y un aeropuerto con una cantidad manejable de tráfico comercial.
"Esto nos da más tragamonedas voladoras", dice Weber. Y los beneficios van en ambos sentidos: "Con este Airbus FAL no sólo estamos fabricando aviones en Estados Unidos, sino también creando empleos en Estados Unidos", enfatiza Weber. A\W

A320 First flight 1
The no. 1 A320 shown here during its maiden flight on 22 February 1987 – opened new standards with the revolutionary use of digital computerised fly-by-wire controls on a civil airliner
A320 First flight 2
The Airbus A320 product line is the world's best-selling single-aisle aircraft family, with total orders for more than 13,000
A320 First flight 3
Airlines and passengers alike have benefitted from the A320's exceptional efficiency and quality, which has opened up exciting new travel possibilities throughout the world
A320 First flight 4
The single-aisle A320's first flight, performed on 22 February 1987, lasted 3 hours, 23 minutes from takeoff to touchdown
30º ANNIVERSARY AIRBUS A320
When the no. 1 A320 performed its maiden flight 30 years ago today, few could have predicted how this single-aisle jetliner would transform the air transport industry – and Airbus itself
The A320's initial liftoff, performed from France's Toulouse-Blagnac Airport adjacent to Airbus headquarters, opened new standards with the revolutionary use of digital computerised fly-by-wire controls on a civil airliner, and the introduction of a wider fuselage cross-section that enabled airlines to offer passengers more spacious seats and a wider aisle.
Three decades later, the A320 product line continues as the world's best-selling single-aisle aircraft family – with total orders for more than 13,000 and a production rate that results in one jetliner coming off an Airbus final assembly line every seven hours.
THE A320-100 IN TEST FLIGHT
The numbers logged by the no. 1 A320 during its lifetime as a testbed aircraft were equally impressive. This milestone jetliner was flown by 110 different Airbus test pilots, accompanied by 20 test flight engineers and 70 flight test engineers; with its tasks including the in-flight evaluations of 29 different jet engines, as well as the development and certification of many Airbus systems.
Prior to its retirement in 2016, the no. 1 A320 became "Flight Lab 1," utilised for tests in support of the European Union-sponsored Clean Sky research initiative and the SESAR Single European Sky research programme.
The A320's first flight on 22 February, 1987 lasted 3 hours, 23 minutes. Today, an A320 Family jetliner takes off or lands somewhere in the world every two seconds – with more than 7,400 aircraft delivered by Airbus and over 11.5 billion passengers carried.
The family A320
The Airbus A320 is a narrow-to-mid-range commercial airfield, developed by Airbus, a consortium of European aerospace companies currently controlled by the EADS corporation. There are several models derived from the A320, which include the short versions A318 and A319, the extended version A321, and the ACJ business aircraft. The final assembly of these aircraft in Europe takes place in Toulouse, France, and Hamburg, Germany. Since 2009, an assembly plant has also been set up in Tianjin, China, where this type of aircraft is being produced for Chinese airlines. In addition, on September 14, 2015, Airbus inaugurated an assembly plant for the A320 family in Mobile, Alabama, United States and, on March 21, 2016, the first of the aircraft mounted on it, an A321 Sharklets for the company JetBlue.
The models derived from the A320 have a maximum capacity of 220 passengers and a range ranging from 3100 to 12 000 km, depending on the model.
The first version of the A320 was launched in March 1984, being its first flight on 22 February 1987, and put into service on 28 March 1988 with Air France. Later the A321 was developed, that entered service in 1994; The A319, which did so in 1996; And the A318 in 2003. The A320 was the first commercial aircraft model with flight control system with digital electronic controls and also with lateral control levers. In this aspect there has been a continuous improvement process since its introduction.
Airbus A320 Enhanced (A320E) con dispositivo de punta alar sharklet en lugar de los originales wingtip fences.
Airbus A320 Enhanced (A320E) with wing sharklet tip device instead of the original wingtip fences.
On 1 December 2010, Airbus officially launched a new generation of the A320 family called the A320NEO (New Engine Option). This new generation is offered with CFM International LEAP-X or Pratt & Whitney PW1000G engines, which combined with improvements in the structure and incorporation of sharklets, will allow fuel savings of up to 15%.
Virgin America was the planned launch customer of the A320NEO for the spring of 2016, but it was changed to Qatar Airways, which rejected its first delivery due to problems with the Pratt & Whitney PW1000G engines. Finally, it was Lufthansa who, on January 20, 2016, received the first A320neo equipped with CFM International LEAP-X engines, registered D-AINA, and entered commercial service on January 24, 2016 between Frankfurt and Munich.
As of December 31, 2011, some 21 airlines had already placed orders totaling 1196 aircraft of the A320NEO family, making it the fastest-selling commercial airliner.
By the end of December 2015, a total of 4075 A320 aircraft had been delivered and, out of a total of 7633 orders, 3558 were still to be delivered.
The family was ranked as the world's fastest-selling commercial jetliner according to records from 2005 to 2007, and the best-selling single-generation aircraft.
Technology on the A320

The technological innovations introduced by this aircraft were:

It was the first civilian aircraft with fully digital fly-by-wire controls (the A310 had some, but still had other analogue).


It is the first aircraft to use a sidestick or joystick joystick instead of the classic "horns".


Only two people are required to fly it (ie, no flight engineer is needed).


It is the first narrow-body aircraft with a significant amount of its structure made of fiber and composite materials.


It is the first aircraft of its type that includes a container loading system.


Their systems of maintenance and diagnosis are centralized, which allow the mechanics to check the systems of the airplane from the cabin.
Variants
The A320 has generated a family of aircraft that share a common design, but are a bit smaller or larger. Passenger capacity ranges from one to two hundred. A pilot who can fly an airplane of this family can pilot them all with a small course of differences.
The A320 itself has three variants:



A320-100




It was the original version, few aircraft of this type were produced, because the 200 series far exceeded the benefits of the 100 series, which was simply a version with reduced weights. Twenty aircraft were built by Air France, Air Inter (later legally owned by Air France) and British Airways, which had previously absorbed Caledonian Airways, the British company that had commissioned them. All Aircraft 100, 13 Air France and 5 Britsh Airways aircraft have already been stored or scrapped.
A320-200



Its aerodynamic design was improved by adding winglets in the 1980s. In 2012, a version with sharklets began to be produced, and the following year added the possibility of retrofitting the A319 and A320 prior to this new modality. Capacity was also increased Of fuel, as well as other minor changes.

A320NEO

The main change of this variant is the use of more powerful and more efficient engines, which offer compared to previous versions of the A320, a 15% lower consumption, an operating cost 8% lower, a reduction of 50% in emissions of NOx, and less acoustic impact, according to data estimated by Airbus. Operators of these aircraft have the option of choosing between the CFM International LEAP-1A power plant or the Pratt & Whitney PW1000G. The fuselage as well as the wings, also receive several modifications, which include the installation of devices of wing tip denominated "Sharklet", as well as several improvements inside the fuselage. A\W
European Airbus Factory and in China
Initial production of the Airbus Industries A320 jet airliner was postponed due to a disagreement between the partner countries; U.K., France and West Germany. Each wanted to have a greater role. These "Work Share Arguments" centered around prestige as well as money. In the end it came down to how willing the respective governments were to subsidise their aerospace companies. In March 1984 an agreement was reached and production began with 96 airplanes ordered from 5 carriers.
The graphic below, courtesy of Airbus, best describes the international collaboration required to produce one A320. From places like; Mobile Alabama to Saint Nazaire France, Hamburg Germany, Getafe Spain, Taijin China, Broughton UK, parts are created to be sent to the various assembly plants. Transportation is by road, roll-on, roll-off ships, train and specially built Beluga air transporters.
As with any modern airplane, construction of various components is spread across dozens of companies from many countries around the world. They range from makers of fasteners, adhesives and ball bearings to fuselage sections and wings.
To enable the A320 to be quick to market, Airbus have built factories in Toulouse, Hamburg, Mobile Alabama and Taijin China. Toulouse is responsible for assembling A320s, whilst Hamburg assembles A318s, A319s and A321s. Taijin in China produces A319s and A320s, while Mobile Alabama assembles A319s, A320s and A321s, under the name of Airbus U.S. Manufacturing Facility.
Assembly Line
The fuselages arrive at the assembly plants by either Beluga aircraft in the case of Hamburg and Toulouse or container ship in the case of Taijin and Mobile. The forward section is built in France whilst the after section is built in Germany. At the assembly plant they are first moved to Station 41 where the two parts are joined together and so the process begins.
From Station 41 the joined fuselage is then moved to either Station 40 or 35 which both perform the same function. The wings that were manufactured in the UK are then joined to the fuselage as are engine pylons, landing gear and other main components. Next the emerging aircraft is moved to a multi purpose bay where internal systems and cabin are installed and fully tested. From here they complete pressure testing, fuel testing, engine installation and run up testing and painting. The aircraft is then test flown and readied for acceptance by the customer.
Harmonising like clockwork in Mobile
"We are operational, on time and on budget, as we planned many months ago," states Ulrich Weber, Vice President and General Manager of Airbus Assembly Line in Mobile, Alabama. "The project is working like Swiss clockwork." Harmonising like clockwork
"We are operational, on time and on budget, as we planned many months ago," states Ulrich Weber, Vice President and General Manager of Airbus Assembly Line in Mobile, Alabama. "The project is working like Swiss clockwork."
The first A320 components started to arrive at the US assembly line in June 2015, but Weber has been working on the project since 2012. And this aircraft manufacturing job is anything but new to him: he led the launch of two other Airbus final assembly lines (FAL) in Hamburg and Tianjin, China.
Producing current and re-engined narrow bodies, Airbus Assembly Line in Mobile will achieve a production rate of four aircraft a month by the beginning of 2018. "But we could ramp the production up to eight airplanes a month, if needed," says Weber.
Airbus and Mobile: A perfect fit
Mobile has a number of features that convinced Airbus to select it as the company's main aircraft manufacturing site. Together with its aerospace background, the city has a deep-water port and an airport with a manageable amount of commercial traffic.
"This give us more flying slots," says Weber. And the benefits go both ways:"With this Airbus FAL we are not only making aircraft in the US but also creating US jobs," Weber emphasises. A\W
Ξ A I R G W A Y S Ξ
SOURCE: Airbus.com
DBk: Airbus.com / Wikipedia.org /Madeinalabama.com / Businessinsider.com / Rand.org
AW-POST: 201702261717AR
A\W   A I R G W A Y S ®