AW | 2017 02 26 14:04 | AIRLINES MARKET
Aerolíneas de EEUU reducen viajes a Cuba; demanda no se acerca a expectativas
Sólo unos meses después de que la Administración Obama autorizara los viajes a Cuba, tres aerolíneas han reducido su servicio a la isla, y pudieran no ser las últimas.
Las aerolíneas de Estados Unidos compitieron ferozmente por el derecho a volar a Cuba el año pasado, y los que ganaron las codiciadas rutas hacia La Habana y otros destinos lanzaron un servicio anticipando para la presunta gran demanda de viajeros que vendría después de medio siglo de prohibiciones para visitar la isla comunista.
Pero sólo unos meses después, tres aerolíneas han reducido su servicio a Cuba tras corroborar que la demanda no ha respondido ni de cerca a las expectativas, y que el presunto éxito económico anunciado resultó especulativo, reporta Business Traveller.
American Airlines, Silver Airlines y, más recientemente, Jet Blue, han anunciado considerables reducciones de servicio a Cuba, donde las aerolíneas estadounidenses comenzaron a volar nuevamente en agosto de 2016, tras ser bloqueadas por un embargo gubernamental a la nación comunista desde los años sesenta.
JetBlue anunció que comenzará a usar aviones más pequeños en vuelos diarios entre Fort Lauderdale y La Habana, Santa Clara, Camagüey y Holguín, así como vuelos desde Orlando y el Aeropuerto Internacional John F. Kennedy de Nueva York a La Habana. Sin embargo, por ahora ninguna ruta será terminada.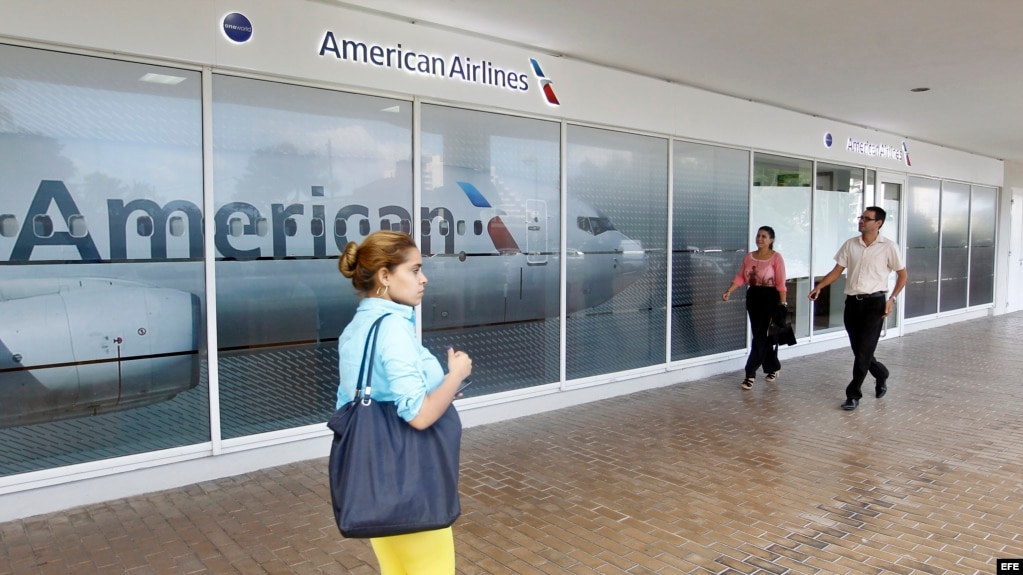 Fotografía de una oficina de la aerolínea American Airlines en La Habana
En noviembre de 2016, American Airlines redujo su servicio de Miami a Holguín, Santa Clara y Varadero de dos vuelos diarios a uno solo, y en diciembre Silver Airways redujo sus frecuencias de vuelo de Fort Lauderdale a Camagüey, Cayo Coco, Holguín, Manzanillo, Varadero y Santiago.
Un funcionario de Jet Blue describió los ajustes como de rutina, pero los funcionarios de American Airlines y Silver Airways señalaron que las restantes restricciones en los viajes entre Estados Unidos y Cuba hacen que la venta de vuelos sea más difícil, según USA Today.
Los estadounidenses no pueden viajar a la isla como turistas, sino solamente bajo las 12 categorías permitidas bajo los llamados viajes de "pueblo a pueblo" autorizados por el gobierno de Obama. 
Reduce demand for flights to Cuba




US airlines reduce travel to Cuba;

Demand does not come close to expectations




Only a few months after the Obama administration authorized travel to Cuba, three airlines have reduced their service to the island, and may not be the last.
US airlines fiercely fought for the right to fly to Cuba last year, and those who won the coveted routes to Havana and other destinations launched a service anticipating the alleged high demand for travelers that would come after half a century of bans To visit the communist island.
But only a few months later, three airlines have reduced their service to Cuba after corroborating that the demand has not met expectations, and that the alleged economic success was speculative, reports Business Traveler.
American Airlines, Silver Airlines and more recently Jet Blue have announced significant reductions in service to Cuba, where US airlines began flying again in August 2016 after being blocked by a government embargo on the communist nation since the 1960s .
JetBlue announced that it will begin using smaller planes on daily flights between Fort Lauderdale and Havana, Santa Clara, Camagüey and Holguin, as well as flights from Orlando and John F. Kennedy International Airport from New York to Havana. However, for now no route will be terminated.
In November 2016, American Airlines reduced its service from Miami to Holguin, Santa Clara and Varadero from two daily flights to one, and in December Silver Airways reduced its flight frequencies from Fort Lauderdale to Camaguey, Cayo Coco, Holguin, Manzanillo, Varadero and Santiago.
A Jet Blue official described the adjustments as routine, but officials at American Airlines and Silver Airways said the remaining restrictions on travel between the United States and Cuba make selling flights more difficult, according to USA Today.
Americans can not travel to the island as tourists, but only under the 12 categories allowed under the so-called "village to town" travels authorized by the Obama administration. A\W
Ξ A I R G W A Y S Ξ
SOURCE: Martinoticias.com
DBk: Efe.com / Gettyimages / Newsweek.com
AW-POST: 201702261404AR
A\W   A I R G W A Y S ®