AW | 2018 05 23 13:28 | AIRLINES
Los pilotos de Aerolíneas Argentinas realizaron asambleas desde las 06:00 hs que afectaron los vuelos en Aeroparque y Ezeiza
Los pilotos de Aerolíneas Argentinas levantaron cerca de las 11:00 hs, las asambleas que llevaban a cabo desde las 6 de la mañana en el Aeroparque Jorge Newbery y en el Aeropuerto Internacional de Ezeiza, por el supuesto incumplimiento de la empresa en la contratación de copilotos, informó a Télam el titular del gremio, Pablo Biró.
El conflicto de la Asociación de Pilotos de Líneas Aéreas (APLA) con Aerolíneas Argentinas, por un supuesto incumplimiento de la empresa en la contratación de copilotos según denunció el gremio, generó hasta las 8 que nueve vuelos de cabotaje y dos internacionales debieran ser reprogramados en el Aeroparque Jorge Newbery y en el aeropuerto de Ezeiza, lo que paulatinamente se fue normalizando.
Los inconvenientes con la salida de los vuelos en ambas estaciones aéreas se produjo a raíz de asambleas que realizaban los pilotos desde las 6 de la mañana, según confirmó el titular de APLA, Pablo Biró. El dirigente gremial explicó que «desde hace meses venimos reclamando que Aerolíneas cumpla con los compromisos asumidos en el Acta Acuerdo firmada el 2 de mayo del año pasado y que realicen de una vez el llamado a opción para 23 vacantes de Copiloto de A-330 previsto para enero de 2018». Biró precisó que «tras meses de negociaciones, la compañía persiste en una inusual intransigencia desconociendo nuestros reclamos y ha deslizado que no va a hacer el llamado correspondiente porque no necesitan más copilotos en Internacional».
Desde la empresa indican que en el último año, se tomaron 50 pilotos nuevos, mientras que se ascendieron 26 profesionales, y añadieron que no se ha plegado a la medida personal de Austral, cuyos vuelos se realizan con normalidad.
Entre otros puntos, a los pedidos sindicales de alcanzar un «bono tecnológico», la compañía reclama a su vez que el gremio acepte avanzar con el plan de digitalización de la documentación en vuelo: «hoy, manuales y otros documentos se llevan en papel en el avión, agregando peso, lo que genera más consumo de combustible. Son cientos de páginas que se podrían cargar en dispositivos electrónicos, como se hace en otras empresas del mundo», sostienen desde la empresa.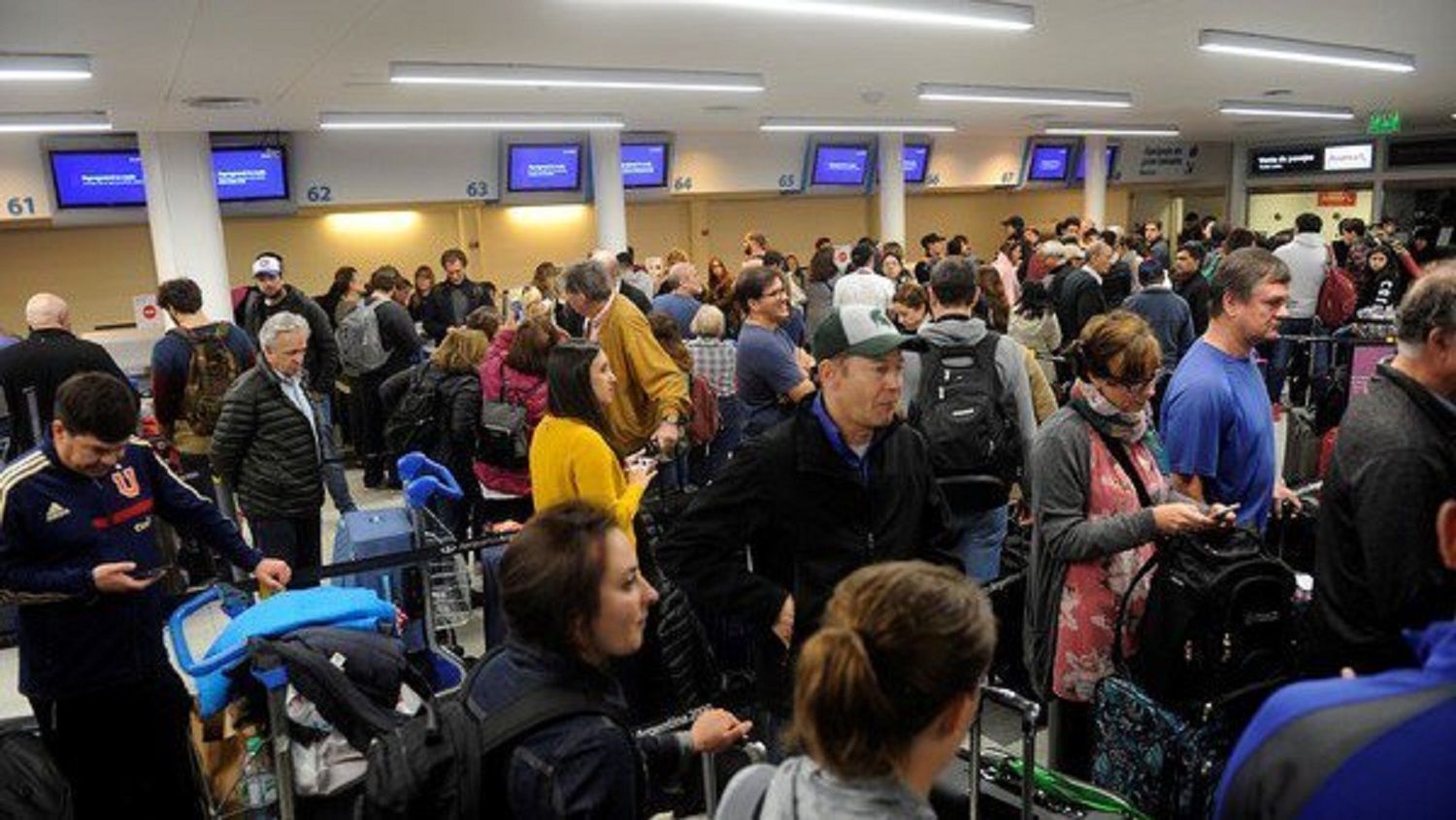 Flight normalization due to the Argentine Airlines conflict
Aerolíneas Argentinas pilots held assemblies from 06:00 hs that affected the flights in Aeroparque and Ezeiza
The pilots of Aerolíneas Argentinas raised the assemblies that took place at about 6 o'clock in the morning at Aeroparque Jorge Newbery and at the Ezeiza International Airport, due to the alleged failure of the company to hire co-pilots, informed to Telam the owner of the guild, Pablo Biró.
The conflict of the Association of Airline Pilots (APLA) with Aerolineas Argentinas, due to an alleged breach of the company in the contracting of co-pilots as reported by the union, generated until 8 that nine cabotage flights and two international flights should be rescheduled in the Aeroparque Jorge Newbery airport and Ezeiza airport, which gradually normalized.
The inconveniences with the departure of flights at both air stations occurred as a result of assemblies made by the pilots from 6 in the morning, as confirmed by the APLA head, Pablo Biró. The trade union leader explained that «for months we have been demanding that Aerolíneas comply with the commitments assumed in the Agreement Agreement signed on May 2 last year and that they make the call to option for 23 co-pilot vacancies of A-330 planned for January 2018». Biró said that «after months of negotiations, the company persists in an unusual intransigence ignoring our claims and has slipped that it will not make the corresponding call because they do not need more co-pilots in Internacional».
From the company indicate that in the last year, 50 new pilots were taken, while 26 professionals were promoted, and added that it has not been folded to the personal measurement of Austral, whose flights are carried out normally.
Among other points, union demands to achieve a «technological bonus», the company claims in turn that the union agrees to move forward with the digitization plan of the documentation in flight: «Today, manuals and other documents are carried on paper in The airplane, adding weight, which generates more fuel consumption, are hundreds of pages that could be loaded into electronic devices, as is done in other companies around the world», they say from the company. A \ W
Ξ A I R G W A Y S Ξ
SOURCE:  Airgways.com
DBk: Aa2000.com.ar / Aerolineas.com  / Minutouno.com / Deskgram.org
AW-POST: 201805231328AR
A\W   A I R G W A Y S ®