AW | 2018 05 06 12:28 | AIRPORTS
El Aeropuerto de Madeira sufre la presión para modificar los límites de seguridad de vuelo
Los niveles de seguridad en el Aeropuerto de Madeira datan desde 1964 y según el gobierno de la Isla de Madeira podrían perjudicar la economía de la isla. Funchal quiere cambiar la forma en que se aplican los límites de viento.
En cuestión estaban los límites de viento impuestos por el Instituto Nacional de Aviación Civil (INAC, ahora Autoridad Nacional de Aviación Civil-ANAC) que durante cuatro días afectaron a las operaciones aeroportuarias. Vuelos cancelados o desviados. Pasajeros exasperados. No había pasado un mes sobre la apertura de la nueva pista y los condicionantes se mantenían.
El problema, aunque los técnicos dicen que es cíclico, ha ganado una dimensión preocupante, muchas veces amplificada por los vídeos de aterrizajes abortados que circulan en las redes sociales o por las imágenes compartidas de pasajeros aglomerados en el aeropuerto. En agosto del año pasado, durante tres días el viento no dio tregua en el principal aeropuerto del archipiélago. Resultado: 22.000 pasajeros afectados.
El Aeropuerto de Madeira efectuó estudios encontrando que alrededor de 496 vuelos fueron afectados por los límites de viento impuestos a esa infraestructura. Un número que representa cerca del 70% del total de condicionamientos registrados en 2017.
AEROPUERTO INTERNACIONAL DE FUNCHAL, ISLA MADEIRA
Madeira no comprende la razón por la que los límites de viento del aeropuerto, fijados en 1964, tienen carácter obligatorio, en lugar de recomendado en los demás aeropuertos nacionales e internacionales. Límites, argumenta Funchal, que fueron instituidos en un momento en que la pista del aeropuerto era más pequeña (el tamaño original era de 1600 metros) y que no tienen en cuenta los sucesivos avances tecnológicos tanto de los aviones, o de los instrumentos meteorológicos.
Por eso, al final de la semana pasada, el Vicepresidente del gobierno de Madeira, Pedro Calado, llegó a Lisboa en busca de respuestas. Calado se reunió con la ANAC, ANA-Aeropuertos de Portugal, Laboratorio Nacional de Ingeniería Civil (LNEC) y el Instituto Portugués del océano y la atmósfera (IPMA). La reunión fue inconclusa. Antes de oír hablar de revisar los límites de viento o cambiar la forma en que se aplican, la ANAC quiere esperar a que se concluyan los estudios que se están desarrollando.
«Lo que se está pasando en el Aeropuerto de Madeira es insólito, es el único aeropuerto en el mundo que tiene límites obligatorios. Esto significa que incluso cuando los comandantes sienten quienes tienen condiciones de seguridad para aterrizar, si los límites de viento están por encima de lo estipulado, no podrán hacerlo bajo pena de que la ANAC suspende su licencia de vuelo», dijo Pedro Calado a los periodistas, agregando que la ANA está en sintonía con el ejecutivo madeirense.
Tanto Calado como Albuquerque subrayan que la revisión de los límites tiene que obedecer siempre a los principios de seguridad y que ésta no no puede ser descuidada, lo que no invalida que el mantenimiento de límites con más de 50 años no cause extrañeza, principalmente cuando está teniendo impactos negativos en la economía de la isla.
El ejecutivo madeirense, comunicó a Pedro Calado a la ANAC, está disponible para adquirir equipos más avanzados para la recogida de información y medición de las condiciones de viento. Ejemplo de ello es el sistema LIDAR – Light Detection and Ranging, que se utiliza en el aeropuerto de Hong Kong, que tiene características orográficas similares al de Madeira.
«En este momento, e incluso con la adquisición de estos equipos, la ANAC considera que, en esta primera fase, aún no estaría preparada para levantar el nivel de seguridad que se requiere en el Aeropuerto de Madeira, porque hay informaciones y conclusiones contradictorias sobre los tiempos de medición de los vientos y sobre la forma en que estos se recogen», explicó Pedro Calado.
Para la ANAC, la cuestión del aeropuerto madeirense no está relacionada con el tamaño de la pista o con los avances aeronáuticos, sino con la orografía que envuelve la infraestructura aeroportuaria que provoca turbulencia en las cabeceras de la pista. En el 2000, cuando Jardim habló de tal «sabotaje político», el presidente del INAC en aquel entonces, Luís Lopes, aclaró: «Porque la pista fue ampliada, mucha gente se convenció de que no habría limitaciones, pero no es verdad».
La cuestión no es por lo tanto consensuada. La ANAC ha venido a decir que incluso revisados ​​hacia arriba, los límites deben seguir siendo obligatorios. La Asociación de Pilotos tiene dudas, incluso cuando comandantes más experimentados, como Timoteo Costa, discrepaban de esa obligatoriedad. «Estamos hablando de límites que se imponen de la misma manera a un A320 o a un pequeño bimotor. No tiene sentido», argumenta el antiguo piloto, que cuenta con más de nueve mil aterrizajes en Funchal.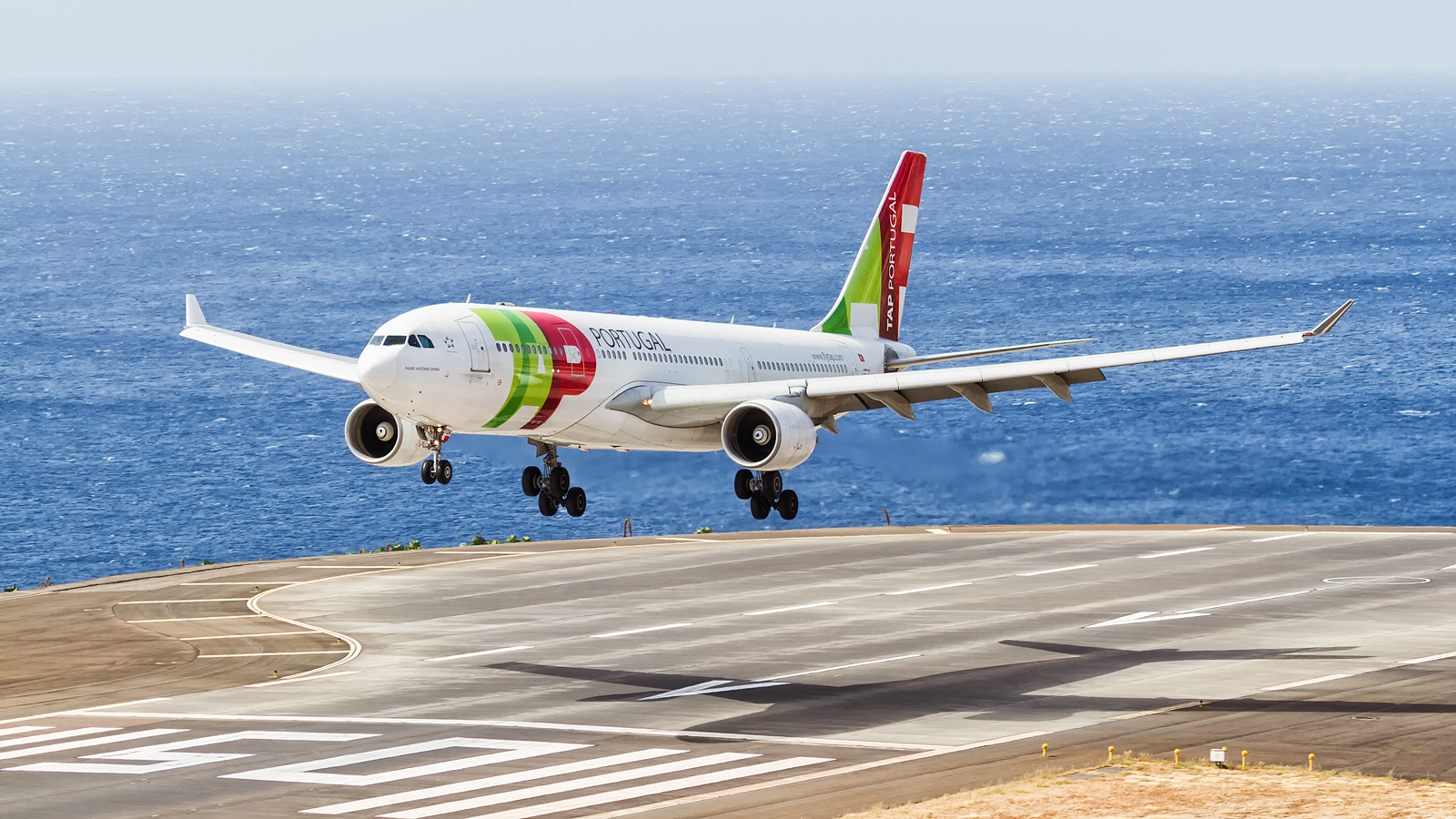 Pressure modification security limits at Madeira Airport
The Madeira Airport suffers the pressure to modify the flight safety limits
The security levels at the Madeira Airport date back to 1964 and, according to the government of Madeira Island, could damage the economy of the island. Funchal wants to change the way in which wind limits are applied.
In question were the wind limits imposed by the National Institute of Civil Aviation (INAC, now National Civil Aviation Authority-ANAC) that for four days affected airport operations. Flights canceled or diverted. Exasperated passengers. It had not been a month on the opening of the new track and the conditions were maintained.
The problem, although technicians say it is cyclical, has gained a worrisome dimension, often amplified by videos of aborted landings that circulate on social networks or by the shared images of passengers crowded at the airport. In August of last year, during three days the wind did not give truce in the main airport of the archipelago. Result: 22,000 passengers affected.
The Madeira Airport carried out studies finding that around 496 flights were affected by the wind limits imposed on that infrastructure. A number that represents close to 70% of the total number of conditions registered in 2017.
Madeira does not understand the reason why the airport wind limits, set in 1964, are mandatory, instead of recommended in other national and international airports. Limits, argues Funchal, which were instituted at a time when the runway of the airport was smaller (the original size was 1600 meters) and that do not take into account the successive technological advances of both aircraft, or meteorological instruments.
Therefore, at the end of last week, the Vice President of the government of Madeira, Pedro Calado, arrived in Lisbon in search of answers. Calado met with the ANAC, ANA-Airports of Portugal, National Laboratory of Civil Engineering (LNEC) and the Portuguese Institute of the Ocean and the Atmosphere (IPMA). The meeting was inconclusive. Before hearing about revising the wind limits or changing the way they are applied, the ANAC wants to wait for the studies that are being developed to be completed.
«What is happening at the Madeira Airport is unusual, it is the only airport in the world that has mandatory limits, which means that even when the commanders feel that they have safe conditions to land, if the wind limits are above of the stipulated thing, they will not be able to do it under pain of which the ANAC suspends its flight license», said Pedro Calado to the journalists, adding that the ANA is in tune with the madeirense executive.
Both Calado and Albuquerque emphasize that the revision of the limits must always obey the principles of security and that this can not be neglected, which does not invalidate that the maintenance of limits with more than 50 years does not cause strangeness, mainly when it is having negative impacts on the economy of the island.
The Madeira executive, Pedro Calado informed the ANAC, is available to acquire more advanced equipment for the collection of information and measurement of wind conditions. An example of this is the LIDAR – Light Detection and Ranging system, which is used at the Hong Kong airport, which has orographic characteristics similar to that of Madeira.
«At this moment, and even with the acquisition of these equipment, the ANAC considers that, in this first phase, it would not yet be prepared to raise the level of security required at the Madeira Airport, because there are conflicting information and conclusions about the measurement times of the winds and the way in which they are collected», explained Pedro Calado.
For the ANAC, the question of the Madeira airport is not related to the size of the runway or to the aeronautical advances, but to the orography that surrounds the airport infrastructure that causes turbulence in the headwaters of the runway. In 2000, when Jardim spoke of such «political sabotage», the president of INAC at that time, Luís Lopes, clarified: «Because the track was enlarged, many people were convinced that there would be no limitations, but it is not true».
The issue is therefore not consensual. The ANAC has come to say that even revised upwards, the limits must remain mandatory. The Association of Pilots has doubts, even when more experienced commanders, like Timoteo Costa, disagreed with that obligation. «We are talking about limits that are imposed in the same way on an A320 or a small twin-engine. It does not make sense», argues the former pilot, who has more than nine thousand landings in Funchal. A \ W
Ξ A I R G W A Y S Ξ
SOURCE:  Airgways.com
DBk: Thomasranner.myportfolio.com / Airports-worldwide.com / Wikimedia.org
AW-POST: 201805061228AR
A\W   A I R G W A Y S ®