AW | 2018 05 25 14:00 | AIRLINES
Flybondi continúa su expansión progresiva en Argentina
La aerolínea low cost Flybondi, de Argentina, busca nuevos aires de apertura en Mendoza. La compañía aérea está buscando potenciar el destino Mendoza enfocando desde la Provincia de Mendoza la futura apertura de rutas internacionales.
La planificación de Flybondi en Mendoza contemplada la apertura de sus rutas internacionales y obras que contemplan en una primera etapa una inversión inicial de US$ 250 millones de dólares. El objetivo comercial está enfocado en la construcción de rampas y equipamiento móviles de logística operativa.
Flybondi continúa sus operaciones desde hace tres meses en Mendoza, alcanzando la venta de 44.000 tickets vendidos. Las rutas de conexión que están funcionando a pleno son Iguazú, Bariloche, Córdoba y Buenos Aires.
FLYBONDI HACE ENTREGA AL GOBIERNO DE MENDOZA DEL PASAJE Nº15.795
Aviones y seguridad
Flybondi Líneas Aéreas continúa su expansión de su flota con cuatro aviones Boeing 737-800 con una configuración de 189 asientos en economy. Esta es una configuración utilizada por la mayoría de las líneas aéreas low cost en el mundo, permitiendo transportar el mayor número de pasajeros a un costo más conveniente.
La compañía desde sus inicios en Enero 2018 ha transportado 177.000 pasajeros. Entre sus objetivos ambiciosos para este año está proyectado tener un flujo de 1,5 a 2 millones de pasajeros.
Próximos aviones
El cuarto Boeing 737-800 ha arribado que fue afectado a las rutas de Bahía Blanca, Santiago del Estero y Salta. El quinto avión llegará en Junio, el sexto y séptimo está estimada su llagada entre Julio-Setiembre 2018. La aerolínea low cost espera terminar el 2018 con diez aviones en operaciones.
Inicio rutas internacionales
Flybondi estipula iniciar para mitad del 2018 operaciones internacionales en rutas como Chile, Uruguay, Paraguay y Brasil. Las nuevas rutas están planificadas para operar desde el Aeropuerto de El Palomar en Buenos Aires y Córdoba. A largo plazo el plan de la compañía es tener 85 rutas activas de las cuales 43 son de cabotaje y 42 internacionales.
Seguridad en el mundo low cost
Boeing fija la cantidad de mantenimientos por realizar en motores, sistema eléctrico y todo lo relacionado al mundo de los Checks. El mantenimiento del personal de Flybondi contempla el cambio de cubierta, control y medición de los fluidos como aceite y baterías. De acuerdo a los estándares de Boeing los mantenimientos mayores se realizan cada tres o dos años.
El leasing lleva incluido un costo de seguro altísimo porque obliga las aseguradoras que sean eficiente. Boeing exige que tengas un stock de US$ 50 millones para el mantenimiento preventivo de la flota.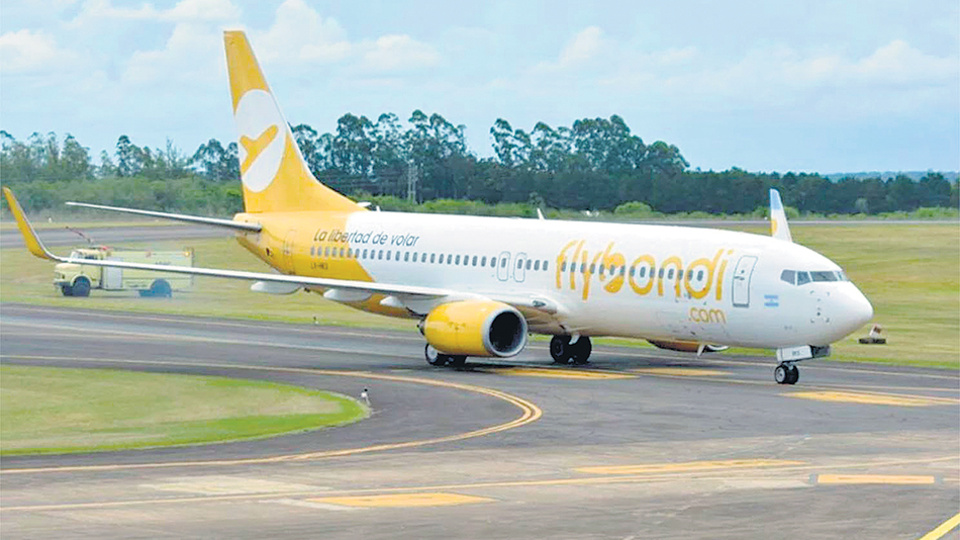 Flybondi seeks to expand
Flybondi continues its progressive expansion in Argentina
The low cost airline Flybondi, from Argentina, looks for new opening airs in Mendoza. The airline is seeking to promote the destination Mendoza by focusing from the Province of Mendoza on the future opening of international routes.
The planning of Flybondi in Mendoza contemplating the opening of its international routes and works that contemplate in the first stage an initial investment of US $ 250 million dollars. The commercial objective is focused on the construction of ramps and mobile equipment for operational logistics.
Flybondi continues its operations for three months in Mendoza, reaching the sale of 44,000 tickets sold. The connection routes that are fully operational are Iguazú, Bariloche, Córdoba and Buenos Aires.

Aircraft and security
Flybondi Líneas Aéreas continues its expansion of its fleet with four Boeing 737-800 aircraft with a configuration of 189 seats in economy. This is a configuration used by most of the low cost airlines in the world, allowing to transport the largest number of passengers at a more convenient cost.
The company since its inception in January 2018 has transported 177,000 passengers. Among its ambitious objectives for this year is projected to have a flow of 1.5 to 2 million passengers.
Upcoming aircraft
The fourth Boeing 737-800 has arrived that was affected to the routes of Bahía Blanca, Santiago del Estero and Salta. The fifth plane will arrive in June, the sixth and seventh are estimated to arrive between July-September 2018. The low-cost airline expects to finish 2018 with ten aircraft in operation.
Start international routes
Flybondi stipulates that by mid-2018, it will start international operations on routes such as Chile, Uruguay, Paraguay and Brazil. The new routes are planned to operate from El Palomar Airport in Buenos Aires and Córdoba. In the long term, the company's plan is to have 85 active routes, of which 43 are coastal and 42 international.
Safety in the low cost world
Boeing sets the amount of maintenance to be done in engines, electrical system and everything related to the world of Checks. The maintenance of the Flybondi staff contemplates the change of cover, control and measurement of fluids such as oil and batteries. According to Boeing standards, major maintenance is done every three or two years.
The leasing has included a very high insurance cost because it forces insurers to be efficient. Boeing demands that you have a stock of US $ 50 million for preventive maintenance of the fleet. A \ W
Ξ A I R G W A Y S Ξ
SOURCE:  Airgways.com
DBk: Flybondi.com / Airgways.com
AW-POST: 201805251400AR
A\W   A I R G W A Y S ®