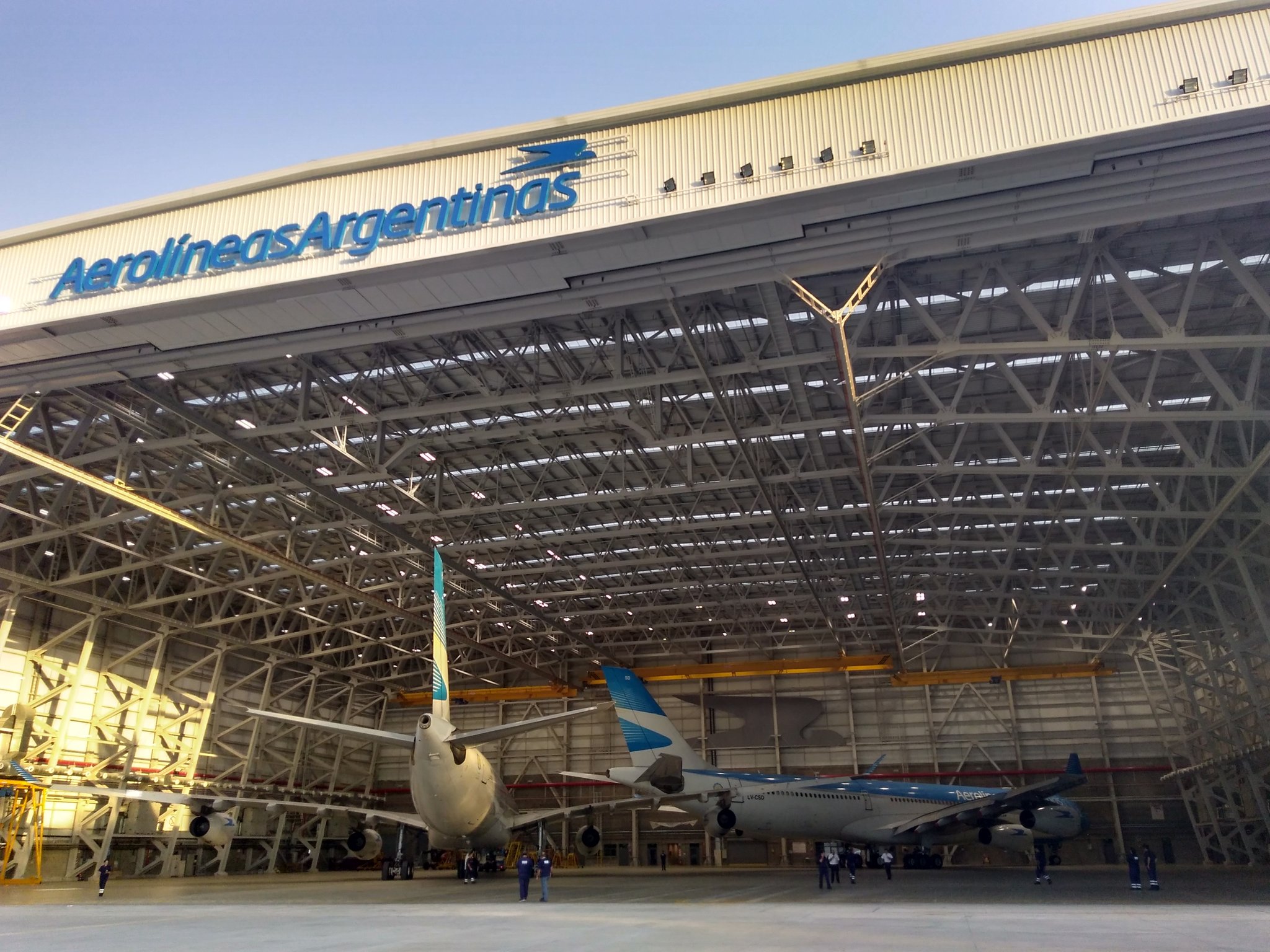 AW | 2018 05 14 17:14 | AIRLINES
Aerolíneas Argentinas anunció el lanzamiento del denominado Hangar 5 en Aeropuerto Ezeiza
El Hangar 5 uno de los más modernos y grandes de la región con una superficie total de 12.017 metros cuadrados y un sistema de grúas de puente que barren el área central del hangar que cubre el fuselaje del avión y sus lados. El edificio fue diseñado teniendo en cuenta las últimas tendencias ambientales, con iluminación LED, un sistema que recolecta agua de lluvia para reutilizarla para trabajos de limpieza y, por otro lado, el piso permite la recolección de líquidos industriales que se bombean a uno de los edificios contiguos para tratamiento.
Ubicado en la planta industrial del aeropuerto internacional de Ezeiza, permitirá que la empresa trabaje simultáneamente en dos aviones de fuselaje ancho o cuatro Boeing 737-800/ Boeing 737 MAX.
«Este hangar nos permite seguir trabajando e invirtiendo en seguridad, con la mejor tecnología y aumentando la capacidad productiva de nuestra planta industrial», dijo Mario Dell'acqua, Presidente del Grupo Aerolíneas.
El hangar servirá para realizar las tareas de mantenimiento y las principales verificaciones de la flota, que son las realizadas aproximadamente cada año y medio y que implican la revisión completa de cada uno de los componentes de la aeronave. El primer trabajo se está llevando a cabo en la aeronave con registro LV-FNL, uno de los Airbus A330-200 arrendados por la compañía.  
Aerolíneas Argentinas inaugurates new hangar in Ezeiza
Aerolíneas Argentinas announced the launch of the so-called Hangar 5 at Ezeiza Airport
The Hangar 5 one of the most modern and largest in the region with a total area of ​​12,017 square meters and a system of bridge cranes that sweep the central area of ​​the hangar that covers the fuselage of the plane and its sides. The building was designed taking into account the latest environmental trends, with LED lighting, a system that collects rainwater to reuse for cleaning and, on the other hand, the floor allows the collection of industrial liquids that are pumped to one of the contiguous buildings for treatment.
Located in the industrial plant of Ezeiza International Airport, it will allow the company to work simultaneously on two wide-body aircraft or four Boeing 737-800 / Boeing 737 MAX.
«This hangar allows us to continue working and investing in safety, with the best technology and increasing the productive capacity of our industrial plant», said Mario Dell'acqua, President of the Aerolíneas Group.
The hangar will be used to carry out the maintenance tasks and the main verifications of the fleet, which are carried out approximately every year and a half and which involve the complete revision of each of the aircraft components. The first work is being carried out on the aircraft with registration LV-FNL, one of the Airbus A330-200 leased by the company. A \ W
Ξ A I R G W A Y S Ξ
SOURCE:  Airgways.com
DBk: Aerolineas.com / Airlinegeeks.com
AW-POST: 201805141714AR
A\W   A I R G W A Y S ®