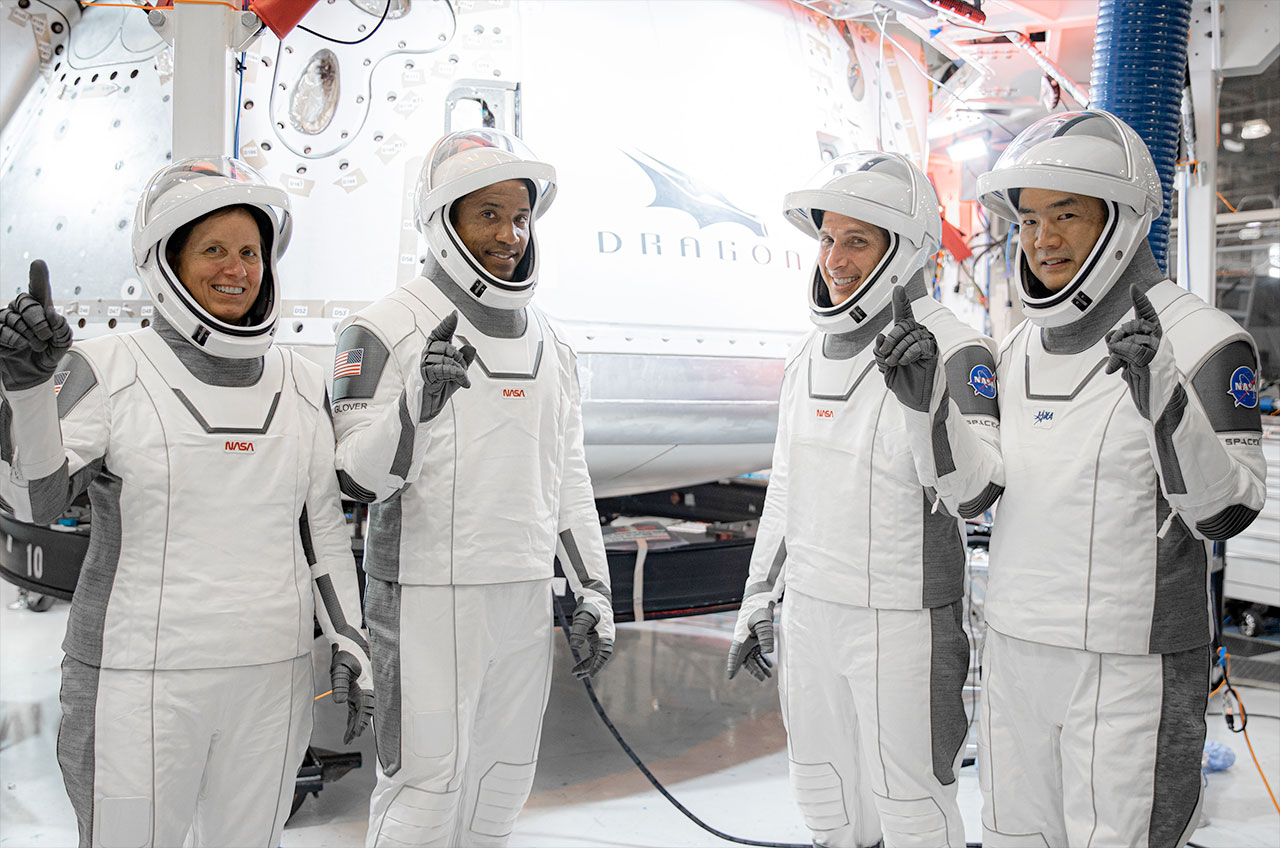 AW | 2020 11 04 17:53 | AEROSPACE
Misión SpaceX de astronautas NASA hacia ISS el 14/11
La Misión Crew-1 Dragon ha sido anunciada por la NASA el Lunes 26 de Octubre de 2020. SpaceX planea lanzar el primer vuelo operativo de su taxi-astronauta Crew Dragon a la Estación Espacial Internacional (ISS) el 14 de Noviembre de 2020. Llamada Crew-1, esta será la segunda misión Crew Dragon para transportar astronautas, después del exitoso vuelo de prueba Crew Dragon Demo-2 en 2019.
Alojado en la parte superior de un cohete SpaceX Falcon 9, los astronautas de la NASA Michael Hopkins, Victor Glover y Shannon Walker, junto con el astronauta de la Agencia Japonesa de Exploración Aeroespacial (JAXA) Soichi Noguchi, despegarán del histórico Complejo de Lanzamiento 39A en el Centro Espacial Kennedy de la NASA en Florida a las 07:49 p.m. EST (0049 GMT), dependiendo a las planificaciones establecidas y a la meteorología vigente para ese día.
Los astronautas pasarán unos seis meses en la Estación Espacial Internacional como miembros de la Expedición 64/65 antes de regresar a la Tierra con un chapoteo asistido en paracaídas en el Océano Atlántico en mayo de 2021.
Originalmente programado para lanzar el 30/08, Crew-1 ha enfrentado numerosos retrasos para el despegue. La NASA primero empujó la misión a finales de Septiembre de 2020, luego al 23/10, luego al 31/10 y finalmente a principios y mediados de Noviembre 2020, citando cuestiones logísticas y técnicas.
Crew-1 Dragon mission launch
NASA astronauts' SpaceX mission to ISS on 14/11
The Crew-1 Dragon Mission has been announced by NASA on Monday October 26, 2020. SpaceX plans to launch the first operational flight of its Crew Dragon taxi-astronaut to the International Space Station (ISS) on November 14, 2020. Call Crew-1, this will be the second Crew Dragon mission to transport astronauts, following the successful Crew Dragon Demo-2 test flight in 2019.
Housed on top of a SpaceX Falcon 9 rocket, NASA astronauts Michael Hopkins, Victor Glover and Shannon Walker, along with Japan Aerospace Exploration Agency (JAXA) astronaut Soichi Noguchi, will lift off from the historic Launch Complex 39A. at NASA Kennedy Space Center in Florida at 7:49 pm EST (0049 GMT), depending on the established schedules and the current weather for that day.
Astronauts will spend about six months on the International Space Station as members of Expedition 64/65 before returning to Earth with a parachute-assisted splash in the Atlantic Ocean in May 2021.
Originally scheduled to launch on 08/30, Crew-1 has faced numerous delays to takeoff. NASA first pushed the mission in late September 2020, then 10/23, then 10/31, and finally early and mid-November 2020, citing logistical and technical issues.

PUBLISHER: Airgways.com
DBk: Nasa.gov / Spacex.com / Space.com / Airgways.com
AW-POST: 202011041753AR
A\W A I R G W A Y S ®