AW | 2020 11 13 10:35 | AEROESPACE
Astronautas SpaceX Crew-1 NASA ensayan para día lanzamiento
Este 12/11 en el Centro Espacial Kennedy de la NASA en el Estado de Florida, los astronautas de la NASA Michael Hopkins, Victor Glovery Shannon Walker, y el astronauta Soichi Noguchi de la Agencia Japonesa de Exploración Aeroespacial (JAXA) participaron en un ensayo de cuenta regresiva de los eventos del día del lanzamiento. Los compañeros de tripulación se están preparando para lanzar a bordo de una nave espacial SpaceX Crew Dragon en el Cohete Falcon 9 de la compañía y volar a la Estación Espacial Internacional para una misión científica de seis meses.
Los astronautas SpaceX Crew-1 de la NASA comenzaron su día en los cuartos de la tripulación de astronautas dentro de las operaciones Neil A. Armstrong de Kennedy y el edificio de salida. Se pusieron sus trajes espaciales SpaceX en blanco y negro, bajaron el ascensor hasta el nivel del suelo y salieron a través de un par de puertas dobles, donde sus vehículos de transporte, los coches Tesla Model X, esperaban. Con sonrisas y olas, subieron para el viaje de 20 minutos al Launch Complex 39A.
El Cohete Falcon 9 y la nave espacial Crew Dragon han estado en su lugar en la plataforma de lanzamiento desde el Lunes por la noche, 9 de Noviembre de 2020. El comandante del dragón hopkins, el piloto Glover y los especialistas en misiones Walker y Noguchi entraron en el dragón de la tripulación a través del brazo de acceso a la tripulación de la plataforma y comprobaron sus sistemas de comunicaciones antes de que se cerrara la escotilla. El ensayo concluyó con la encuesta de ir/no ir para la carga de propulsores Falcon 9, que normalmente ocurre 45 minutos antes del lanzamiento.
Crew-1 es el primer vuelo de rotación de la tripulación de una nave espacial comercial estadounidense con astronautas a la estación espacial siguiendo la certificación oficial de clasificación humana del sistema de naves espaciales. El despegue está programado para el Sábado 14 de Noviembre de 2020, a las 07:49 p.m. EST. Cobertura especial de Airgways.
SpaceX launch preparation 11/14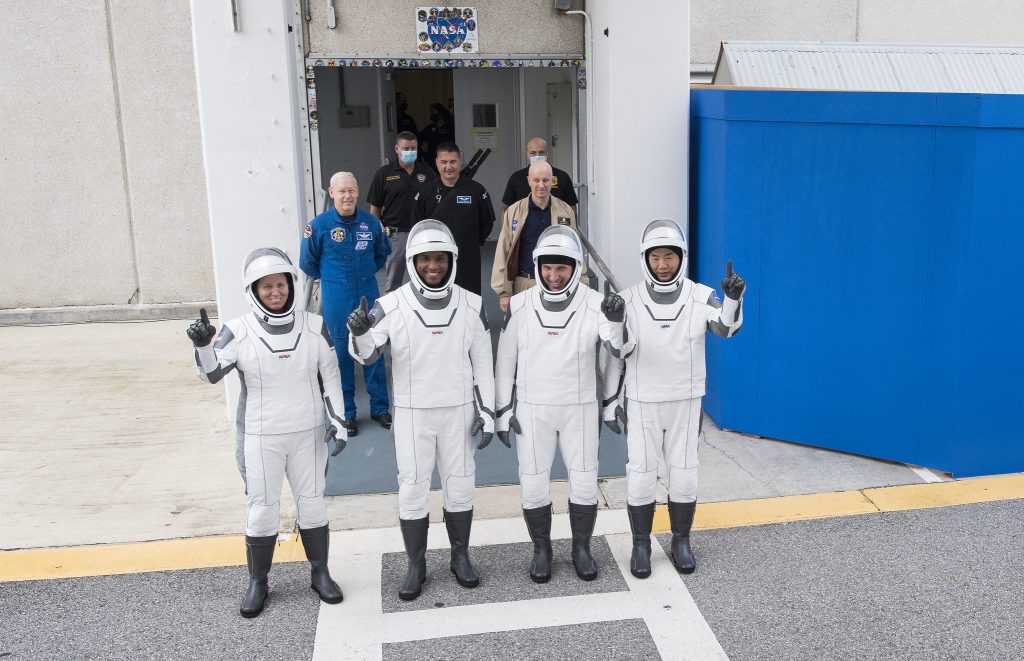 NASA SpaceX Crew-1 astronauts rehearse for launch day
This 11/12 at NASA's Kennedy Space Center in the State of Florida, NASA astronauts Michael Hopkins, Victor Glovery Shannon Walker, and astronaut Soichi Noguchi from the Japan Aerospace Exploration Agency (JAXA) participated in a trial. countdown of launch day events. The crewmates are preparing to launch aboard a SpaceX Crew Dragon spacecraft on the company's Falcon 9 Rocket and fly to the International Space Station for a six-month science mission.
NASA's SpaceX Crew-1 astronauts began their day in the astronaut crew quarters inside Kennedy's Neil A. Armstrong operations and departure building. They donned their black-and-white SpaceX spacesuits, took the elevator down to ground level, and exited through a pair of double doors, where their transport vehicles, Tesla Model X cars, waited. With smiles and waves, they boarded for the 20-minute ride to Launch Complex 39A.
The Falcon 9 Rocket and Crew Dragon spacecraft have been in place on the launch pad since Monday night, November 9. Dragon Commander Hopkins, Pilot Glover, and Mission Specialists Walker and Noguchi entered the Crew Dragon through the platform's crew access arm and checked its communications systems before the hatch closed. The trial concluded with the go/no go survey for the Falcon 9 thruster charge, which typically occurs 45 minutes prior to launch.
Crew-1 is the first crew rotation flight of an American commercial spacecraft with astronauts to the space station following the official human classification certification of the spacecraft system. Takeoff is scheduled for Saturday, November 14, 2020, at 07:49 p.m. ITS T. Special Airgways coverage.

PUBLISHER: Airgways.com
DBk: Nasa.gov / Airgways.com
AW-POST: 202011131035AR
A\W A I R G W A Y S ®