AW | 2020 11 13 14:37 | AIRLINES / AIRPORTS / GOVERNMENT
Movilización 13N por la continuidad del aeropuerto low cost
Las manifestaciones del día Viernes 13/11 ha reunido a empleaods de las líneas aéreas low cost, cámaras de comercio para impedir que el Aeropuerto Internacional El Palomar/EPA deje de funcionar como proponen desde el Gobierno. El firme reclamo continúa bajo la consigna y argumentos de peso por la conservación de puestos de trabajo como así también por la diversidad de oportunidades que genera un aeropuerto para la región y hasta federal en virtud de los mensajes que reciben desde otras localidades donde los vuelos low cost generan más oportunidades de progreso. Los organizadores de la nueva movilización expresaron: "Llegan notas y llamados de cámaras comerciales de distintos puntos del país. Nos sorprendió el apoyo brindado desde distintos puntos del país, por que se ven afectados por la no apertura del Aeropuerto El Palomar, que impacta directamente en el empleo". Otras voces del sector comercial expresaron: "Desde El Palomar se logró tener conectividad en todo el país, a un bajo costo, incrementando el intercambio comercial, aumentando el Turismo y generando un mayor estacionalidad turística, le dio la posibilidad a miles de personas de viajar por primera vez, muchos pudieron ver a sus familiares de mucho tiempo".
La lista de adhesiones en la movilización del 13N concurrieron la Asociación Comercial e Industrial de Morón, de Comerciantes, Industriales y Profesionales de Hurlingham, Cámara de Turismo, Comercio, Industria y Afines de Villa Pehuenia, Cámaras de Comercio de Tres de Febrero Caseros, Ciudalela, Martín Coronado, Pablo Podestá, Primero de Mayo, Sáenz Peña, Santos Lugares, Villa Bosch, V. Rafo. También la Federación Económica de la Provincia de Buenos Aires (FEBA), Unión de Cámaras Empresariales de Morón (UCEM).
Flyboondi Líneas Aéreas ha manifestado que el Aeropuerto El Palomar tiene implementados los mismos protocolos de prevención contra la pandemia que el resto de los aeropuertos del país, producto de la ejecución realizada meses atrás por el concesionario Aeropuertos Argentina 2000 (AA2000). Además recuerda que es la primera aeroestación low cost de Argentina y única en su modelo en América Latina que genera empleo a más de 1.000 personas de manera directa, de los cuáles el 80% son personas que viven en la zona. El Palomar ya es el cuarto aeropuerto de Argentina con mayor cantidad de pasajeros de cabotaje y el sexto con pasajeros totales. A su vez, fue el aeropuerto de Argentina que mayor crecimiento tuvo entre 2019-2020.
Claim against closure of El Palomar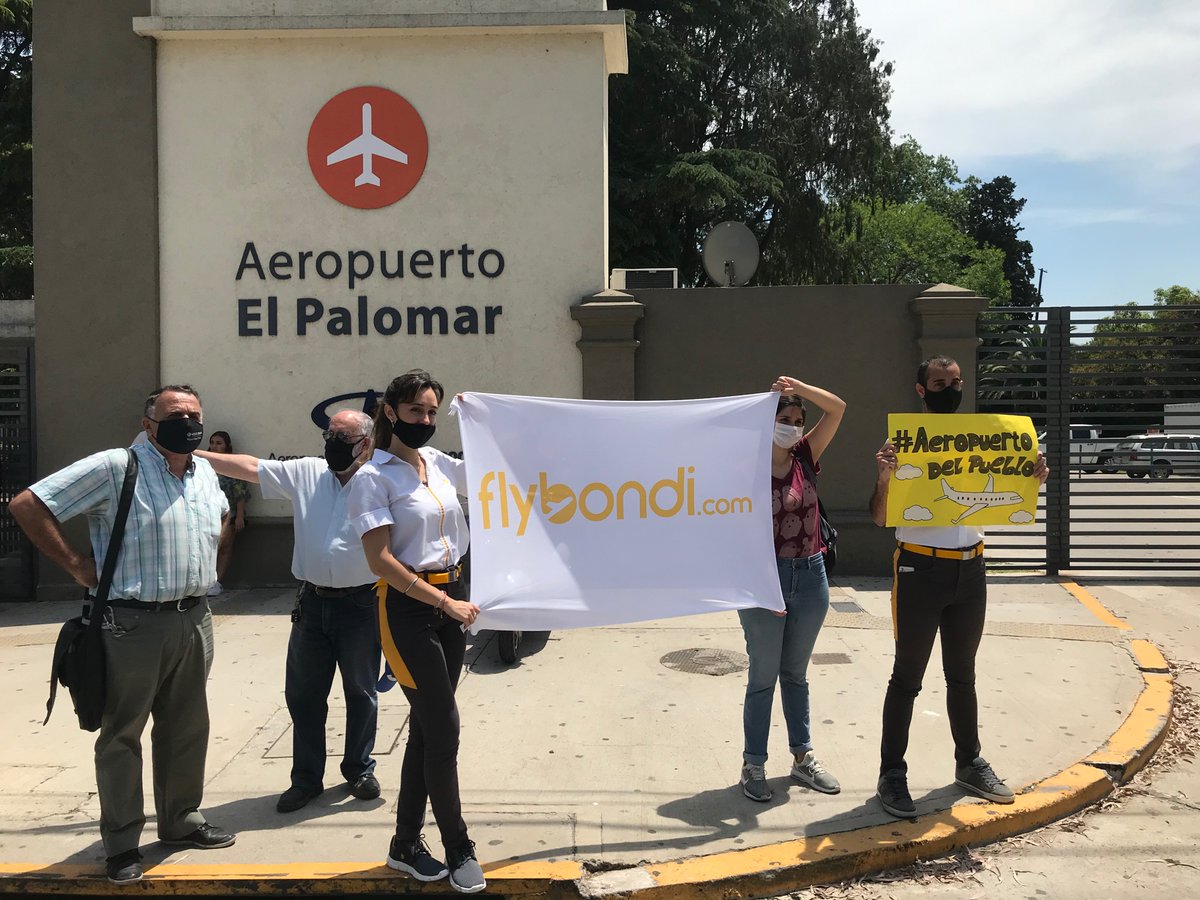 13N mobilization for the continuity of the low cost airport
The demonstrations on Friday 11/13 have brought together employees of the low cost airlines, chambers of commerce to prevent the El Palomar International Airport/EPA from ceasing to function as proposed by the Government. The firm claim continues under the slogan and weighty arguments for the conservation of jobs as well as for the diversity of opportunities generated by an airport for the region and even federal by virtue of the messages they receive from other locations where low-cost flights cost generate more opportunities for advancement. The organizers of the new mobilization expressed: "Notes and calls come from commercial chambers from different parts of the country. We were surprised by the support provided from different parts of the country, because they are affected by the non-opening of El Palomar Airport, which directly impacts in employment ". Other voices from the commercial sector expressed: "From El Palomar it was possible to have connectivity throughout the country, at a low cost, increasing commercial exchange, increasing tourism and generating greater tourist seasonality, it gave thousands of people the possibility to travel for the first time, many were able to see their longtime relatives".
The list of adhesions in the mobilization of the 13N was attended by the Commercial and Industrial Association of Morón, of Merchants, Industrialists and Professionals of Hurlingham, Chamber of Tourism, Commerce, Industry and Related of Villa Pehuenia, Chambers of Commerce of Tres de Febrero Caseros, Ciudalela, Martín Coronado, Pablo Podestá, May Day, Sáenz Peña, Santos Places, Villa Bosch, V. Rafo. Also the Economic Federation of the Province of Buenos Aires (FEBA), Union of Business Chambers of Morón (UCEM).
Flyboondi Líneas Aéreas has stated that the El Palomar Airport has implemented the same prevention protocols against the pandemic as the rest of the country's airports, as a result of the execution carried out months ago by the concessionaire, Aeropuertos Argentina 2000 (AA2000). It also remembers that it is the first low cost airstation in Argentina and the only one in its model in Latin America that directly generates employment for more than 1,000 people, of which 80% are people who live in the area. El Palomar is already the fourth airport in Argentina with the largest number of cabotage passengers and the sixth with total passengers. In turn, it was the airport in Argentina with the highest growth between 2019-2020.

PUBLISHER: Airgways.com
DBk: Flybondi.com / Airgways.com / Tn.com.ar
AW-POST: 202011131437AR
A\W A I R G W A Y S ®