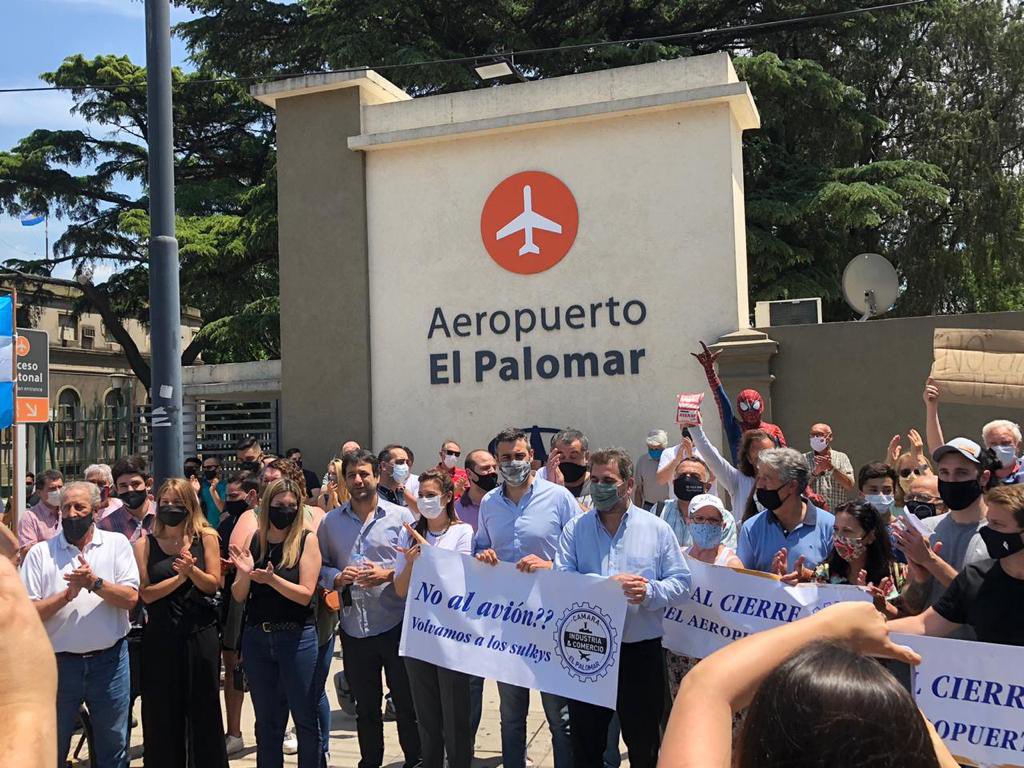 AW | 2020 11 14 12:02 | AIRPORTS / GOVERNMENT
Juntos por el Cambio exigen reapertura Aeropuerto El Palomar
Después de los reclamos del 13N por la reapertura del Aeropuerto El Palomar, los dirigentes políticos de Juntos por el Cambio (JXC) reclamaron la reapertura de la aeroestación low cost de Argentina. El partido político que lidera la gestación del primer aeropuerto low cost del país y de Sudamérica ha exigido a las autoridades presentes el restablecimiento de las operaciones aerocomerciales: "Representa un daño inconmensurable a la economía y al comercio de la zona, [mientras que] condena a la pobreza y al atraso a los vecinos de Morón, Hurlingham y Tres de Febrero", expusieron los Legisladores nacionales y provinciales consideraron que la decisión del Gobierno de mantener inactiva esta terminal va en detrimento del progreso y la libertad de volar en un país federal.
Mientras que una aerolínea ha migrado sus operaciones al Aeropuerto Ezeiza, la única base habilitada por el momento, en el caso de Flybondi Líneas Aéreas adelantaron que van a solicitar que se revise la medida tomada por la Administración Nacional de Aviación Civil (ANAC) y el Organismo Regulador del Sistema Nacional de Aeropuertos (ORSNA) porque entienden que los costos no le permitirían llevar adelante sus modelos de negocio de bajo costo/bajo precio.
Presencia política
Tras un mes del retorno de los vuelos de cabotaje en la República Argentina y tras varios meses de cuarentena estricta en algunas regiones del país, diputados nacionales y provinciales de Juntos por el Cambio, así como también otros dirigentes de esta misma fuerza, se reunieron en el Aeropuerto de El Palomar y cuestionaron la decisión del Gobierno de mantener inhabilitada esta terminal. Referentes del espacio opositor liderados por el presidente del bloque PRO en la Cámara baja, Cristian Ritondo, se concentraron para reclamar la reapertura de las operaciones en ese lugar, que es utilizado especialmente por las compañías low cost. "Con el cierre definitivo de El Palomar quedarían miles de trabajadores desocupados por los efectos perniciosos en los empleos directos e indirectos que genera la terminal", sostuvo Cristian Ritondo durante el acto.
En el acto estuvieron también los diputados María Luján Rey, Silvia Gabriela Lospennato, Dina Rezinovsk y Miguel Bazze, entre otros. El ex-Intendente de Morón, Ramiro Tagliaferro, opinó que, al no permitir la reapertura de este aeropuerto, las autoridades nacionales les dan la espalda a los vecinos del municipio que administró durante cuatro años. El ex jefe comunal expresó que esta medida "se trata de un gran error que profundiza la crisis económica del oeste de la Provincia y le quita trabajo, conectividad y desarrollo al territorio bonaerense. Además de los perjuicios económicos que provoca la clausura de la terminal, se desconoce el reclamo de la inmensa mayoría de los vecinos que está a favor del funcionamiento del aeropuerto".
"Es increíble este ataque a una fuente de trabajo y de conectividad tan grande. El aeropuerto de El Palomar en pocos años se convirtió en una referencia de conectividad y federalismo, ya viajaron más de 2.800.000 pasajeros, de los cuales el 20% viajó en avión por primera vez en su vida. En lugar de trabajar para generar oportunidades de crecimiento y desarrollo el Gobierno las cierra. Parece estar más preocupado por destruir todo lo que sumamos en 4 años de gestión que en solucionar los enormes problemas generados por su falta de respuestas para manejar la crisis", agregó el legislador provincial del PRO Alex Campbell.
Del acto también participaron, entre otros, diputados nacionales como María Luján Rey, Silvia Gabriela Lospennato, Dina Rezinovsk y Miguel Bazze; y los legisladores bonaerenses María Eugenia Brizzi y Daniela Reich, todos integrantes de Juntos por el Cambio.
Desde mediados de Octubre 2020, los vuelos de cabotaje ya funcionan bajo la modalidad de vuelos regulares, aunque en esta primera etapa es para trabajadores esenciales y personas que tengan que hacer un tratamiento de salud, junto a sus acompañantes. También para pasajeros que vienen del exterior y deban llegar a las provincias donde residen. Pero en ningún caso se autorizan viajes por motivos turísticos.
Leaders demand for El Palomar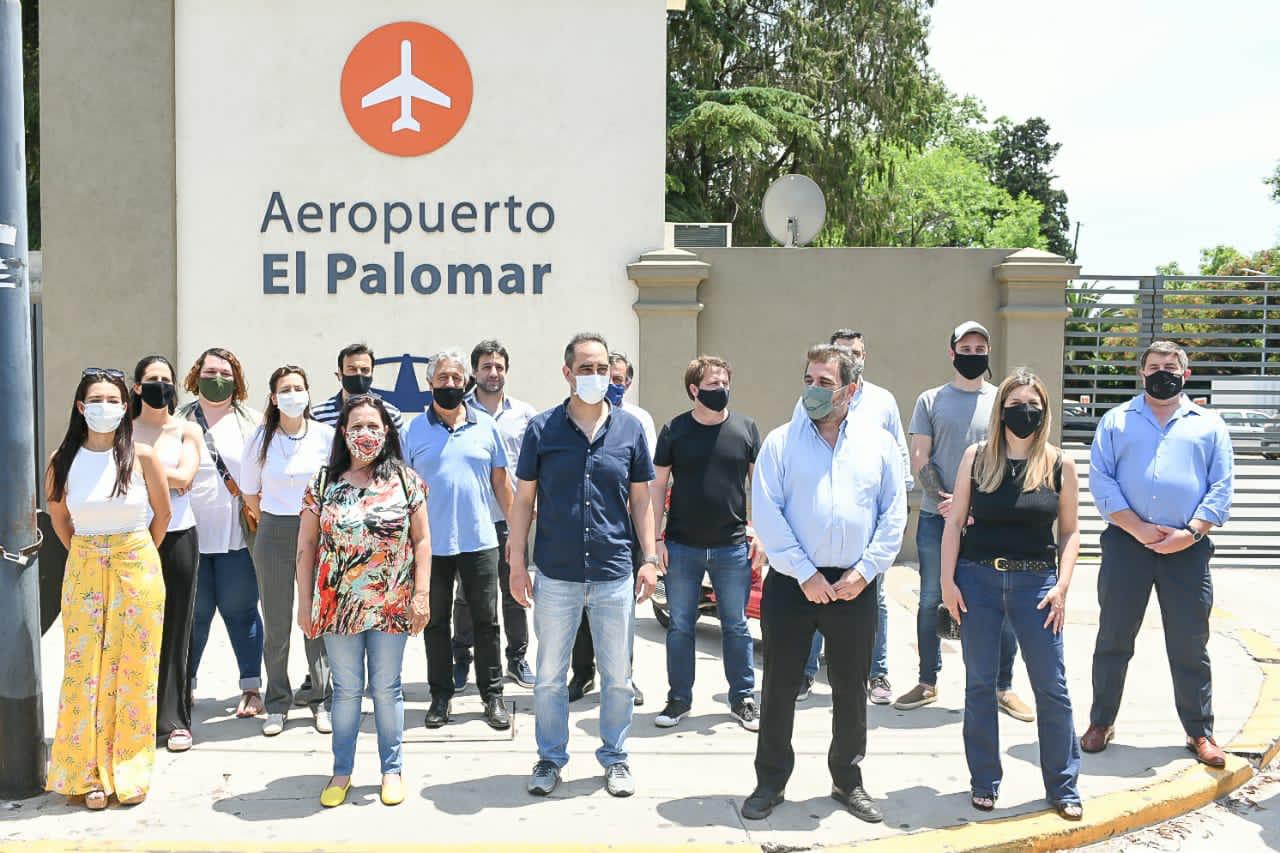 Together for Change demand reopening of El Palomar Airport
After the 13N demands for the reopening of El Palomar Airport, the political leaders of Juntos por el Cambio (JXC) demanded the reopening of the low cost air station in Argentina. The political party that leads the gestation of the first low-cost airport in the country and South America has demanded that the authorities present the reestablishment of commercial air operations: "It represents immeasurable damage to the economy and commerce of the area, [while] condemning to poverty and backwardness to the residents of Morón, Hurlingham and Tres de Febrero", stated the national and provincial legislators considered that the Government's decision to keep this terminal inactive is detrimental to the progress and freedom of flying in a federal country .
While an airline has migrated its operations to Ezeiza Airport, the only base enabled for the moment, in the case of Flybondi Líneas Aéreas they announced that they are going to request that the measure taken by the National Civil Aviation Administration (ANAC) and the Regulatory Body of the National Airport System (ORSNA) because they understand that the costs would not allow them to carry out their low cost/low price business models.
Political presence
After a month of the return of the domestic flights in the Argentine Republic and after several months of strict quarantine in some regions of the country, national and provincial deputies of Juntos por el Cambio, as well as other leaders of this same force, met in El Palomar Airport and questioned the Government's decision to keep this terminal disabled. Referents of the opposition space led by the president of the PRO bloc in the lower house, Cristian Ritondo, gathered to demand the reopening of operations in that place, which is used especially by low cost companies. "With the definitive closure of El Palomar, thousands of workers would be unemployed due to the harmful effects on direct and indirect jobs generated by the terminal", said Cristian Ritondo during the event.
The deputies María Luján Rey, Silvia Gabriela Lospennato, Dina Rezinovsk and Miguel Bazze, among others, were also present at the event. The former Mayor of Morón, Ramiro Tagliaferro, said that, by not allowing the reopening of this airport, the national authorities turn their backs on the residents of the municipality that he administered for four years. The former communal chief expressed that this measure "is a great mistake that deepens the economic crisis in the west of the Province and takes away work, connectivity and development from the Buenos Aires territory. In addition to the economic damages caused by the closure of the terminal, the claim of the vast majority of residents who is in favor of the operation of the airport is unknown".
"This attack on such a large source of work and connectivity is incredible. El Palomar airport in a few years became a benchmark for connectivity and federalism, more than 2,800,000 passengers have already traveled, of which 20% traveled by plane for the first time in their lives. Instead of working to generate growth and development opportunities, the Government closes them. He seems to be more concerned with destroying all that we have added in 4 years in office than in solving the enormous problems generated by his lack of answers to handle the crisis", added PRO provincial legislator Alex Campbell.
The event was also attended by, among others, national deputies such as María Luján Rey, Silvia Gabriela Lospennato, Dina Rezinovsk and Miguel Bazze; and the Buenos Aires legislators María Eugenia Brizzi and Daniela Reich, all members of Together for Change.
Since mid-October 2020, domestic flights already operate under the modality of regular flights, although in this first stage it is for essential workers and people who have to undergo health treatment, together with their companions. Also for passengers who come from abroad and must reach the provinces where they reside. But in no case are trips authorized for tourist reasons.

PUBLISHER: Airgways.com
DBk: Jxc.com.ar / Infobae.com / Airgways.com
AW-POST: 202011141202AR
A\W A I R G W A Y S ®