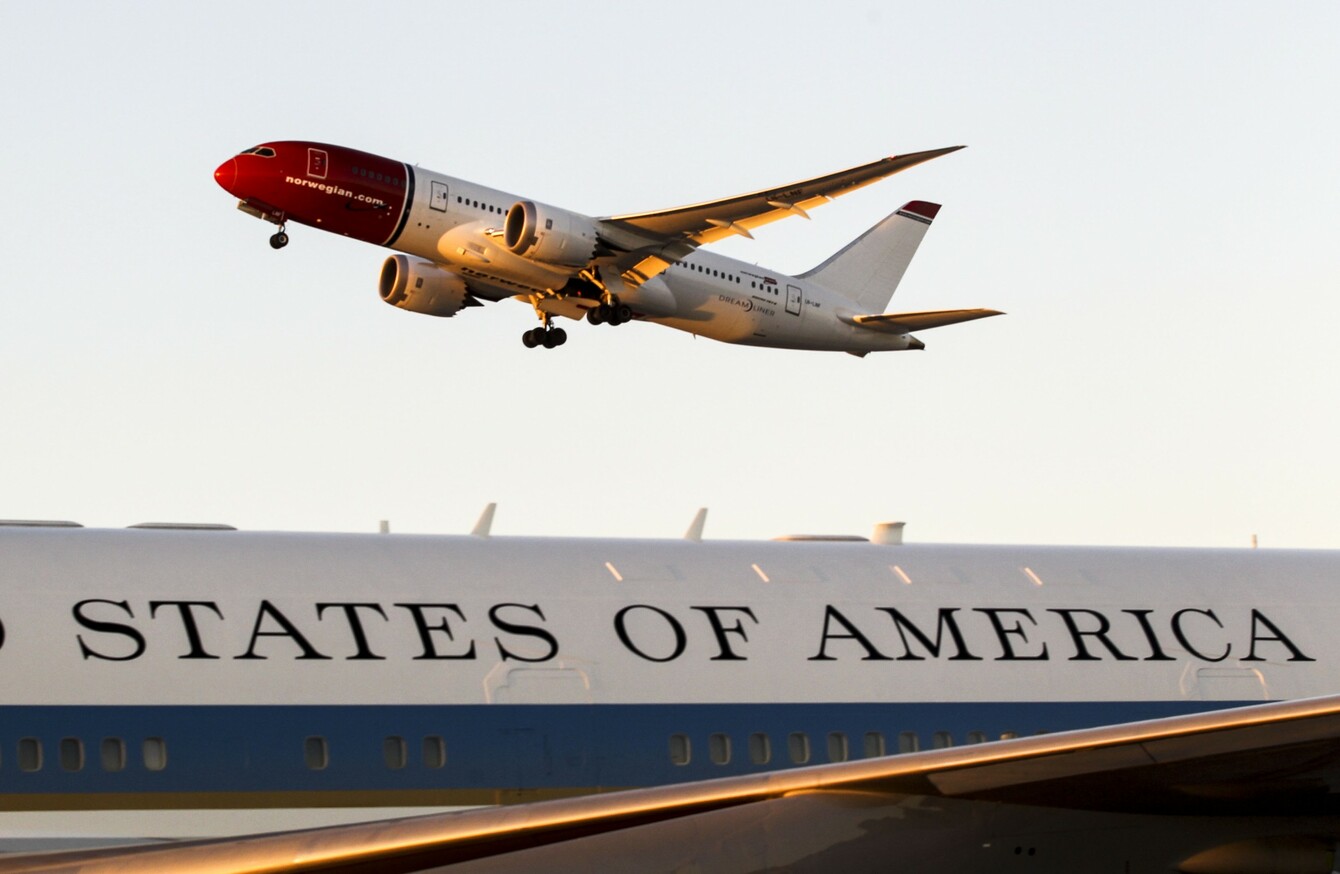 AW | 2017 03 04 22:57 | AIRLINES MARKET
REDACTION BY THE DAILY BEAST
EE.UU. a Europa por $ 100?

Ingrese a la batalla de las líneas aéreas atlánticas

Norwegian Air quiere entrar en Estados Unidos, pero los viejos leones de los vuelos están luchando. La ganga tiene un precio, es decir, la comodidad.
Londres, REINO UNIDO · Volar el Atlántico entre América y Europa no debería ser la gran cosa que todavía parece ser, pero un aura perdura. Fue el primer gran salto que se hizo cuando la aviación empezó a encoger el globo, y parte de esa herencia se aferra a la imaginación. La realidad es, sin embargo, que la mayor parte del mundo es ahora servida por una red de rutas que implican distancias más largas, algunas mucho más largas y mucho más exóticas.
Pero la historia confiere una ventaja a las aerolíneas que fueron pioneras en volar el estanque y nosotros, los pasajeros, acabamos pagando por eso. Casi el 80 por ciento del tráfico transatlántico está controlado por Delta, United y American, junto con sus socios europeos como British Airways, Iberia, Virgin Atlantic y Alitalia. A ellos les gustaría mantenerlo así, pero hay un nuevo competidor en el juego.
Norwegian Air International, independientemente de su nombre, tiene su sede en Irlanda. Y lo que es realmente interesante acerca de su estrategia no es sólo que tiene como objetivo llevar los precios del presupuesto a cada vuelo, pero que finalmente puede romper el apretón de la idea de que siempre hay una prima a pagar simplemente porque una aerolínea ha estado volando a través del Atlántico desde Los años cincuenta.
El papel desempeñado por Irlanda en este aspecto es fundamental. Las tres principales compañías estadounidenses, American, Delta y United, que han luchado para mantener a los noruegos fuera del espacio aéreo estadounidense (hasta ahora sin éxito), han afirmado que al registrar la línea aérea en Irlanda en lugar de Noruega permite a los noruegos aprovechar La reducción de los impuestos sobre las sociedades, así como la copia del modelo de salarios bajos de la aerolínea más grande de Europa, Ryanair, una empresa irlandesa. Naturalmente, los sindicatos que trabajan para las aerolíneas estadounidenses están apoyando ese mismo ataque.
Eso puede ser cierto, pero el noruego es más inteligente que eso. Están explotando la ventaja geográfica de Irlanda como destino de entrada para Europa. Volar entre América del Norte e Irlanda reduce al menos una hora de vuelo de los aeropuertos de U.K. y al menos dos horas de vuelo a las capitales europeas. En los vuelos más rápidos hacia el este que significa sólo cinco horas, similar a volar entre las dos costas en América y una diferencia que aparece en menos fatiga y jet lag.
No es sólo un expediente geográfico. Irlanda no es simplemente un país para pasar a través de su camino a otro lugar. Es uno de los destinos más atractivos de Europa que se ha vuelto tan sofisticado como cualquiera en la prestación de hoteles de alta calidad y restaurantes, por no hablar de su atractivo natural para los golfistas, pescadores y equestrians. Tanto Cork como Shannon aeropuertos están cerca de lugares de gob-smacking belleza. Además, muchos estadounidenses tienen linaje irlandés.
Una parte importante de la cerradura que las líneas aéreas americanas y europeas legacy tienen en las rutas del Atlántico Norte es su control de las puertas en los centros principales. Por ejemplo, el Heathrow de Londres, que normalmente opera al 99 por ciento de su capacidad, no tiene puertas disponibles para los recién llegados de la aerolínea, incluso si estuvieran dispuestos a pagar las altas tarifas del aeropuerto.
Al igual que todas las aerolíneas de otros presupuestos, noruego ha trabajado alrededor de este bloqueo mediante el uso de aeropuertos donde las puertas están disponibles. Desde el año 2014 noruego ha estado volando a los Estados Unidos fuera del aeropuerto de Gatwick de Londres, donde las puertas se han de tener y las tarifas del aeropuerto son más bajos que en Heathrow. Sirven Nueva York, Boston, Fort Lauderdale, Orlando, Las Vegas, Los Ángeles y Oakland.
Además de descalificar a British Airways en vuelos de larga distancia desde Gatwick, el noruego sólo vuela Boeing 787 Dreamliners, un avión que los pasajeros regulares de largo recorrido prefieren debido a su entorno de cabina superior, particularmente notable en la forma en que disminuye los efectos del jet lag. Estos vuelos incluyen clase económica premium con tarifas de ida y vuelta de alrededor de $ 1,120 que están atrayendo a pasajeros de clase ejecutiva.
Pero en las horas pico de verano la diferencia de precios entre Noruega y otras compañías aéreas que vuelan fuera de Gatwick ha sido marginal. Los pasajeros noruegos tienen que pagar un suplemento por los asientos, la comida y el equipaje pre-elegidos, y cuando se agrega al precio de tiempo máximo, coincide más o menos con lo que se paga en una aerolínea, cuando esas cosas son gratuitas; Virgin Atlantic de Heathrow era realmente más barato.
Las nuevas rutas a Irlanda este verano son diferentes. Se basan en un modelo más utilitario, ofreciendo tarifas desnudas sin ningún suplemento por tan poco como $ 100 hacia el este y $ 200 hacia el oeste (una diferencia explicada por las tarifas más altas del aeropuerto europeo). Ellos volarán a Belfast (Irlanda del Norte), Dublín, Shannon y Cork. (También hay vuelos a Edimburgo.) Y son diferentes en otra forma que se sentirá con su trasero.
No tendrán la comodidad de la cabina del Dreamliner del doble-pasillo. En cambio, los pasajeros encontrarán el conocido tubo estrecho del omnipresente Boeing 737, aunque una nueva iteración llamada 737Max. El Max podría soportar beneficios máximos, mínimo espacio. Las dimensiones de la cabina del 737, y críticamente su anchura, se fijaron cuando el avión fue diseñado en 1968, y aunque una especie de remodelación trompe l'loeil de la cabina, incluyendo los compartimientos de equipaje más fáciles de usar y otros detalles han mejorado el aspecto Los asientos permanecen muy apretados y un desafío serio para cualquier persona que pesa más de 180 libras.
Pero la mayor apuesta de Noruega es su elección de aeropuertos de salida-Stewart en Nueva York (al menos 90 minutos al norte de Manhattan); Bradley International en Hartford en Connecticut; Y T.F. Aeropuerto verde en Providence, Rhode Island. Hay virtudes inherentes en cada uno de estos aeropuertos. Dada su capacidad potencial, están subutilizadas. El tiempo pasado pasando por la seguridad debe ser una brisa en comparación con la Nueva York y Nueva Jersey experiencia. Y para las personas que en realidad no viven en Nueva York, o en Boston, salir de la ciudad no es un obstáculo.
Pero invierta la visión: los europeos que vuelan a estos aeropuertos se enfrentan a costosos paseos para llegar a los principales destinos turísticos. Este es un gambito familiar de las líneas aéreas del presupuesto, el destino que no es: Ryanair, por ejemplo, una vez que figuran Frankfurt como destino, mientras que el aeropuerto real que utilizó fue de 75 kilómetros de Frankfurt. Hay una virtud en los aeropuertos descentrados si tienen un mercado local natural, como Westchester, Nueva York, y de los seleccionados por el noruego Bradley ya tiene buenos servicios a otros aeropuertos en los EE.UU. La prueba será si los europeos se sienten felices por ser Fuera del centro cuando aterrizan.

La estrategia noruega es la creación de Bjorn Kjos, un ex piloto de 70 años de edad, el principal ejecutivo de la aerolínea. Él está siguiendo una larga línea de jefes de líneas aéreas que han tratado de romper el dominio de las compañías aéreas legadas. Éstos incluyen a Richard Branson, que tuvo que superar una guerra larga y sucia con British Airways antes de que Virgin Atlantic fuera aceptado como marca distintiva, construyendo eventual su mercado en estilo en vez de tarifas más baratas, y Freddie Laker, que lanzó su Skytrain sin fronteras transatlántico En 1977 después de varios años de viciosa oposición de otras compañías aéreas. Sus oponentes nunca cedieron, y después de varios años Laker se declaró en quiebra, un verdadero visionario que más que ningún otro había probado ser el modelo para aerolíneas de bajo coste.
Pero el primero en desafiar el régimen de las tarifas rígidas sobre el Atlántico fue en realidad una leyenda de la aviación estadounidense, Juan Trippe, el creador y czar de Pan Am.
Cuando los vuelos de pasajeros sobre el estanque se reanudaron después de la Segunda Guerra Mundial, las tarifas e incluso el número de escaños fueron dictados por un organismo que representaba a todas las aerolíneas internacionales, la Asociación Internacional de Transporte Aéreo (IATA). Era entonces un cartel dominado por europeos que insistieron en que el modelo de negocio de viajes aéreos debía basarse en que era un privilegio naturalmente elitista, y las personas que querían cruzar el Atlántico a bajo precio deberían ir a la dirección en uno de los transatlánticos.
Trippe introdujo la primera tarifa de clase turista de Nueva York a Londres, reduciendo el precio de ida y vuelta en más de la mitad, a 275 dólares, pero los británicos cerraron sus aeropuertos a los vuelos de Pan Am con asientos turísticos, forzándolo a aterrizar en Shannon. Frustrado en Europa, Trippe trajo el mismo valor a los vuelos entre Nueva York y San Juan, Puerto Rico, donde la tarifa de ida fue de $ 75 y los vuelos estaban llenos.
No fue hasta 1952 que el bombardeo incesante de Trippe de la IATA obligó a todas las aerolíneas a aceptar el concepto de una tarifa turística. Ese verano Pan Am introdujo una tarifa de ida y vuelta de $ 486 entre Nueva York y Londres. Ese es el equivalente de $ 2,200 hoy, por lo que aún quedaba fuera del alcance de muchos viajeros, pero fue el primer paso en una revolución, en gran medida impulsada por Trippe, para democratizar los viajes aéreos.
Y bien puede ser que el noruego es el precursor de otro cambio de paso para hacer que los viajes entre América del Norte y Europa sean más accesibles. "Es un paso interesante y desafiante en nuevos terrenos", dice Craig Jenks, el presidente de Airline / Aircraft Projects, un analista con sede en Nueva York.
Tanto el 787 como el 737 Max disponen de la última generación de motores a reacción. Están entre 15 y 20 por ciento más eficientes en combustible. Las líneas aéreas legadas todavía están volando gas guzzlers a través del Atlántico-British Airways, por ejemplo, vuela 747s que son más de 20 años. Esto da a Noruega una ventaja que combinada con el asiento de alta densidad (una frase educada) es un modelo de negocio mucho más competitivo.
Jenks señala que tres aerolíneas europeas que planean responder al desafío noruego lanzando nuevas aerolíneas de bajo coste – IAG (la matriz de British Airways e Iberia), Lufthansa y Air France – utilizarán aviones más antiguos y menos eficientes debido a Largas listas de espera para aviones de nueva generación.
En estos días, cuando un jefe de línea aérea considera la compra de un nuevo avión, él no está mirando realmente un avión, él está mirando un modelo de negocio. No hay nada del romance asociado con el pionero de las rutas originales en este cálculo. Los algoritmos dictan la capacidad óptima para cada ruta y las tarifas que aseguran un beneficio.
Es una ecuación relativamente simple: ¿cuál es la forma más eficiente de volar X número de asientos a una distancia específica? Esto se calcula hasta el último centavo. Determina todas las características de un avión tal como está diseñado. Se aplica si el avión está dimensionado para volar las rutas transoceánicas más largas o entre Norteamérica e Irlanda, lo que en la realidad de ahora es casi como un viaje corto en autobús para el cual el único desafío técnico es realmente cómo empacar y vender ' Em barato. Usando esta fórmula, Air Walmart puede estar muy lejos? 
The low-cost transatlantic battle
U.S. to Europe for $100? Enter the Battle of the Atlantic Airlines
Norwegian Air wants to break into America, but the old lions of flying are fighting back. The bargain comes at a price though, namely comfort.
London, UK ·Flying the Atlantic between America and Europe shouldn't be the big deal it still seems to be, but an aura lingers. It was the first great leap made as aviation began to shrink the globe, and some of that heritage clings to the imagination. The reality is, however, that most of the world is now served by a network of routes involving longer distances, some much longer and far more exotic.
But history confers an advantage to the airlines that pioneered flying the pond and we, the passengers, end up paying for that. Almost 80 percent of transatlantic traffic is controlled by Delta, United, and American, together with their European partners like British Airways, Iberia, Virgin Atlantic, and Alitalia. They would like to keep it that way, but there is a new competitor in the game.
Norwegian Air International, regardless of its name, is based in Ireland. And what's really interesting about their strategy is not just that it aims to bring budget prices to every flight but that it may finally break the grip of the idea that there's always a premium to be paid simply because an airline has been flying across the Atlantic since the 1950s.
The role played by Ireland in this is pivotal. The three major American carriers, American, Delta, and United, who have fought to keep Norwegian out of U.S. air space (so far unsuccessfully), have claimed that by registering the airline in Ireland rather than Norway allows Norwegian to take advantage of Ireland's far lower corporate taxes, as well as copying the low wages model of Europe's largest budget airline, Ryanair, an Irish enterprise. Naturally, the unions working for those U.S. airlines are supporting that same attack.
That may all be true, but Norwegian is smarter than that. They are exploiting Ireland's geographical advantage as a gateway destination for Europe. Flying between North America and Ireland cuts at least an hour off the flight time to U.K. airports and at least two hours off flight times to European capitals. On the faster eastbound flights that means only five hours, similar to flying between the two coasts in America and a difference that shows up in less fatigue and jet lag.
That's not just a geographical expedient. Ireland isn't simply a country to pass through on your way to somewhere else. It's one of Europe's most engaging destinations that has become as sophisticated as any in delivering high quality hotels and restaurants, not to mention its natural appeal to golfers, fishermen, and equestrians. Both Cork and Shannon airports are close to places of gob-smacking beauty. Moreover, many Americans have Irish lineage.
A major part of the lock that the American and European legacy airlines have on North Atlantic routes is their control of the gates at the major hubs. London's Heathrow, for example, normally operating at 99 percent of its capacity, has no gates available for airline newcomers even if they were ready to pay that airport's stiff fees.
Like all other budget airlines, Norwegian has worked around this lockout by using airports where gates are available. Since 2014 Norwegian has been flying to the United States out of London's Gatwick airport, where the gates were to be had and the airport fees are lower than at Heathrow. They serve New York, Boston, Fort Lauderdale, Orlando, Las Vegas, Los Angeles, and Oakland.
As well as undercutting British Airways on long-haul fares from Gatwick, Norwegian flies only Boeing 787 Dreamliners, an airplane that regular long-haul passengers prefer because of its superior cabin environment, particularly noticeable in the way it diminishes the effects of jet lag. These flights include premium economy class with round-trip fares of around $1,120 that are attracting business class passengers.
But at peak summer times the price difference between Norwegian and other airlines flying out of Gatwick has been marginal. Norwegian passengers have to pay extra for pre-chosen seats, food, and baggage and when that is added to the peak time price it more or less matches what you pay on an airline where those things are free—on some dates checked by online bookers Virgin Atlantic from Heathrow was actually cheaper.
The new routes to Ireland this summer are different. They are based on a more utilitarian model, offering bare bones fares without any extras for as little as $100 eastbound and $200 westbound (a difference explained by higher European airport fees). They will fly into Belfast (Northern Ireland), Dublin, Shannon, and Cork. (There are also flights to Edinburgh.) And they are different in another way that you will feel with your butt.
They won't have the cabin comforts of the twin-aisle Dreamliner. Instead, passengers will find the familiar narrow tube of the ubiquitous Boeing 737, albeit a new iteration called the 737Max. The Max could well stand for maximum profits, minimum room. The dimensions of the 737's cabin, and critically its width, were fixed when the airplane was designed in 1968, and even though a kind of trompe l'loeil remodeling of the cabin, including easier to use luggage bins and other details have improved the look the seats remain very tight and a serious challenge for anyone weighing more than 180 pounds.
But Norwegian's biggest gamble is their choice of departure airports—Stewart in New York (at least 90 minutes north of Manhattan); Bradley International at Hartford in Connecticut; and T.F. Green airport at Providence, Rhode Island. There are inherent virtues in each of these airports. Given their potential capacity, they are under-used. Time spent going through security should be a breeze compared to the New York and New Jersey experience. And for people who don't actually live in New York, or Boston, getting out of town is not a hurdle.
But reverse the view: Europeans flying into these airports face costly rides to reach the major tourist destinations. This is a familiar gambit of budget airlines, the destination that isn't: Ryanair, for example, once listed Frankfurt as a destination, whereas the actual airport they used was 75 miles from Frankfurt. There is a virtue in off-center airports if they have a natural local market, like Westchester, New York, and of those selected by Norwegian Bradley already has good services to other airports in the U.S. The test will be whether Europeans feel happy about being off-center when they land.
Norwegian's strategy is the creation of Bjorn Kjos, a 70-year-old former fighter pilot, the airline's chief executive. He is following a long line of airline chiefs who have tried to break the stranglehold of the legacy airlines. These include Richard Branson, who had to overcome a long and dirty war with British Airways before Virgin Atlantic was accepted as a distinctive brand, eventually building its market on style rather than cheaper fares, and Freddie Laker, who launched his Skytrain no-frills transatlantic airline in 1977 after several years of vicious opposition from other airlines. His opponents never relented, and after several years Laker went bankrupt, a true visionary who more than any other had really proved the model for budget airlines.
But the first to challenge the regime of tightly-rigged fares over the Atlantic was actually an American aviation legend, Juan Trippe, the creator and czar of Pan Am.
When passenger flights over the pond resumed after World War II the fares and even the number of seats were dictated by a body representing all international airlines, the International Air Transport Association, IATA. It was at that time a cartel dominated by Europeans who insisted that the air travel business model should be based on it being a naturally elitist privilege, and people who wanted to cross the Atlantic cheaply should go steerage in one of the ocean liners.
Trippe introduced the first tourist class fare from New York to London, cutting the round-trip price by more than half, to $275, but the British closed their airports to Pan Am flights with tourist seats, forcing him to land in Shannon. Thwarted in Europe, Trippe brought the same value to flights between New York and San Juan, Puerto Rico, where the one-way fare was $75 and the flights were packed.
It was not until 1952 that Trippe's incessant bombardment of IATA forced all the airlines to accept the concept of a tourist fare. That summer Pan Am introduced a round-trip fare of $486 between New York and London. That's the equivalent of $2,200 today, and so it still remained beyond the reach of many travelers, but it was the first step in a revolution, largely pushed by Trippe, to democratize air travel.
And it may well be that Norwegian is the harbinger of another step change in making travel between North America and Europe more accessible. "It's an interesting and challenging move into new terrain" says Craig Jenks, the president of a Airline/Aircraft Projects, an analyst based in New York.
Both the 787 and 737 Max have the latest generation of jet engines. They are between 15 and 20 percent more fuel efficient. The legacy airlines are still flying gas guzzlers across the Atlantic—British Airways, for example, flies 747s that are more than 20 years old. This gives Norwegian an edge that combined with high-density seating (a polite phrase) is a far more competitive business model.
Jenks points out that three European airlines planning to respond to the Norwegian challenge by launching new long-haul budget airlines—IAG (the parent of British Airways and Iberia), Lufthansa, and Air France—will be using older, less efficient airplanes because of long waiting lists for new generation jets.
These days, when an airline chief considers buying a new airplane, he's not actually looking at an airplane, he's looking at a business model. There is none of the romance associated with pioneering the original routes in this calculation. Algorithms dictate optimum capacity for each route and the fares that ensure a profit.
It's a relatively simple equation: what is the most efficient way to fly X number of seats a specific distance? This is calculated down to the last penny. It determines every feature of an airplane as it is designed. It applies whether the airplane is sized to fly the longest transoceanic routes or between North America and Ireland, which in the reality of now is almost like a short bus journey for which the only technical challenge is really how to pack 'em in and sell 'em cheap. Using this formula, can Air Walmart be far behind? A\W
Ξ A I R G W A Y S Ξ
SOURCE: Thedailybeast.com
DBk: Thejournal.ie / Thedailybeast.com
AW-POST: 201703042257AR
A\W   A I R G W A Y S ®