AW | 2020 06 24 20:40 | AIR INVESTIGATION / AVIATION SAFETY
La CAA Pakistán publicó el Informe Preliminar
Tripulación PK8303 desconcentración procedimientos vuelo
El 24 Junio 2020, al presentar el Informe Preliminar, el Ministro de Aviación de Pakistán declaró que tanto la tripulación de vuelo como el ATC no siguieron los procedimientos establecidos por los protocolos de la aviación: los pilotos discutieron sobre Coronavirus y no se centraron en sus tareas de pilotaje, cuando la Torre de Control (ATC) informó sobre la altitud que la tripulación respondió que lo harían manejarlo y nuevamente discutió sobre Coronavirus. La tripulación estaba demasiado confiada y no estaba concentrada. Las últimas tres palabras del capitán fueron "Ya Allah, Ya Allah, Ya Allah".
Vuelo PK-8303
La CAA Pakistán describió la secuencia de eventos de la tragedia aérea delvuelo PK8303:
El 22 Mayo 2020 a las 13:05 hs PST, el avión Airbus A320-214 de Pakistan International Airlines, número de registro AP-BLD, despegó de Aeropuerto Internacional Lahore/Allama Iqbal (AIIAP) Pakistán para realizar un vuelo comercial regular de pasajeros (PK8303) a Aeropuerto Internacional Karachi/Jinnah (JIAP) Pakistán, con 8 miembros de la tripulación (01 Capitán, 01 Primer Oficial y 06 auxiliares de vuelo) y 91 pasajeros a bordo. A las 14:35 hs el avión realizó una aproximación ILS para la pista 25L y aterrizó sin aterrizar, descansando sobre los motores. Ambos motores fregaron la pista a alta velocidad. La tripulación de vuelo inició una vuelta e informó al "Enfoque Karachi" de que tenían la intención de hacer una segunda aproximación. Aproximadamente cuatro minutos más tarde, durante la pierna a favor del viento, a una altitud de alrededor de 2000 pies, la tripulación de vuelo declaró una emergencia y declaró que ambos motores habían fallado. El avión comenzó a perder altitud. Se estrelló en un área poblada, cerca de la pista 25L por unos 1340 metros. Inmediatamente se inició un incendio posterior al impacto. De 99 almas a bordo, 97 resultaron heridos de muerte y sobrevivieron 02 pasajeros. En el suelo, 04 personas resultaron heridas, sin embargo, 01 de ellas habrían expirado más tarde en un hospital.
El lugar del accidente está ubicado en una zona residencial al noreste de JIAP. Los restos se encuentran aproximadamente a 1340 m del umbral de la pista 25L cerca de la línea central extendida de la pista. Las partes del avión se extendieron a lo largo de 75 m en una sola calle, con algunas partes en los tejados de las casas contiguas.
El diseño de las partes de la aeronave en el lugar del accidente es consistente con la aeronave que impacta edificios a ambos lados de la calle a baja velocidad. Se determinó que la posición de THSA antes del impacto era de 2,8 grados con la nariz hacia arriba. Según la Unidad de limitación de desplazamiento del timón, la velocidad del avión antes del impacto era inferior a 150 nudos IAS. Varios hallazgos indican una configuración extendida del tren de aterrizaje en el momento del impacto. No se utilizó el mecanismo de caída libre para bajar los trenes de aterrizaje. Se determinó que la configuración de lama/aleta estaba en la posición de lama 1, es decir, 18 grados, las aletas completamente retraídas a 0 grados. La RAT se vio desplegada en capturas de pantalla de CCTV antes del impacto.
El motor izquierdo mostró evidencia de incendio externo. La condición visible de las aspas del ventilador era consistente con el motor a baja velocidad de rotación en el momento del impacto, lo más probable es que no produzca ningún empuje. El motor derecho mostró evidencia de incendio externo. Las aspas del ventilador estaban en buenas condiciones y eran consistentes con el motor a baja velocidad de rotación en el impacto, lo más probable es que no produjeran ningún empuje en el momento del impacto.
La caja de engranajes de transferencia y el depósito del mástil de drenaje, ubicados en la parte inferior del motor, mostraron marcas de fricción con una superficie plana dura, desplazamiento de material y pérdida de material. Era consistente con las filmaciones de CCTV que mostraban que la parte inferior del motor fregaba la pista durante el primer intento de aterrizaje. El actuador de la aleta de entrada de aire de la APU no estaba en la posición "retraída", lo que es coherente con que la APU no se usaba en el momento del impacto, es decir, no suministraba energía eléctrica ni presión de aire de purga.
FDR, CVR, EGPWS, QAR, FCDC y ADIRU fueron transportados a BEA bajo la custodia personal del investigador a cargo, en un vuelo especial el 1 Junio 2020. Apertura del FDR y CVR, controles eléctricos y trabajos técnicos relacionados. realizado el 2 de junio de 2020 en presencia del investigador a cargo. El CVR se dañó durante el incendio posterior al impacto; por lo tanto, su cable de conexión, es decir, el cable flexible y el conector se quemaron. Se requirió la apertura del módulo protegido y la eliminación de las placas de circuito, el examen microscópico visual, los controles eléctricos y luego la lectura en un "chasis dorado". FDR estaba en buen estado, por lo tanto, su apertura y lectura fueron comparativamente simples. Se guardó una grabación de toda la actividad según las prácticas recomendadas. Después de la lectura y validación de datos, las discusiones iniciales y el análisis preliminar se llevaron a cabo en BEA del 2 al 5 Junio 2020. El análisis avanzado está en progreso en BEA, y los informes detallados se proporcionarán en consecuencia. Las siguientes figuras muestran el proceso de apertura y lectura de CVR y FDR.
Se encontró que la grabación CVR era de buena calidad y cubría el vuelo completo. Sin embargo, FDR incluyó los datos de todo el vuelo, excepto después del momento en que la energía eléctrica no estaba disponible para el FDR. Esto es según su limitación diseñada.
El informe preliminar enumera los siguientes hallazgos preliminares:
La investigación hasta ahora de las evidencias disponibles, es decir, lecturas FDR/CVR (evaluación preliminar), filmaciones de cámaras de seguridad/CCTV en JIAP y datos de radar de "Enfoque Karachi", etc., se ha revelado lo siguiente y validado como hallazgos preliminares:
A) El clima reportado en el origen, en ruta y en los aeródromos de destino fue adecuado para emprender el vuelo.
B) El 22 Mayo 2020, el vuelo PK-8303 de PIA despegó de AIIAP Lahore a las 13:05 hs, según la grabación/transcripción ATC de Lahore. La salida de Lahore y el vuelo de crucero transcurrieron sin incidentes. La tripulación no siguió las llamadas estándar y no observó aspectos CRM durante la mayor parte del vuelo.
C) El "Control de Área Karachi Este" autorizó PK-8303 para el procedimiento de llegada "Nawabshah 2A" (STAR : Ruta de Llegada de Terminal Estándar según lo publicado en AIP y JEPPESEN), y aconsejó esperar el enfoque ILS para la pista 25L. Más tarde, el vuelo fue despejado a discreción del piloto para informar MAKLI directo, un punto de referencia a 15 millas náuticas en un radial de 075 desde Karachi VOR, y descender a FL100, y luego volver a autorizarse para FL50. El avión cambió a "Enfoque Karachi" y se autorizó a descender aún más a 3000 pies, cuando llega a MAKLI.
D) El avión terminó más alto que el perfil de descenso requerido. En MAKLI, el avión estaba a 9780 pies y a unos 245 nudos IAS. Para gestionar el descenso y perder la altura adicional, se seleccionó el modo "OPEN DES" a través de la FCU, ambos pilotos automáticos se desactivaron y se extendieron los frenos de velocidad.
E) "Enfoque de Karachi" preguntó "confirmar la milla de la pista cómoda para descender" y luego aconsejó tomar una órbita, para que la aeronave se pueda ajustar en el perfil de descenso requerido. No se ejecutó ninguna órbita y se continuó con el esfuerzo de interceptar la pendiente de planeo y el localizador (ILS). El FDR indicó la acción de bajar los trenes de aterrizaje a 7221 pies a aproximadamente 10.5 millas náuticas de la pista 25L.
F) "Enfoque Karachi" aconsejó repetidamente, dos veces para descontinuar el enfoque y una vez advertido, sobre la altura excesiva. El enfoque de aterrizaje no se interrumpió. Sin embargo, el FDR muestra la acción de elevar los trenes de aterrizaje a 1740 pies seguido de la retracción de los frenos de velocidad, a una distancia ligeramente inferior a 05 millas náuticas desde la pista 25L. En este momento, el avión había interceptado el localizador y la pendiente de planeo. Las aletas 1 se seleccionaron a 243 nudos IAS, los trenes de aterrizaje y los frenos de velocidad se retrajeron. Se activaron advertencias de exceso de velocidad y EGPWS.
G) La figura siguiente muestra algunos parámetros de datos FDR y el primer perfil de aproximación de la aeronave en comparación con el perfil de aproximación requerido.
Nota: Para la ruta de descenso, la altitud se ha cambiado para comenzar desde 84 pies con el fin de que coincida con la altitud de la pista en el impacto del suelo.
H) Como se continuó con la aproximación a tierra, el "Enfoque de Karachi" en lugar de cambiar el avión a "Control de aeródromo", solicitó la autorización de aterrizaje telefónico del "Control de aeródromo". El "Control de aeródromo" transmitió una autorización de aterrizaje de la aeronave (sin observar la anormalidad de que los trenes de aterrizaje no se extendieron) a "Enfoque Karachi". Posteriormente, el "Enfoque Karachi" autorizó el aterrizaje del avión.
I) A 500 pies, el FDR indica: tren de aterrizaje retraído, configuración de listones/aletas 3, velocidad aérea 220 nudos IAS, velocidad de descenso 2000 pies/min. De acuerdo con las grabaciones de FDR y CVR, se ignoraron varias advertencias y alertas como exceso de velocidad, tren de aterrizaje no caído y alertas de proximidad al suelo. El aterrizaje se realizó con los trenes de aterrizaje retraídos. El avión tocó la superficie de la pista en sus motores. La tripulación de vuelo aplicó la potencia inversa del motor e inició una acción de frenado. Ambos motores fregaron la pista en varios lugares, causando daños a ambos. Las figuras a continuación muestran capturas de pantalla seleccionadas de las filmaciones de cámaras de seguridad/CCTV de los motores de los aviones que tocan la pista y muestran chispas debido al fregado, junto con marcas en la pista.
J) El "Control de aeródromo" observó el fregado de motores con la pista, pero no transmitió esta anormalidad a la aeronave. Fue transmitido al "Enfoque Karachi" por teléfono. Posteriormente, el "Enfoque Karachi" tampoco transmitió esta anormalidad a la aeronave.
K) Se interrumpió el aterrizaje y se ejecutó una vuelta. La grabación FDR indica una breve acción de selección de la palanca del tren de aterrizaje a la posición hacia abajo, que fue seguida inmediatamente por su movimiento hacia la posición hacia arriba. La intención de emprender otro enfoque ILS para aterrizar en la pista 25L se transmitió, sin embargo, poco después de la vuelta, ambos motores fallaron uno por uno. Ram Air Turbine (RAT) se implementó para alimentar los sistemas esenciales. La grabación de datos FDR se detuvo durante este período de tiempo, según la limitación diseñada. El avión no pudo mantener la altura requerida. La tripulación de vuelo declaró la situación de emergencia de que ambos motores se habían perdido, y transmitió un "Mayday Call". Las evidencias de los restos indican las razones de la falla del motor derecho, sin embargo, el motor izquierdo requiere un examen más detallado,
L) El avión se estrelló a unos 1340 metros de la pista 25L. Fue un impacto de baja velocidad con un alto ángulo de ataque, con la configuración de la aeronave que indicaba los trenes de aterrizaje extendidos, las lamas en el escalón/posición 1 y las aletas retraídas. Dicha configuración fue comprobada y documentada a partir de los restos en el sitio del accidente, ya que la grabación de datos del FDR se había detenido antes.
M) se informó que la aeronave estaba en condiciones de servicio para dicho vuelo; Se está llevando a cabo el escrutinio necesario de los registros/documentos de mantenimiento de la aeronave. El Capitán y el Primer Oficial estaban adecuadamente calificados y tenían experiencia para emprender dicho vuelo; Se está llevando a cabo el escrutinio necesario de los registros/documentos de la tripulación aérea.
El informe preliminar también menciona:
El avión permaneció en tierra durante 46 días (del 22 de marzo al 06 de mayo de 2020) durante la cuarentena de la pandemia de Coronavirus, debido a restricciones en las operaciones de vuelo. AAIB está procesando el escrutinio de los registros de mantenimiento antes del lanzamiento de la aeronave para el vuelo normal, a fin de evaluar la idoneidad de las acciones de mantenimiento.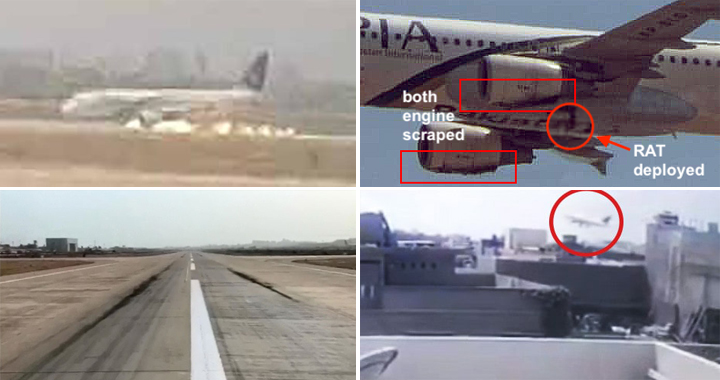 Pakistan PK8303 Preliminary Report
CAA Pakistan released the Preliminary Report
PK8303 crew deconcentration flight procedures
On June 24, 2020, when presenting the Preliminary Report, the Minister of Aviation of Pakistan stated that both the flight crew and ATC did not follow the procedures established by aviation protocols: the pilots discussed Coronavirus and did not focus on its piloting tasks, when the Control Tower (ATC) reported on the altitude that the crew replied that they would handle it and again discussed Coronavirus. The crew was overconfident and not focused. The captain's last three words were "Ya Allah, Ya Allah, Ya Allah".
Flight PK-8303
The CAA Pakistan described the sequence of events of the PK8303 flight air tragedy:
On May 22, 2020 at 1:05 p.m. PST, Pakistan International Airlines Airbus A320-214 aircraft, registration number AP-BLD, took off from Lahore/Allama Iqbal International Airport (AIIAP) Pakistan for a regular commercial passenger flight (PK8303) to Pakistan Karachi/Jinnah International Airport (JIAP), with 8 crew members (01 Captain, 01 First Officer and 06 flight attendants) and 91 passengers on board. At 2:35 p.m. the aircraft made an ILS approach to runway 25L and landed without landing, resting on the engines. Both engines scrubbed the track at high speed. The flight crew started a lap and informed the "Karachi Approach" that they intended to make a second approach. Approximately four minutes later, during the downwind leg, at an altitude of around 2000 feet, the flight crew declared an emergency and stated that both engines had failed. The plane began to lose altitude. It crashed in a populated area near runway 25L by about 1,340 meters. A post-impact fire immediately started. Of 99 souls on board, 97 were mortally wounded and 02 passengers survived. On the floor, 04 people were injured, however, 01 of them would have expired later in a hospital.
The crash site is located in a residential area northeast of JIAP. The remains are located approximately 1,340 m from the threshold of runway 25L near the extended center line of the runway. Parts of the plane spanned 75m on a single street, with some parts on the roofs of adjoining houses.
The design of the aircraft parts at the crash site is consistent with the aircraft hitting buildings on both sides of the street at low speed. The THSA position before impact was determined to be 2.8 degrees with the nose up. According to the Rudder Travel Limitation Unit, the aircraft's speed before impact was less than 150 knots IAS. Several findings indicate an extended landing gear configuration at the time of impact. The free fall mechanism was not used to lower the landing gear. The vane/vane configuration was determined to be in vane 1 position, i.e. 18 degrees, the vanes fully retracted to 0 degrees. The RAT was displayed in CCTV screenshots prior to impact.
The left engine showed evidence of an external fire. The visible condition of the fan blades was consistent with the motor at low rotational speed at the time of impact, most likely to not produce any thrust. The right engine showed evidence of an external fire. The fan blades were in good condition and consistent with the motor at low rotational speed on impact, most likely not producing any thrust at impact.
The transfer gearbox and drain mast reservoir, located on the underside of the engine, showed friction marks with a hard flat surface, material displacement, and material loss. It was consistent with CCTV footage showing the underside of the engine scrubbing the runway during the first landing attempt. The APU air intake flap actuator was not in the "retracted" position, consistent with the APU not being used at the time of impact, that is, it did not supply electrical power or air pressure from the purge.
FDR, CVR, EGPWS, QAR, FCDC and ADIRU were transported to BEA in the personal custody of the investigator-in-charge, on a special flight on June 1, 2020. Opening of the FDR and CVR, electrical controls and related technical work. carried out on June 2, 2020 in the presence of the investigator in charge. The CVR was damaged during the post-impact fire; therefore, its connecting cable, that is, the flexible cable and connector, burned out. Opening the shielded module and removing the circuit boards, visual microscopic examination, electrical controls, and then reading on a "gold chassis" were required. FDR was in good condition, therefore, its opening and reading were comparatively simple. A recording of all activity was kept according to recommended practices. After data reading and validation, initial discussions and preliminary analysis were held at BEA June 2-5, 2020. Advanced analysis is in progress at BEA, and detailed reports will be provided accordingly. The following figures show the CVR and FDR opening and reading process.
The CVR recording was found to be of good quality and to cover the entire flight. However, FDR included the data for the entire flight, except after the time when electrical power was not available to the FDR. This is according to its designed limitation.
The preliminary report lists the following preliminary findings:
The investigation so far of the available evidence, ie FDR/CVR readings (preliminary assessment), CCTV/security camera footage at JIAP and radar data from "Karachi Approach", etc., has been revealed and validated as follows as preliminary findings:
A) The climate reported at the origin, en route and at the destination aerodromes was adequate to start the flight.
B) On May 22, 2020, PIA flight PK-8303 took off from AIIAP Lahore at 1:05 p.m., according to Lahore's ATC recording/transcript. Lahore's departure and cruise flight were uneventful. The crew did not follow standard calls and did not observe CRM aspects during most of the flight.
C) The "Karachi East Area Control" authorized PK-8303 for the "Nawabshah 2A" arrival procedure (STAR: Standard Terminal Arrival Route as published in AIP and JEPPESEN), and advised to wait for the ILS approach for the runway 25L. Later, the flight was cleared at the pilot's discretion to report direct MAKLI, a landmark 15 nautical miles on a 075 radial from Karachi VOR, and descend to FL100, then re-authorized for FL50. The aircraft changed to "Karachi Approach" and was cleared to descend further to 3,000 feet when it reaches MAKLI.
D) The plane ended higher than the required descent profile. At MAKLI, the plane was 9,780 feet and about 245 IAS knots. To manage the descent and lose the additional height, the "OPEN DES" mode was selected through the FCU, both autopilots were deactivated and the speed brakes were extended.
E) "Karachi Approach" asked "confirm the mile of the comfortable runway to descend" and then advised to take an orbit, so that the aircraft can adjust to the required descent profile. No orbit was executed and the effort to intercept the glide slope and locator (ILS) continued. The FDR indicated the action of lowering the landing gear to 7221 feet approximately 10.5 nautical miles from runway 25L.
F) "Karachi Approach" advised repeatedly, twice to discontinue focus and once warned, about excessive height. The landing approach was not interrupted. However, the FDR shows the action of raising the landing gear to 1,740 feet followed by retraction of the speed brakes, at a distance slightly less than 05 nautical miles from runway 25L. At this time, the aircraft had intercepted the locator and glide slope. Flaps 1 were selected at 243 IAS knots, landing gear and speed brakes were retracted. EGPWS and speeding warnings were activated.
G) The figure below shows some FDR data parameters and the first approach profile of the aircraft compared to the required approach profile.
Note: For the descent route, the altitude has been changed to start from 84 feet to match the altitude of the runway at ground impact.
H) As the ground approach continued, the "Karachi Approach" instead of changing the aircraft to "Aerodrome Control", requested the "Landing Control" telephone landing authorization. The "Aerodrome Control" transmitted a landing authorization of the aircraft (without observing the abnormality that the landing gear did not extend) to "Approach Karachi". Subsequently, the "Karachi Approach" authorized the landing of the plane.
I) At 500 feet, the FDR indicates: landing gear retracted, slat/flap configuration 3, air speed 220 knots IAS, descent speed 2000 feet/min. According to the FDR and CVR recordings, various warnings and alerts such as speeding, landing gear not dropped, and proximity to ground alerts were ignored. The landing was performed with the landing gear retracted. The plane touched the surface of the runway on its engines. The flight crew applied reverse engine power and initiated a braking action. Both engines scrubbed the track in several places, causing damage to both. The figures below show selected screenshots from CCTV / security camera footage of aircraft engines touching the runway and showing sparks from scrubbing, along with markings on the runway.
J) The "Aerodrome Control" observed the scrubbing of engines with the runway, but did not transmit this abnormality to the aircraft. It was broadcast to the "Karachi Approach" by phone. Subsequently, the "Karachi Approach" also did not transmit this abnormality to the aircraft.
K) Landing was interrupted and a lap was executed. The FDR recording indicates a brief selection action of the landing gear lever to the down position, which was immediately followed by its movement to the up position. The intention to undertake another ILS approach to landing on runway 25L was conveyed, however, shortly after the turn, both engines failed one by one. Ram Air Turbine (RAT) was implemented to power essential systems. Recording of FDR data was stopped during this time period, based on the designed limitation. The plane was unable to maintain the required height. The flight crew declared the emergency situation that both engines were lost, and transmitted a "Mayday Call". Evidence from the wreckage indicates the reasons for the failure of the right engine, however the left engine requires further examination,
L) The plane crashed about 1,340 meters from runway 25L. It was a low-speed impact with a high angle of attack, with the aircraft configuration indicating extended landing gear, slats at step/position 1, and flaps retracted. Such configuration was verified and documented from the wreckage at the crash site, since the FDR data recording had been stopped earlier.
M) it was reported that the aircraft was in service condition for said flight; Necessary scrutiny of aircraft maintenance records/documents is underway. The Captain and the First Officer were adequately qualified and experienced to undertake such a flight; Necessary scrutiny of aircrew records/documents is underway.
The preliminary report also mentions:
The aircraft remained on the ground for 46 days (March 22-May 6, 2020) during the Coronavirus pandemic quarantine, due to restrictions on flight operations. AAIB is processing the scrutiny of maintenance records before the aircraft is launched for normal flight, in order to assess the adequacy of maintenance actions.
Ξ A I R G W A Y S Ξ
PUBLISHER: Airgways.com
DBk: Caapakistan.com.pk / Avherlad.com / Fighterjetsworld.com / Airgways.com
AW-POST: 202006242040AR
A\W A I R G W A Y S ®