AW | 2020 06 15 21:47 | INDUSTRY
Embraer inicia reestructuración con nuevo CEO
Embraer S.A. ha iniciado la reintegración de su negocio de aviones comerciales Embraer Commercial Aircraft con el resto de la compañía luego del acuerdo fallido del Joint Venture con The Boeing Company para la formación de Boeing Brasil Commercial para vender el 80 por ciento de la división aerocomercial, dijo el fabricante brasileño en un comunicado emitido el Lunes 15/06. Simultáneamente, el CEO de Embraer Commercial Aircraft, John Slattery, dejará la compañía, en reemplazo, asume Arjan Meijer como nuevo Presidente de Embraer Commercial Aviation. John Slattery asumirá como CEO electo de GE Aviation a partir del 13 Julio 2020, reemplazando al Presidente Ejecutivo David Joyce.
Antes del fallido acuerdo con Boeing, los planes requerían que John Slattery continuara esencialmente su papel como jefe de una nueva división conocida como Boeing Brasil Commercial. El 1 Junio 2020 el CEO de la compañía Embraer S.A., Francisco Gomes Neto, confirmó el interés de la compañía en las conversaciones con más de dos socios potenciales para su negocio de aviones comerciales. Arjan Meijer, de 47 años, se ha desempeñado como Director Comercial de Embraer Commercial Aviation desde Enero de 2017. En su papel de CCO, ha liderado funciones globales de marketing y ventas en seis regiones diferentes, ayudando a la compañía a lograr 35 ofertas de aerolíneas. Se unió a la compañía en Abril 2016 como vicepresidente de Aviación Comercial para Europa, Medio Oriente, África y Rusia.
Antes de unirse a Embraer, Arjan pasó 15 años en varios puestos ejecutivos en el Grupo KLM, incluyendo vicepresidente de servicios técnicos y desarrollo de flotas en la filial regional de KLM KLM Cityhopper y Director Gerente de KLM UK Engineering en Norwich, Reino Unido.
John Slattery ha dirigido Embraer Commercial Aviation desde Julio 2016, y antes de eso se desempeñó como Director Comercial de la unidad de negocios desde Noviembre 2012. Durante su mandato en Embraer Commercial Aviation, la base instalada de E-Jet se duplicó, el número de operadores creció en un 45 por ciento, la cartera de pedidos de la unidad creció un 36 por ciento, y el número de países que operaban el E-Jet aumentó un 39 por ciento. "John ha desempeñado un papel central en Embraer durante un momento difícil, y le agradecemos su dedicación y servicio incansable a la compañía, así como a sus clientes, empleados y socios. Afortunadamente, la industria seguirá contando con él, ya que seguirá trabajando en el sector de la aviación", dijo el Presidente de Embraer, Alexandre Silva.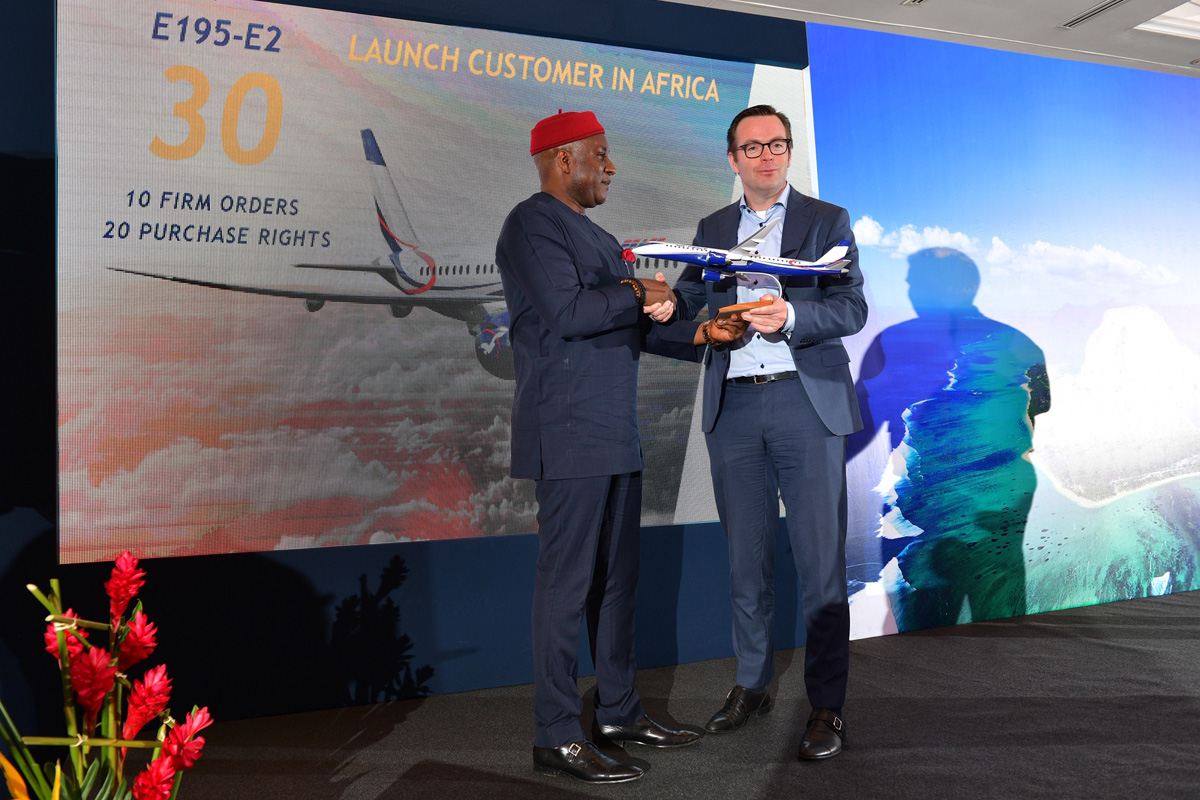 Embraer will reintegrate into commercial aviation
Embraer begins restructuring with new CEO
Embraer S.A. has begun the reintegration of its Embraer Commercial Aircraft commercial aircraft business with the rest of the company after the Joint Venture's failed agreement with The Boeing Company to form Boeing Brasil Commercial to sell 80 percent of the aerocomercial division, said the Brazilian manufacturer in a statement issued on Monday 06/15. Simultaneously, Embraer Commercial Aircraft CEO John Slattery will leave the company, replacing Arjan Meijer as the new President of Embraer Commercial Aviation. John Slattery will take over as CEO-elect of GE Aviation effective July 13, 2020, replacing CEO David Joyce.
Before the failed Boeing deal, the plans required John Slattery to essentially continue his role as head of a new division known as Boeing Brasil Commercial. On June 1, 2020, the CEO of the company Embraer S.A., Francisco Gomes Neto, confirmed the company's interest in conversations with more than two potential partners for its commercial aircraft business. Arjan Meijer, 47, has served as Commercial Director of Embraer Commercial Aviation since January 2017. In his role as CCO, he has led global marketing and sales functions in six different regions, helping the company achieve 35 offers of airlines. He joined the company in April 2016 as Vice President of Commercial Aviation for Europe, the Middle East, Africa and Russia.
Before joining Embraer, Arjan spent 15 years in various executive positions at the KLM Group, including Vice President of Technical Services and Fleet Development at KLM's regional subsidiary KLM Cityhopper and Managing Director of KLM UK Engineering in Norwich, UK.
John Slattery has led Embraer Commercial Aviation since July 2016, and prior to that he served as Commercial Director of the business unit since November 2012. During his tenure at Embraer Commercial Aviation, E-Jet's installed base doubled, the number of Operators grew 45 percent, the unit's order book grew 36 percent, and the number of countries operating the E-Jet increased 39 percent. "John has played a central role at Embraer during a difficult time, and we appreciate his dedication and tireless service to the company, its customers, employees and partners. Fortunately, the industry will continue to count on him as he will continue to work in the aviation sector", said Embraer's President Alexandre Silva.
Embraer se reintegrará à aviação comercial
Embraer inicia reestruturação com novo CEO
Embraer S.A. iniciou a reintegração de seus negócios de aeronaves comerciais da Embraer Commercial Aircraft com o restante da empresa após o fracassado acordo da Joint Venture com a The Boeing Company de formar a Boeing Brasil Commercial para vender 80% da divisão aerocomercial, disse o Fabricante brasileiro em comunicado divulgado na segunda-feira 15/06. Simultaneamente, John Slattery, CEO da Embraer Commercial Aircraft, deixará a empresa, substituindo Arjan Meijer como o novo presidente da Embraer Commercial Aviation. John Slattery assumirá o cargo de CEO eleito da GE Aviation a partir de 13 de julho de 2020, substituindo o CEO David Joyce.
Antes do fracassado acordo da Boeing, os planos exigiam que John Slattery continuasse essencialmente seu papel de chefe de uma nova divisão conhecida como Boeing Brasil Commercial. Em 1 de junho de 2020, o CEO da empresa Embraer S.A., Francisco Gomes Neto, confirmou o interesse da empresa em conversas com mais de dois parceiros em potencial para seus negócios de aeronaves comerciais. Arjan Meijer, 47, atua como diretor comercial da Embraer Aviação Comercial desde janeiro de 2017. Em seu papel de CCO, ele liderou as funções globais de marketing e vendas em seis regiões diferentes, ajudando a empresa a obter 35 ofertas de companhias aéreas. Ele ingressou na empresa em abril de 2016 como vice-presidente de aviação comercial para Europa, Oriente Médio, África e Rússia.
Antes de ingressar na Embraer, Arjan passou 15 anos em vários cargos executivos no Grupo KLM, incluindo Vice-Presidente de Serviços Técnicos e Desenvolvimento de Frota na subsidiária regional da KLM KLM Cityhopper e Diretor Gerente da KLM UK Engineering em Norwich, Reino Unido.
John Slattery lidera a Embraer Commercial Aviation desde julho de 2016 e, antes disso, atuou como Diretor Comercial da unidade de negócios desde novembro de 2012. Durante seu mandato na Embraer Commercial Aviation, a base instalada da E-Jet dobrou, o número de As operadoras cresceram 45%, a carteira de pedidos da unidade cresceu 36% e o número de países que operam o E-Jet aumentou 39%. "John desempenhou um papel central na Embraer durante um período difícil, e agradecemos sua dedicação e serviço incansável à empresa, seus clientes, funcionários e parceiros. Felizmente, o setor continuará contando com ele, pois ele continuará trabalhando na Embraer. setor de aviação", afirmou o presidente da Embraer, Alexandre Silva.
Ξ A I R G W A Y S Ξ
PUBLISHER: Airgways.com
DBk: Embraer.com / Airgways.com
AW-POST: 202006152147AR
A\W A I R G W A Y S ®