AW | 2020 06 15 21:21 | AVIATION
Entusiastas eslovacos conservando Fokker 100
La asociación cívica Airliners.sk, en cooperación con Austrian Airlines Technik-Bratislava SRO y el Museo de Aviación del Aeropuerto Slávnica, ha lanzado un proyecto para salvar el avión Fokker 100. El apoyo a la iniciativa también proviene de la filial de Mantenimiento de Austrian Airlines (AUA) en el aeropuerto de la capital eslovaca de Austrian Technik Bratislava (ATB).
El Fokker 100 en cuestión fue puesto en servicio con matrícula OE-LVJ en 2003 e inicialmente operado por la filial Tyrolean Airways bajo la etiqueta Austrian Arrows para la empresa matriz Austrian Airlines. Anteriormente, el bimotor construido en 1991 era utilizado por American Airlines. En Austrian Arrows la aeronave se llamaba "Bratislava".
Desprogramación flota Fokker
Hace cinco años Austrian airlines vendió toda su flota de Fokker 100 (15) y Fokker 70 (6) a la aerolínea australiana Alliance Airlines. A finales de 2017, la Austrian Airlines realizó el último vuelo programado de la flota Fokker en su historia. En ese momento, Austrian Wings dedicó un gran informe a la historia de Fokker en Austrian Airlines. Los aviones vendidos por AUA fueron transferidos a Australia a través del aeropuerto en la capital eslovaca de Bratislava. El mantenimiento de los jets fue y aún se realiza en parte en Eslovaquia. Alliance Aviation registró el OE-LVJ con el identificador VH-UQP en el registro de aeronaves australiano, pero nunca transfirió el avión en cuestión.
Preservando Fokker 100 "Bratislava"
El "Bratislava" sirvió como donante de repuestos. Ahora, el Fokker 100 se encuentra sin partes visibles en el exterior, como así también en su interior. Esto es exactamente lo que el equipo de Airliners.sk quiere evitar y recibe el apoyo de Austrian Technik Bratislava para su solicitud. El objetivo es encontrar suficiente dinero para poder transportar el avión al Museo de Aviación Slavnica, al norte de Bratislava. El museo apenas se conoce en el oeste y se considera un consejo privilegiado entre los fanáticos de la aviación. Las exhibiciones incluyen un TU-134 o un Li-2.
Voces preservan Fokker 100
"Como fanáticos de los aviones, no nos gusta verlos terminar en chatarra". Cuando supimos que la compañía Austrian Technik Bratislava SRO planea desechar un avión Fokker 100 en sus instalaciones, resonó con nosotros. Teníamos un plan en nuestras cabezas sobre cómo salvar el avión. Entendemos que sin la ayuda del público podemos hacer esto muy duro. Por lo tanto, estamos tratando de recaudar los fondos necesarios para su transporte a través de un recaudador de fondos público. Creemos que encontraremos suficientes seguidores y Fokker se presentará al público como una exhibición de museo en el Museo de Aviación en Slávnice. Enriquecerá la colección de aviones de transporte que consisten en Tupolev TU134, Avia AV-14S y Lisunova LI-2″, Explica Juraj Ondruš, presidente de la Asociación Cívica Airliners.sk, que reúne a los fanáticos de la fotografía de aviones.
El Fokker 100 fue construido en 1991 y entregado a American Airlines más tarde ese año. Pasó 12 años aquí, seguida de varias otras aerolíneas, hasta que en 2005 se encontró en la flota de Austrian Arrows. Definitivamente un hecho interesante es que el avión durante el servicio de Austrian Arrows y Austrian Airlines llevaban el nombre de Bratislava.
"Nuestra empresa se complace en apoyar la iniciativa de la asociación cívica Airliners.sk, porque ATB básicamente se ha convertido en un líder mundial en el mantenimiento de estos aviones y fue el Fokker 70/100, que capacitó a muchos técnicos de aeronaves calificados y altamente calificados capaces de aplicar en todo el mundo. En esta difícil profesión. Y es por eso que, cada vez que el operador decide terminar el viaje de vida de cualquier avión, es una tarea muy difícil para la organización de mantenimiento, que ciertamente no es uno de los favoritos. Preferimos enviar estos resultados de la ingeniería humana de forma segura al aire", dijo Pavol Hamšík, Director Financiero de Austrian Airlines Technik Bratislava, sro.
"Nos complace poder expandir nuestra colección con otra hermosa pieza de avión. Todo el proyecto es el resultado de una cooperación de calidad con personas excepcionales y evidencia clara de que la aviación debería conectar a las personas y que será posible hacer un proyecto similar en el futuro", dijo Michal Stráňavský, Gerente del Museo de Aviación en el Aeropuerto Slávnica.
"Esperamos que la comunidad de fanáticos de la aviación apoye nuestro proyecto y presentaremos el avión al público pronto. Nuestra cooperación con el aeropuerto de Slávnica, que lanzamos en 2017, dará sus frutos y los visitantes del museo de aviación tendrán otra exhibición a su disposición. Al mismo tiempo, debemos agradecer una vez más a la compañía Austrian Airlines Technik Bratislava, sro, sin la ayuda de la cual el avión terminaría en chatarra", agregó el Presidente de la Asociación Cívica Airliners.sk, Juraj Ondruš.
Preserving Fokker 100 Austrian
Slovak enthusiasts keeping Fokker 100
The Civic Association Airliners.sk, in cooperation with Austrian Airlines Technik-Bratislava SRO (ATB) and the Slávnica Airport Aviation Museum, has launched a project to save the Fokker 100 aircraft. Support for the initiative also comes from the Austrian Airlines (AUA) Austrian Technik Bratislava Maintenance subsidiary at the airport in the capital Slovak.
The Fokker 100 in question was commissioned with OE-LVJ registration in 2003 and initially operated by the Tyrolean Airways subsidiary under the Austrian Arrows label for parent company Austrian Airlines. Previously, the twin engine built in 1991 was used by American Airlines. In Austrian Arrows the aircraft was called "Bratislava".
Fokker fleet deprogramming
Five years ago Austrian airlines sold its entire fleet of Fokker 100 (15) and Fokker 70 (6) to the Australian airline Alliance Airlines. In late 2017, Austrian Airlines performed the last scheduled Fokker fleet flight in its history. At that time, Austrian Wings dedicated a great report to Fokker's story on Austrian Airlines. The planes sold by AUA were transferred to Australia through the airport in the Slovak capital of Bratislava. The maintenance of the jets was and is still being carried out in part in Slovakia. Alliance Aviation registered the OE-LVJ with the identifier VH-UQP in the Australian aircraft registry, but never transferred the aircraft in question.
Preserving Fokker 100 "Bratislava"
The "Bratislava" served as a spare parts donor. Now, the Fokker 100 is without visible parts on the outside, as well as on the inside. This is exactly what the Airliners.sk team wants to avoid and is supported by Austrian Technik Bratislava for your request. The goal is to find enough money to transport the plane to the Slavnica Aviation Museum, north of Bratislava. The museum is hardly known in the west and is considered a privileged council among aviation fanatics. Displays include a TU-134 or a Li-2.
Voices preserve Fokker 100
"As airplane fans, we don't like to see them end up in junk. When we learned that the Austrian Technik Bratislava SRO company plans to scrap a Fokker 100 aircraft at its facilities, it resonated with us. We had a plan in our heads on how to save the plane. We understand that without the help of the public we can do this very hard. Therefore, we are trying to raise the necessary funds for your transportation through a public fundraiser. We believe we will find enough followers and Fokker will be presented to the public as a museum exhibition at the Aviation Museum in Slávnice. It will enrich the collection of transport aircraft consisting of Tupolev TU134, Avia AV-14S and Lisunova LI-2″, explains Juraj Ondruš, president of the Civic Association Airliners.sk, which brings together fans of airplane photography.
The Fokker 100 was built in 1991 and delivered to American Airlines later that year. He spent 12 years here, followed by several other airlines, until in 2005 he found himself in the Austrian Arrows fleet. Definitely an interesting fact is that the plane during the service of Austrian Arrows and Austrian Airlines was named after Bratislava.
"Our company is pleased to support the initiative of the civic association Airliners.sk, because ATB has basically become a world leader in the maintenance of these aircraft and it was the Fokker 70/100, which trained many qualified aircraft technicians and highly skilled capable of applying worldwide in this difficult profession and this is why every time the operator decides to end the life journey of any aircraft it is a very difficult task for the maintenance organization which certainly does not is a favorite. We prefer to send these human engineering results safely to the air", said Pavol Hamšík, Chief Financial Officer of Austrian Airlines Technik Bratislava, sro.
"We are pleased to be able to expand our collection with another beautiful piece of aircraft. The entire project is the result of quality cooperation with exceptional people and clear evidence that aviation should connect people and that a similar project will be possible in the future", said Michal Stráňavský, Manager of the Aviation Museum at Slávnica Airport.
"We hope that the aviation fan community will support our project and we will present the plane to the public soon." Our cooperation with Slávnica airport, which we launched in 2017, will pay off and visitors to the aviation museum will have another exhibition at their disposal. At the same time, we must once again thank Austrian Airlines Technik Bratislava, sro, without the help of which the plane would end up in junk", added the President of the Airliners.sk Civic Association, Juraj Ondruš.
Konservierung von Fokker 100 Austrian
Slowakische Enthusiasten behalten Fokker 100
Der Bürgerverband Airliners.sk hat in Zusammenarbeit mit der Österreichischen Fluggesellschaft Technik-Bratislava SRO und dem Flughafenluftfahrtmuseum Slávnica ein Projekt zur Rettung des Fokker 100-Flugzeugs gestartet. Die Initiative wird auch von der österreichischen Wartungstochter unterstützt. Airlines (AUA) am Flughafen in der slowakischen Hauptstadt der österreichischen Technik Bratislava (ATB).
Die fragliche Fokker 100 wurde 2003 mit der OE-LVJ-Registrierung in Betrieb genommen und zunächst von der Tochtergesellschaft Tyrolean Airways unter dem Label Austrian Arrows für die Muttergesellschaft Austrian Airlines betrieben. Zuvor wurde der 1991 gebaute Zweimotor von American Airlines eingesetzt. In Austrian Arrows hieß das Flugzeug "Bratislava".
Deprogrammierung der Fokker-Flotte
Vor fünf Jahren verkauften österreichische Fluggesellschaften ihre gesamte Flotte von Fokker 100 (15) und Fokker 70 (6) an die australische Fluggesellschaft Alliance Airlines. Ende 2017 führte Austrian Airlines den letzten geplanten Fokker-Flottenflug in seiner Geschichte durch. Zu dieser Zeit widmete Austrian Wings Fokkers Geschichte über Austrian Airlines einen großartigen Bericht. Die von AUA verkauften Flugzeuge wurden über den Flughafen in der slowakischen Hauptstadt Bratislava nach Australien gebracht. Die Wartung der Jets wurde und wird teilweise in der Slowakei durchgeführt. Alliance Aviation hat die OE-LVJ mit der Kennung VH-UQP im australischen Flugzeugregister registriert, das betreffende Flugzeug jedoch nie übertragen.
Konservierung Fokker 100 "Bratislava"
Die "Bratislava" diente als Ersatzteilspender. Jetzt ist der Fokker 100 sowohl außen als auch innen ohne sichtbare Teile. Genau das möchte das Airliners.sk-Team vermeiden und wird von der österreichischen Technik Bratislava bei Ihrer Anfrage unterstützt. Ziel ist es, genügend Geld zu finden, um das Flugzeug zum Slavnica Aviation Museum nördlich von Bratislava zu transportieren. Das Museum ist im Westen kaum bekannt und gilt als privilegierter Rat unter Luftfahrtfanatikern. Zu den Displays gehören ein TU-134 oder ein Li-2.
Stimmen bewahren Fokker 100
"Als Flugzeugfans möchten wir nicht, dass sie im Müll landen. Als wir erfuhren, dass das SRO-Unternehmen Technik Bratislava plant, ein Fokker 100-Flugzeug in seinem Werk zu verschrotten, fand es bei uns Resonanz. Wir hatten einen Plan im Kopf, wie wir das Flugzeug retten können. Wir verstehen, dass wir dies ohne die Hilfe der Öffentlichkeit sehr schwer tun können. Daher versuchen wir, die notwendigen Mittel für Ihren Transport durch eine öffentliche Spendenaktion aufzubringen. Wir glauben, wir werden genügend Anhänger finden und Fokker wird der Öffentlichkeit als Museumsausstellung im Luftfahrtmuseum in Slávnice präsentiert. Es wird die Sammlung von Transportflugzeugen bereichern, die aus Tupolev TU134, Avia AV-14S und Lisunova LI-2 bestehen", erklärt Juraj Ondruš, Präsident des Bürgerverbandes Airliners.sk, der Fans der Flugzeugfotografie zusammenbringt.
Die Fokker 100 wurde 1991 gebaut und später in diesem Jahr an American Airlines ausgeliefert. Sie verbrachte 12 Jahre hier, gefolgt von mehreren anderen Fluggesellschaften, bis sie sich 2005 in der flotte der Austrian Arrows befand. Auf jeden fall eine interessante Tatsache ist, dass das Flugzeug während des Dienstes von Austrian Arrows und Austrian Airlines nach Bratislava benannt wurde.
"Unser Unternehmen freut sich, die Initiative des Bürgerverbandes Airliners.sk zu unterstützen, da ATB bei der Wartung dieser Flugzeuge im Grunde genommen weltweit führend geworden ist und es die Fokker 70/100 war, die viele qualifizierte Flugzeugtechniker ausbildete und hochqualifiziert, in der Lage, sich weltweit in diesem schwierigen Beruf zu bewerben, und deshalb ist es jedes Mal, wenn der Betreiber beschließt, die Lebensreise eines Flugzeugs zu beenden, eine sehr schwierige Aufgabe für die Wartungsorganisation, die dies sicherlich nicht tut ist ein Favorit. Wir ziehen es vor, diese Human Engineering-Ergebnisse sicher in die Luft zu senden", sagte Pavol Hamšík, Finanzvorstand von Austrian Airlines Technik Bratislava, sro.
"Wir freuen uns, unsere Sammlung um ein weiteres schönes Flugzeug erweitern zu können. Das gesamte Projekt ist das Ergebnis einer qualitativ hochwertigen Zusammenarbeit mit außergewöhnlichen Menschen und eindeutigen Beweisen dafür, dass die Luftfahrt Menschen verbinden sollte und dass ein ähnliches Projekt in der EU möglich sein wird Zukunft", sagte Michal Stráňavský, Manager des Luftfahrtmuseums am Flughafen Slávnica.
"Wir hoffen, dass die Aviation-Fan-Community unser Projekt unterstützt und wir das Flugzeug bald der Öffentlichkeit präsentieren. Unsere Zusammenarbeit mit dem Flughafen Slávnica, die wir 2017 gestartet haben, wird sich auszahlen und den Besuchern des Luftfahrtmuseums wird eine weitere Ausstellung zur Verfügung stehen. Gleichzeitig müssen wir uns noch einmal bei Austrian Airlines Technik Bratislava, sro, bedanken, ohne deren Hilfe das Flugzeug im Müll landen würde", fügte der Präsident der Airliners.sk Civic Association, Juraj Ondruš, hinzu.
Zachovanie rakúskeho Fokker 100
Slovenskí nadšenci udržiavajú Fokkera 100
Občianske združenie Airliners.sk v spolupráci s Austrian Airlines Technik-Bratislava SRO (ATB) a Leteckým múzeom letiska Letisko Slávnica spustilo projekt na záchranu lietadiel Fokker 100. Túto iniciatívu podporuje aj rakúska dcérska spoločnosť Maintenance. Letecké spoločnosti (AUA) na letisku v hlavnom meste Rakúska v Rakúsku Technik Bratislava.
Dotknutý Fokker 100 bol uvedený do prevádzky s registráciou OE-LVJ v roku 2003 a pôvodne ho prevádzkovala dcérska spoločnosť Tyrolean Airways pod značkou Austrian Arrows pre materskú spoločnosť Austrian Airlines. Predtým bol dvojmotorový motor postavený v roku 1991 používaný spoločnosťou American Airlines. V rakúskych šípoch sa lietadlo nazývalo "Bratislava".
Deprogramovanie flotily Fokker
Pred piatimi rokmi rakúske letecké spoločnosti predali celú flotilu Fokker 100 (15) a Fokker 70 (6) austrálskej leteckej spoločnosti Alliance Airlines. Koncom roka 2017 Austrian Airlines vykonala posledný plánovaný let flotily Fokker vo svojej histórii. V tom čase spoločnosť Austrian Wings venovala veľkú správu príbehu spoločnosti Fokker o Austrian Airlines. Lietadlá predávané AUA boli presunuté do Austrálie cez letisko v hlavnom meste SR v Bratislave. Údržba trysiek bola a stále sa čiastočne vykonáva na Slovensku. Alliance Aviation zaregistrovala OE-LVJ s identifikátorom VH-UQP v austrálskom registri lietadiel, ale nikdy nepreniesla dané lietadlo.
Uchovávanie Fokker 100 ,,Bratislava"
Ako darca náhradných dielov slúžil "Bratislava". Teraz je Fokker 100 bez viditeľných častí na vonkajšej aj vnútornej strane. Tomuto tímu Airliners.sk sa chce vyhnúť a rakúsky Technik Bratislava za vašu žiadosť podporuje. Cieľom je nájsť dostatok peňazí na prepravu lietadla do Leteckého múzea Slavnica, severne od Bratislavy. Múzeum je na západe sotva známe a je považované za privilegovanú radu medzi leteckými fanatikmi. Displeje zahŕňajú TU-134 alebo Li-2.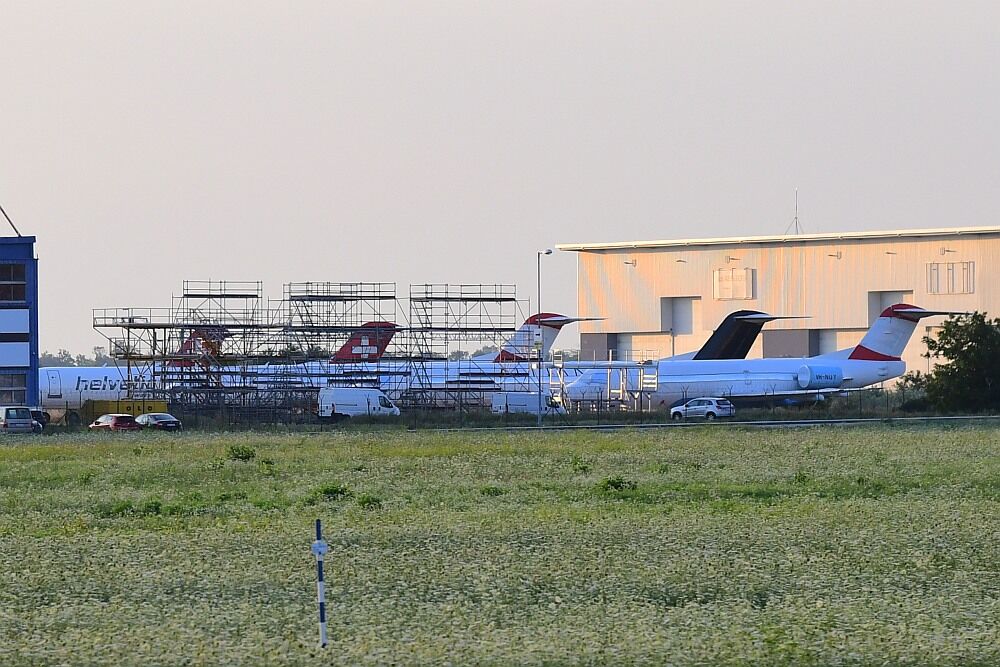 Hlasy zachovávajú Fokker 100
"Ako fanúšikovia lietadiel sa nám nepáčia, keď ich vidia, ako skončia v haraburdí. Keď sme sa dozvedeli, že rakúska spoločnosť Technik Bratislava SRO plánuje vo svojich zariadeniach vyradiť lietadlo Fokker 100, rezonovala s nami. Mali sme v hlavách plán, ako zachrániť lietadlo. Chápeme, že bez pomoci verejnosti to môžeme urobiť veľmi tvrdo. Preto sa pokúšame získať potrebné prostriedky na prepravu prostredníctvom verejného zbierky. Veríme, že nájdeme dostatok sledovateľov a Fokker bude predstavený verejnosti ako muzeálna výstava v Leteckom múzeu v Slávnici. Obohatí kolekciu dopravných lietadiel Tupolev TU134, Avia AV-14S a Lisunova LI-2″, vysvetľuje Juraj Ondruš, prezident Občianskeho združenia Airliners.sk, ktoré spája fanúšikov leteckých fotografií.
Fokker 100 bol postavený v roku 1991 a dodaný American Airlines neskôr v tomto roku. Tu strávila 12 rokov, nasledovala niekoľko ďalších leteckých spoločností, až do roku 2005 sa ocitla vo rakúskej flotile Arrows. Určite zaujímavým faktom je, že lietadlo počas prevádzky Austrian Arrows a Austrian Airlines bolo pomenované po Bratislave.
"Naša spoločnosť s potešením podporuje iniciatívu občianskeho združenia Airliners.sk, pretože ATB sa v podstate stala svetovým lídrom v údržbe týchto lietadiel a bol to Fokker 70/100, ktorý vyškolil mnoho kvalifikovaných leteckých technikov a vysoko kvalifikovaní, ktorí sú schopní uplatniť sa po celom svete v tomto zložitom povolaní, a preto je vždy, keď sa prevádzkovateľ rozhodne ukončiť životnú cestu akéhokoľvek lietadla, pre organizáciu údržby veľmi ťažká úloha, ktorá určite nie Je to obľúbená položka. Tieto výsledky ľudského inžinierstva preferujeme bezpečne do ovzdušia", uviedol Pavol Hamšík, finančný riaditeľ Austrian Airlines Technik Bratislava, sro.
"Sme radi, že sme mohli rozšíriť našu kolekciu o ďalší krásny kus lietadla. Celý projekt je výsledkom kvalitnej spolupráce s výnimočnými ľuďmi a jasných dôkazov o tom, že letecká doprava by mala ľudí spájať a že podobný projekt bude možný aj v budúcnosť", uviedol Michal Stráňavský, riaditeľ Leteckého múzea na letisku Slávnica.
"Dúfame, že komunita leteckých fanúšikov podporí náš projekt a lietadlo čoskoro predstavíme verejnosti. Spolupráca s letiskom Slávnica, ktoré sme začali v roku 2017, sa vyplatí a návštevníci leteckého múzea budú mať k dispozícii ďalšiu výstavu. Zároveň musíme ešte raz poďakovať Austrian Airlines Technik Bratislava, sro, bez ktorej by lietadlo skončilo nezdravo", dodal prezident Občianskeho združenia Airliners.sk Juraj Ondruš.
Ξ A I R G W A Y S Ξ
PUBLISHER: Airgways.com
DBk: Airgways.com / Airliners.sk / Austrian.com / Huber/Austrian Wings Media Crew
AW-POST: 202006152121AR
A\W A I R G W A Y S ®