AW | 2020 07 21 14:30 | AIRLINES MARKET
Aerolíneas Estados Unidos enfrentan a cambios clases de viajes
Las aerolíneas estadounidenses se enfrentan a un escenario de cambios en el período post-pandemia frente a la crisis que podría eliminar gran parte del vuelo corporativo del que han dependido durante décadas para apuntalar las ganancias. Las compañías golpeadas por la pérdida catastrófica de pasajeros durante la pandemia, se enfrentan a un escenario diferente de mercado ante la crisis sanitaria que podría borrar gran parte del vuelo de negocios. "Es probable que los viajes de negocios nunca vuelvan a los niveles anteriores a COVID. Es uno de esos casos desafortunados donde la industria se verá afectada permanentemente y lo que perdimos ahora se ha ido, para nunca volver", dijo el Consultor de Aviación Adam Pilarski, Vicepresidente Senior de Avitas.
La actual perspectiva de los viajes aéreos ponen en entredicho la parte más lucrativa de la industria de las aerolíneas. Los viajes de negocios representan del 60 al 70 por ciento de las ventas de la industria, según las estimaciones del grupo comercial Airlines for America (A4A). Eso está bajo amenaza a raíz de un colapso de pasajeros sin precedentes que comenzó hace cuatro meses. La mitad de los encuestados en Fortune 500 dijo que los viajes a sus empresas nunca volverían a ser lo que eran antes del Coronavirus, según la revista Fortune. Incluso los líderes de la industria, como el CEO de Delta Air Lines Inc., Ed Bastian, se inclinan ante lo inevitable: "No creo que alguna vez volvamos por completo a donde estábamos en 2019 en el volumen de tráfico comercial", dijo Bastian el 14 Julio después de que la compañía reportó una pérdida trimestral ajustada récord de US$ 2.8 mil millones. United Airlines Holdings Inc. divulga los resultados este Martes 21/07, seguido por Southwest Airlines Co. y American Airlines Group Inc. el Jueves 23/07.
La demanda doméstica premium se derrumbó en Abril 2020 con el resto del mercado, y esas tarifas disminuyeron en mayo a los datos más bajos desde 2008. El inversor estadounidense Warren Buffett, quien regresó al negocio de las aerolíneas tras invirtir en 2016 después de años de evitar las acciones, abandonó sus participaciones en varias compañías de aviación como American Airlines, Delta Air Lines, Southwest Airlines y United Airlines cuando la crisis sanitaria ha provocado un colapso financiero en las aerolíneas. "El mundo cambió para las aerolíneas", dijo Buffett a los inversores de Berkshire Hathaway Inc. en Mayo 2020.
La industria de las aerolíneas afrontan los fracasos de quiebras que salpican las dos primeras décadas del siglo XXI después de años de crecimiento. Las predicciones de la desaparición de los viajes de negocios resultaron prematuras después de los ataques del 11 Septiembre 2001 (11-S) y nuevamente después de la Gran Recesión de 2008-09. Los transportistas ahora están sopesando los recortes de empleos después de que expiren US$ 25 mil millones en ayuda federal de nómina a fines de septiembre. Southwest dijo el lunes que alrededor del 28 por ciento de sus empleados han acordado abandonar la compañía de manera temporal o permanente. American dijo la semana pasada que advertiría a 25.000 empleados, o el 29 por ciento de su fuerza laboral estadounidense, que corren el riesgo de perder sus puestos. United ha enviado avisos de posibles despidos al 45 por ciento.
La consolidación y la reducción de empleos en las aerolíneas ayudaron a impulsar esos retornos, y algunos transportistas predicen el eventual retorno de sus clientes de dinero en efectivo. "Creemos que los viajes de negocios volverán y volverán fuertes como siempre. Pero tomará entre seis y 12 meses para funcionar a través del sistema una vez que una vacuna o tratamiento esté ampliamente disponible", dijo Andrew Nocella, Director Comercial de United Airlines.
Viajes vs videoconferencias
Sin embargo, lo diferente ahora no es solo la profundidad de las dificultades de las aerolíneas. También son las oportunidades para soluciones tecnológicas en los bancos, gigantes tecnológicos, bufetes de abogados y otras compañías de servicios profesionales que una vez desembolsaron asientos de primera clase. Los recuentos de pasajeros estadounidenses se desplomaron en más del 95 por ciento en su peor momento, con viajeros temerosos de virus de todo tipo que evitan los espacios reducidos en los que las aerolíneas confiaban para maximizar los ingresos de cada vuelo. Incluso con algunos viajes de placer, los números no son suficientes, y Wall Street ofrece un veredicto claro: las seis aerolíneas más grandes de EE. UU. Terminaron la semana pasada con un valor de mercado combinado que es inferior a los US$ 70 mil millones de Zoom Video Communications Inc., cuyo software ha convertido las llamadas de Zoom en sinónimo de hogares y salas de juntas. Las videoconferencias mejoradas reducen aún más las posibilidades de volver al apogeo de los vuelos corporativos a medida que las empresas consideran que los presupuestos de viaje están listos para recortes. "No reemplazará la necesidad de visitar a su cliente, pero habrá un impacto en cuántas personas van a viajar y con qué frecuencia", Eric Bernardini, Director Gerente de la consultora AlixPartners.
Perspectivas clase negocios
Las proyecciones estiman hacia dos años el tiempo de recuperación de los niveles de los viajes de negocios, lo que permitirá mantener alrededor de un 25% por debajo de los niveles previos a la pandemia, expresó Bruno Despujol, socio del consultor Oliver Wyman. Los viajes domésticos business representarían hasta el 40 por ciento de la demanda comercial, éstos tienen más probabilidades de disminuir.
Las empresas están lidiando con una red cambiante de restricciones de viaje del Gobierno en Estados Unidos y en el extranjero debido a la pandemia. Columbia Sportswear Co. está revisando sus políticas, evaluando los protocolos de seguridad de hoteles, compañías de alquiler de automóviles y proveedores de viajes compartidos. A los riesgos para la salud se unen las preocupaciones de que un empleado podría quedar atrapado en cuarentenas de dos semanas cuando viaja a otros países y regresa a los Estados Unidos. "El contacto cara a cara y la visibilidad son importantes. Dicho eso, nadie irá a ninguna parte. Es bastante fácil imaginar cómo algo que debía ser unos días de viaje se convierte en cinco semanas de estar atrapado en un gruñido", dijo Peter Bragdon, Director Administrativo de Columbia.
Por ahora, las grandes aerolíneas estadounidenses están orientando sus horarios hacia destinos de ocio y viajes nacionales, pero las perspectivas del mundo de la clase business está siendo amenazada tanto en Estados Unidos como en todo el mundo, una elite que las líneas aéreas están perdiendo espacio y rentabilidad.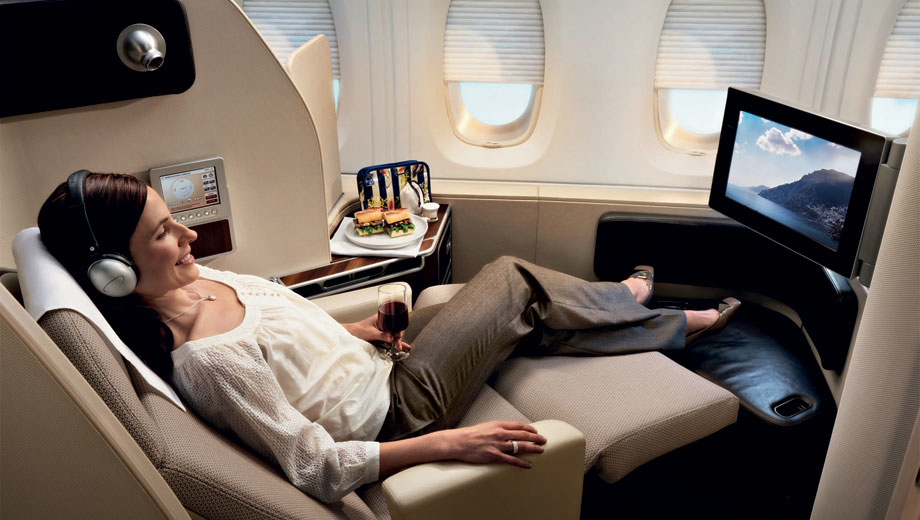 Air market modifies business class
United States airlines face changes in travel classes
US airlines face a scenario of change in the post-pandemic period in the face of the crisis that could eliminate much of the corporate flight they have relied on for decades to shore up profits. Companies hit by the catastrophic loss of passengers during the pandemic face a different market scenario in the face of the health crisis that could erase much of the business flight. "Business travel is likely never to return to pre-COVID levels. It is one of those unfortunate cases where the industry will be permanently affected and what we lost is now gone, never to return", said Aviation Consultant Adam. Pilarski, Avitas Senior Vice President.
The current air travel outlook calls into question the most lucrative part of the airline industry. Business travel accounts for 60 to 70 percent of industry sales, according to estimates by the Airlines for America (A4A) business group. That is under threat in the wake of an unprecedented passenger collapse that started four months ago. Half of Fortune 500 respondents said travel to their companies would never be what it was before the Coronavirus, according to Fortune magazine. Even industry leaders, like Delta Air Lines Inc. CEO Ed Bastian, bow to the inevitable: "I don't think we'll ever go completely back to where we were in 2019 in the volume of commercial traffic", Bastian said. on July 14 after the company reported a record adjusted quarterly loss of US$ 2.8 billion. United Airlines Holdings Inc. releases the results this Tuesday 7/21, followed by Southwest Airlines Co. and American Airlines Group Inc. on Thursday 7/23.
Premium domestic demand collapsed in April 2020 with the rest of the market, and those rates declined in May to the lowest data since 2008. American investor Warren Buffett, who returned to the airline business after investing in 2016 after years of avoiding the shares, abandoned his interests in various aviation companies such as American Airlines, Delta Air Lines, Southwest Airlines and United Airlines when the health crisis It has caused a financial collapse in the airlines. "The world changed for airlines", Buffett told investors at Berkshire Hathaway Inc. in May 2020.
The airline industry is facing bankruptcy failures that dot the first two decades of the 21st century after years of growth. Predictions of the disappearance of business travel were premature after the attacks of September 11, 2001 (9/11) and again after the Great Recession of 2008-09. Carriers are now weighing job cuts after US$ 25 billion in federal payroll aid expires in late September. Southwest said Monday that about 28 percent of its employees have agreed to leave the company temporarily or permanently. American said last week it would warn 25,000 employees, or 29 percent of its American workforce, that they are at risk of losing their jobs. United has sent notices of possible layoffs to 45 percent.
The consolidation and reduction of airline jobs helped drive those returns, and some carriers predict the eventual return of their customers for cash. "We believe business travel will come back and come back strong as ever. But it will take six to 12 months to function through the system once a vaccine or treatment becomes widely available", said Andrew Nocella, Chief Commercial Officer of United Airlines.
Travel vs. videoconferencing
However, the difference now is not just the depth of the airlines' difficulties. There are also opportunities for technology solutions at banks, tech giants, law firms and other professional services companies that once disbursed first-class seats. U.S. passenger counts plummeted by more than 95 percent at their worst, with virus-fearing travelers of all kinds avoiding the tight spots airlines relied on to maximize revenue for each flight. Even with some leisure travel, the numbers are not enough, and Wall Street offers a clear verdict: The six largest US airlines ended up last week with a combined market value of less than US$ 70,000. Millions of Zoom Video Communications Inc., whose software has made Zoom calls synonymous with homes and boardrooms. Improved video conferencing further reduces the chances of returning to the heyday of corporate flights as companies view travel budgets as ready for cuts. "It will not replace the need to visit your client, but there will be an impact on how many people will travel and how often", Eric Bernardini, Managing Director of consulting firm AlixPartners.
Perspective Business class
The projections estimate the recovery time of business travel levels to two years, which will allow maintaining around 25% below pre-pandemic levels, said Bruno Despujol, a partner at consultant Oliver Wyman. Domestic business trips would represent up to 40 percent of commercial demand, these are more likely to decrease.
Companies are grappling with a changing network of government travel restrictions in the United States and abroad due to the pandemic. Columbia Sportswear Co. is reviewing its policies, evaluating the safety protocols of hotels, car rental companies and carpool providers. Adding to the health risks are concerns that an employee could be trapped in two-week quarantines when traveling to other countries and returning to the United States. "Face-to-face contact and visibility are important. That said, no one will go anywhere. It's pretty easy to imagine how something that must have been a few days' travel turns into five weeks of being caught in a grunt", said Peter Bragdon, Managing Director of Columbia.
For now, the big American airlines are shifting their schedules to domestic travel and leisure destinations, but the prospects for the business class world are being threatened both in the United States and around the world, an elite that airlines are losing space and profitability.
Ξ A I R G W A Y S Ξ
PUBLISHER: Airgways.com
DBk: Airgways.com / Ft.com / Sam Rosen
AW-POST: 202007211430AR
A\W A I R G W A Y S ®