AW | 2016 11 01 13:40 | AIRLINES
Nuevo tipo de avión, nuevo logotipo, nueva entrega
Esta parece ser la tradición en la Qantas Airways de Australia, que la semana pasada reveló una actualización de su icónico logotipo de canguro y una tipografía aerodinámica «Qantas» en preparación para la entrega del primer Boeing 787-9 de Boeing Un año por ahora.
El nuevo diseño fue pintado en un Airbus A330-300 y se reveló en un evento en Sydney, junto con detalles sobre los asientos, configuración de asientos y algunas de las comodidades que los pasajeros pueden esperar encontrar en los 787 aviones del transportista.
El logo y la librea
Mientras que el clásico «Qantas rojo» y blanco del fuselaje no han cambiado, la aerolínea ha optimizado la imagen de canguro que se ve en la cola del avión.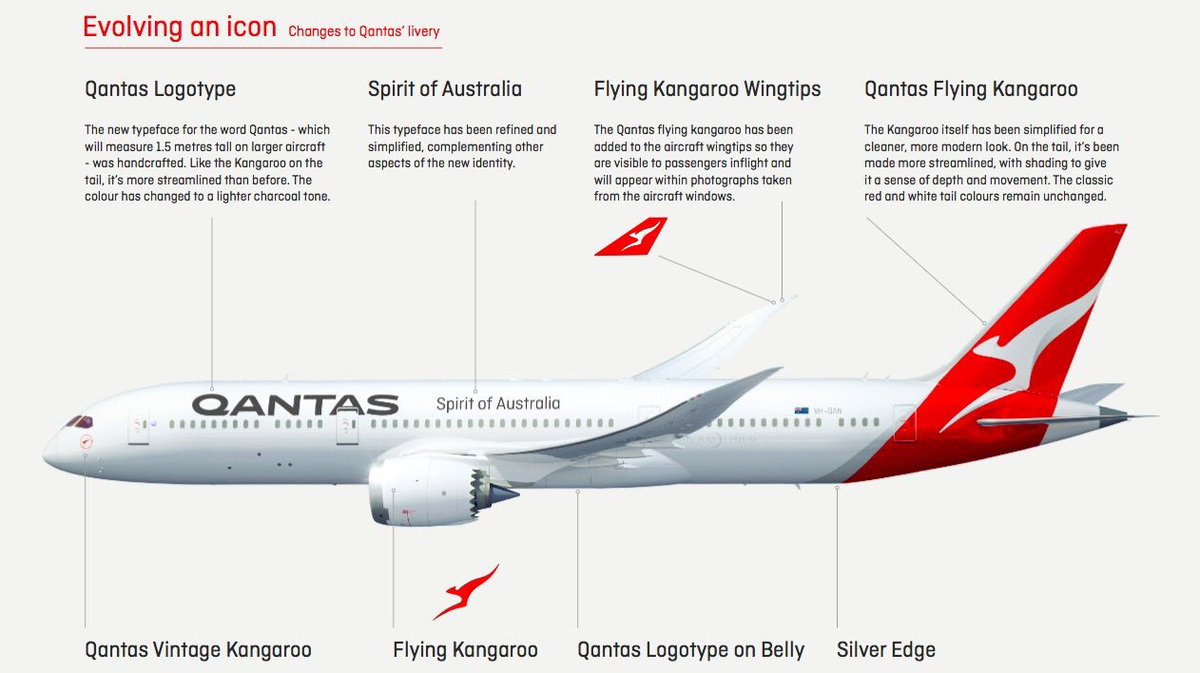 La imagen actualizada del canguro también se ha añadido al borde curvado interior de las extremidades del ala de modo que los pasajeros verán la imagen cuando miran por las ventanas y el logotipo del canguro aparecerá en los pasajeros de los retratos que toman del interior del avión.
Además de reemplazar y ampliar el canguro que aparece en las capotas del motor fuera de borda, la aerolínea ha reintroducido el icónico «canguro alado» que apareció en las colas de Qantas en los años 60, 70 y 80 y lo añadió bajo la ventana de la cabina, donde el Nombre de la aeronave está pintado.
La palabra «Qantas» que aparece en el lateral de la aeronave recibe una fuente más delgada y un color ligeramente más claro y, para aumentar la visibilidad de la marca desde el suelo, la palabra Qantas ahora aparece en el vientre de la aeronave.
«Queríamos asegurarnos de que nuestra marca se mantuviera familiar, pero también queríamos que fuera más moderno y dinámico, como el 787 y como Qantas», dijo Alan Joyce, CEO de Qantas Group, en un comunicado.
Según Qantas, esta es la quinta vez que la imagen en rojo y blanco de la cola del avión Qantas se ha actualizado desde que fue introducida por primera vez en 1944. La última actualización fue en 2007 y coincidió con la introducción del Airbus A380 a la Qantas. Antes de eso, el logotipo fue actualizado en 1984, para el B747-300, y en 1947, para la Constelación de Lockheed.
La nueva marca ya está mostrando los activos digitales, la señalización y la publicidad de la compañía, y se pondrá en marcha de acuerdo con el calendario de re-pinturas, con el objetivo de que toda la flota repintada a tiempo para el centenario de la aerolínea en 2020.
Qué esperar del 787 de Qantas
Qantas no obtendrá su primer 787 por un año y aún no ha compartido las rutas que el nuevo avión volará, aunque la compañía dice que las entradas para los primeros vuelos internacionales deberían estar disponibles antes de Navidad.
Qantas ha revelado cierta información sobre su diseño para su cabina de Dreamliner, que acomodará a 236 pasajeros: 42 en la clase de negocio, con una configuración 1-2-1; 28 en la economía de prima, con una configuración 2-3-2; Y 166 asientos económicos, con una configuración 3-3-3.
Los asientos de clase ejecutiva se extenderán hasta una cama de 80 pulgadas, tendrán pantallas de privacidad y podrán estar en una posición reclinada «desde el despegue hasta el aterrizaje», según Qantas, mientras que los asientos económicos tendrán un Tono de 32 pulgadas, reclinación de 6 pulgadas, luces de estado de ánimo integradas, un estante para dispositivos electrónicos, un espacio de almacenamiento para botellas de agua y una «red de pies» para ayudar a dormir. Bares de autoservicio para aperitivos y bebidas están previstos tanto para la cabina de clase económica como para la clase business.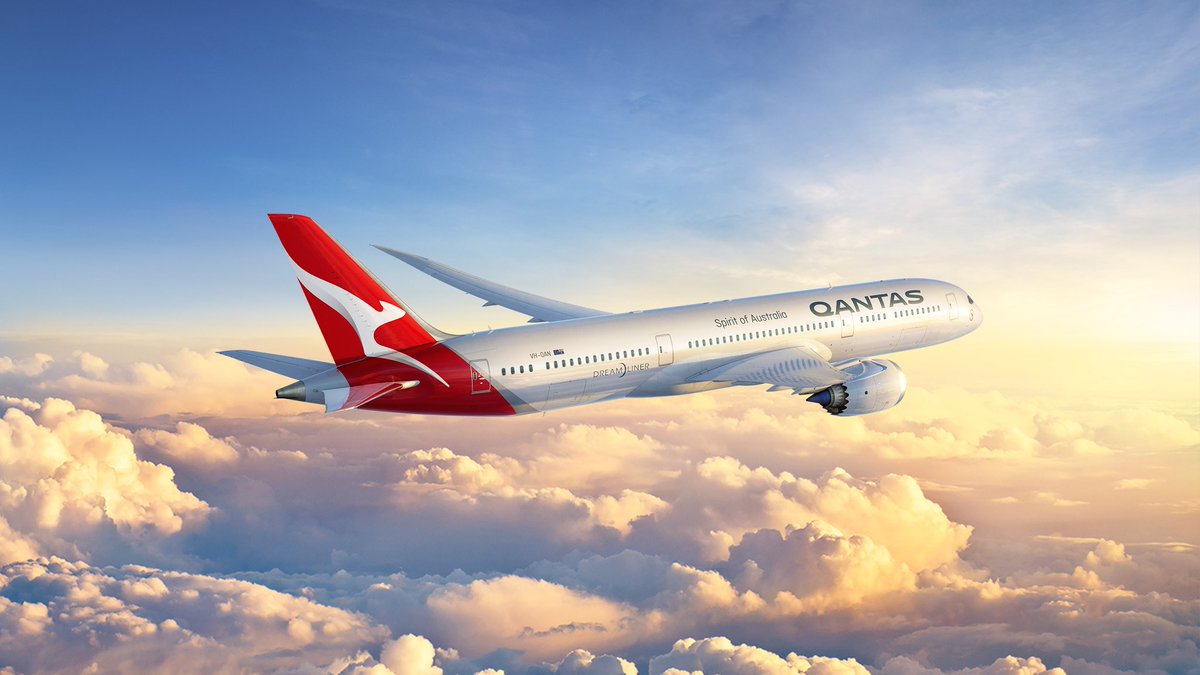 Qantas reveals new livery
New aircraft type, new logo, new livery
That seems to be the tradition at Australia's Qantas Airways, which last week revealed an update to its iconic kangaroo logo and a streamlined "Qantas" typography in preparation for the delivery of the carrier's first (of eight) Boeing 787-9 aircraft — scheduled for a year from now.
The new design was painted on an Airbus A330-300 and was revealed at an event in Sydney, along with details about the seats, seating configuration and some of the amenities passengers can expect to find on the carrier's 787 aircraft.
The logo and the livery
While the classic «Qantas red» and white of the fuselage are unchanged, the airline has streamlined the kangaroo image seen on the tail of the aircraft.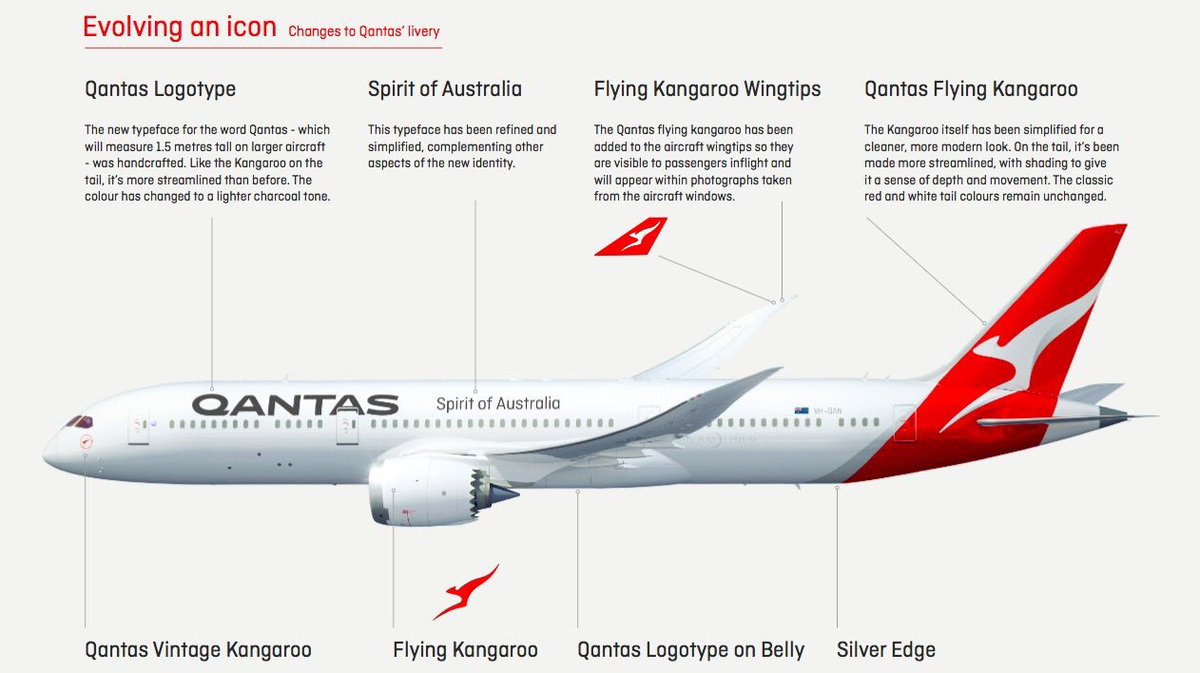 The updated kangaroo image has also been added to the inside curved edge of the wingtips so that passengers will see the image when they look out the windows and the kangaroo logo will show up in pictures passengers take from inside the aircraft.
In addition to replacing and enlarging the kangaroo that appears on the outboard engine cowls, the airline has re-introduced the iconic «winged kangaroo» that appeared on Qantas tails in the 1960s, 70s and 80s and added it under the cockpit window, where the aircraft name is painted.
The word "Qantas" that appears on the side of the aircraft gets a slimmer font and a slightly lighter color and, to increase visibility for the brand from the ground, the word Qantas now appears on the belly of the aircraft.
"We wanted to make sure our brand remained familiar but we also wanted it to be more modern and dynamic, like the 787 and like Qantas," Alan Joyce, Qantas Group CEO, said in a statement.
According to Qantas, this is the fifth time the red-and-white image on the tail of Qantas aircraft has been updated since it was first introduced in 1944. The last update was in 2007 and coincided with the introduction of the Airbus A380 to the Qantas fleet. Before that, the logo was updated in 1984, for the B747-300, and in 1947, for the Lockheed Constellation.
The new branding is already showing up the carrier's digital assets, signage and advertising and will roll out on aircraft according to the schedule of re-paints, with a goal of having the entire fleet repainted in time for the airline's centenary in 2020.
What to expect on the Qantas 787
Qantas won't get its first 787 for a year and hasn't yet shared the routes the new aircraft will fly, although the carrier says tickets for the first international flights should be available before Christmas.
Qantas has revealed some information about its design for its Dreamliner cabin, which will seat 236 passengers: 42 in business class, with a 1-2-1 configuration; 28 in premium economy, with a 2-3-2 configuration; and 166 economy seats, with a 3-3-3 configuration.
The business-class seats will extend to an 80-inch bed length, have privacy screens and will be able to be in a recline position "from take-off right through to landing," according to Qantas, while the economy seats will have a 32-inch pitch, 6-inch recline, integrated mood lights, a shelf for electronic devices, a storage space for water bottles and a «foot net» to aid napping. Self-service snack and drink bars are planned for both the economy- and business-class cabin. A\W
Ξ A I R G W A Y S Ξ
SOURCE: usatoday.com
DBk: Photographic © qantas.com
AW-POST: 201611011340AR
A\W A I R G W A Y S ®