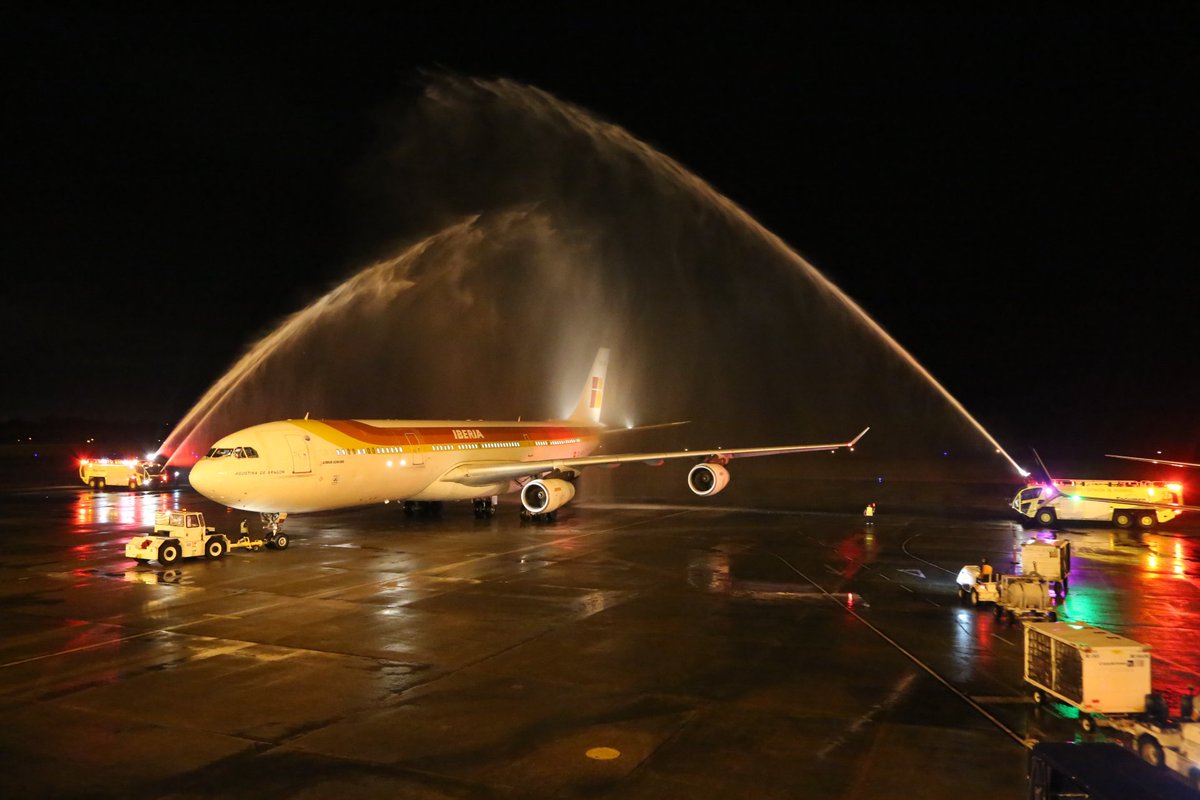 AW | 2016 11 02 23:47 | AIRLINES
Airbus A340-300 de Iberia realizó último vuelo desde Panamá
La aeronave Airbus 340-300, que será retirada de la flota de la aerolínea española Iberia, realizó el lunes su último vuelo desde el Aeropuerto Internacional de Tocumen, el principal de Panamá, indicó una fuente oficial.
El último vuelo del Airbus 340-300 llegó a ciudad de Panamá con 208 pasajeros a bordo y salió del Aeropuerto Internacional de Tocumen con 264 viajeros con destino a Madrid.
El avión, que se retira de la flota de Iberia tras 26 años de servicio, fue despedido al compás de la música y bailes folclóricos a cargo del conjunto típico del Aeropuerto Internacional de Tocumen.
Como cuando se abre una ruta o se estrena un avión se efectúa un «bautismo de agua» en la plataforma del aeropuerto, esta vez se dio una ceremonia especial de despedida a la aeronave de Iberia mediante un arco de agua.
Tocumen S. A., empresa que administra el aeropuerto desde 2003, señaló en un comunicado que el avión destinado a reemplazar la ruta Madrid-Panamá es el Airbus A330-300, el más moderno de la flota de Iberia.
El Airbus A330-300 es un bimotor de fuselaje ancho equipado con las nuevas cabinas de largo radio y butacas que se transforman en camas de dos metros de longitud, con acceso directo al pasillo y una pantalla de 15,4 pulgadas.
Estos nuevos aviones introducen en Iberia un nuevo modelo de operación de rutas de largo radio mucho más eficiente, consumiendo en torno a un 15 % menos de combustible que otros modelos de aviones cuatrimotores de similar capacidad.
La compañía Iberia sumará 48 aviones entre 2016 y 2021 por unos 4.160 millones de euros, según la información. Fundada en 1927, Iberia actualmente vuela a 119 destinos en 42 países, incluyendo los destinos de Iberia Express e Iberia Regional.
Iberia, que comenzó a operar en Panamá en abril de 1971, lleva desde enero de 2012 ofreciendo cinco vuelos sin escalas a Panamá, los lunes, miércoles, viernes, sábados y domingos.  
Last flight Iberia A340

Iberia Airbus A340-300 flight from Panama last place and leave fleet
The Airbus 340-300 aircraft, which will be withdrawn from the fleet of the Spanish airline Iberia, on Monday made its last flight from Tocumen International Airport, the principal of Panama, said an official source.
The last flight of the Airbus 340-300 arrived in Panama City with 208 passengers on board and left the Tocumen International Airport with 264 passengers traveling to Madrid.
The plane, which is removed from the Iberia fleet after 26 years of service, was fired in time to the music and folkloric by the typical set Tocumen International Airport dances.
As when a route is opened or a plane opens a «baptism of water» on the airport apron, this time a special farewell ceremony to Iberia aircraft was given by an arc of water is made.
Tocumen S. A., which manages the airport since 2003, said in a statement that the aircraft intended to replace the Madrid-Panama route is the most modern fleet of Airbus A330-300 Iberia.
The Airbus A330-300 is a twin-engine widebody equipped with new longhaul cabins and seats that turn into beds two meters long, with direct access to the corridor and a 15.4-inch screen.
These new aircraft introduced a new model of operation long routes much more efficient Iberia radio, consuming around 15% less fuel than other models of four-engine aircraft of similar capacity.
Iberia will add 48 aircraft between 2016 and 2021 by about 4,160 million euros, the report said. Founded in 1927, Iberia currently flies to 119 destinations in 42 countries, including destinations in Iberia and Iberia Regional Express.
Iberia, which began operations in Panama in April 1971, has since January 2012 offering five nonstop flights to Panama on Mondays, Wednesdays, Fridays, Saturdays and Sundays. A\W
Ξ A I R G W A Y S Ξ
SOURCE: telemetro.com
DBk: Photographic © Aeropuerto Tocumen
AW-POST: 201611022347AR
A\W A I R G W A Y S ®