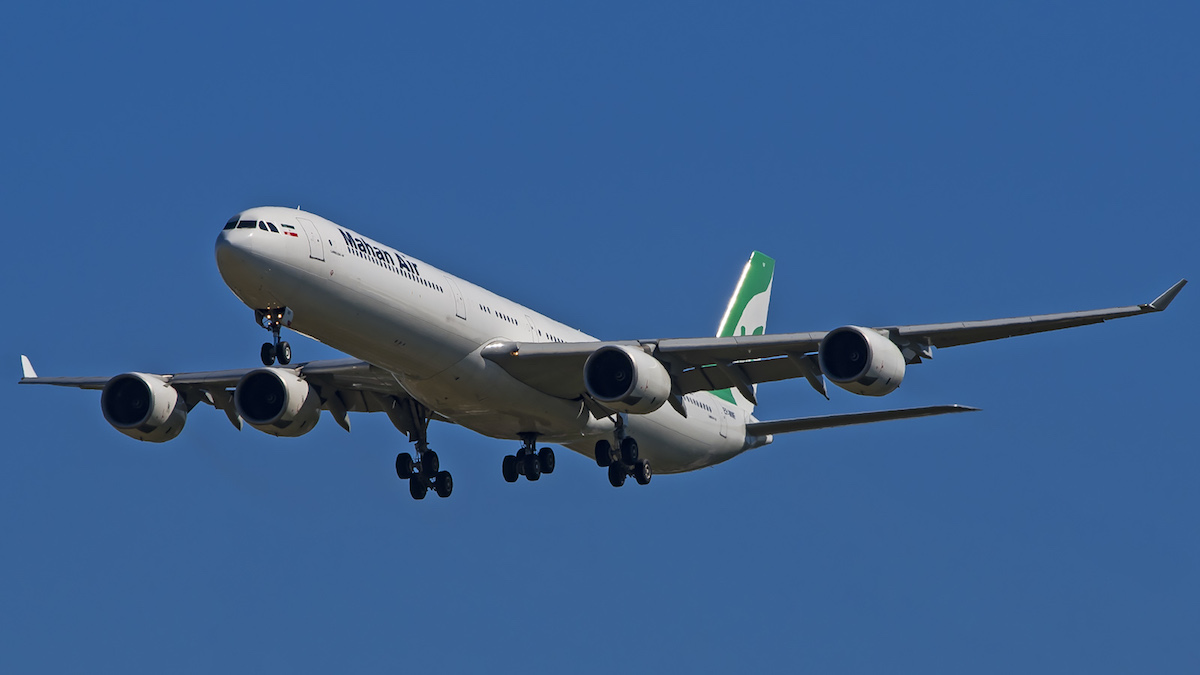 AW | 2019 04 08 21:09 | AIRLINES ROUTES / AVIATION SAFETY
Mahan Air una aerolínea fundamentalista de Irán conectará con occidente
Mahan Air es una nueva aerolínea de la República Islámica de Irán que ha realizado acuerdos comerciales para unir un nuevo destino en occidente como puerta de entrada Caracas, Venezuela. Mahan Air comenzó vuelos directos Teherán-Caracas, la capital de Venezuela, un viaje de 16 horas para los funcionarios del gobierno a bordo de la aerolínea.
Caso Siria
La aerolínea Mahan Air es caratulada por los servicios de inteligencias occidentales como una verdadera amenaza a la integridad y la seguridad. La aerolínea iraní ha sido acusada en varias ocasiones de integrar una red para operaciones fundamentalistas islámicas, desempeñando un papel integral al proporcionar al dictador sirio Bashar al-Assad la mano de obra y las armas para alimentar su esfuerzo bélico cargado de atrocidades.
Desde el comienzo de la guerra civil en Siria en Marzo 2011, una serie de transportistas comerciales iraníes han estado brindando apoyo militar a Assad y Hezbolá. Han aumentado su ritmo desde el verano de 2015, cuando Irán y Rusia coordinaron sus esfuerzos para salvar el entonces vacilante régimen de Assad. El resultado más atroz se ha cobrado la vida de más de medio millón de sirios que han muerto en el conflicto. La mitad de la población del país está desplazada internamente o ha buscado refugio en los países vecinos. La crisis también se ha extendido a Europa, con una ola de refugiados sin precedentes que buscan refugio.
Mahan Air y otras aerolíneas comerciales iraníes han incurrido en graves faltas a la aeronavegación, infringiendo las normas internacionales de comercio y control aéreo. El año 2018, Farzin Nadimi, del Instituto de Política para el Cercano Oriente de Washington, evaluó que durante un período de dos meses, el puente aéreo llevó a Damasco 21.000 personas y 5.000 toneladas de suministros. Durante un período de tres años y a una tasa constante, es decir, casi 380.000 personas han intercambiado las líneas del frente con aproximadamente 90.000 toneladas de suministros en su mayoría de procedencia bélica.
Muchos de los aviones que Mahan Air utiliza para volar, al amparo de la oscuridad, a Damasco, frecuentemente reanudan el transporte civil regular a la mañana siguiente, dirigiéndose a destinos turísticos o centros de negocios en todo el mundo.
Israel denuncia las operaciones terroristas de Mahan Air. En Septiembre 2018 Israel envió una carta al Secretario General de la ONU, acusando a la República de Irán de usar aviones civiles para contrabandear armas al grupo terrorista islamista Hezbolá en el Líbano. En la carta, el embajador israelí en la ONU, Danny Danon, declaró que el Cuerpo de la Guardia Revolucionaria Islámica (IRGC) de Irán utiliza aerolíneas como Mahan Air, una aerolínea iraní de propiedad privada, para transportar material militar. Según Danon, los oficiales de la Fuerza Quds empacan armas y material en maletas que son transferidas a Hezbolá en vuelos comerciales. Las maletas llegan en vuelos a Beirut o Damasco en Siria. Luego son transferidos por tierra al Líbano.
"Está claro que Irán sigue siendo el principal proveedor de armas y material relacionado a Hezbolá, en una flagrante violación de numerosas resoluciones del Consejo de Seguridad. El Consejo de Seguridad debe condenar a Irán y Hezbolá por la violación de sus resoluciones", escribió Danon.
"Mahan Air es la aerolínea elegida por la Fuerza de Cuerpo de Guardia Revolucionaria Islámica-Quds, que facilita su apoyo al terrorismo en todo el Medio Oriente. Los vuelos regulares de Mahan a Siria se utilizan para apuntalar el régimen de Assad y entregar armas, combatientes extranjeros y agentes iraníes que siembran violencia y disturbios en toda la región. El gobierno de los Estados Unidos ha sido muy claro sobre el papel mortal que jugó Mahan Air", dijo el entonces Secretario del Tesoro Steven T. Mnuchin.
En Diciembre 2018, durante un ataque israelí a las instalaciones iraníes en Siria, un vuelo de Mahan Air salió de Damasco alrededor de las 10 pm, en medio de los ataques aéreos, algo que cualquier aerolínea civil evitaría a toda costa.
Mahan Air llega a Venezuela
El portavoz de la Organización de Aviación Civil de Irán anunció que se iniciaron vuelos entre Teherán y Caracas, Venezuela por parte de la aerolínea iraní Mahan Air. Mahan Air de Irán es acusada de transportar equipo y personal militar a Siria y otras zonas de guerra de Medio Oriente; así como suministros militares para la organización terrorista Hezbolá. Durante demasiado tiempo, Mahan Air ha sido cómplice del asesinato en masa y ha sido tratado como un transportista comercial más.
Mahan Air, la segunda aerolínea más grande de Irán, comenzó a ofrecer vuelos directos a Venezuela. El primer vuelo despegó de Teherán el lunes con una delegación del Ministerio de Relaciones Exteriores a bordo, informó la Agencia de Noticias de la República Islámica (IRNA).
La aerolínea privada no tiene nada que temer en términos de represalias de los Estados Unidos, ya que Washington los había agregado en la lista negra en 2011 en medio de las afirmaciones de los Estados Unidos de que brindaba apoyo logístico al Cuerpo de la Guardia Revolucionaria Islámica, una unidad militar iraní que los Estados Unidos recientemente han considerado designando. Como una 'organización terrorista' extranjera.
Caracas es el primer destino en el hemisferio occidental para Mahan Air, cuyos aviones actualmente dan servicio a cerca de 50 rutas nacionales e internacionales a través de Irán, Asia y Europa. La aerolínea se vio obligada recientemente a detener sus vuelos a destinos en Francia y Alemania por supuestos vuelos de logística a Siria en apoyo del ejército sirio y sus operaciones antiterroristas.
Mahan Air se estableció en 1992, convirtiéndose en la primera aerolínea privada de Irán. La aerolínea tiene más de tres docenas de aviones modernos, incluidos aviones fabricados por Airbus, British Aerospace y un Boeing 747-300, y es una de las aerolíneas más grandes del país.
La administración Trump se retiró unilateralmente del acuerdo nuclear de Irán de 2015 en mayo de 2018, abofeteó al país del Medio Oriente con varias rondas de sanciones cada vez más difíciles y amenazó con reducir los ingresos petroleros del país «a cero». En enero, EE. UU. Impuso severas sanciones a la industria petrolera de Venezuela y confiscó los activos del gobierno en el exterior como parte de un intento por que el líder de la oposición y el autoproclamado 'presidente interino' Juan Guaido tomara el poder.
Teherán fue uno de los aproximadamente 50 países que denunciaron la injerencia estadounidense en Venezuela en la ONU en febrero, y ha expresado su apoyo al gobierno del país elegido democráticamente.
Mahan Air and contacts with Iran
Mahan Air a fundamentalist airline of Iran will connect with the Westhern
Mahan Air is a new airline of the Islamic Republic of Iran that has made commercial agreements to unite a new destination in the West as a gateway to Caracas, Venezuela. Mahan Air started direct flights Tehran-Caracas, the capital of Venezuela, a 16-hour trip for government officials aboard the airline.
Syria Case
The airline Mahan Air is rated by western intelligence services as a real threat to integrity and security. The Iranian airline has been accused on several occasions of integrating a network for Islamic fundamentalist operations, playing an integral role in providing the Syrian dictator Bashar al-Assad with the manpower and weapons to fuel his war effort loaded with atrocities.
Since the beginning of the civil war in Syria in March 2011, a number of Iranian commercial carriers have been providing military support to Assad and Hezbollah. They have increased their pace since the summer of 2015, when Iran and Russia coordinated their efforts to save the then vacillating Assad regime. The most atrocious result has claimed the lives of more than half a million Syrians who have died in the conflict. Half of the country's population is internally displaced or has sought refuge in neighboring countries. The crisis has also spread to Europe, with an unprecedented wave of refugees seeking refuge.
Mahan Air and other Iranian commercial airlines have incurred serious air navigation faults, violating international trade and air traffic control standards. In 2018, Farzin Nadimi, from the Near East Policy Institute in Washington, evaluated that over a two-month period, the airlift brought 21,000 people and 5,000 tons of supplies to Damascus. Over a period of three years and at a constant rate, that is, almost 380,000 people have exchanged front lines with approximately 90,000 tons of supplies, mostly of war origin.
Many of the planes that Mahan Air uses to fly, under cover of darkness, to Damascus, often resume regular civil transport the next morning, heading to tourist destinations or business centers around the world.
Israel denounces the terrorist operations of Mahan Air. In September 2018, Israel sent a letter to the UN Secretary-General, accusing the Republic of Iran of using civilian planes to smuggle weapons to the Islamist terrorist group Hezbollah in Lebanon. In the letter, the Israeli ambassador to the UN, Danny Danon, stated that Iran's Islamic Revolutionary Guards Corps (IRGC) uses airlines such as Mahan Air, a privately owned Iranian airline, to transport military equipment. According to Danon, Quds Force officers pack weapons and material in suitcases that are transferred to Hezbollah on commercial flights. Suitcases arrive on flights to Beirut or Damascus in Syria. Then they are transferred by land to Lebanon.
"It is clear that Iran remains the main supplier of weapons and material related to Hezbollah, in flagrant violation of numerous Security Council resolutions. The Security Council must condemn Iran and Hezbollah for violating its resolutions", Danon wrote.
"Mahan Air is the airline chosen by the Islamic Revolutionary Guards Corps Force-Quds, which facilitates its support for terrorism throughout the Middle East. Mahan's regular flights to Syria are used to shore up the Assad regime and deliver arms, foreign fighters and Iranian agents who sow violence and riots throughout the region. The government of the United States has been very clear about the deadly role that Mahan Air played", said then Treasury Secretary Steven T. Mnuchin.
In December 2018, during an Israeli attack on Iranian facilities in Syria, a Mahan Air flight left Damascus around 10 pm, amid air strikes, something that any civilian airline would avoid at all costs.
Mahan Air arrives in Venezuela
The spokesman for the Organization of Civil Aviation of Iran announced that flights between Tehran and Caracas, Venezuela were started by the Iranian airline Mahan Air.
Mahan Air of Iran is accused of transporting equipment and military personnel to Syria and other war zones in the Middle East; as well as military supplies for the terrorist organization Hezbollah. For too long, Mahan Air has been an accomplice to mass murder and has been treated as another commercial carrier.
Mahan Air, the second largest airline in Iran, began offering direct flights to Venezuela. The first flight took off from Tehran on Monday with a delegation from the Ministry of Foreign Affairs on board, the Islamic Republic News Agency (IRNA) reported.
The private airline has nothing to fear in terms of reprisals from the United States, since Washington had added them to the blacklist in 2011 amid US claims that it provided logistical support to the Islamic Revolutionary Guards Corps. , an Iranian military unit that the United States has recently considered designating. As a foreign 'terrorist organization'.
Caracas is the first destination in the Western Hemisphere for Mahan Air, whose aircraft currently service nearly 50 national and international routes through Iran, Asia and Europe. The airline was recently forced to stop its flights to destinations in France and Germany for alleged logistics flights to Syria in support of the Syrian army and its counter-terrorist operations.
Mahan Air was established in 1992, becoming the first private airline in Iran. The airline has more than three dozen modern aircraft, including aircraft manufactured by Airbus, British Aerospace and a Boeing 747-300, and is one of the largest airlines in the country.
The Trump administration unilaterally withdrew from the 2015 Iran nuclear agreement in May 2018, slapped the Middle East country with several rounds of increasingly difficult sanctions and threatened to reduce the country's oil revenues "to zero." In January, EE. UU He imposed severe sanctions on Venezuela's oil industry and confiscated government assets abroad as part of an attempt to have the opposition leader and self-proclaimed "interim president" Juan Guaido take power.
Tehran was one of some 50 countries that denounced US interference in Venezuela at the UN in February, and has expressed support for the government of the democratically elected country. A \ W
ماهان اير والاتصالات مع ايران
سوف Mahan Air شركة طيران أصولية إيران التواصل مع الغرب
ماهان إير هي شركة طيران جديدة تابعة لجمهورية إيران الإسلامية أبرمت اتفاقات تجارية لتوحيد وجهة جديدة في الغرب كبوابة لكاراكاس ، فنزويلا.
بدأت شركة ماهان للطيران رحلات مباشرة بطهران – كراكاس ، عاصمة فنزويلا ، في رحلة مدتها 16 ساعة للمسؤولين الحكوميين على متن الشركة.
قضية سوريا
تم تصنيف شركة الطيران Mahan Air من قبل أجهزة الاستخبارات الغربية على أنها تهديد حقيقي للنزاهة والأمن. اتُهمت الخطوط الجوية الإيرانية في عدة مناسبات بدمج شبكة للعمليات الأصولية الإسلامية ، ولعب دورًا أساسيًا في تزويد الديكتاتور السوري بشار الأسد بالقوة البشرية والأسلحة لتغذية مجهوده الحربي محملاً بالفظائع.
منذ بداية الحرب الأهلية في سوريا في مارس 2011 ، يقدم عدد من شركات النقل التجارية الإيرانية الدعم العسكري للأسد وحزب الله. لقد زادوا من وتيرتهم منذ صيف عام 2015 ، عندما نسقت إيران وروسيا جهودهما لإنقاذ نظام الأسد المتذبذب آنذاك. لقد أودت أكثر النتائج فظاعة بحياة أكثر من نصف مليون سوري ماتوا في الصراع. نصف سكان البلاد مشردين داخلياً أو لجأوا إلى البلدان المجاورة. امتدت الأزمة أيضًا إلى أوروبا ، مع موجة غير مسبوقة من اللاجئين الذين يلتمسون اللجوء.
تكبدت شركة ماهان للطيران وشركات الطيران التجارية الإيرانية الأخرى أعطالًا خطيرة في الملاحة الجوية ، منتهكةً معايير التجارة الدولية ومراقبة الحركة الجوية. في عام 2018 ، قيمت فرزين نديم ، من معهد سياسة الشرق الأدنى في واشنطن ، أنه على مدى شهرين ، نقل الجسر الجوي 21000 شخص و 5000 طن من الإمدادات إلى دمشق. على مدى فترة ثلاث سنوات وبمعدل ثابت ، أي ما يقرب من 380،000 شخص قاموا بتبادل الخطوط الأمامية مع حوالي 90،000 طن من الإمدادات ، معظمهم من أصل الحرب.
غالبًا ما تستأنف العديد من الطائرات التي تستخدمها شركة طيران ماهان للطيران ، تحت جنح الظلام ، إلى دمشق ، النقل المدني العادي في صباح اليوم التالي ، متجهةً إلى وجهات سياحية أو مراكز أعمال في جميع أنحاء العالم.
إسرائيل تدين العمليات الإرهابية التي قامت بها ماهان إير. في سبتمبر 2018 ، بعثت إسرائيل برسالة إلى الأمين العام للأمم المتحدة ، تتهم جمهورية إيران باستخدام طائرات مدنية لتهريب الأسلحة إلى جماعة حزب الله الإرهابية في لبنان. في الرسالة ، صرح السفير الإسرائيلي لدى الأمم المتحدة ، داني دانون ، بأن فيلق الحرس الثوري الإسلامي الإيراني (IRGC) يستخدم شركات الطيران مثل ماهان إير ، وهي شركة طيران إيرانية مملوكة ملكية خاصة ، لنقل المعدات العسكرية. وفقًا لدانون ، يقوم ضباط قوة القدس بحزم الأسلحة والمواد في حقائب يتم نقلها إلى حزب الله على متن رحلات تجارية. تصل الحقائب على متن رحلات إلى بيروت أو دمشق في سوريا. ثم يتم نقلهم برا إلى لبنان.
"من الواضح أن إيران تظل المورد الرئيسي للأسلحة والمواد المتعلقة بحزب الله ، في انتهاك صارخ للعديد من قرارات مجلس الأمن. "يجب على مجلس الأمن أن يدين إيران وحزب الله لخرقهما قراراته".
"ماهان إير هي شركة الطيران التي اختارتها قوة الحرس الثوري الإسلامي – القدس ، والتي تسهل دعمها للإرهاب في جميع أنحاء الشرق الأوسط. تستخدم رحلات ماهان المنتظمة إلى سوريا لدعم نظام الأسد وتوصيل الأسلحة والمقاتلين الأجانب والعملاء الإيرانيين الذين يزرعون العنف وأعمال الشغب في جميع أنحاء المنطقة. قال وزير الخزانة الأمريكي ستيفن تي. منوشين: "لقد كانت حكومة الولايات المتحدة واضحة للغاية بشأن الدور المميت الذي لعبته شركة ماهان للطيران".
في ديسمبر 2018 ، أثناء هجوم إسرائيلي على المنشآت الإيرانية في سوريا ، غادرت طائرة ماهان الجوية دمشق في حوالي الساعة 10 مساءً ، وسط غارات جوية ، وهو أمر تتجنبه أي شركة طيران مدنية بأي ثمن.
ماهان اير يصل الى فنزويلا
أعلن المتحدث باسم منظمة الطيران المدني الإيراني أن الرحلات الجوية بين طهران وكاراكاس ، بدأت فنزويلا من قبل شركة الطيران الإيرانية ماهان إير.
ماهان اير ايران متهمة بنقل المعدات والعسكريين الى سوريا ومناطق الحرب الأخرى في الشرق الأوسط ؛ وكذلك الإمدادات العسكرية لمنظمة حزب الله الإرهابية. لفترة طويلة جدًا ، كانت Mahan Air شريكًا في القتل الجماعي وعوملت كشركة نقل تجارية أخرى.
ماهان إير ، ثاني أكبر شركة طيران في إيران ، بدأت في تقديم رحلات مباشرة إلى فنزويلا. أفادت وكالة أنباء الجمهورية الإسلامية (إيرنا) أن الرحلة الأولى أقلعت من طهران يوم الاثنين على متنها وفد من وزارة الخارجية.
لا يوجد ما تخشاه شركة الطيران الخاصة فيما يتعلق بالانتقام من الولايات المتحدة ، حيث أن واشنطن أضافتهم إلى القائمة السوداء في عام 2011 وسط مزاعم أمريكية بأنها قدمت الدعم اللوجستي لفيلق الحرس الثوري الإسلامي. ، وحدة عسكرية إيرانية أن الولايات المتحدة قد نظرت مؤخرا في تعيين. باعتبارها "منظمة إرهابية" أجنبية.
كاراكاس هي الوجهة الأولى في نصف الكرة الغربي لشركة ماهان الجوية ، التي تخدم طائرتها حاليًا ما يقرب من 50 طريقًا وطنيًا ودوليًا عبر إيران وآسيا وأوروبا. اضطرت شركة الطيران مؤخرًا إلى إيقاف رحلاتها إلى وجهات في فرنسا وألمانيا بسبب رحلاتها اللوجستية المزعومة إلى سوريا لدعم الجيش السوري وعملياته لمكافحة الإرهاب.
تأسست شركة ماهان اير في عام 1992 ، لتصبح أول شركة طيران خاصة في إيران. تمتلك الشركة أكثر من ثلاثين طائرة حديثة ، بما في ذلك الطائرات المصنعة من قبل إيرباص وبريتيش أيروسبيس وبوينج 747-300 ، وهي واحدة من أكبر شركات الطيران في البلاد.
انسحبت إدارة ترامب من جانب واحد من الاتفاقية النووية الإيرانية لعام 2015 في مايو 2018 ، وفرضت على الدولة الشرق الأوسط عدة جولات من العقوبات المتزايدة الصعوبة وهددت بتقليص عائدات البلاد النفطية "إلى الصفر". في يناير ، EE.UU. وفرض عقوبات صارمة على صناعة النفط في فنزويلا وصادر الأصول الحكومية في الخارج كجزء من محاولة لزعيم المعارضة و "الرئيس المؤقت" الذي أعلن نفسه خوان غوييدو السلطة.
كانت طهران واحدة من حوالي 50 دولة نددت بالتدخل الأمريكي في فنزويلا في الأمم المتحدة في فبراير ، وقد أعربت عن دعمها لحكومة الدولة المنتخبة ديمقراطيا. A \ W
Ξ A I R G W A Y S Ξ
SOURCE: Airgways.com
DBk: Washingtoninstitute.org / Irna.ir / Mahan.aero
AW-POST: 201904082109AR
A\W   A I R G W A Y S ®