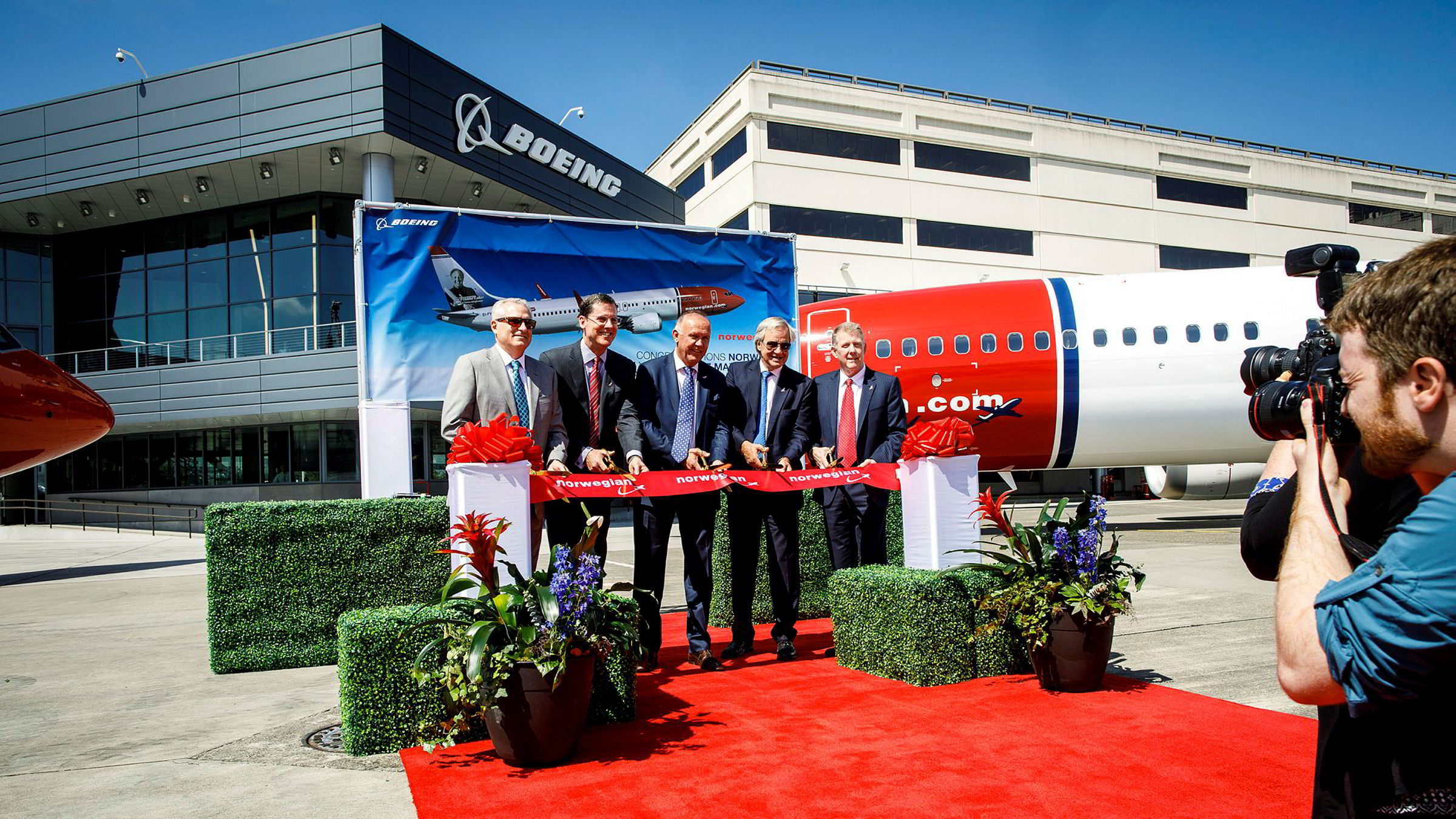 AW | 2020 06 30 00:17 | AIRLINES / INDUSTRY
Norwegian Air apelará a Justicia por compensaciones
Norwegian Air Shuttle ASA, cuyas dificultades financieras han aumentado, ha comunicado el Lunes 29/06 que había cancelado una orden de 92 aviones Boeing 737 MAX y cinco Boeing 787 Dreamliners. También dijo que había iniciado acciones legales para obtener una compensación por las pérdidas sufridas después de que 737 MAX fuese puesto en tierra por custiones de seguridad en todo el mundo desde Marzo 2019 después de dos choques mortales, y para obtener pagos iniciales de los pedidos reembolsados.
Comunicado & compensación
"La conexión a tierra de sus Boeing 737 MAX había interrumpido las operaciones de Norwwegian Air y causado pérdidas significativas", dijo el comunicado de la compañía. También hubo problemas de confiabilidad con los motores Rolls Royce del avión Boeing 787, que causaron más pérdidas, dijo. La compañía había estado en conversaciones con Boeing para llegar a un acuerdo, pero hasta ahora no había llegado a un acuerdo de compensación, agrega el comunicado.
En un anuncio de la bolsa de valores el Lunes 29/06 por la noche, Norwegian Air escribió que canceló los acuerdos de compra y un acuerdo integral de servicio de aeronaves. Al mismo tiempo, Norwegian advierte que ha tomado medidas legales para recuperar los pagos por adelantado en los aviones, así como la compensación por las pérdidas de mil millones de la compañía después de que los aviones 737 MAX se pusieron en tierra en 2019, así como los problemas del motor con el Boeing 787.
"Norwegian ha comenzado un diálogo con Boeing con miras a resolver los problemas 787 y 737, y para compensar las pérdidas. Hasta ahora, las conversaciones no han dado como resultado un acuerdo que ofrezca una compensación razonable para Norwegian Air", afirma el comunicado de la Bolsa de Valores.
El anuncio se produjo cuando los reguladores estadounidenses lanzaron un vuelo de prueba del Boeing 737 MAX el Lunes 29/06, un paso clave para recertificar el avión para que pueda reanudar los vuelos. El MAX ha estado conectado a tierra en todo el mundo desde el 13 Marzo 2019, luego del degundo accidente aéreo de un Boeing 737-8 MAX de Ethiopian Airlines que mató a 157 personas. Esa catástrofe se produjo solo unos meses después de un accidente con la compañía Lion Air que mató a 189 personas.
Norwegian Air Shuttle cancels 97 Boeings
Norwegian Air will appeal to Junticia for compensation
Norwegian Air Shuttle ASA, whose financial difficulties have increased, reported on Monday 06/29 that it had canceled an order for 92 Boeing 737 MAX aircraft and five Boeing 787 Dreamliners. He also said he had initiated legal action to obtain compensation for losses suffered after 737 MAX was grounded by security concerns around the world since March 2019 after two fatal crashes, and to obtain down payments on reimbursed orders.
Release & compensation
"The grounding of their Boeing 737 MAXs had disrupted Norwwegian Air's operations and caused significant losses", the company statement said. There were also reliability problems with the Rolls Royce engines of the Boeing 787 aircraft, which caused more losses, he said. The company had been in talks with Boeing to reach an agreement, but so far had not reached a compensation agreement, the statement added.
In a stock exchange announcement on Monday night 06/29, Norwegian Air wrote that it canceled the purchase agreements and a comprehensive aircraft service agreement. At the same time, Norwegian warns that it has taken legal steps to recover prepayments on the planes, as well as compensation for the company's billion-dollar losses after 737 MAX planes were grounded in 2019, as well as engine problems with the Boeing 787.
"Norwegian has entered into a dialogue with Boeing with a view to resolving issues 787 and 737, and to offset losses. So far, the talks have not resulted in an agreement offering reasonable compensation for Norwegian Air", the statement said. the stock market.
The announcement came when US regulators launched a test flight of the Boeing 737 MAX on Monday 06/29, a key step in recertifying the plane so it can resume flights. The MAX has been grounded worldwide since March 13, 2019, following the second plane crash of an Ethiopian Airlines Boeing 737-8 MAX that killed 157 people. That catastrophe came just a few months after an accident with the Lion Air company that killed 189 people.
Ξ A I R G W A Y S Ξ
PUBLISHER: Airgways.com
DBk: Norwegian.com / Airgways.com / Gunnar Blöndal / Dn.no
AW-POST: 202006300017AR
A\W A I R G W A Y S ®