AW | 2018 04 04 11:43 | AIR TRAFFIC
Una incidencia en el sistema de Control Tráfico Aéreo en Bruselas causa demoras en los viajes programados en mitad de Europa
Un fallo informático en el Sistema de Gestión Aérea radicado en Bruselas ha provocado retrasos en la mitad de los vuelos europeos el martes, según un comunicado de ha la Organización Europea para la Seguridad de la Navegación Aérea (Eurocontrol). La organización ha avisado de que la perturbación en el tráfico aéreo en Europa reducirá en un 10% la capacidad de la red europea.
El organismo, encargado de distribuir los vuelos ha admitido que aproximadamente la mitad de los 29.500 vuelos previstos en la red europea para este martes podría sufrir algún retraso debido a la quiebra del sistema y ha precisado que espera que las operaciones de red se reanuden normalmente a última hora de la tarde. Mientras se resuelve el problema, se van a dosificar los despegues en los aeropuertos de origen con el fin de no provocar aglomeraciones en los aeropuertos de destino, lo que provocará retrasos indeterminados en los vuelos durante toda la tarde.
Se ha producido un problema en el Sistema de Gestión del Flujo Táctico Reforzado (ETFMS), con un impacto en el sistema de plan de vuelos asociado ha explicado Eurocontrol. No obstante, el organismo intergubernamental asegura que el control del tráfico aéreo no se ha visto directamente afectado y no hay consecuencias para la seguridad derivadas de este incidente.
Eurocontrol ha asegurado que el problema ha sido identificado y se ha puesto en marcha un plan de contingencia, que se mantendrá en las próximas horas hasta que haya certidumbre de que el sistema tiene datos suficientes para operar de forma completamente correcta.
La recuperación total del sistema ha permitido a Eurocontrol solicitar a las aerolíneas que envíen sus planes de vuelo antes de las 10:26 UTC (Tiempo Universal Coordinado). Las dos funciones de Eurocontrol son calcular la demanda del tráfico en cada sector de área de operaciones, utilizando información de planes de vuelos de los operadores aéreos y en la asignación de slots.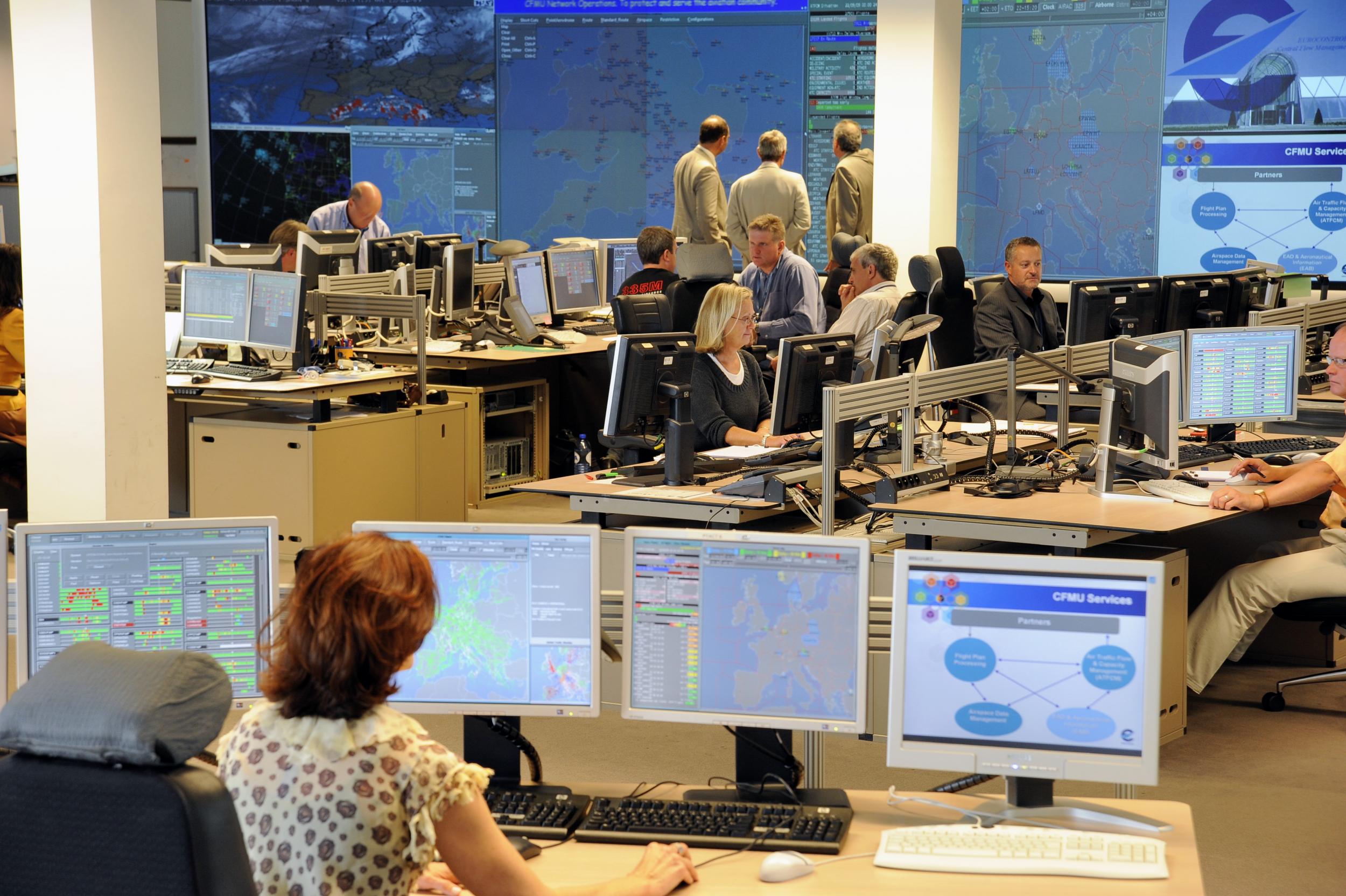 Delays flights in Europe due to a computer failure
An impact on the Air Traffic Control system in Brussels causes delays in scheduled trips in the middle of Europe
A computer failure in the Brussels-based air management system has caused delays in half of European flights on Tuesday, according to a statement from the European Organization for the Safety of Air Navigation (Eurocontrol). The organization has warned that the disruption in air traffic in Europe will reduce by 10% the capacity of the European network.
The agency, responsible for distributing flights has admitted that approximately half of the 29,500 flights scheduled in the European network for this Tuesday could suffer some delay due to the bankruptcy of the system and has specified that it expects network operations to resume normally to late afternoon While the problem is solved, the take-offs at the airports of origin will be dosed in order not to cause crowding at the destination airports, which will cause indeterminate flight delays throughout the afternoon.
There has been a problem in the Reinforced Tactical Flow Management System (ETFMS), with an impact on the associated flight plan system explained by Eurocontrol. However, the intergovernmental body ensures that air traffic control has not been directly affected and there are no safety consequences arising from this incident.
Eurocontrol has ensured that the problem has been identified and a contingency plan has been put in place, which will be maintained in the next few hours until there is certainty that the system has enough data to operate completely correctly.
The total recovery of the system has allowed Eurocontrol to request the airlines to send their flight plans before 10:26 UTC (Coordinated Universal Time). The two functions of Eurocontrol are to calculate the traffic demand in each sector of operations area, using flight plan information from the air operators and in the allocation of slots. A \ W
Ξ A I R G W A Y S Ξ
SOURCE:  Airgways.com
DBk: Eurocontrol.int
AW-POST: 201804041143AR
A\W   A I R G W A Y S ®