AW | 2018 04 14 16:30 | AIRPORTS
El Aeropuerto Internacional Iguazú permanecerá cerrado por obras de modernización
La Administración Nacional de Aviación Civil (ANAC) informa que el Aeropuerto Internacional Cataratas del Iguazú de la Provincia de Misiones permanecerá cerrado desde entre el 15 de Abril desde las 00.00 hs hasta el 15 de Mayo 2018.
El cierre se producirá en el marco de los trabajos de modernización y mejoras de los aeropuertos del país, y con relación a las obras de infraestructura impulsadas en el "Plan Belgrano" para las provincias del norte argentino,
En este período, las líneas aéreas que vuelan desde/hacia esta terminal: Aerolíneas Argentinas, Austral Líneas Aéreas, Latam Airlines, Andes Líneas Aéreas operarán desde el Aeropuerto Foz de Iguazú, en la República de Brasil.
Plan de obras
Dado el crecimiento registrado en las operaciones de la terminal aérea, producto de la "Revolución de los Aviones", se contemplan los trabajos de remodelación y modernización de pistas y terminal, para brindar mayor comodidad y servicios a los pasajeros de vuelos nacionales e internacionales. Las obras para la modernización de la terminal aérea abarcan la rehabilitación de pistas y rodajes, la readecuación y ampliación de la plataforma comercial y de aviación general y la readecuación de la terminal de pasajeros. En la pista 13-31, que posee una longitud de 3300 metros y un ancho de 45, se realizarán trabajos de fresado y repavimentación, la reconstrucción en dársena de giro y la ampliación de márgenes pavimentados en rodajes. La Plataforma, que tiene un largo de 210 metros y 118 metros de ancho, posee 5 posiciones de las cuales 2 tienen mangas. Su ampliación contempla una superficie de 11500 m2 aproximadamente, con el objetivo de disponer de 8 posiciones para aeronaves y 4 mangas.
La terminal de pasajeros contempla varias etapas con el fin de que se mantenga operativa. Inicialmente las obras comprenden la reparación y ampliación del estacionamiento para pasajeros que incluye una nueva playa de estacionamiento de buses.
Los acceso al aeropuerto completa la ampliación del peaje de acceso con una nueva cabina, la pavimentación de la calle de salida de emergencias, la reparación de vialidades existentes, circulaciones peatonales, la división de flujo de tránsito y sectorización; y la construcción de la nueva sala de bombas, el tanque de reserva para incendio y la reserva de agua de consumo.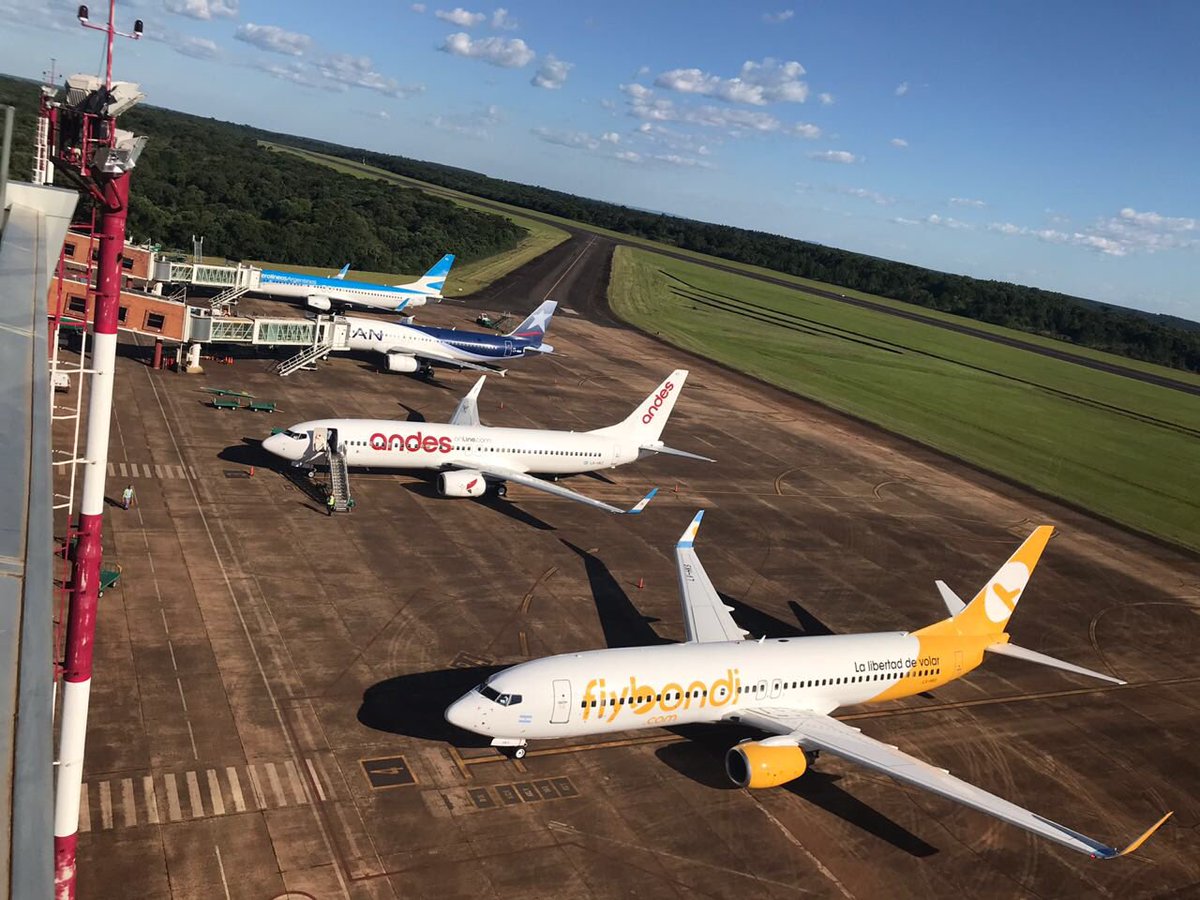 Iguazú Airport closing for works
Iguazú International Airport will be closed due to modernization works
The National Civil Aviation Administration (ANAC) reports that the Cataratas del Iguazú International Airport of the Province of Misiones will be closed from April 15 from 00.00 until May 15, 2018.
The closure will occur as part of the modernization and improvement works of the country's airports, and in relation to the infrastructure works promoted in the "Plan Belgrano" for the provinces of northern Argentina,
In this period, the airlines that fly from / to this terminal: Aerolíneas Argentinas, Austral Líneas Aéreas, Latam Airlines, Andes Líneas Aéreas will operate from the Foz de Iguazú Airport, in the Republic of Brazil.
Work plan
Given the growth registered in the operations of the air terminal, product of the "Aircraft Revolution", the works of remodeling and modernization of runways and terminal are contemplated, to provide greater comfort and services to the passengers of national and international flights. The works for the modernization of the air terminal include the rehabilitation of runways and taxiways, the readjustment and expansion of the commercial and general aviation platform and the readjustment of the passenger terminal. On runway 13-31, which has a length of 3300 meters and a width of 45, milling and resurfacing work will be carried out, the reconstruction in a turning dock and the expansion of paved margins in taxiways. The Platform, which is 210 meters long and 118 meters wide, has 5 positions, 2 of which have sleeves. Its extension covers an area of ​​approximately 11500 m2, with the aim of having 8 positions for aircraft and 4 sleeves.
The passenger terminal contemplates several stages in order to keep it operational. Initially, the works include the repair and expansion of passenger parking that includes a new bus parking lot.
The access to the airport completes the extension of the access toll with a new cabin, the paving of the emergency exit street, the repair of existing roads, pedestrian traffic, the division of traffic flow and sectorization; and the construction of the new pump room, the reserve tank for fire and the reserve of drinking water. A \ W
Ξ A I R G W A Y S Ξ
SOURCE:  Airgways.com
DBk: Aa2000.com.ar
AW-POST: 201804141630AR
A\W   A I R G W A Y S ®