AW | 2018 04 20 12:26 | AVIATION SAFETY
Un Boeing 737-900 de Batik Airlines derrapó hacia final de pista en Katmandú, Nepal
El vuelo OD-181 de Batik Malaysia Airlines efectuó un despegue frustrado de un Boeing 737-900 con registro 9M-LNJ en el Aeropuerto de Katmandú el 19 de abril de 2018, debido a los resultados de advertencia de configuración de despegue.
Un Boeing 737-900 de Batik Air Malaysia que todavía conserva los colores de Malindo Air, realizando el vuelo OD-181 desde Katmandú (Nepal) a Kuala Lumpur (Malasia) con 132 pasajeros y 7 tripulantes. La aeronave carreteó sobre pista 20, se despejó para el despegue cuando la tripulación rechazó el despegue a alta velocidad (aproximadamente 165 nudos sobre el suelo). El avión se detuvo a unos 75 metros / 250 pies más allá del final de la pista 20 con todo el equipo en tierra firme, la tripulación informó que estaban fuera de la pista y habían rechazado el despegue debido a una advertencia de configuración de despegue que detalla un mal funcionamiento del sistema había causado la advertencia de configuración de despegue. No hubo heridos, el daño a la aeronave se está evaluando pero se cree que es menor.
La pista del Aeropuerto de Katmandú se cerró por más de 12 horas hasta que la aeronave se movió a la plataforma. El único aeropuerto internacional de Nepal volvió a abrir justo antes del mediodía del viernes después de que el avión fue retirado sin ningún daño.
El Boeing 737-900 estaba acelerando en la pista del Aeropuerto Internacional Tribhuvan cuando los pilotos detectaron un problema de configuración para despegues y abortaron el decolaje. El Boeing 737-900 se deslizó sobre la hierba y se detuvo en el barro a unos 30 metros de la pista. Nadie resultó herido en el incidente, pero cientos de pasajeros tuvieron vuelos cancelados y todos los vuelos entrantes fueron desviados después de que el Boeing 737 de Malindo Airlines saliera de la pista la noche del jueves.
Historial Aeropuerto Katmandú
El incidente ocurrió un mes después del accidente de un avión de US-Bangla Airways en el Aeropuerto de Katmandú, que mató a 51 personas. En marzo de 2015, un avión de Turkish Airlines se salió de la pista cuando aterrizó, lo que obligó al aeropuerto de Tribhuvan a cerrar durante cuatro días. La nación del Himalaya tiene algunas de las pistas más remotas y difíciles del mundo, flanqueadas por picos nevados con enfoques que plantean un desafío incluso para los pilotos consumados. Nepal tiene un pobre historial de seguridad aérea. Los accidentes son comunes y las aerolíneas con base en Nepal tienen prohibido volar en el espacio aéreo de la Unión Europea.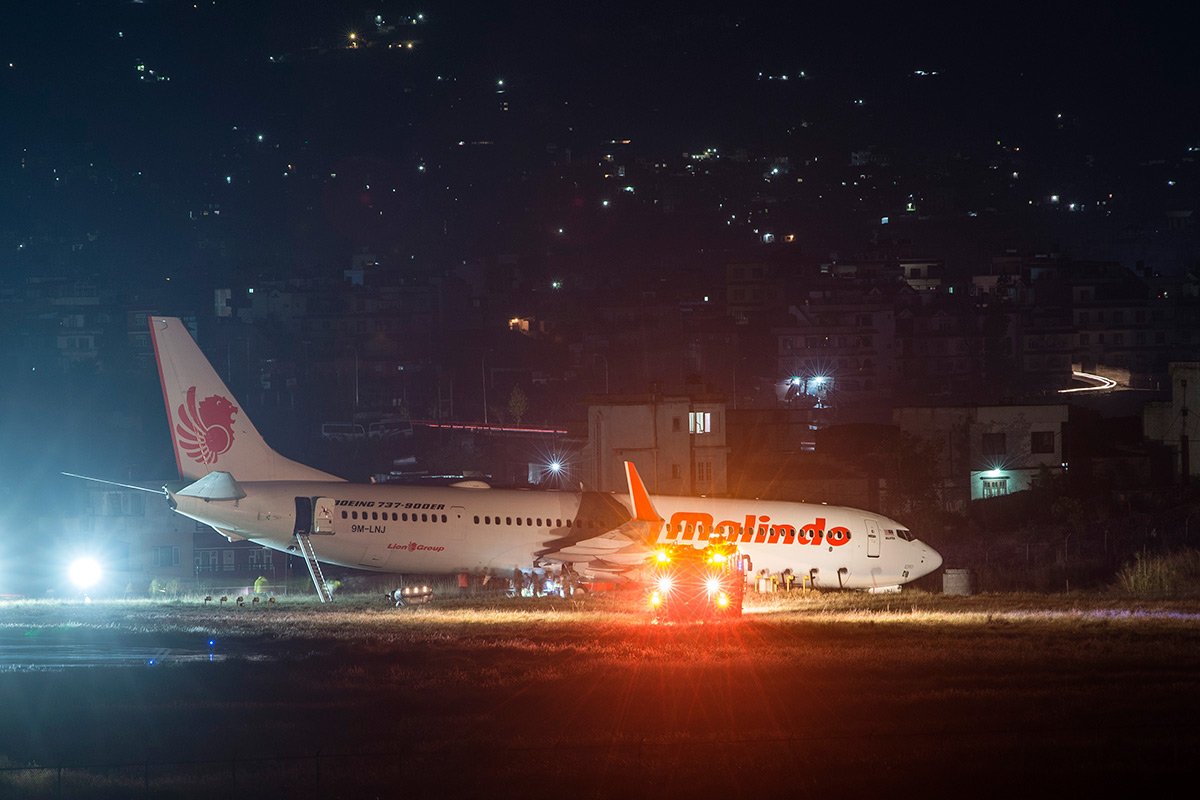 Boeing 737-900 of Batik Airlines frustrated takeoff
A Boeing 737-900 of Batik Airlines skidded towards the end of the runway in Kathmandu, Nepal
Batik Malaysia Airlines flight OD-181 made a missed takeoff of a Boeing 737-900 with registration 9M-LNJ at Kathmandu Airport on April 19, 2018, due to the takeoff configuration warning results.
A Boeing 737-900 Batik Air Malaysia that still retains the colors of Malindo Air, making the flight OD-181 from Kathmandu (Nepal) to Kuala Lumpur (Malaysia) with 132 passengers and 7 crew. The aircraft taxi on runway 20, cleared for takeoff when the crew refused high-speed takeoff (approximately 165 knots on the ground). The plane stopped about 75 meters / 250 feet past the end of runway 20 with all the equipment on the mainland, the crew reported that they were off the runway and had refused takeoff due to a takeoff configuration warning that It details a system malfunction had caused the takeoff configuration warning. There were no injuries, the damage to the aircraft is being evaluated but it is believed to be minor.
BOEING 737-900 OF BATIK AIRLINES DROPPED AT THE END OF TRACK BY ALARM IN SETTLEMENT OF TAKE OFF
The Kathmandu Airport runway was closed for more than 12 hours until the aircraft moved to the platform. The only international airport in Nepal reopened just before noon on Friday after the plane was removed without any damage.
The Boeing 737-900 was accelerating on the runway at Tribhuvan International Airport when the pilots detected a configuration problem for takeoffs and aborted the trim. The Boeing 737-900 slid on the grass and stopped in the mud about 30 meters from the runway. No one was injured in the incident, but hundreds of passengers had flights canceled and all incoming flights were diverted after the Malindo Airlines Boeing 737 left the runway Thursday night.
History Kathmandu Airport
The incident occurred a month after the crash of a US-Bangla Airways plane at Kathmandu Airport, which killed 51 people. In March 2015, a Turkish Airlines plane left the runway when it landed, forcing the Tribhuvan airport to close for four days. The Himalayan nation has some of the most remote and difficult tracks in the world, flanked by snow-capped peaks with approaches that pose a challenge even to accomplished pilots. Nepal has a poor record of aviation security. Accidents are common and airlines based in Nepal are prohibited from flying in the airspace of the European Union. A \ W
Ξ A I R G W A Y S Ξ
SOURCE:  Airgways.com
DBk: Avherald.com / Afp.com
AW-POST: 201804201226AR
A\W   A I R G W A Y S ®