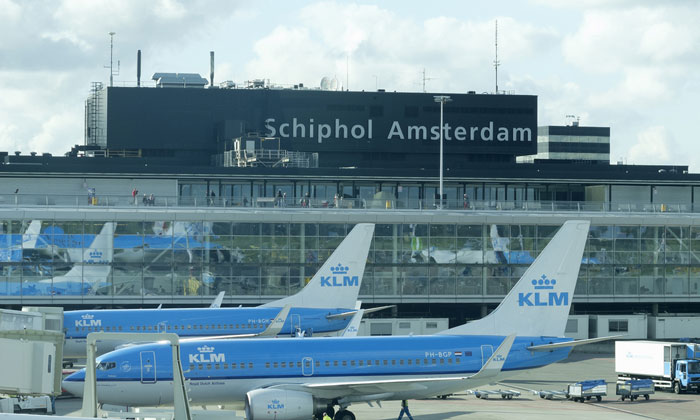 AW | 2019 02 01 11:12 | GOVERNMENT / AVIATION SAFETY
Gobierno holandés requerirá aerolíneas compartir información contra lucha terrorismo
El gobierno holandés quiere que las aerolíneas compartan información sobre sus pasajeros con el gobierno en el futuro. Esta información es necesaria en la lucha contra el terrorismo y los delitos graves, dijo el ministro Ferdinand Grapperhaus, de Justicia y Seguridad, en una carta al Tweede Kamer, la Cámara Baja del parlamento holandés.
Los datos se almacenarán durante cinco años y serán administrados por un organismo independiente, que será supervisado por la Autoridad de Protección de Datos de los Países Bajos. La policía y el Servicio de la Fiscalía, entre otros, tendrán acceso a esta información.
"Si sabemos mejor dónde y cuándo viajan los criminales y los terroristas, también podremos lidiar con ellos más rápido", dijo Grapperhaus en su carta. Está convencido de que esta medida servirá para la seguridad. Solo se utilizará para su propósito: la prevención y detección del terrorismo y los delitos graves. Este proyecto de ley todavía tiene que ser aprobado por el Tweede Kamer y el Eerste Kamer, el Senado holandés.
Dutch government will require info airlines
Dutch government will require airlines to share information against fight terrorism
The Dutch government wants airlines to share information about their passengers with the government in the future. This information is necessary in the fight against terrorism and serious crimes, said Justice and Security Minister Ferdinand Grapperhaus, in a letter to the Tweede Kamer, the Lower House of the Dutch parliament.
The data will be stored for five years and will be managed by an independent body, which will be overseen by the Netherlands Data Protection Authority. The police and the Prosecution Service, among others, will have access to this information.
"If we know better where and when criminals and terrorists travel, we can also deal with them faster", Grapperhaus said in his letter. He is convinced that this measure will serve for security. It will only be used for its purpose: the prevention and detection of terrorism and serious crimes. This bill has yet to be approved by the Tweede Kamer and the Eerste Kamer, the Dutch Senate. A \ W
Nederlandse overheid zal info-luchtvaartmaatschappijen nodig hebben
Nederlandse overheid zal van luchtvaartmaatschappijen eisen dat ze informatie delen tegen het bestrijden van terrorisme
De Nederlandse regering wil dat luchtvaartmaatschappijen in de toekomst informatie over hun passagiers met de overheid delen. Deze informatie is nodig in de strijd tegen terrorisme en ernstige misdaden, zei Ferdinand Grapperhaus, minister van Justitie en Veiligheid, in een brief aan de Tweede Kamer van de Tweede Kamer.
De gegevens worden vijf jaar bewaard en worden beheerd door een onafhankelijke instantie, die onder toezicht staat van de Nederlandse gegevensbeschermingsautoriteit. De politie en het Openbaar Ministerie, onder andere, hebben toegang tot deze informatie.
,,Als we beter weten waar en wanneer criminelen en terroristen reizen, kunnen we ze ook sneller afhandelen", zei Grapperhaus in zijn brief. Hij is ervan overtuigd dat deze maatregel zal dienen voor de veiligheid. Het zal alleen voor zijn doel worden gebruikt: de preventie en opsporing van terrorisme en ernstige misdrijven. Deze rekening moet nog worden goedgekeurd door de Tweede Kamer en de Eerste Kamer. A \ W
Ξ A I R G W A Y S Ξ
SOURCE: Airgways.com
DBk: Nltimes.nl / Schiphol.nl
AW-POST: 201902011112AR
A\W   A I R G W A Y S ®