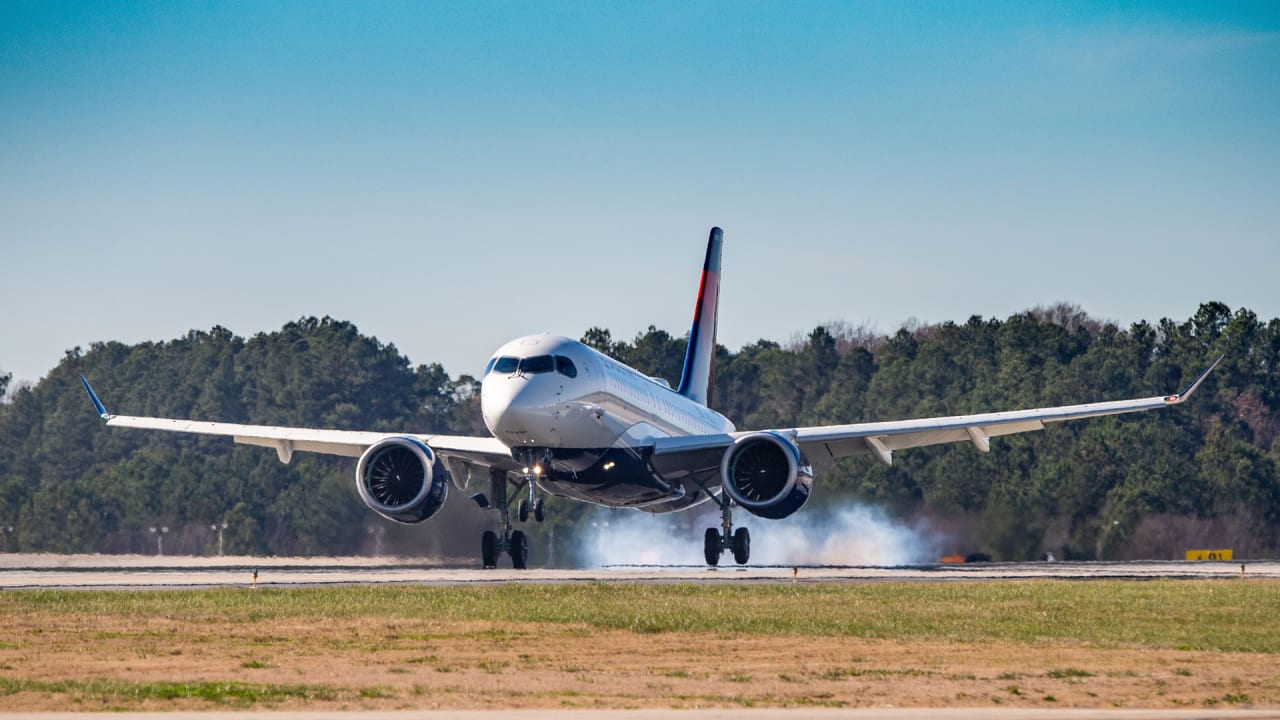 AW | 2019 02 10 17:32 | AIRLINES
El primer Airbus A220 de Delta toma vuelo con nuevas tecnologías
El Jueves, 7 Febrero 2019, Delta Air Lines completó el primer vuelo de pasajeros de su nuevo Airbus A220-100, la primera aerolínea de Estados Unidos que lo hizo con el nuevo avión después de las recientes aprobaciones regulatorias de Airbus para tiempos de vuelo operacionales extendidos y características de aterrizaje.
Delta completó el primer vuelo de la aeronave entre los aeropuertos de Nueva York La Guardia y Dallas/Fort Worth. La aerolínea extendió su orden existente con Airbus a un total de 90 A220 en Enero 2019, incluyendo 40 aviones de la serie A220-100. Los 50 restantes serán la variante más grande A220-300.
Su primer vuelo comercial fue la variante A220-100 con 109 asientos, iluminación ambiental LED y antenas de conectividad en vuelo de 2Ku de Gogo, módem y puntos de acceso inalámbrico. El viaje para que Delta se convierta en el operador de lanzamiento norteamericano del A220-100 se extendió por el reciente cierre parcial del gobierno, que retrasó su entrada en el servicio de transporte de pasajeros cuatro años después de que comenzó a volar como la CSeries de Bombardier.
El CS-100 de Bombardier fue rebautizado como A220-100 en 2018, el avión es un aeronave regional con capacidad para entre 100-150 pasajeros. La aprobación ETOPS de 180 minutos de Transport Canada para el A220 es la primera que ha emitido para un avión comercial. Rob Dewar, jefe de ingeniería del programa Airbus A220, dijo a Avionics International que una de las características de control de vuelo en las que su equipo realmente se enfocó en mejorar para los pilotos A220 es cuando aterriza el avión.
"El software de vuelo por avión de aviónica fue diseñado para proporcionar una guía de visualización y avisos auditivos a la tripulación de vuelo para facilitar el manejo del aterrizaje. Por ejemplo, una ley de control de vuelo dedicada ha sido desarrollada para extender automáticamente los spoilers de vuelo y proporcionar más capacidad para la maniobra de aterrizaje», dijo Dewar.
La primera actualización importante del sistema de aviónica se introdujo recientemente en la A220 en forma de una certificación CATIII autoland agregada a la certificación de tipo europeo de la aeronave en Noviembre 2018. "El algoritmo del piloto automático de aviónica se actualizó ligeramente durante el desarrollo del sistema de aterrizaje automático, lo que permitió las capacidades de operaciones de CATIII. Por lo tanto, esto fue parte del boletín de servicio publicado para CATIII. Los boletines de servicio de aviónica regulares se publican para seguir mejorando las habilidades de los sistemas, esto se realiza como parte de la mejora continua del producto estándar de la industria», dijo Dewar.
El nuevo A220 de Delta también cuenta con un conjunto de nuevas funcionalidades de integración de tableta piloto en el bus de datos de aviónica del avión. Una de las opciones de fábrica disponibles en el avión es el servidor de información de aviones Esterline CMC, un sistema integrado de gestión de información y conectividad de red. Además, dado que el nuevo A220 cuenta con conectividad de 2ku de Gogo, Delta puede extender la aplicación de monitoreo de turbulencia de cabina conectada que sus pilotos ya están usando en otros tipos de aviones. Todos los pilotos de Delta utilizan actualmente la propia aplicación de la tableta del visor del tiempo de vuelo desarrollada internamente por la aerolínea, que les da a los pilotos una visión tridimensional codificada por colores de su trayectoria de vuelo y una descripción de la turbulencia a lo largo de esa trayectoria. También tienen la opción de agregar una representación visual de los elementos del entorno de vuelo, como alturas de nubes o cenizas volcánicas.
Una descripción general del uso de la aplicación por parte del piloto ha demostrado que los pilotos de Delta han reducido el número de veces que cambian de altitud en busca de aire suave de hasta siete veces a dos o tres veces en el transcurso de un vuelo promedio de dos horas.
Airbus también ha posicionado su nuevo A220 como capaz de volar donde ningún otro avión de su clase puede volar. Además, Dewar expresó: «El A220 es el único avión en producción de su clase capaz de servir a los aeropuertos más desafiantes, como el aeropuerto de la Ciudad de Londres, porque tiene la capacidad de realizar un aterrizaje de aproximación pronunciada. Con el fin de respaldar las operaciones en y fuera de la ciudad de Londres, el diseño inicial de la aeronave tenía el requisito de incorporar la funcionalidad de enfoque pronunciado para aumentar la capacidad de descenso, la conciencia del piloto y el control».
A220 enters ops in Delta
Delta's first Airbus A220 takes flight with new technologies

On Thursday, February 7, 2019, Delta Air Lines completed the first passenger flight of its new Airbus A220-100, the first US airline to do so with the new aircraft after recent Airbus regulatory approvals for extended operational flight times and landing characteristics.
Delta completed the first flight of the aircraft between the New York La Guardia and Dallas/Fort Worth airports. The airline extended its existing order with Airbus to a total of 90 A220 in January 2019, including 40 aircraft of the A220-100 series. The remaining 50 will be the largest variant A220-300.
Its first commercial flight was the A220-100 variant with 109 seats, LED environmental lighting and 2Ku Gogo flight connectivity antennas, modem and wireless access points. The trip for Delta to become the US launch operator of the A220-100 was extended by the recent partial closure of the government, which delayed its entry into the passenger transport service four years after it began flying as the CSeries of Bombardier.
The Bombardier CS-100 was renamed A220-100 in 2018, the aircraft is a regional aircraft with a capacity of 100-150 passengers. The 180-minute ETOPS approval of Transport Canada for the A220 is the first it has issued for a commercial aircraft. Rob Dewar, chief engineer of the Airbus A220 program, told Avionics International that one of the flight control features his team really focused on improving for A220 pilots is when the plane lands.
«The flight software by avionics was designed to provide a visualization guide and auditory warnings to the flight crew to facilitate the handling of the landing. For example, a dedicated flight control law has been developed to automatically extend flight spoilers and provide more capacity for the landing maneuver», said Dewar.
The first major update of the avionics system was recently introduced in the A220 in the form of a CATIII autoland certification added to the European-type certification of the aircraft in November 2018. «The avionics autopilot algorithm was slightly updated during the development of the automatic landing system, which allowed the CATIII operations capabilities. Therefore, this was part of the service bulletin published for CATIII. The regular avionics service bulletins are published to further improve the skills of the systems, this is done as part of the continuous improvement of the industry standard product», said Dewar.
The new Delta A220 also features a set of new pilot tablet integration features on the aircraft's avionics data bus. One of the factory options available on the plane is the Esterline CMC aircraft information server, an integrated information management and network connectivity system. In addition, given that the new A220 has Gogo's 2ku connectivity, Delta can extend the connected cockpit turbulence monitoring application that its pilots are already using on other types of aircraft. All Delta pilots currently use the flight time viewer tablet application developed internally by the airline, which gives pilots a three-dimensional, color-coded view of their flight path and a description of the turbulence at along that path. They also have the option of adding a visual representation of the elements of the flight environment, such as cloud heights or volcanic ash.
A general description of the application's use by the pilot has shown that Delta pilots have reduced the number of times they change altitude in search of soft air up to seven times to two or three times over the course of an average flight Two hours
Airbus has also positioned its new A220 as capable of flying where no other airplane in its class can fly. In addition, Dewar said: «The A220 is the only production aircraft of its kind capable of serving the most challenging airports, such as the City of London airport, because it has the ability to make a steep approach landing. To support operations in and out of the City of London, the initial design of the aircraft had the requirement to incorporate the pronounced approach functionality to increase descent capability, pilot awareness and control». A \ W
Ξ A I R G W A Y S Ξ
SOURCE: Airgways.com
DBk: Airbus.com / Delta.com / Aviationtoday.com / Thepointsguy.com / Fastcompany.com / Businessinsider.com / Pictame.com / Airgways.com
AW-POST: 201902101732AR
A\W   A I R G W A Y S ®