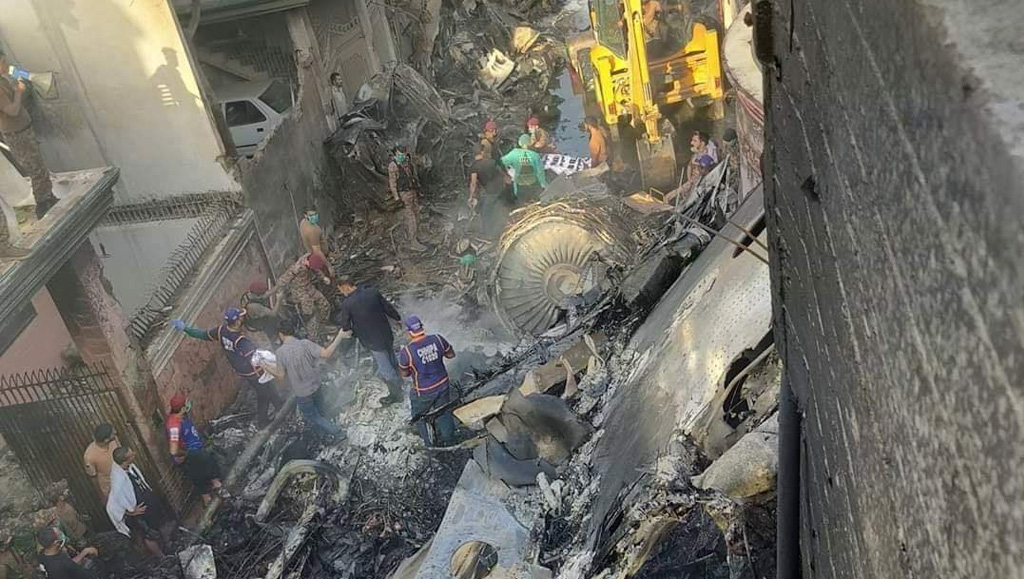 AW | 2020 06 01 20:17 | AIR INVESTIGATION / AVIATION SAFETY
Identificación víctimas accidente PK8303 se completará Lunes 01/06
El vuelo PK8303 de la aerolínea Pakistan International Airlines (PIA) de un Airbus A320-200, registro AP-BLD realizaba la ruta Lahore a Karachi, República de Pakistán con 91 pasajeros y 8 tripulantes, había abortado la aproximación a Karachi. El avión se estrelló en la zona residencial cerca del Aeropuerto de Karachi. La Junta de Investigación de Seguridad de Pakistán (SIB) ha formado una comisión para investigar el accidente.
Actualizaciones PK8303
El 1 Junio 2020, el avión que transportaba a los equipos de investigación y las cajas negras completó con seguridad el viaje de Pakistán a París.
El 1 Junio 2020, un hospital de Karachi informó que una niña de 12 años, que resultó herida entre las personas que se encontraban en tierra cuando el avión impactó los edificios, ha fallecido de las heridas. Había recibido quemaduras en el 59% de su cuerpo permaneciendo en estado crítico durante los últimos dos días. El Ministerio de Salud confirmó que la niña murió en la atención hospitalaria convirtiéndose en la primera víctima mortal de las cuatro personas hospitalizadas que se encontraban en el Barrio Model Colony en el momento del impacto del Airbus A320CEO. Según un comunicado de prensa del Centro Internacional de Ciencias Químicas y Biológicas (ICCBS) de la Universidad de Karachi el Domingo 31/05, el SFDL ha completado un total de 37 cruces hasta el momento, y sus informes también han sido enviados a la policía de Sindh. "SFDL con la ayuda de 20 científicos y voluntarios se dedica actualmente a la tarea masiva de identificar cuerpos de víctimas desafortunadas del accidente aéreo", dijo el portavoz de ICCBS. Según las estadísticas, mantenidas por el SFDL, se han recibido hasta 67 muestras de las familias de las víctimas, y hasta ahora también se han recibido 69 muestras de las víctimas del Departamento de Policía. SFDL se especializa en la detección, identificación y análisis de ADN humano a partir de muestras de evidencia recolectadas por las agencias policiales de las escenas del crimen. El ICCBS ha informado que 97 personas que murieron en el accidente aéreo, 75 fueron identificadas y sus cuerpos fueron entregados a los familiares. El Airbus A320-200 del Pakistan Airlines se estrelló en la zona residencial de Model Colony, cerca del Aeropuerto de Karachi, el 22 Mayo 2020, minutos antes de aterrizar. El avión que volaba de Lahore a Karachi tenía 99 personas a bordo, incluidos pasajeros y tripulación. Solo dos personas sobrevivieron milagrosamente al trágico incidente.
Pakistan PK8303 | PAX indentification
Identification of victims of the PIA PK8303 accident will be completed on Monday 06/01
Flight PK8303 of the Pakistan International Airlines (PIA) airline of an Airbus A320-200, registration AP-BLD was on the Lahore route to Karachi, Republic of Pakistan with 91 passengers and 8 crew, it had aborted the approach to Karachi. The plane crashed in the residential area near Karachi Airport. The Pakistan Safety Investigation Board (SIB) has formed a commission to investigate the accident.
PK8303 updates
On June 1, 2020, the plane carrying investigative teams and black boxes safely completed the journey from Pakistan to Paris.
On June 1, 2020, a Karachi hospital reported that a 12-year-old girl, who was injured among people on the ground when the plane hit the buildings, has died of the injuries. He had received burns to 59% of his body, remaining in critical condition for the past two days. The Health Ministry confirmed that the girl died in hospital care, becoming the first fatality of the four hospitalized people who were in the Model Colony neighborhood at the time of the impact of the Airbus A320CEO. According to a press release from the International Center for Chemical and Biological Sciences (ICCBS) of Karachi University on Sunday 05/31, the SFDL has completed a total of 37 crossings so far, and its reports have also been sent to the police from Sindh. "SFDL with the help of 20 scientists and volunteers is currently engaged in the massive task of identifying bodies of unfortunate victims of the plane crash", said the ICCBS spokesman.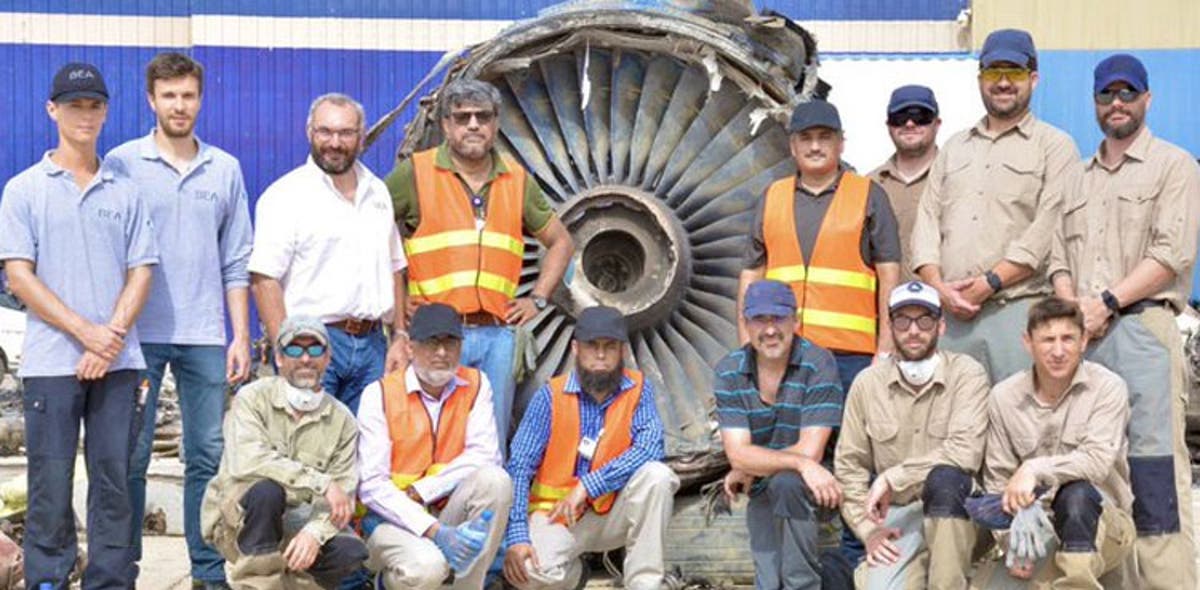 According to statistics maintained by the SFDL, up to 67 samples have been received from the victims' families, and so far 69 samples have also been received from victims from the police department. SFDL specializes in the detection, identification, and analysis of human DNA from evidence samples collected by law enforcement agencies from crime scenes. The ICCBS has reported that 97 people who died in the plane crash, 75 were identified and their bodies were released to family members. Pakistan Airlines' Airbus A320-200 crashed in the Model Colony residential area near Karachi Airport on May 22, 2020, minutes before landing. The plane flying from Lahore to Karachi had 99 people on board, including passengers and crew. Only two people miraculously survived the tragic incident.
Ξ A I R G W A Y S Ξ
PUBLISHER: Airgways.com
DBk: Caapakistan.com.pk / Iccs.edu / Avherald.com / Bea.aero / Upi.com / Airgways.com
AW-POST: 202006012017AR
A\W A I R G W A Y S ®