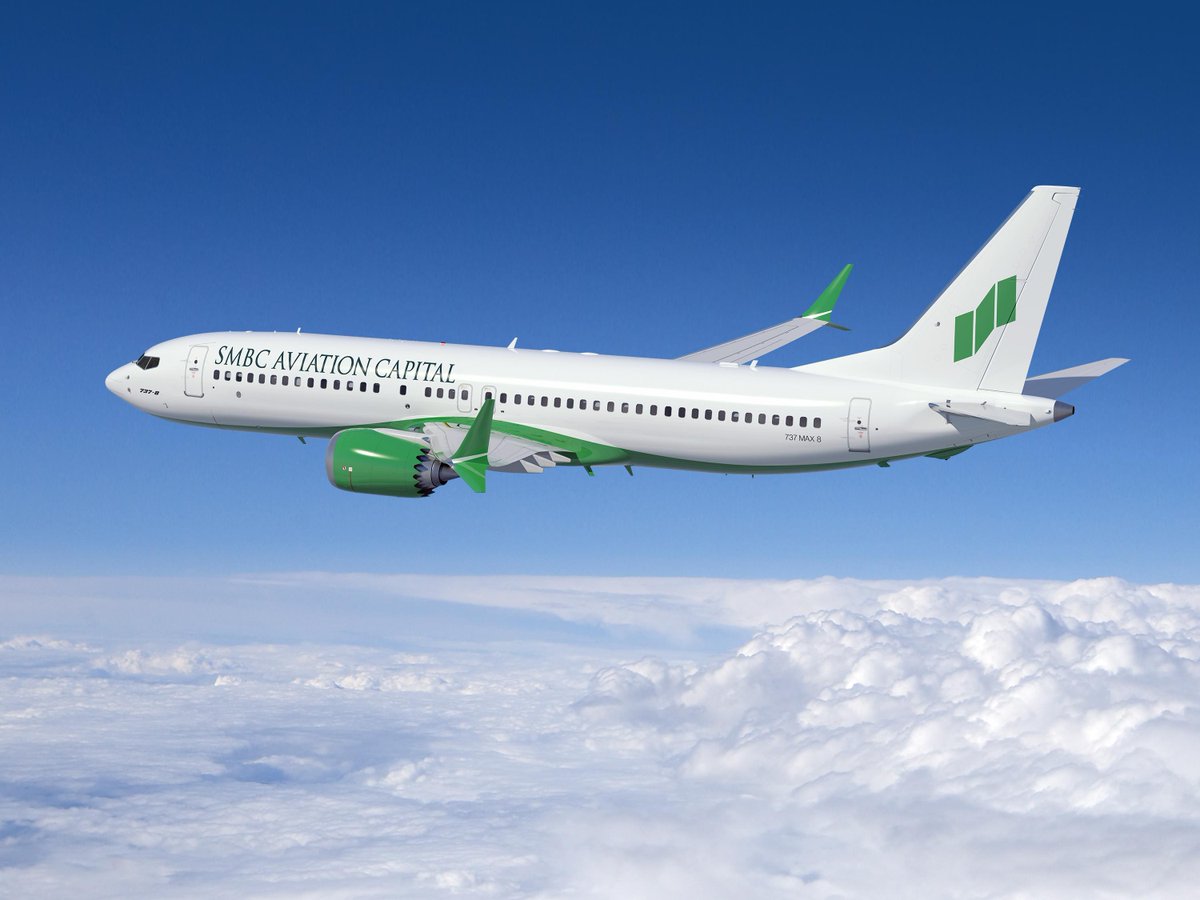 AW | 2020 06 03 16:34 | INDUSTRY / AVIATION
SMBC difiere entrega 68 Boeing 737 MAX hasta 2025-2027
SMBC Aviation Capital posee 133 órdenes para el Boeing 737 MAX ha confirmado que ha diferido los pedidos emitidos oportunamente al constructor americano The Boeing Company, luego de que el cliente clave del 737 MAX, SMBC Aviation Capital, dijo que retrasaría, pero no cancelaría, partes del colosal pedido de aeronaves comerciales.
SMBC Aviation Capital ha dicho que postergará la entrega de 68 aviones Boeing 737 Max hasta entre 2025 y 2027. La compañía de arrendamiento de aeronaves con sede en Dublín, Irlanda, tiene 133 de los aviones en orden, pero no proporcionó más detalles de su nuevo cronograma de entrega. La compañía hizo el anuncio en sus resultados financieros para el año que terminó el 31 Marzo 2020, que revela una ganancia antes de impuestos de US$ 364.5 millones y registró ganancias de US$ 1.100 millones, un aumento del 5.5%. El total de sus activos de arrendamiento operativo de aviones ha crecido un 3,7% a US$ 10,6 mil millones, lo que dice que es un nivel de crecimiento de activos inferior al previsto debido a la puesta a tierra de los retrasos del avión Boeing 737 MAX y Airbus A320 NEO.
Al comentar sobre el impacto de Covid-19 en la industria, Peter Barrett, CEO de SMBC Aviation Capital, dijo que la pandemia tendrá un impacto significativo y potencialmente prolongado en la industria de la aviación. "SMBC Aviation Capital entró en esta crisis en una posición financiera muy sólida, con un modelo de negocio construido para funcionar a través del ciclo, no solo las condiciones favorables del mercado vistas en los últimos años. Ser propiedad de una institución financiera japonesa sustantiva y solidaria junto con nuestro La estrategia disciplinada de inversión en activos nos posiciona bien para gestionar los desafíos de este entorno operativo cambiante y aprovechar las oportunidades que surgirán", dijo.
SMBC Aviation Capital differs 68 737 MAX
SMBC postpones delivery 68 Boeing 737 MAX until 2025-2027
SMBC Aviation Capital holds 133 orders for Boeing 737 MAX Has confirmed it has deferred orders timely issued to american builder The Boeing Company, after 737 MAX key customer SMBC Aviation Capital said it would delay, but would not cancel, parts of the colossal request for commercial aircraft.
SMBC Aviation Capital has said it will delay delivery of 68 Boeing 737 Max aircraft until 2025-2027. The Dublin, Ireland-based aircraft leasing company has 133 of the planes on order, but did not provide further details of its new delivery schedule. The company made the announcement in its financial results for the year ended March 31, 2020, which reveals a pre-tax profit of US$ 364.5 million and posted earnings of US$ 1.1 billion, an increase of 5.5%. Total aircraft operating lease assets have grown 3.7% to US$ 10.6 billion, which is less than anticipated as an asset growth level due to grounding of Boeing 737 MAX and Airbus A320 NEO aircraft.
Commenting on Covid-19's impact on the industry, Peter Barrett, CEO of SMBC Aviation Capital, said the pandemic will have a significant and potentially protracted impact on the aviation industry. "SMBC Aviation Capital entered this crisis in a very strong financial position, with a business model built to function through the cycle, not just the favorable market conditions seen in recent years. Owning a substantive Japanese financial institution and caring along with our disciplined asset investment strategy positions us well to manage the challenges of this changing operating environment and take advantage of the opportunities that will arise", he said.
Ξ A I R G W A Y S Ξ
PUBLISHER: Airgways.com
DBk: Boeing.com / Smbc.aero / Airgways.com
AW-POST: 202006031634
A\W A I R G W A Y S ®