AW | 2020 06 05 13:07 | INDUSTRY
Airbus UK recorta 500 empleados en Planta de Broughton
Airbus Group SE busca recortar empleos en el Reino Unido a medida que se agotan los pedidos. Se espera un golpe principalmente en Gales, ya que el fabricante predice una larga recuperación de la caída de coronavirus
Airbus está considerando un esquema de despido voluntario para hasta 500 trabajadores del Reino Unido, ya que el fabricante de aviones busca reducir los costos en respuesta a la pandemia de coronavirus. Se espera que los recortes de empleos del fabricante europeo en el Reino Unido recaigan principalmente en la gran fábrica en Broughton, al norte de Gales, que produce alas para aviones comerciales como el A320 y A350.
Cuando se incluyen los despidos obligatorios, es probable que las pérdidas de empleo en el Reino Unido sean varias veces mayores. Una opción bajo consideración era ofrecer despido voluntario a 500 trabajadores, enfocándose en aquellos más cercanos a la jubilación, dijo una persona con conocimiento de las discusiones. Sin embargo, otra fuente advirtió que no se había tomado una decisión final y que era solo una de varias opciones, ya que el fabricante se preparó para años de menor demanda.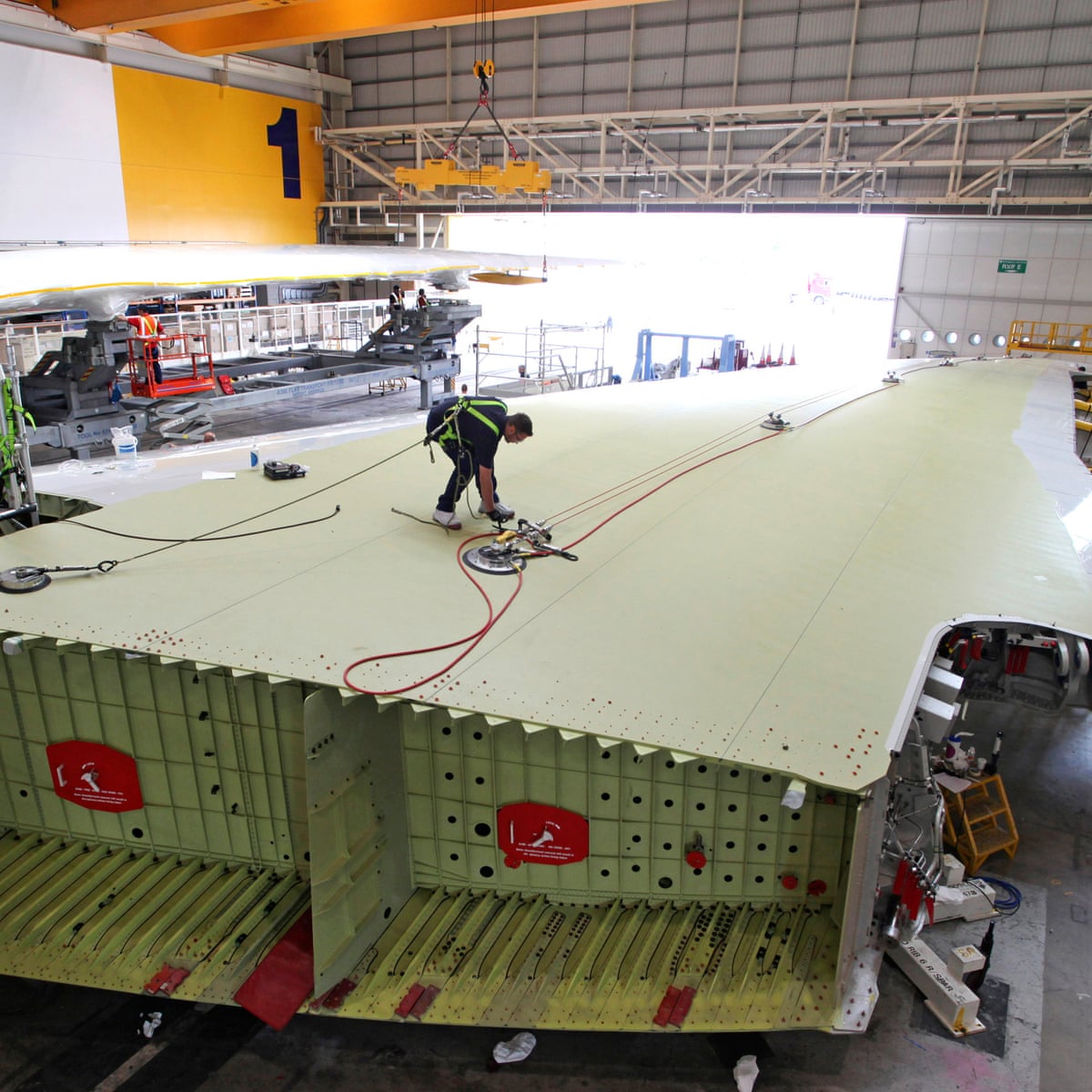 Impacto aviación global
Airbus Group dijo en Abril 2020 que reduciría la cantidad de aviones que construyó en un tercio. Las aerolíneas de todo el mundo han cancelado o retrasado los pedidos de nuevos aviones, ya que sus flotas permanecieron en tierra. Los recortes de producción han llevado a la expectativa de miles de recortes de empleos en las operaciones globales de Airbus. The Boeing Company, el rival de Airbus en Estados Unidos, ha dicho que reducirá una décima parte de su fuerza laboral global de 160.000, con 12.000 recortes ya decididos. Bombardier Inc., que fabrica aviones comerciales, dijo el viernes que recortará 2.500 empleos, principalmente en Canadá. Rolls-Royce, el fabricante británico de motores a reacción, tiene planes de recortar 9,000 empleos , con un esquema de redundancia voluntaria en marcha.
Perspectivas
El Director Ejecutivo de Airbus, Guillaume Faury, ha dicho que la demanda de la aviación comercial podría tardar cinco años en recuperarse a los niveles previos a la pandemia. Airbus ya ha hecho grandes recortes en el número de contratistas en Broughton. A unos 500 trabajadores empleados por la agencia de personal Guidant se les ha dicho que no volverán a trabajar. Airbus empleó a 14.000 trabajadores en el Reino Unido antes de la crisis, incluidos 6,000 en Broughton. En todo el mundo, la compañía tiene 135.000 empleados, con bases en Francia, España y Alemania, donde se informa que las conversaciones con los representantes de los trabajadores están en curso. La compañía ha hecho un amplio uso del esquema de retención de empleos del gobierno del Reino Unido. Alrededor de 3.000 trabajadores fueron despedidos en Broughton, y Airbus aumentó su salario a entre 85% y 90% del salario completo. Se cree que los trabajadores de Filton, al norte de Bristol, están menos expuestos debido a su papel en el diseño de alas y sistemas de combustible, aunque algunos programas de desarrollo de alto perfil ya han sido cancelados, incluido el proyecto de avión eléctrico EFan-X, que se dice que es un parte clave de los esfuerzos para reducir las emisiones de la aviación.
Otras opciones que se están considerando para preservar los trabajos de Airbus incluyen recuperar el trabajo de los proveedores. Sin embargo, se cree que el alcance de esto es limitado, dadas las limitaciones en maquinaria y trabajadores con las habilidades necesarias.
Un portavoz de Airbus dijo que la compañía no hizo comentarios sobre especulaciones relacionadas con reuniones o decisiones internas. El portavoz dijo: "Como la compañía ha compartido repetidamente en las últimas semanas, actualmente estamos estudiando posibles medidas adicionales para mitigar el impacto de la crisis de Covid-19, en plena cooperación con nuestros interlocutores sociales. No se ha tomado una decisión final sobre los próximos pasos y cualquier otra medida se discutirá primero con nuestros interlocutores sociales".
Airbus cuts employees in UK
Airbus UK cuts 500 employees at Broughton Plant
Airbus Group SE seeks to cut UK jobs as orders run out. A blow is expected mainly in Wales, as the manufacturer predicts a long recovery from coronavirus fall
Airbus is considering a voluntary layoff scheme for up to 500 UK workers, as the aircraft maker seeks to cut costs in response to the coronavirus pandemic. The job cuts from the European manufacturer in the UK are expected to go mainly to the large factory in Broughton, North Wales, which produces wings for commercial aircraft such as the A320 and A350.
When compulsory layoffs are included, job losses in the UK are likely to be several times higher. One option under consideration was to offer voluntary layoffs to 500 workers, targeting those closest to retirement, a person with knowledge of the discussions said. However, another source warned that a final decision had not been made and that it was only one of several options, as the manufacturer prepared for years of lower demand.
Global aviation impact
Airbus Group said in April 2020 that it would reduce the number of aircraft it built by a third. Airlines around the world have canceled or delayed orders for new planes, as their fleets remained on the ground. The production cuts have led to the expectation of thousands of job cuts in Airbus' global operations. The Boeing Company, Airbus' rival in the United States, has said it will cut a tenth of its global workforce from 160,000, with 12,000 cuts already decided. Bombardier Inc., which makes commercial aircraft, said on Friday it will cut 2,500 jobs, mainly in Canada. Rolls-Royce, the British jet engine maker, has plans to cut 9,000 jobs, with a voluntary redundancy scheme in place.
Perspective
Airbus Chief Executive Officer Guillaume Faury has said that demand for commercial aviation could take five years to recover to pre-pandemic levels. Airbus has already made big cuts in the number of contractors in Broughton. Some 500 workers employed by the Guidant personnel agency have been told they will not work again. Airbus employed 14,000 workers in the UK before the crisis, including 6,000 in Broughton. Worldwide, the company has 135,000 employees, with bases in France, Spain and Germany, where talks with worker representatives are reported to be ongoing. The company has made extensive use of the UK government's job retention scheme. Around 3,000 workers were laid off in Broughton, and Airbus increased their salary to between 85% and 90% of the full salary. Workers in Filton, north of Bristol, are believed to be less exposed due to their role in wing and fuel system design, although some high-profile development programs have already been canceled, including the EFan electric aircraft project. -X, which is said to be a key part of efforts to reduce aviation emissions.
Other options being considered to preserve Airbus jobs include recovering the work from suppliers. However, the scope of this is believed to be limited, given limitations in machinery and skilled workers.
An Airbus spokesman said the company did not comment on speculation related to meetings or internal decisions. The spokesperson said: "As the company has repeatedly shared in the past few weeks, we are currently studying possible additional measures to mitigate the impact of the Covid-19 crisis, in full cooperation with our social partners. No final decision has been made on the next steps and any other measures will be discussed first with our social partners".
Ξ A I R G W A Y S Ξ
PUBLISHER: Airgways.com
DBk: Airbus.com / Theguardian.com / Airgways.com
AW-POST: 202006051307AR
A\W A I R G W A Y S ®