AW | 2020 06 05 12:37 | AVIATION ORGANISMS
La OACI emite directrices para la aviación comercial
La Organización Internacional de Aviación Civil (OACI) ha hecho público su informe y recomendaciones para el relanzamiento de la aviación comercial a nivel mundial. Para elaborar el informe y directrices, se estableció el denominado Equipo Especial para la Recuperación de la Aviación. Este ha realizado "amplias consultas con los países, organizaciones regionales y la Organización Mundial de la Salud, así como con grupos importantes de la industria de la aviación como la Asociación de Transporte Aéreo Internacional (IATA), el Consejo Internacional de Aeropuertos (ACI), la Organización de servicios de navegación aérea civil (CANSO) y el Consejo Coordinador Internacional de Asociaciones de Industrias Aeroespaciales (ICCAIA)", señalan desde OACI.
Salvatore Sciacchitano, Presidente del Consejo de OACI señaló: "El mundo tenía sus ojos puestos en el Consejo de la OACI para recibir orientaciones de alto nivel necesarias para que los gobiernos y la industria inicien la reanudación del transporte aéreo internacional y la recuperación tras el Covid-19. Hoy hemos respondido a este llamamiento con la entrega de este informe y sus recomendaciones, y el documento de orientación 'Take-off' (El despegue), que permitirán armonizar las medidas y formas de mitigación de los sectores público y privado a medida que el mundo empiece a volar de nuevo, estando en total con consonancia con las recomendaciones más recientes y prudentes de que disponemos sobre aspectos sanitarios y de la salud del público viajero".
Al frente del Equipo Especial ha estado Philippe Bertoux, representante de Francia en el Consejo de OACI. Este explicó que "las orientaciones presentadas por el Equipo Especial tenían por objetivo informar, armonizar y hacer avanzar, mas no remplazar, las hojas de ruta nacionales, regionales y específicas de la industria que se aplican en este momento para la recuperación tras el COVID-19. Para que sean eficaces, es necesario adoptar un enfoque de múltiples niveles y particularmente, basado en los riesgos. Según sea necesario, se aplicarán o se eliminarán medidas sobre una amplia gama de factores médicos y de otra índole que estén en consideración. Los países y los explotadores necesitan autonomía y certidumbre a la hora de actuar para que el mundo pueda volar de nuevo, por ello, las orientaciones del Equipo Especial se han concebido para cumplir ambos objetivos, es decir, que sirvan de referencia común y que a la vez sean adaptables".
El informe del Equipo Especial, además de analizar la situación "y principios fundamentales apoyados por una serie de recomendaciones centradas en objetivos de salud pública, seguridad operacional y protección de la aviación así como de la recuperación económica de la aviación", explican desde OACI, que se complementa con el documento "Take Off" citado por Sciacchitano, que contiene orientaciones sobre medidas de mitigación de riesgos de salud pública y cuatro módulos separados relacionados con aeropuertos, aeronaves, tripulaciones y carga aérea. El informe completo del Equipo Especial está disponible online y se revisará y actualizará periódicamente con base en los datos e información más recientes suministrados por todas las partes.
Concejo OACI COVID-19
El Consejo de la OACI crea el Equipo Especial para la Recuperación de la Aviación tras la COVID-19. En respuesta a las graves consecuencias de la pandemia de COVID-19 para la aviación civil internacional y a la necesidad de una coordinación de más amplio alcance entre los gobiernos y la industria para ayudar a reconectar al mundo, los representantes de los 36 países que conforman el Consejo de la Organización de Aviación Civil Internacional (OACI), organismo especializado de la ONU, crearon el Equipo Especial para la Recuperación de la Aviación tras la COVID-19.
El nuevo equipo especial del Consejo tendrá por objetivo identificar prioridades y recomendar políticas estratégicas tanto para los Estados como para la industria.
El equipo aprovechará todos los datos disponibles de los gobiernos y de la industria para formular soluciones ante los desafíos inmediatos a los que se enfrenta el sector y las prioridades a las que es preciso atender para relanzar una red más resiliente y con mayor capacidad de respuesta para el mundo pos-COVID-19.
"Como sabemos, la conectividad aérea es fundamental para el desarrollo económico sostenible de todas las regiones del mundo. Por eso, la recuperación eficaz del transporte aéreo internacional es esencial para la recuperación económica mundial tras la pandemia. No estamos hablando de una recuperación tras una crisis del transporte aéreo internacional. El sector ha enfrentado varias crisis en el pasado, de las que logró recuperarse gracias a las oportunas iniciativas de la OACI. El progreso alcanzado durante décadas podría perderse por completo si no se reanuda pronto y eficazmente la actividad del transporte aéreo internacional. En estos tiempos inciertos y en estas circunstancias excepcionales, la OACI está llamada a rescatar al transporte aéreo internacional y a facilitar la reanudación de las operaciones", señaló el Presidente del Consejo de la OACI, Salvatore Sciacchitano, en su discurso de hoy en la primera reunión del Equipo Especial.
El nuevo Equipo Especial del Consejo está compuesto por miembros del Consejo y representantes de la industria de la aviación de alto rango, incluidos los Directores Generales de todas las principales asociaciones de la industria del transporte aéreo. También integran el equipo otros organismos de la ONU, como la Organización Mundial de la Salud (OMS) y la Organización Mundial del Turismo (OMT), y dirigentes de varias administraciones de aviación nacionales y regionales. El Presidente del Comité de Transporte Aéreo del Consejo y Representante de Francia en el Consejo de la OACI, Sr. Philippe Bertoux, fue nombrado presidente del Equipo Especial por el Presidente Sciacchitano. El Sr. Boubacar Djibo, Director de Transporte Aéreo de la OACI, se desempeñará como Secretario. El Consejo prevé que los primeros resultados de la labor del Equipo especial estarán disponibles a finales de Mayo 2020.
WTTC acoge directrices
El Consejo Mundial de Viajes y Turismo (WTTC) ha acogido con beneplácito las directrices aprobadas para restaurar de manera segura la conectividad aérea mundial, elaboradas por la Organización de Aviación Civil Internacional (OACI). El Grupo de trabajo de recuperación de la aviación COVID-19 (CART) de la OACI ha trabajado con gobiernos, expertos en salud y partes interesadas de la industria para acordar y publicar recomendaciones integrales para un enfoque por capas de medidas para reducir el riesgo de transmisión de coronavirus mientras viaja por aire. Complementan los protocolos de viajes seguros recientemente anunciados por WTTC, que fueron diseñados para impulsar el regreso de viajes seguros y permitir que industrias como operadores turísticos, hoteles, hospitalidad, compañías de viajes, alquiler de automóviles, MICE, minoristas y otros, prosperen una vez más.
WTTC, que representa el sector privado global de Viajes y Turismo, reconoce las pautas de la OACI debido a la naturaleza estrictamente regulada del sector de la aviación en general y de las aerolíneas en particular, y apoya firmemente las pautas de 'Despegue'. El sello WTTC Safe Travels reconocerá y podría ser utilizado por países y destinos que adopten los protocolos Safe Travels y las pautas de despegue de la OACI para la aviación.
El trabajo del Equipo Especial se desarrolló a través de consultas amplias de la OACI con países y organizaciones regionales, y con importantes consejos de la Organización Mundial de la Salud y grupos clave de la industria de la aviación, incluida la Asociación Internacional de Transporte Aéreo (IATA), el Consejo Internacional de Aeropuertos (ACI World), el Organización de Servicios de Navegación Aérea Civil (CANSO) y el Consejo Internacional de Coordinación de Asociaciones de Industrias Aeroespaciales (ICCAIA).
Gloria Guevara, Presidenta y Directora Ejecutiva de WTTC, dijo: "Las medidas de seguridad e higiene tomadas durante la experiencia de viaje serán clave para reconstruir la confianza de los viajeros y reiniciar el sector de Viajes y Turismo. El liderazgo mostrado por el Secretario General de la OACI, Dr. Fang Lui y el Presidente del Consejo de la OACI, Salvatore Sciacchitano, en el proceso CART le da al sector de la aviación el enfoque global que necesita para alinear a sus muchos participantes con medidas que tranquilicen a los viajeros al reducir los riesgos de transmisión COVID-19. Felicitamos a la OACI por desarrollar esta guía crítica para la aviación en cooperación con asociaciones clave de la industria, incluidas IATA y ACI. Ahora instamos a los gobiernos a adoptarlas y las mejores prácticas lo más rápido posible, para que podamos salvar un sector que ya está en una lucha por la supervivencia".
La evidencia del reciente Informe de preparación para crisis de WTTC, que analizó 90 tipos diferentes de crisis en los últimos 20 años, destaca la importancia de la cooperación público-privada y la implementación de protocolos estandarizados para reducir el tiempo de recuperación. Según el Informe de Impacto Económico 2020 del WTTC, durante 2019, Viajes y Turismo fue responsable de uno de cada 10 empleos (330 millones en total), haciendo una contribución del 10.3% al PIB mundial y generando uno de cada cuatro de todos los nuevos empleos.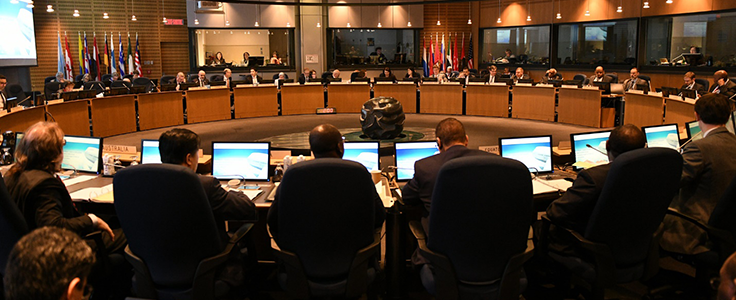 ICAO commercial aviation guidelines
ICAO issues guidelines for commercial aviation
The International Civil Aviation Organization (ICAO) has released its report and recommendations for the relaunch of commercial aviation worldwide. To prepare the report and guidelines, the so-called Aviation Recovery Task Force was established. It has carried out "extensive consultations with countries, regional organizations and the World Health Organization, as well as with important groups in the aviation industry such as the International Air Transport Association (IATA), the International Council of Airports (ACI) , the Organization of Civil Air Navigation Services (CANSO) and the International Coordinating Council of Associations of Aerospace Industries (ICCAIA)", point out from ICAO.
Salvatore Sciacchitano, President of the ICAO Council noted: "The world had its eyes on the ICAO Council to receive the high-level guidance necessary for governments and industry to initiate the resumption of international air transport and recovery after Covid -19. Today we have responded to this appeal with the delivery of this report and its recommendations, and the 'Take-off' guidance document, which will allow harmonizing the measures and forms of mitigation of the public and private sectors as the The world begins to fly again, being in total in accordance with the most recent and prudent recommendations we have on health and health aspects of the traveling public".
At the head of the Special Team was Philippe Bertoux, representative of France on the ICAO Council. He explained that "the guidelines presented by Special Team were intended to inform, harmonize and advance, but not replace, the national, regional and industry-specific road maps that are currently applied for recovery after COVID-19. To be effective, a multi-level and particularly risk-based approach is required. As necessary, measures will be applied or eliminated on a wide range of medical and other factors being considered. Countries and operators need autonomy and certainty when it comes to acting so that the world can fly again, therefore, the Special Team guidelines are designed to meet both objectives, that is, that they serve as a common reference and that the maybe they are adaptable".
The Special Team report, in addition to analyzing the situation "and fundamental principles supported by a series of recommendations focused on public health, safety and aviation protection objectives as well as the economic recovery of aviation", explain from ICAO, that It is complemented by the "Take Off" document cited by Sciacchitano, which contains guidelines on mitigation measures for public health risks and four separate modules related to airports, aircraft, crews and air cargo. The full Special Team report is available online and will be periodically reviewed and updated based on the latest data and information provided by all parties.
ICAO / COVID-19 Links
ICAO Council COVID-19
The ICAO Council creates the Special Team for Aviation Recovery after COVID-19. In response to the serious consequences of the COVID-19 pandemic for international civil aviation and the need for broader coordination between governments and industry to help reconnect the world, the representatives of the 36 countries that make up the Council of the International Civil Aviation Organization (ICAO), a specialized agency of the UN, created the Special Team for Aviation Recovery after COVID-19.
The new Council task force will aim to identify priorities and recommend strategic policies for both States and industry.
The team will leverage all available data from governments and industry to formulate solutions to the immediate challenges facing the sector and the priorities that need to be addressed to relaunch a more resilient and responsive network to the post-COVID-19 world.
"As we know, air connectivity is essential for the sustainable economic development of all regions of the world. Therefore, the effective recovery of international air transport is essential for the global economic recovery after the pandemic. We are not talking about a recovery after an international air transport crisis. The sector has faced several crises in the past, from which it managed to recover thanks to timely ICAO initiatives. Progress made over decades could be lost entirely if international air transport activity is not resumed promptly and effectively. In these uncertain times and in these exceptional circumstances, ICAO is called to rescue international air transport and facilitate the resumption of operations", said ICAO Council President Salvatore Sciacchitano, in his speech today at the first meeting of the Special Team.
The new Council Task Force is comprised of Council members and senior representatives of the aviation industry, including the Directors-General of all major associations in the air transport industry. The team is also made up of other UN agencies, such as the World Health Organization (WHO) and the World Tourism Organization (UNWTO), and leaders of various national and regional aviation administrations. The President of the Council's Air Transport Committee and the Representative of France on the ICAO Council, Mr. Philippe Bertoux, was appointed Chairman of the Special Team (Task Force) by President Sciacchitano. Mr. Boubacar Djibo, ICAO Director of Air Transportation, will serve as Secretary. The Council anticipates that the first results of the Task Force's work will be available in late May 2020.
WTTC welcomes guidelines
The World Travel and Tourism Council (WTTC) has welcomed the approved guidelines to safely restore global air connectivity, developed by the International Civil Aviation Organization (ICAO). The ICAO COVID-19 Aviation Recovery Task Force (CART) has worked with governments, health experts and industry stakeholders to agree and publish comprehensive recommendations for a layered approach to measures to reduce the risk of transmission of coronavirus while traveling by air. They complement the recently announced WTTC safe travel protocols, which were designed to drive the return of safe travel and enable industries like tour operators, hotels, hospitality, travel companies, car rental, MICE, retailers and others to thrive once plus.
WTTC, which represents the global private travel and tourism sector, recognizes ICAO guidelines due to the tightly regulated nature of the aviation sector in general and airlines in particular, and strongly supports the 'Take-off' guidelines. The WTTC Safe Travels seal will recognize and could be used by countries and destinations that adopt the Safe Travels protocols and the ICAO take-off guidelines for aviation.
Special team's work was developed through extensive ICAO consultations with countries and regional organizations, and with important councils from the World Health Organization and key groups in the aviation industry, including the International Air Transport Association (IATA ), the Airports Council International (ACI World), the Civil Air Navigation Services Organization (CANSO) and the International Coordinating Council of Aerospace Industries Associations (ICCAIA).
Gloria Guevara, President and Executive Director of WTTC, said: "The safety and hygiene measures taken during the travel experience will be key to rebuilding the confidence of travelers and restarting the Travel and Tourism sector. The leadership shown by ICAO Secretary General Dr. Fang Lui and ICAO Council President Salvatore Sciacchitano in the Special Team process gives the aviation sector the global focus it needs to align its many participants with measures that reassure travelers by reducing the risks of COVID-19 transmission. We commend ICAO for developing this Critical Aviation Guide in cooperation with key industry associations, including IATA and ACI. We now urge governments to adopt them and best practices as quickly as possible, so that we can save a sector that is already in a fight for survival".
Evidence from the recent WTTC Crisis Preparedness Report, which analyzed 90 different types of crises in the past 20 years, highlights the importance of public-private cooperation and the implementation of standardized protocols to reduce recovery time. According to the WTTC's 2020 Economic Impact Report, during 2019 Travel and Tourism was responsible for one in 10 jobs (330 million in total), making a contribution of 10.3% to world GDP and generating one in four of all new jobs.
Ξ A I R G W A Y S Ξ
PUBLISHER: Airgways.com
DBk: Icao.int / Wttc.org / Canadianpress.com / Airgways.com
AW-POST: 202006051237AR
A\W A I R G W A Y S ®