AW | 2020 06 15 10:05 | AIRLINES / AVIATION SAFETY
United Airlines lanza autoevaluación para pasajeros en el check-in
Las aerolíneas a través del mundo están realizando cambios significativos en la experiencia de viaje de los pasajeros. Entre las medidas recientes implementadas esta semana, los transportistas están comenzando a pedirles a los pasajeros que se autoevalúen durante el proceso de check-in.
El Jueves 11/06, United Airlines, con sede en Chicago, anunció que pedirá a los pasajeros que evalúen su salud y su exposición ambiental durante el proceso de registro en cada vuelo. En el momento del check-in, los pasajeros pasarán ahora por una lista de verificación "Ready to Fly" ("Listo para volar") y responderán si han experimentado síntomas recientes de coronavirus, si han estado en contacto cercano con alguien que experimente los síntomas o si alguien les ha negado el abordaje. portador. Además, a los pasajeros se les pedirá que reconozcan que se debe usar una máscara facial durante toda la experiencia de viaje. "La salud y seguridad de nuestros clientes y empleados es nuestra máxima prioridad, y hemos estado trabajando estrechamente con expertos médicos y socios de confianza para instituir nuevas prácticas y procedimientos para proteger aún más a quienes trabajan y viajan con nosotros. La lista de verificación de bienestar 'Listo para volar' de United establece pautas claras sobre los requisitos de salud para nuestros clientes y ayuda a minimizar el riesgo de exposición durante la experiencia de viaje", dijo en el lanzamiento Pat Baylis, de United Director Médico Corporativo.
No está claro qué tan efectivo será el proceso de autoevaluación cuando algunos pasajeros pueden no conocer sus niveles de exposición reciente o cuando otros, quizás pasajeros menos escrupulosos, simplemente podrían mentir sobre sus condiciones. Pero la lista de verificación proporciona un marco para documentar que los pasajeros han reconocido sus respectivas condiciones, y tal vez le da a la aerolínea un respiro en caso de que se tome algún tipo de acción legal. De hecho, además del anuncio del 11/06, Jon Ostrower de The Air Current señaló que United también cambió su contrato de transporte en algún momento recientemente para decir que ahora está permitido que la aerolínea retire a los pasajeros de un vuelo si hay "razones para creer que hubo exposición a una enfermedad contagiosa".
El movimiento más reciente de United para promover la salud durante el vuelo se produce tras una serie de esfuerzos en toda la industria para mejorar la limpieza y la seguridad de toda la experiencia de viaje. Inicialmente, el proceso giraba en torno a medidas de limpieza integrales que las compañías aéreas implementaron para asegurarse de que las cabinas de los aviones estuvieran completamente esterilizadas entre cada vuelo. Paralelamente, se han desplegado nuevas medidas para el equipo de protección personal, tanto para los pasajeros como para la tripulación.
Con la lista de verificación "Listo para volar" ahora en juego, el espectro de medidas de seguridad adoptadas por la industria de las aerolíneas se ha ampliado aún más. Y dicho todo, las medidas completas deberían ayudar a crear más confianza en el proceso de viaje aéreo para muchos pasajeros aún inciertos. Aún así, hay un largo camino por recorrer hasta que la demanda vuelva a los niveles previos al Coronavirus.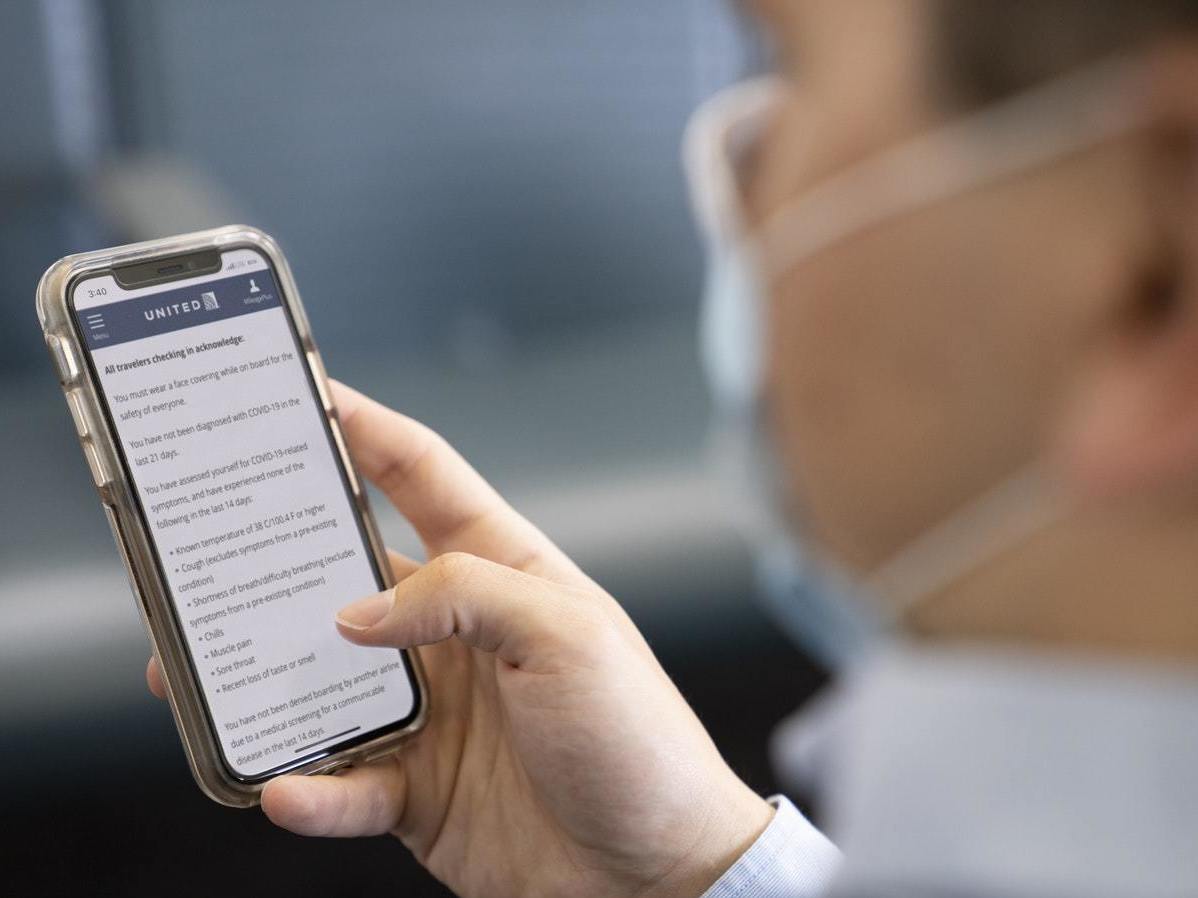 United launches self-assessment checkup
United Airlines Launches Self-Assessment for Passengers at Check-In
Airlines across the world are making significant changes to the passenger travel experience. Among recent measures implemented this week, carriers are beginning to ask passengers to self-evaluate during the check-in process.
On Thursday 11/06, Chicago-based United Airlines announced that it will ask passengers to assess their health and environmental exposure during the registration process on each flight. At check-in, passengers will now go through a "Ready to Fly" checklist and will respond if they have experienced recent coronavirus symptoms, if they have been in close contact with someone experiencing the symptoms or if someone has denied boarding. carrier. In addition, passengers will be asked to acknowledge that a face mask must be worn throughout the travel experience. "The health and safety of our customers and employees is our highest priority, and we have been working closely with trusted medical experts and partners to institute new practices and procedures to further protect those who work and travel with us. The United's 'Ready to Fly' wellness sets clear guidelines on the health requirements for our customers and helps minimize the risk of exposure during the travel experience", said Pat Baylis, United Corporate Medical Director.
It is unclear how effective the self-assessment process will be when some passengers may not know their recent exposure levels or when others, perhaps less scrupulous passengers, may simply lie about their conditions. But the checklist provides a framework to document that passengers have recognized their respective conditions, and perhaps gives the airline a break in the event of some sort of legal action. In fact, in addition to the 6/11 announcement, Jon Ostrower of The Air Current noted that United also changed its transportation contract at some point recently to say that the airline is now allowed to remove passengers from a flight if there are "reasons to believe that there was exposure to a contagious disease".
United's latest move to promote in-flight health comes after a series of industry-wide efforts to improve the cleanliness and safety of the entire travel experience. Initially, the process revolved around comprehensive cleaning measures that airlines implemented to ensure that aircraft cabins were completely sterilized between each flight. In parallel, new measures have been deployed for personal protective equipment, both for passengers and for the crew.
With the "Ready to Fly" checklist now at stake, the spectrum of security measures taken by the airline industry has been further expanded. All told, comprehensive measures should help create more confidence in the air travel process for many still uncertain passengers. Still, there is a long way to go until demand returns to pre-Coronavirus levels.
Ξ A I R G W A Y S Ξ
PUBLISHER: Airgways.com
DBk: United.com / Forbes.com / Npr.org / Gettyimages.com / Airgways.com
AW-POST: 202006151005AR
A\W A I R G W A Y S ®