AW | 2020 06 30 11:33 | AIRLINES
United Airlines vuela Boeing 737 MAX en Estados Unidos
La aerolínea United Airlines ha realizado un vuelo en ferry de una unidad Boeing 737-9 MAX a través de Estados Unidos. En sintonía con los test de vuelo por parte de la FAA y el constructor aeroespacial americano para la recertificación de la aeronave, United Airlines ha realizado el día 29/06 un vuelo de traslado de aeronaves en ferry.
La aplicación de monitoreo de vuelos FlightAware, ha mostrado una aeronave Boeing 737-9 MAX con registro N37513 y número de vuelo UA2708 de United Airlines que ha despegado de Goodyear, Arizona, a las 13:43 MST para volar hasta la costa este de los Estados Unidos con destino a Orlando, Florida, con un tiempo de vuelo de 04:18 hs. aterrizando a las 21:01 EDT, efectuando una distancia total de 3.207 KM (1.993 millas).
United Airlines posee una flota de 14 Boeing 737-9 MAX y es la única variante de la nueva versión de cuarta generación. United Airlines ha comunicado que está trasladando su avión 737-9 MAX a las instalaciones en Orlando para realizar el mantenimiento requerido.
Las perspectivas de las flotas Boeing 737 MAX en Estados Unidos se irán preparando para adecuarse al nuevo escenario de retorno. Las aerolíneas deberán someterse a procedimientos de capacitación del personal. Los test de vuelos de esta semana indican que estamos un paso más cerca de la reintroducción del Boeing 737 MAX a los cielos.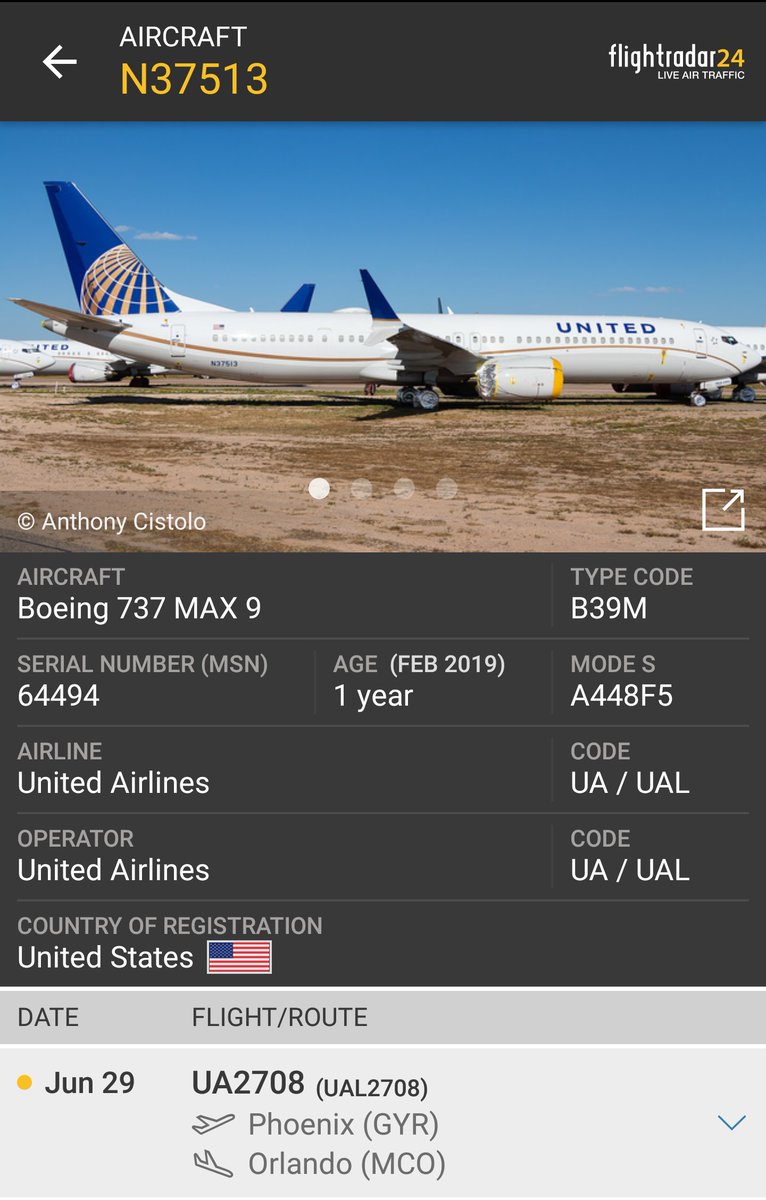 United 737-9 MAX by ferry
United Airlines flies Boeing 737 MAX in the United States
United Airlines has flown a Boeing 737-9 MAX unit across the United States. In line with the flight tests by the FAA and the American aerospace manufacturer for the recertification of the aircraft, United Airlines has carried out a transfer flight of aircraft by ferry on 29/06.
FlightAware, the flight monitoring application, has shown a Boeing 737-9 MAX aircraft with registration N37513 and flight number UA2708 of United Airlines that has taken off from Goodyear, Arizona, at 13:43 MST to fly to the east coast of the United States bound for Orlando, Florida, with a flight time of 04:18 hs. landing at 21:01 EDT, making a total distance of 3,207 KM (1,993 miles).
United Airlines owns a fleet of 14 Boeing 737-9 MAX and is the only variant of the new fourth generation version. United Airlines has communicated that it is transferring its 737-9 MAX aircraft to the Orlando facility to perform the required maintenance.
The perspectives of the Boeing 737 MAX fleets in the United States will be preparing to adapt to the new return scenario. Airlines must undergo staff training procedures. This week's flight tests indicate that we are one step closer to the reintroduction of the Boeing 737 MAX to the skies.
Ξ A I R G W A Y S Ξ
PUBLISHER: Airgways.com
DBk: United.com / FlightAware.com / Airgways.com / Antony Cistolo
AW-POST: 202006301133AR
A\W A I R G W A Y S ®