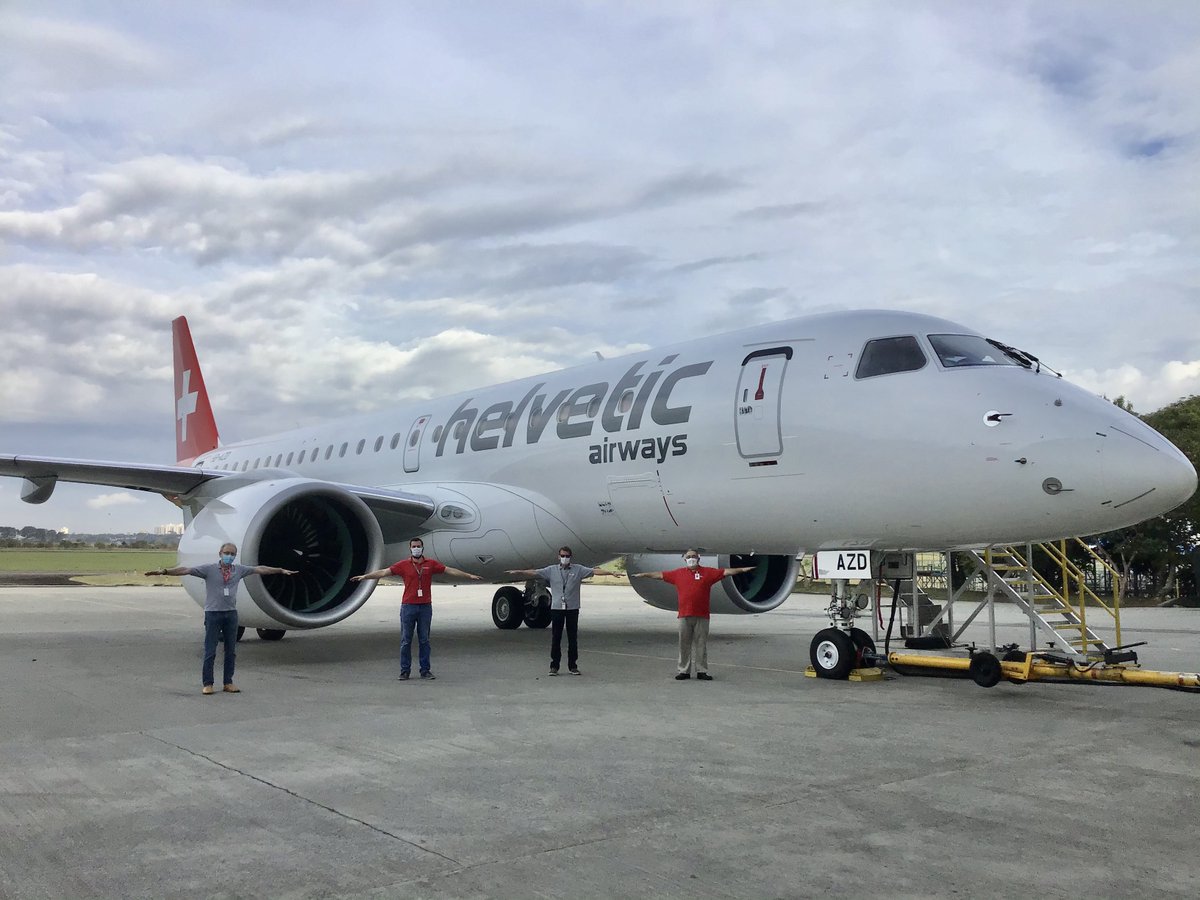 AW | 2020 07 01 13:41 | AIRLINES / INDUSTRY
E-Jet número 1.600 es entregado a Helvetic Airways

Embraer S.A. ha entregado recientemente su E-Jet número 1.600, un E190-E2 a Helvetic Airways de Suiza. La compañía ha tomado entrega de su primer E190-E2 en Octubre de 2019 y desde entonces ha agregado cuatro más como parte de su programa de renovación de flota.
"Es un honor en mi nuevo rol como presidente y CEO de Embraer Commercial Aviation entregar este avión emblemático. Es un hito tremendo en el programa E-Jets y en la historia de la compañía. Con los años he estado personalmente muy cerca de Helvetic y su proyecto de planificación de flota de E-Jets. Todos en Embraer están extremadamente orgullosos de ver a una aerolínea tan reconocida volando nuestro E-Jet número 1.600 de producción", dijo Arjan Meijer, el nuevo CEO de Embraer.
Helvetic Airways está actualmente en transición de una flota de E-Jets de primera generación a los E2. El transportista recibió su primer E190-E2 en 10/2019 y ha agregado cuatro más desde entonces como parte de su programa de renovación de flota. La aerolínea regional vuela los aviones en una configuración de clase única de 110 asientos en rutas nacionales e internacionales. El transportista tiene pedidos firmes adicionales para 12 E190-E2 y derechos de compra para otros 12 E190-E2 con derechos de conversión al E195-E2, lo que lleva el pedido potencial total a 24 aviones de la familia E2.
"Estamos especialmente orgullosos de recibir un avión E2 en estos tiempos difíciles para nuestra industria. Y es un verdadero privilegio compartir este momento especial con Embraer. Hemos recibido comentarios muy positivos sobre el E190-E2, de nuestros pasajeros y nuestros equipos, desde que lo presentamos en nuestra flota. No podríamos estar más felices con el rendimiento del avión. El consumo de combustible es incluso más bajo de lo esperado, lo que hace que el avión sea aún más ecológico. Y esperamos reanudar las operaciones pronto, con nuestro hito E190-E2 también", expresa Tobías Pogorevc, Director Ejecutivo de Helvetic Airways.
Familia E-Jets
Durante casi dos décadas, la innovadora familia E-Jets de Embraer ha estado transformando la aviación comercial. Es la línea más exitosa de la industria de aviones de pasajeros de 70 a 150 asientos diseñados específicamente para este segmento de capacidad. El programa ha registrado más de 1.900 pedidos hasta la fecha de más de 100 clientes. Unas 80 aerolíneas actualmente vuelan Embraer E-Jets. La flota global de E-Jet ha acumulado más de 30 millones de horas de vuelo, con una tasa promedio de finalización de la misión del 99,9 por ciento. Los aviones versátiles vuelan con aerolíneas de bajo costo, regionales y principales. El E190-E2 es uno de los tres aviones de la familia E-Jets de segunda generación. En comparación con el E190 de primera generación, el E190-E2 consume un 17,3% menos de combustible.
Las aerolíneas y compañías de leasing de unos 50 países han agregado Embraer E-Jets a sus flotas desde que los jets de primera generación ingresaron al servicio de ingresos en 2004. La nueva familia de E-Jets de segunda generación altamente eficiente en combustible, los E2, comenzaron a volar en las aerolíneas en 2018.
Embraer delivers E-jet No. 1,600
E-Jet number 1,600 is delivered to Helvetic Airways
Embraer S.A. it has recently delivered its 1,600th E-Jet, an E190-E2, to Helvetic Airways of Switzerland. The company has taken delivery of its first E190-E2 in October 2019 and has since added four more as part of its fleet renewal program.
"It is an honor in my new role as President and CEO of Embraer Commercial Aviation to deliver this iconic aircraft. It is a tremendous milestone in the E-Jets program and in the history of the company. Over the years I have personally been very close to Helvetic and his E-Jets fleet planning project. Everyone at Embraer is extremely proud to see such a renowned airline flying our 1,600th production E-Jet", said Arjan Meijer, the new CEO of Embraer.
Helvetic Airways is currently in transition from a fleet of first generation E-Jets to E2s. The carrier received its first E190-E2 on 10/2019 and has added four more since then as part of its fleet renewal program. The regional airline flies the planes in a single-class configuration of 110 seats on domestic and international routes. The carrier has additional firm orders for 12 E190-E2 and purchase rights for another 12 E190-E2 with conversion rights to E195-E2, bringing the total potential order to 24 E2 family aircraft.
"We are especially proud to receive an E2 aircraft during these difficult times for our industry. And it is a real privilege to share this special moment with Embraer. We have received very positive comments about the E190-E2, from our passengers and our teams, since we Introducing our fleet. We couldn't be happier with the performance of the aircraft. Fuel consumption is even lower than expected, making the aircraft even greener. And we hope to resume operations soon, with our milestone E190. -E2 also", says Tobías Pogorevc, Executive Director of Helvetic Airways.
E-Jets Family
For nearly two decades, Embraer's innovative E-Jets family has been transforming commercial aviation. It is the industry's most successful line of 70 to 150 seat passenger aircraft designed specifically for this capacity segment. The program has registered more than 1,900 orders to date from more than 100 clients. Some 80 airlines currently fly Embraer E-Jets. The global E-Jet fleet has accumulated more than 30 million flight hours, with an average mission completion rate of 99.9 percent. Versatile aircraft fly with low-cost, regional, and major airlines. The E190-E2 is one of three aircraft in the second generation E-Jets family. Compared to the first-generation E190, the E190-E2 consumes 17.3% less fuel.
Airlines and leasing companies in some 50 countries have added Embraer E-Jets to their fleets since first-generation jets entered revenue service in 2004. The new family of highly fuel-efficient second-generation E-Jets, the E2, they started flying on airlines in 2018.
Embraer entrega E-jet No. 1.600
E-Jet número 1.600 é entregue à Helvetic Airways
Embraer S.A. recentemente, entregou seu 1.600º E-Jet, um E190-E2, à Helvetic Airways da Suíça. A empresa recebeu seu primeiro E190-E2 em outubro de 2019 e, desde então, adicionou mais quatro como parte de seu programa de renovação de frota.
"É uma honra em meu novo cargo de Presidente e CEO da Embraer Commercial Aviation entregar esta aeronave icônica. É um marco tremendo no programa de E-Jets e na história da empresa. Ao longo dos anos, estive pessoalmente muito próximo da Helvetic e de seu projeto de planejamento de frota de E-Jets. Todos na Embraer estão extremamente orgulhosos de ver uma companhia aérea tão renomada pilotando nosso 1.600º E-Jet de produção", disse Arjan Meijer, o novo CEO da Embraer.
A Helvetic Airways está atualmente em transição de uma frota de E-Jets de primeira geração para E2s. A transportadora recebeu seu primeiro E190-E2 em 10/2019 e adicionou mais quatro desde então como parte de seu programa de renovação de frota. A companhia aérea regional voa os aviões em uma configuração de classe única de 110 assentos em rotas domésticas e internacionais. A transportadora tem pedidos firmes adicionais de 12 E190-E2 e direitos de compra de outros 12 E190-E2 com direitos de conversão para E195-E2, elevando o total potencial de pedidos para 24 aeronaves da família E2.
"Estamos especialmente orgulhosos de receber uma aeronave E2 durante esses tempos difíceis para a nossa indústria. E é um verdadeiro privilégio compartilhar esse momento especial com a Embraer. Recebemos comentários muito positivos sobre o E190-E2, de nossos passageiros e nossas equipes, desde que Apresentando nossa frota. Não poderíamos estar mais felizes com o desempenho da aeronave. O consumo de combustível é ainda menor do que o esperado, tornando a aeronave ainda mais ecológica. Esperamos retomar as operações em breve, com nosso marco E190. -E2 também", diz Tobías Pogorevc, diretor executivo da Helvetic Airways.
Família de E-Jets
Por quase duas décadas, a inovadora família de E-Jets da Embraer vem transformando a aviação comercial. É a linha de maior sucesso da indústria de aeronaves de passageiros de 70 a 150 assentos, projetadas especificamente para esse segmento de capacidade. Até agora, o programa registrou mais de 1.900 pedidos de mais de 100 clientes. Atualmente, 80 companhias aéreas voam nos E-Jets da Embraer. A frota global de E-Jet acumulou mais de 30 milhões de horas de vôo, com uma taxa média de conclusão da missão de 99,9%. Aeronaves versáteis voam com companhias aéreas de baixo custo, regionais e principais. O E190-E2 é uma das três aeronaves da família de E-Jets de segunda geração. Comparado ao E190 de primeira geração, o E190-E2 consome 17,3% menos combustível.
Companhias aéreas e empresas de leasing em cerca de 50 países adicionaram os E-Jets da Embraer em suas frotas desde que os jatos de primeira geração entraram em serviço de receita em 2004. A nova família de E-Jets de segunda geração com alta eficiência de combustível, o E2, eles começaram a voar nas companhias aéreas em 2018.
Ξ A I R G W A Y S Ξ
PUBLISHER: Airgways.com
DBk: Embraer.com / Helvetic.com / Airgways.com / Walter Bieri
AW-POST: 202007011341AR
A\W A I R G W A Y S ®