AW | 2020 07 07 14:47 | AIRLINES
Nolinor Aviation lanza una nueva aerolínea canadiense
Una nueva aerolínea llamada OWG iniciará operaciones con base en Quèbec, Canadá, ofreciendo vuelos a destinos del sur del país. Esta nueva iniciativa es el fruto de la continua expansión de la línea aérea Nolinor Aviation en un nuevo mercado después de los efectos post-pandemia.
Los quebequenses pronto tendrán la oportunidad de elegir una nueva aerolínea. El transportador Nolinor lanzará OWG (Off We Go), que se especializará en destinos vacacionales empleando aeronaves Boeing 737-400 en configuración para 158 asientos. Estos aviones adquiridos a principios de año han sido renovados en su interior con nuevos asientos. Nolinor aclaró que ha invertido varios millones de dólares en estas mejoras.
Proyecto OWG
Nolinor Aviation tras 27 años de servicio, ha ofrecido soluciones de transporte chárter principalmente al extremo norte del Reino de Canadá, con su flota de unos diez Boeing 737. El equipo de Nolinor Aviation ha estado trabajando en secreto desde 2018 para crear una nueva aerolínea que los posicionará en el mercado de vuelos turísticos. La compañía invirtió más de US$ 1 millón en un grupo de expertos para reinventar la forma en que se hacen las cosas en esta industria. Analizaron las mejores aerolíneas del mundo para establecer los valores y la misión detrás de la nueva marca OWG.
Como explica el Presidente del OWG, Marco Prud'Homme: "La parte del vuelo de su viaje debe ser una parte integral de sus vacaciones. Las aerolíneas tradicionales han optado por reducir la calidad de sus servicios año tras año sin tener en cuenta la experiencia del pasajero. Nuestro objetivo es ganar los corazones de los quebequenses con una nueva aerolínea cuya misión es volver a entusiasmar a los viajeros", expresó en un comunicado de prensa.
Destinos vacacionales
La nueva aerolínea OWG no ha especificado los detalles de los destinos del Caribe que se atenderán y el inicio de los primeros vuelos comerciales. A principios de 2020, el transportista adquirió una flota de Boeing 737-400 y comenzó a transformarlos para que cumplan con los altos estándares de servicio y seguridad de la compañía. A diferencia de muchas aerolíneas, el avión utilizado por OWG se rastreará en tiempo real utilizando un sofisticado sistema de comunicación. Para ofrecer tarifas competitivas, OWG ha optado por el probado avión Boeing 737-400 (158 asientos). El interior de cada avión fue restaurado con asientos nuevos, más ligeros y más resistentes. Todo este trabajo representa una inversión de varios millones de dólares.
Además de estas innovaciones tecnológicas, la nueva marca cuenta con la calidad de su equipo para proporcionar una experiencia de viaje que supere las expectativas del cliente. Con respecto a las medidas de seguridad sanitarias estándares de protección en vuelo contra el Coronavirus, la tripulación de OWG se beneficiará de la experiencia desarrollada por Nolinor Aviation durante la crisis, mientras continúan prestando servicios a ciertos destinos del norte mediante la aplicación de los más altos estándares en términos de salud y seguridad.
Perspectivas OWG
OWG está reinventando la experiencia de viaje al colocar a sus pasajeros en el centro de sus acciones y el diseño del logotipo de la compañía representa perfectamente este espíritu de marca. OWG comenzará a operar en los próximos meses y los destinos se anunciarán en breve. OWG recibió la autorización del Ministro de Transporte para proporcionar un servicio de vuelo internacional regular el 6 Julio 2020. Puede seguir el lanzamiento de OWG en nuestro sitio web, Owg.com.
OWG, Canada's new airline
Nolinor Aviation launches a Canadian airline
A new airline called OWG will begin operations based in Quèbec, Canada, offering flights to destinations in the south of the country. This new initiative is the fruit of the continuous expansion of the Nolinor Aviation airline in a new market after the post-pandemic effects.
Québécois will soon have the opportunity to choose a new airline. Transporter Nolinor will launch OWG (Off We Go), which will specialize in vacation destinations using Boeing 737-400 aircraft in 158-seat configuration. These planes acquired at the beginning of the year have been renovated inside with new seats. Nolinor clarified that she has invested several million dollars in these improvements.
OWG project
Nolinor Aviation, after 27 years of service, has offered charter solutions primarily to the far north of the Kingdom of Canada, with its fleet of about ten Boeing 737s. The Nolinor Aviation team has been secretly working since 2018 to create a new airline that It will position them in the tourist flight market. The company invested more than $ 1 million in a group of experts to reinvent the way things are done in this industry. They analyzed the best airlines in the world to establish the values ​​and mission behind the new OWG brand.
As OWG President Marco Prud'Homme explains: "The flight part of your trip should be an integral part of your vacation. Traditional airlines have chosen to reduce the quality of their services year after year regardless of experience Our goal is to win the hearts of Québécois with a new airline whose mission is to excite travelers again", he said in a press release.
Holiday destinations
The new OWG airline has not specified details of the Caribbean destinations to be served and the start of the first commercial flights. In early 2020, the carrier acquired a fleet of Boeing 737-400s and began transforming them to meet the company's high standards of service and safety. Unlike many airlines, the aircraft used by OWG will be tracked in real time using a sophisticated communication system. To offer competitive rates, OWG has opted for the proven Boeing 737-400 (158 seats) aircraft. The interior of each aircraft was restored with new, lighter, and stronger seats. All this work represents an investment of several million dollars.
In addition to these technological innovations, the new brand relies on the quality of its equipment to provide a travel experience that exceeds customer expectations. Regarding standard in-flight health protection measures against Coronavirus, the OWG crew will benefit from the experience developed by Nolinor Aviation during the crisis, while continuing to serve certain destinations in the north by applying the highest standards in terms of health and safety.
OWG perspectives
OWG is reinventing the travel experience by putting its passengers at the center of its actions, and the company logo design perfectly represents this brand spirit. OWG will start operating in the coming months and destinations will be announced shortly. OWG received authorization from the Minister of Transportation to provide regular international flight service on July 6, 2020. You can follow the launch of OWG on our website, Owg.com.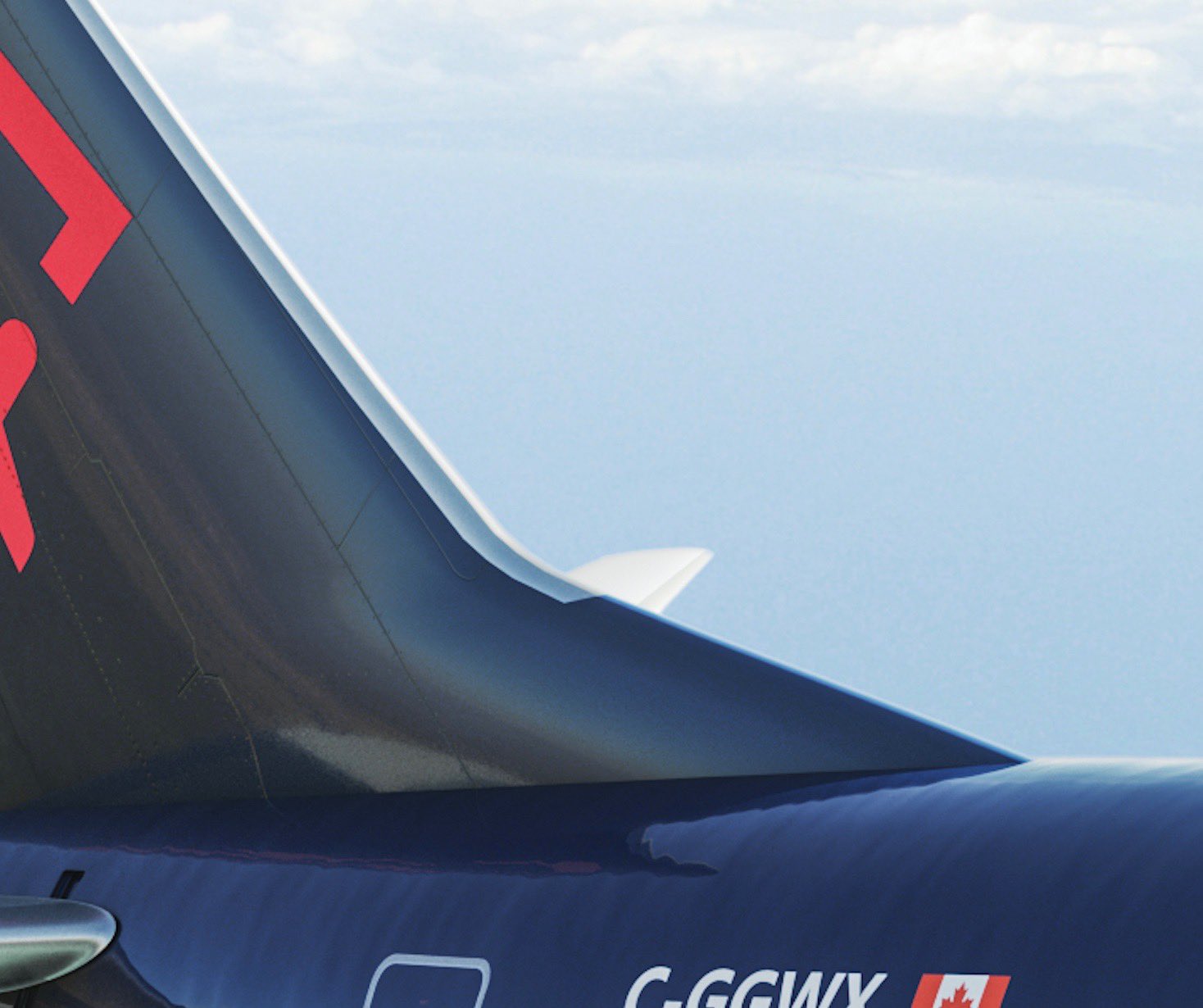 OWG, la nouvelle compagnie aérienne du Canada
Nolinor Aviation lance une compagnie aérienne canadienne
Une nouvelle compagnie aérienne appelée OWG commencera ses opérations basées à Québec, au Canada, offrant des vols vers des destinations dans le sud du pays. Cette nouvelle initiative est le résultat de l'expansion continue de la compagnie aérienne Nolinor Aviation sur un nouveau marché après les effets post-pandémiques.
Les Québécois auront bientôt l'occasion de choisir une nouvelle compagnie aérienne. Le transporteur Nolinor lancera OWG (Off We Go), qui se spécialisera dans les destinations de vacances en utilisant des Boeing 737-400 en configuration de 158 sièges. Ces avions acquis en début d'année ont été rénovés à l'intérieur avec de nouveaux sièges. Nolinor a précisé qu'elle avait investi plusieurs millions de dollars dans ces améliorations.
Projet OWG
Nolinor Aviation, après 27 ans de service, a offert des solutions d'affrètement principalement dans l'extrême nord du Royaume du Canada, avec sa flotte d'une dizaine de Boeing 737. L'équipe de Nolinor Aviation travaille secrètement depuis 2018 pour créer une nouvelle compagnie aérienne qui Il les positionnera sur le marché des vols touristiques. L'entreprise a investi plus d'un million de dollars dans un groupe d'experts pour réinventer la façon dont les choses se font dans cette industrie. Ils ont analysé les meilleures compagnies aériennes du monde pour établir les valeurs et la mission derrière la nouvelle marque OWG.
Comme l'explique le président de l'OWG, Marco Prud'Homme: "La partie vol de votre voyage devrait faire partie intégrante de vos vacances. Les compagnies aériennes traditionnelles ont choisi de réduire la qualité de leurs services année après année, quelle que soit leur expérience. Notre objectif est de gagner le cœur des Québécois avec une nouvelle compagnie aérienne dont la mission est d'exciter à nouveau les voyageurs", a-t-il déclaré dans un communiqué.
Les destinations de vacances
La nouvelle compagnie aérienne OWG n'a pas précisé les détails des destinations des Caraïbes à desservir et le début des premiers vols commerciaux. Début 2020, le transporteur a acquis une flotte de Boeing 737-400 et a commencé à les transformer pour répondre aux normes élevées de service et de sécurité de l'entreprise. Contrairement à de nombreuses compagnies aériennes, les avions utilisés par OWG seront suivis en temps réel à l'aide d'un système de communication sophistiqué. Pour offrir des tarifs compétitifs, OWG a opté pour un Boeing 737-400 éprouvé (158 sièges). L'intérieur de chaque avion a été restauré avec de nouveaux sièges plus légers et plus solides. Tous ces travaux représentent un investissement de plusieurs millions de dollars.
En plus de ces innovations technologiques, la nouvelle marque mise sur la qualité de ses équipements pour offrir une expérience de voyage qui dépasse les attentes des clients. En ce qui concerne les mesures standard de protection sanitaire en vol contre le coronavirus, l'équipage OWG bénéficiera de l'expérience développée par Nolinor Aviation pendant la crise, tout en continuant à desservir certaines destinations du nord en appliquant les plus hautes normes en matière de santé et de sécurité.
Perspectives du OWG
OWG réinvente l'expérience du voyage en plaçant ses passagers au centre de ses actions, et le logo de l'entreprise représente parfaitement cet esprit de marque. OWG commencera à fonctionner dans les mois à venir et les destinations seront annoncées sous peu. OWG a reçu l'autorisation du ministre des Transports de fournir un service de vol international régulier le 6 juillet 2020. Vous pouvez suivre le lancement d'OWG sur notre site Web, Owg.com.
Ξ A I R G W A Y S Ξ
PUBLISHER: Airgways.com
DBk: Nolinor.com / Owg.com / Facebook.com/OWG / Airgways.com
AW-POST: 202007071447AR
A\W A I R G W A Y S ®