AW | 2020 07 23 11:36 | AIRLINES
Trabajadores Latam Argentina protestan en Aeroparque
Empleados de Latam Airlines Argentina organizaron una protesta el Miércoles 22/07 para exigir definiciones sobrela situación actual de la compañía aérea en medio de la incertidumbre por sus puestos laborales, luego de que el gobierno rechazara un intento de abrir el Procedimiento de Prevención de Crisis (PPC)[Ɖ].
Las protesta realizadas este Miércoles frente al Aeropuerto Jorge Newbery de la ciudad de Buenos Aires expresan las exigencias de los empleados sobre la claridad de los puestos laborales, luego de que el Gobierno rechazara un intento de abrir el PPC, lo que estipula que la aerolínea debe continuar abonando sus sueldos.
La protesta se relaciona con la decisión de la empresa de cerrar su filial argentina indefinidamente después de 15 años de operaciones. La medida pone en riesgo 1.715 empleos. "Estamos aquí defendiendo empleos, la continuidad y pidiendo que se detenga la extorsión que se está llevando a cabo al desmembrar ilegalmente la compañía, extorsionarnos y presionarnos para que tomemos despidos voluntarios. Hacer frente a lo que quiere blanquear aquí, si tiene un plan de reducción de personal o si quiere abandonar el país, y hacerlo pero con los mecanismos legales", expresó Franco Fernández, de 29 años, miembro de la tripulación de cabina.
"No estamos interesados ​​en la compensación, queremos seguir trabajando", dijo Paula Viñas, de 51 años, trabajadora en el aeropuerto de la ciudad. Viñas dijo que recibió su salario por última vez hace tres meses y luego solo la mitad. La compañía "utilizó la pandemia para hacer ajustes y hacerla más flexible", acusó.
Posición Gobierno
El Martes 21/07, el Ministerio de Trabajo rechazó una solicitud para abrir el Procedimiento de Prevención de Crisis (PPC), que permite el despido de empleados mediante el pago del 50 por ciento de la indemnización por despido, como resultado del decreto inspirado en la pandemia de Coronavirus del Presidente Alberto Fernández que prohíbe los despidos sin causa, ordenando a las empresas que paguen una indemnización doble.
Latam Argentina
La solicitud ante la cartera laboral fue presentada por la aerolínea el 17 Junio 2020, cuando Latam Airlines Argentina había anunciado en Santiago de Chile que cerraría indefinidamente su filial argentina. Según la compañía, la más grande de la región, "las condiciones de la industria local [en Argentina], agravada por la pandemia de Covid-19", significa que "la viabilidad de un proyecto sostenible no se visualiza".
Latam Airlines Argentina ha dejado de volar a 12 destinos nacionales, mientras que sus otras subsidiarias continuarán operando en los Estados Unidos, Brasil, Chile y Perú. El transportista se declaró en bancarrota en los Estados Unidos en Mayo 2020, luego de verse obligado a reducir sus operaciones en un 95 por ciento debido a la pandemia como punto muerto en todo el mundo. Sin embargo, el mes pasado, la compañía dijo que había obtenido US$ 1.300 millones en financiamiento de un fondo de inversión estadounidense para ayudarlo a sobrevivir a la crisis de la industria de la aviación.
La protesta frente al Aeropuerto Jorge Newbery tiene por objetivo los reclamos de las fuentes laborales, la continuidad de la compañía trabajadores, como el acampe para evitar que Latam Argentina retire sus aeronaves de la aeroestación. "Tenemos personal dentro del hangar, que están en su lugar de trabajo porque todos los que estamos aquí somos empleados permanentes. No hemos sido despedidos ni hemos recibido ningún telegrama que nos haya sacado de la compañía, hasta ahora", dijo Sergio Jiménez, de 45 años, líder de la Unión Técnica y de Operaciones.
PROCEDIMIENTO PREVENTIVO DE CRISIS: El Procedimiento Preventivo de Crisis (PPC), Artículos 98 y subsiguientes de la Ley 24013, fue establecido en los años 90 en la República Argentina con la intención de que hubiera un ámbito distinto al Concurso Preventivo o Quiebra, donde se pudiera conversar entre las partes alguna forma de continuar con la empresa sin que hubiera despidos masivos y cierres de establecimientos. Esto implicaba que las partes (empresa y sindicato), se reunieran en el Ministerio de Trabajo y formularan propuestas para seguir adelante. Esta propuesta debe ser homologada por el Ministerio de Trabajo para reordenar la situación y continuar con la empresa y los trabajadores.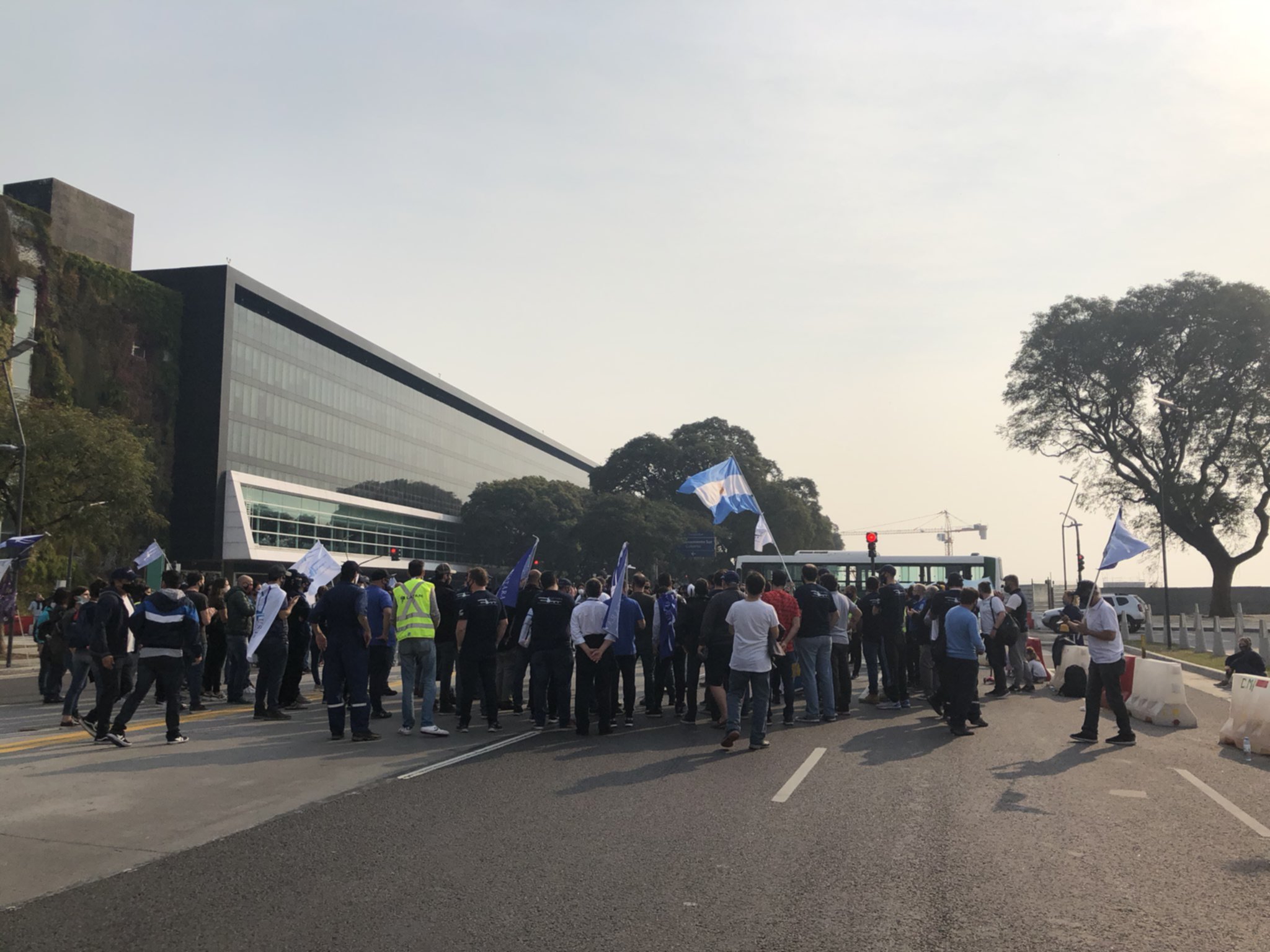 Employee claims Latam Argentina
Workers of the Latam Argentina airline protest at Aeroparque
Employees of Latam Airlines Argentina organized a protest on Wednesday 22/07 to demand definitions about the current situation of the airline in the midst of uncertainty about its jobs, after the government rejected an attempt to open the Crisis Prevention Procedure (PPC)[Ɖ].
The protests held this Wednesday in front of the Jorge Newbery Airport in the city of Buenos Aires express the demands of the employees about the clarity of the jobs, after the Government rejected an attempt to open the PPC, which stipulates that the airline must continue to pay their salaries.
The protest is related to the company's decision to close its Argentine subsidiary indefinitely after 15 years of operations. The measure puts 1,715 jobs at risk. "We are here defending jobs, continuity and asking to stop the extortion that is taking place by illegally dismembering the company, extorting money and pressuring us to take voluntary layoffs. Deal with what you want to launder here, if you have a plan to reduction of personnel or if you want to leave the country, and do it but with the legal mechanisms", said Franco Fernández, 29, a member of the cabin crew.
"We are not interested in compensation, we want to continue working", said Paula Viñas, 51, a worker at the city's airport. Viñas said she last received her salary three months ago and then only half. The company "used the pandemic to make adjustments and make it more flexible", he accused.
Government Position
On Tuesday 21/07, the Ministry of Labor rejected a request to open the Crisis Prevention Procedure (PPC), which allows the dismissal of employees by paying 50 percent of the severance pay, as a result of the decree inspired by the Coronavirus pandemic of President Alberto Fernández, which prohibits dismissals without cause, ordering companies to pay double compensation.
Latam Argentina
The application to the labor portfolio was presented by the airline on June 17, 2020, when Latam Airlines Argentina had announced in Santiago de Chile that it would indefinitely close its Argentine subsidiary. According to the company, the largest in the region, "the conditions of the local industry [in Argentina], aggravated by the Covid-19 pandemic", means that "the viability of a sustainable project is not visualized".
Latam Airlines Argentina has stopped flying to 12 domestic destinations, while its other subsidiaries will continue to operate in the United States, Brazil, Chile and Peru. The carrier filed for bankruptcy in the United States in May 2020, after being forced to cut its operations by 95 percent due to the worldwide pandemic stalemate. However, last month, the company said it had raised US$ 1.3 billion in financing from a US investment fund to help it survive the crisis in the aviation industry.
The protest in front of the Jorge Newbery Airport is aimed at the demands of the labor sources, the continuity of the company workers, such as the camp to prevent Latam Argentina from withdrawing its aircraft from the airstation. "We have personnel inside the hangar, who are at their workplace because all of us here are permanent employees. We have not been fired or received any telegram that has taken us out of the company, until now", said Sergio Jiménez, from 45 years, leader of the Technical and Operations Union.
CRISIS PREVENTIVE PROCEDURE: The Crisis Preventive Procedure (PPC), Articles 98 and subsequent of Law 24013, was established in the 1990s in the Argentine Republic with the intention that there be a different scope to the Preventive Bankruptcy or Bankruptcy, where could discuss between the parties some way to continue with the company without mass layoffs and closings of establishments. This implied that the parties (company and union) meet at the Ministry of Labor and formulate proposals to move forward. This proposal must be approved by the Ministry of Labor to reorder the situation and continue with the company and the workers.
Ξ A I R G W A Y S Ξ
PUBLISHER: Airgways.com
DBk: Latam.com / Batimes.com.ar / Afp.com / Airgways.com
AW-POST: 202007231136AR
A\W A I R G W A Y S ®