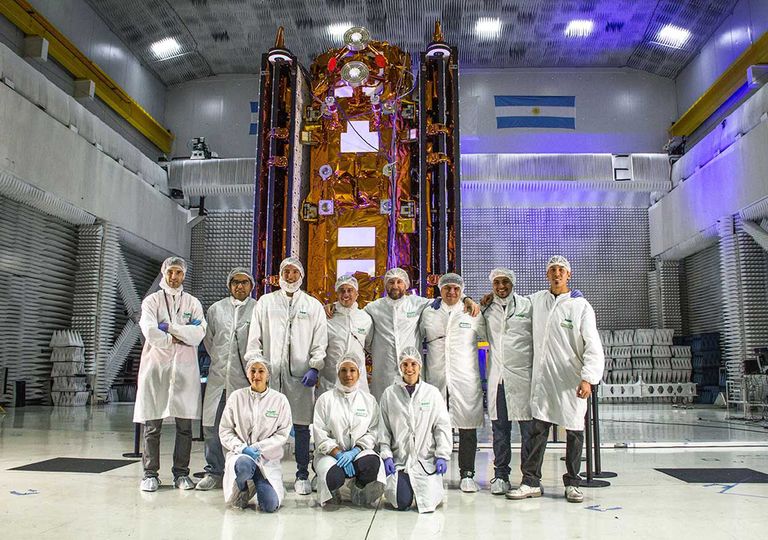 AW | 2020 07 25 11:30 | AEROSPACE
Lanzamiento del satélite argentino para la ciencia SAOCOM 1B
Luego de cuatro meses de espera y con los nuevos protocolos por la pandemia incluidos, llegó el momento de hacer historia. El satélite argentino SAOCOM 1B está listo para despegar. El SAOCOM 1A fue lanzado de manera exitosa en Octubre 2018, el segundo satélite SAOCOM 1B iba a ser puesto en órbita en Marzo 2020, pero debido a la emergencia sanitaria por la pandemia del COVID-19 ha tenido que reprogramarse. La nueva fecha para el lanzamiento ha sido programada para el SAOCOM 1B que estará acoplada en el Cohete Falcon 9 de la empresa de Elon Musk, para el Sábado 25 Julio a las 20:20 hs [hora argentina], desde Cabo Cañaveral, Estado de Florida.
Los científicos cuentan con una ventana de oportunidad para el lanzamiento de cinco días, en caso de que deba ser pospuesto por condiciones meteorológicas adversas, o por la congestión que haya en la órbita. La hora del lanzamiento será siempre la misma, porque deben conectar con los otros cinco satélites que integran la red SIASGE. Este será además el primer lanzamiento espacial extranjero de la compañía SpaceX, en los Estados Unidos en tiempos de coronavirus.
Doble puesta a punto
El satélite SAOCOM 1B que fue desarrollado en nuestro país (y comenzó a ser ensamblado en 2015), inició su viaje desde la sede de INVAP de San Carlos de Bariloche hacia Florida el 21 Febrero 2020. Lamentablemente el equipo de científicos no pudo seguir adelante con este proyecto aquel mes, las operaciones se vieron postergadas por la aparición del virus pandémico. Además de sortear toda la complejidad técnica, hasta el detalle más pequeño perfectamente calculado para garantizar el éxito del lanzamiento; el equipo de científicos tuvo que sumar a su trabajo las nuevas tensiones y responsabilidades propias de una pandemia. La comitiva argentina de la misión tuvo que compatibilizar todas las recomendaciones que establece el Ministerio de Salud Argentino, con el protocolo establecido por SpaceX y las medidas de seguridad adoptadas por el gobierno estadounidense, porque hay algunas diferencias. Como las medidas de nuestro país en este caso son un poco más rigurosas, decidieron que los ingenieros adopten y respeten durante la campaña las políticas de Argentina.
Respetando los protocolos
El protocolo ha incluido la realización de un Test PCR cinco días antes de viajar a Estados Unidos a toda la delegación técnica responsable de la campaña de lanzamiento, con una cuarentena estricta desde ese momento hasta tomar el avión de Aerolíneas Argentinas el Viernes 3 Julio 2020 hacia Estados Unidos.
Luego de una cuarentena preventiva de nueve días desde el ingreso a los Estados Unidos, trabajaron durante ese tiempo desde el hotel; el grupo "se comunicaban por videollamadas cada uno en su habitación, y sólo se veían en la sala de reuniones con todas las medidas de seguridad", afirmó el Ingeniero Mecánico de la campaña SAOCOM de la CONAE, Juan Ignacio Casais. Posteriormente fueron sometidos a dos nuevos Test PCR administrados por SpaceX (con resultados negativos), para así finalmente desde el Lunes 13/07 lograr ingresar a la base, y avanzar con los trabajos.
Las medidas de seguridad sanitarias también serán respetadas por los profesionales que brindan soporte a la operaciones de manera remota desde la Ciudad de Buenos Aires, y las provincias de Córdoba y Río Negro. Por supuesto, luego del lanzamiento del satélite este protocolo sanitario continuará cuando los científicos regresen a la Argentina por 14 días más, según informó a los medios Leandro Groetzner, Gerente de Coordinación de la CONAE.
SAOCOM 1B
Posee una cualidad que lo vuelve un lujo para la ciencia: su antena de radar opera en la banda del espectro electromagnético de las microondas (SAR, en banda "L" polarimétrico), permitiendo captar datos tanto de día como de noche, y ante cualquier condición meteorológica. Esto despertó mucho interés en la comunidad científica mundial, todos expectantes de poder hacer uso de los datos que genere, porque se convertirá en el satélite SAR en banda L, con mayor desempeño que exista hasta ahora en todo el planeta. Con la información que nos brinden estos satélites se podrá generar sistemas de alerta temprana de inundaciones, mapas de riesgo de enfermedades en los cultivos, ayudará a que los productores sepan cuál es el mejor momento para la siembra, fertilización y riego de soja, maíz, trigo y girasol. Además facilitará las tareas de vigilancia del mar argentino frente a la pesca ilegal, y también dará soporte a la gestión de emergencias ambientales, como la detección de derrames de hidrocarburos en el mar, gracias a la compleja tecnología desarrollada íntegramente en la Argentina.
SAOCOM 1B Argentina Launch
Launch of the Argentine science satellite SAOCOM 1B
After four months of waiting and with the new protocols for the pandemic included, it was time to make history. The Argentine SAOCOM 1B satellite is ready to take off. SAOCOM 1A was successfully launched in October 2018, the second SAOCOM 1B satellite was to be put into orbit in March 2020, but due to the health emergency due to the COVID-19 pandemic it had to be reprogrammed. The new launch date has been scheduled for SAOCOM 1B, which will be docked on the Falcon 9 Rocket of Elon Musk's company, for Saturday, July 25 at 8:20 p.m. [Argentine time], from Cape Canaveral, State of Florida.
Scientists have a window of opportunity for the five-day launch, in case it has to be postponed due to adverse weather conditions, or due to congestion in orbit. The launch time will always be the same, because they must connect with the other five satellites that make up the SIASGE network. This will also be the first foreign space launch by the SpaceX company, in the United States in times of coronavirus.
Double tuning
The SAOCOM 1B satellite, which was developed in our country (and began to be assembled in 2015), began its journey from INVAP headquarters in San Carlos de Bariloche to Florida on February 21, 2020. Unfortunately, the team of scientists was unable to proceed with This project that month, operations were delayed by the appearance of the pandemic virus. In addition to avoiding all the technical complexity, down to the smallest detail perfectly calculated to guarantee the success of the launch; the team of scientists had to add to their work the new tensions and responsibilities typical of a pandemic. The Argentine delegation of the mission had to reconcile all the recommendations established by the Argentine Ministry of Health, with the protocol established by SpaceX and the security measures adopted by the US government, because there are some differences. As the measures of our country in this case are a little more rigorous, they decided that the engineers adopt and respect Argentina's policies during the campaign.
Respecting the protocols
The protocol has included carrying out a PCR Test five days before traveling to the United States to all the technical delegation responsible for the launch campaign, with a strict quarantine from that moment until taking the Aerolineas Argentinas plane on Friday, July 3, 2020 towards U.S.
After a nine-day preventive quarantine since entering the United States, they worked during that time from the hotel; the group "communicated by video call, each in his room, and only saw each other in the meeting room with all the security measures", said the Mechanical Engineer of the SAOCOM campaign of CONAE, Juan Ignacio Casais. Subsequently, they were subjected to two new PCR tests administered by SpaceX (with negative results), so as to finally enter the base on Monday 13/07, and proceed with the work.
Sanitary security measures will also be respected by professionals who provide remote operations support from the City of Buenos Aires, and the provinces of Córdoba and Río Negro. Of course, after the launch of the satellite, this health protocol will continue when the scientists return to Argentina for 14 more days, according to Leandro Groetzner, CONAE Coordination Manager, informed the media.
SAOCOM 1B
It has a quality that makes it a luxury for science: its radar antenna operates in the band of the microwave electromagnetic spectrum (SAR, in the polarimetric "L" band), allowing it to capture data both day and night, and in the face of any weather condition. This aroused a lot of interest in the world scientific community, all expecting to be able to make use of the data it generates, because it will become the L-band SAR satellite, with the highest performance available to date on the entire planet. With the information provided by these satellites, it will be possible to generate early warning systems for floods, disease risk maps in crops, it will help producers to know when is the best time to plant, fertilize, and irrigate soybeans, corn, wheat and sunflower. It will also facilitate the tasks of monitoring the Argentine sea against illegal fishing, and will also support the management of environmental emergencies, such as the detection of oil spills at sea, thanks to the complex technology developed entirely in Argentina.
Ξ A I R G W A Y S Ξ
PUBLISHER: Airgways.com
DBk: Argentina.gob.ar/ciencia/conae / Invap.com.ar / Airgways.com / Meteored.com.ar
AW-POST: 202007251130AR
A\W A I R G W A Y S ®