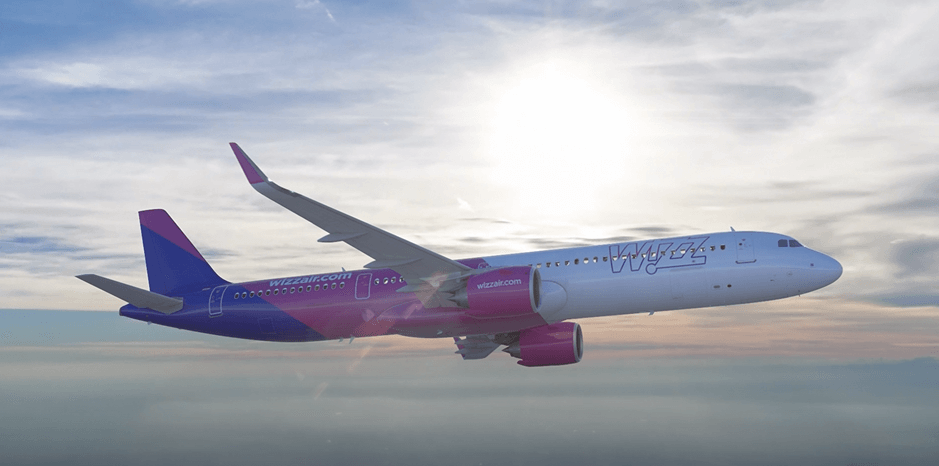 AW | 2020 07 29 19:06 | AIRLINES / INDUSTRY
Wizz Air acelerará entregas aeronaves tras acuerdo con Airbus
Wizz Air ha comunicado que está en proceso de adelantar las entregas de aeronaves narrowbodies del constructor europeo Airgus Group. La compañía matriz Wizz Air Holdings Plc acelerará la tasa de entregas de nuevos aviones desde la central europea de Airbus aprovechando los aplazamientos de otros clientes para alimentar su propia expansión. La aerolínea húngara de bajo costo recibirá unos 30 aviones A321NEO en 2021, cinco más de lo planeado previamente, dijo el Miércoles 29/07 el Presidente Ejecutivo, Jozsef Varadi, en una entrevista. Las conversaciones con Airbus incluyeron arreglos comerciales, una indicación de que la aerolínea puede estar recibiendo términos con mejores ventajas.
Wizz Air ha tratado de adelantar su regreso más rápido a medida que se reducen los bloqueos de Coronavirus, operando el 77% de su capacidad habitual la semana pasada en comparación con un promedio europeo del 40%. Para Airbus, la confianza de un cliente con más de 200 aviones de cuerpo estrecho bajo pedido es un alivio.
Las aerolíneas de todo el mundo han retirado casi universalmente las entregas para ahorrar efectivo durante la histórica sequía en los vuelos causada por la pandemia. "No hemos estado aplazando o cancelando órdenes. De hecho, estamos haciendo todo lo contrario", expresó el CEO de Wizz Air, Jozsef Varadi.
Wizz Air ha registrado una pérdida de 57 millones de Euros (US$ 67 millones) para el 2Q2020. Ha agregado 200 rutas nuevas y ha redistribuido 22 aviones a nuevos mercados, ya que otras aerolíneas son más lentas para reanudar los vuelos. La base de bajo costo del operador lo convertirá en un ganador estructural de la crisis, dijo Jozsef Varadi. Los aviones operan entre el 55% y el 70% de su capacidad dependiendo de la ruta, dijo Varadi en la entrevista. Si bien eso está por debajo del punto de equilibrio para la mayoría de las aerolíneas, está generando un flujo de caja positivo.
Airbus Group
Airbus puede estar preparado para ofrecer mejores condiciones a las aerolíneas que ocupan los llamados espacios de entrega en dificultades desocupados por otros transportistas. Un portavoz del fabricante de aviones dijo que siempre está en contacto con los clientes con respecto a los requisitos de la flota.
El CEO de Airbus, Guillaume Faury, ha reducido drásticamente las tasas de construcción de aviones, diciendo que la producción será un 40% más baja durante dos años consecutivos. La firma europea informa ganancias este próximo Jueves 30/07, y los inversores esperan nuevos ajustes después de que la Asociación Internacional de Transporte Aéreo dijo que los viajes aéreos no se recuperarán por completo hasta 2024. Mientras el rival americano Boeing reveló nuevas medidas para hacer frente a la caída de la demanda, que incluyen más recortes de producción, potencialmente más pérdidas de empleos, un retraso en el Programa 777X de cuerpo ancho y el posible cierre de una de las dos plantas que fabrican el 787 Dreamliner.
Perspectivas Wizz Air
Wizz Air continúa expandiéndose hacia Europa del Este y los nuevos mercado en el Golfo Pérsico. La compañía de presupuesto húngara espera recibir doce A321NEO al tomar las unidades canceladas de otras aerolíneas. El transportista había anticipado que los aviones se retrasarían después de que Airbus cerrara temporalmente la producción a principios de 2020.
Wizz Air accelerates Airbus deliveries
Wizz Air to accelerate aircraft deliveries after talks with Airbus
Wizz Air has communicated that it is in the process of bringing forward deliveries of narrowbodies aircraft from European manufacturer Airgus Group. Parent company Wizz Air Holdings Plc will accelerate the rate of new aircraft deliveries from Airbus' European headquarters by taking advantage of deferrals from other customers to fuel its own expansion. The Hungarian low-cost airline will receive some 30 A321NEO planes in 2021, five more than previously planned, Chief Executive Jozsef Varadi said in an interview on Wednesday 29/07. Talks with Airbus included trade arrangements, an indication that the airline may be receiving terms with better benefits.
Wizz Air has tried to overtake its faster return as Coronavirus crashes are reduced, operating 77% of its normal capacity last week compared to a European average of 40%. For Airbus, the trust of a customer with more than 200 narrow-body aircraft on demand is a relief.
Airlines around the world have almost universally withdrawn deliveries to save cash during the historic flight drought caused by the pandemic. "We have not been deferring or canceling orders. In fact, we are doing the opposite", said Wizz Air CEO Jozsef Varadi.
Wizz Air has recorded a loss of 57 million Euros (US $ 67 million) for 2Q2020. It has added 200 new routes and redistributed 22 planes to new markets, as other airlines are slower to resume flights. The operator's low-cost base will make it a structural winner of the crisis, said Jozsef Varadi. The planes operate between 55% and 70% of their capacity depending on the route, Varadi said in the interview. While that is below break-even point for most airlines, it is generating positive cash flow.
Airbus Group
Airbus may be ready to offer better conditions to airlines occupying so-called distressed delivery spaces unoccupied by other carriers. A spokesperson for the aircraft maker said it is always in contact with customers regarding fleet requirements.
Airbus CEO Guillaume Faury has slashed aircraft construction rates, saying output will be 40% lower for two consecutive years. The European firm reports earnings this coming Thursday 30/07, and investors expect further adjustments after the International Air Transport Association said that air travel will not fully recover until 2024. While American rival Boeing revealed new measures to make Faced with falling demand, which includes more production cuts, potentially more job losses, a delay in the 777X Widebody Program and the possible closure of one of the two plants that manufacture the 787 Dreamliner.
Wizz Air perspective
Wizz Air continues to expand into Eastern Europe and new markets in the Persian Gulf. The Hungarian budget company expects to receive twelve A321NEO by taking canceled units from other airlines. The carrier had anticipated that the planes would be delayed after Airbus temporarily closed production in early 2020.
A Wizz Air felgyorsítja az Airbus szállítását
A Wizz Air felgyorsítja az Airbus repülőgépek szállítását
A Wizz Air közölte, hogy folyamatban van a keskenytestestestes repülőgépek szállítása az európai gyártó, az Airgus Group számára. Az anyavállalat, a Wizz Air Holdings Plc felgyorsítja az Airbus európai székhelyéről érkező új repülőgépek szállítását azáltal, hogy kihasználja a többi ügyfél halasztását, hogy kibővítse a saját terjeszkedését. A magyar olcsó légitársaság 2021-ben mintegy 30 A321NEO repülőgépet fog kapni, ez az ötnél több, mint korábban terveztük mondta Varadi József vezérigazgató a 2007. július 29-én, szerdán készített interjúban. Az Airbus-szal folytatott tárgyalások tartalmaztak kereskedelmi megállapodásokat, jelezve, hogy a légitársaság jobb előnyökkel járhat.
A Wizz Air megpróbálta meghaladni gyorsabb visszatérését, mivel a koronavírus összeomlása csökken, a múlt héten a normál kapacitás 77% -át üzemelteti, szemben az európai átlag 40% -ával. Az Airbus számára megkönnyebbülés az ügyfél bizalma, amely több mint 200 keskenytestes testű repülőgépet igényel.
A világ minden tájáról érkező légitársaságok szinte egyetemesen visszavonták a szállításokat, hogy készpénzt takarítsanak meg a világjárvány okozta történelmi repülési aszály alatt. "Nem halasztottuk el vagy nem vontuk vissza a megrendeléseket. Valójában éppen ellenkezőleg cselekszünk" – mondta Joysef Varadi, a Wizz Air vezérigazgatója.
A Wizz Air 57 millió Euró (67 millió Dollár) veszteséget könyvelt el a 2Q2020-ra vonatkozóan. 200 új útvonalat adott ki és 22 repülőgépet osztott fel új piacokra, mivel más légitársaságok lassabban folytatják a járatokat. Az operátor olcsó bázisa a válság strukturális győztesévé teszi majd mondta Varadi József. A repülőgépek kapacitásuk 55–70% -a repül az útvonaltól függően mondta Varadi az interjúban. Noha a legtöbb légitársaság esetében ez a küszöbérték alatt van, pozitív cash flow-kat generál.
Airbus Group
Az Airbus készen áll arra, hogy jobb feltételeket kínáljon az olyan légitársaságok számára, amelyek úgynevezett bajba jutott szállítási tereket foglalnak el más légitársaságok által nem foglaltakkal. A repülőgépgyártó szóvivője szerint a flottakövetelményekkel kapcsolatban mindig kapcsolatba lép az ügyfelekkel.
Az Airbus vezérigazgatója, Guillaume Faury csökkentette a repülőgép-építési arányt, mondván, hogy a kibocsátás két egymást követő évben 40% -kal alacsonyabb lesz. Az európai cég a jövedelmet a következő, 2007. július 30-án, csütörtökön számolja be, és a befektetők további kiigazításokra számítanak, miután a Nemzetközi Légi Közlekedési Szövetség kijelentette, hogy a légi utazás 2024-ig nem fog teljes mértékben helyreállni. Míg az amerikai rivális, a Boeing új intézkedéseket mutatott be a A csökkenő kereslettel, amely magában foglalja a további termeléscsökkentéseket, potenciálisan több munkahely-veszteséget, a 777X Widebody Program késleltetését és a 787 Dreamliner gyártását végző két üzem egyikének lehetséges bezárását.
Kilátások Wizz Air
A Wizz Air tovább terjeszkedik Kelet-Európába és új piacokra a Perzsa-öbölben. A magyar költségvetési társaság tizenkét A321NEO-t számít arra, hogy törölt egységeket más légitársaságoktól vesz át. A légifuvarozó azt vélte, hogy a repülőgépek késni fognak, miután az Airbus ideiglenesen leállította a gyártást 2020 elején.
Ξ A I R G W A Y S Ξ
PUBLISHER: Airgways.com
DBk: Airbus.com / Wizzair.com / Bloomberg.com / Airgways.com
AW-POST: 202007291906AR
A\W A I R G W A Y S ®