AW | 2020 09 12 12:37 | AIRLINES
InterCaribbean Airways proyecta expansión servicios
La aerolínea con base en las Islas Turcas y Caicos, InterCaribbean Airways Ltd., ha obtenido las aprobaciones gubernamentales de Barbados para llenar el mercado dejado por LIAT Airlines. La aerolínea regional del Caribe proyecta que este país se convertirá en una importante plataforma para las operaciones de las aerolíneas en el Caribe.
En un enlace virtual con funcionarios de turismo en The Abidah By Accra Hotel el 11/09 el fundador y Presidente de InterCaribbean Airways, Lyndon Gardiner, dijo a los planificadores de turismo y profesionales de viajes que su objetivo era continuar haciendo crecer a Barbados como el centro regional. Gilles Bussutil, Estratega Regional de Servicio al Cliente de la aerolínea, ha expresado la intención era aprovechar al máximo las instalaciones para pasajeros disponibles en el Aeropuerto Internacional Grantley Adams. «Con la asociación con otras aerolíneas, queremos asegurarnos de que Barbados se convierta en el centro de viajes hacia el destino de los clientes en todo el mundo, ya sea que vengan a Barbados o salgan de Barbados», expresó Grantley Adams. Además, ha comunicado que estaban trabajando en la idea de un centro de viajes con el Ministerio de Turismo, a cargo de la Senadora Lisa Cummins y otras aerolíneas asociadas para convertir a Barbados en el centro del Caribe en lo que respecta al transporte.
InterCaribbbean Airways lanzó su servicio de Barbados el 4 de Agosto 2020, ofreciendo viajes directos a Dominica, Santa Lucía y Granada. Hay planes para expandir las operaciones en la región en breve. La línea aérea proyectará un mejoramiento de los planes en los tiempos de respuesta para los viajes, que durante mucho tiempo ha sido una fuente de insatisfacción para los viajeros caribeños, así como la provisión de mejores comodidades y servicios a bordo de aviones.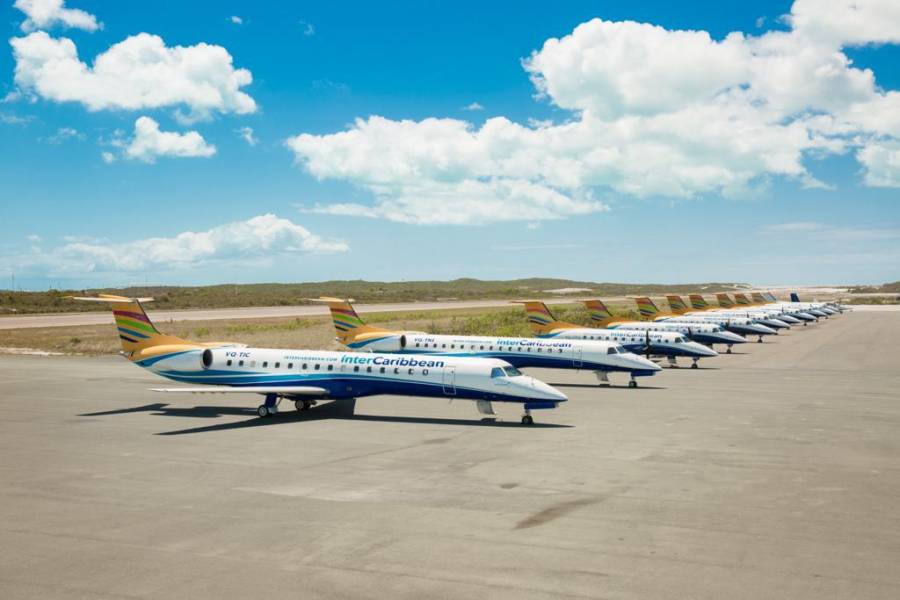 InterCaribbean expands demand
InterCaribbean Airways plans service expansion
The Turks and Caicos Islands-based airline, InterCaribbean Airways Ltd., has obtained Barbados government approvals to fill the market left by LIAT Airlines. The Caribbean regional airline projects that this country will become an important platform for airline operations in the Caribbean.
In a virtual link with tourism officials at The Abidah By Accra Hotel on 9/11 InterCaribbean Airways Founder and President Lyndon Gardiner told tourism planners and travel professionals that his goal was to continue to grow Barbados as the regional center. Gilles Bussutil, the airline's Regional Customer Service Strategist, has expressed the intention was to take full advantage of the passenger facilities available at Grantley Adams International Airport. «By partnering with other airlines, we want to ensure that Barbados becomes the hub of destination travel for customers around the world, whether they are coming to Barbados or leaving Barbados», said Grantley Adams. In addition, it has communicated that they were working on the idea of ​​a travel center with the Ministry of Tourism, run by Senator Lisa Cummins and other partner airlines to make Barbados the center of the Caribbean in regards to transportation.
InterCaribbbean Airways launched its Barbados service on August 4, 2020, offering direct flights to Dominica, Saint Lucia and Grenada. There are plans to expand operations in the region shortly. The airline will project improved response time plans for travel, which has long been a source of dissatisfaction for Caribbean travelers, as well as the provision of better amenities and services on board aircraft.

PUBLISHER: Airgways.com
DBk: Intercaribbean.com / Airgways.com
AW-POST: 202009121237AR
A\W A I R G W A Y S ®