AW | 2020 09 25 14:33 | AIRPORTS
Aéreas solicitan retornar al Aeropuerto de Bogotá, Colombia
Más de media docena de aerolíneas están solicitando pista para retornar las operaciones en el Aeropuerto Internacional Bogotá/El Dorado de la República de Colombia, cuya conectividad aérea internacional se podría reactivar a partir de Octubre 2020, informó este Viernes 25/09 la Agencia Estatal de promoción ProColombia. "De forma coordinada y bajo estrictos protocolos de bioseguridad, aerolíneas están pidiendo pista en Bogotá, una de las ciudades más importantes para las conexiones aéreas internacionales y la cual hace parte de la primera fase de reactivación para comenzar sus operaciones de manera gradual", explicó la Presidenta de ProColombia, Flavia Santoro.
Las aerolíneas Aeroméxico, American Airlines, Delta Air Lines, Spirit Airlines, United Airlines, Wingo Air y Avianca Airlines han confirmado su aterrizaje al Aeropuerto Internacional El Dorado a partir del mes de Octubre 2020. "La reapertura del Aeropuerto El Dorado es una gran noticia para todos los colombianos, sabemos que la operación de vuelos nacionales e internacionales tendrá un impacto positivo en la reactivación económica del país. Contamos con la colaboración de todos los viajeros para que este proceso sea seguro y cómodo. Este paso nos permite conectar de nuevo al país con el mundo", expresó Natali Leal, Gerente de Asuntos Institucionales y Legales de Opain, operadora de la terminal aérea.
El Gobierno colombiano proyecta que la reactivación permita el reinicio de operaciones de rutas a países como Estados Unidos, Bolivia, Brasil, Ecuador, Guatemala, México y República Dominicana. Por ello Aeroméxico comenzará vuelos desde Ciudad de México; American Airlines desde Dallas y Miami; Delta Air Lines desde Atlanta; Spirit Airlines desde Fort Lauderdale, United Airlines desde Newark y Houston; Wingo Air desde Santo Domingo, Punta Cana, Quito, Guayaquil y Cancún y Avianca Airlines desde ciudades de EE.UU., Brasil, Ecuador, México, Guatemala, Bolivia y República Dominicana. "Estamos enfocados en recuperar la red de rutas que teníamos antes de la coyuntura, para así lograr un restablecimiento gradual de la capacidad aérea. El objetivo es que para final de año haya "un 40 % de la oferta en sillas y frecuencias de una semana típica que teníamos en febrero 2020. La confianza de las aerolíneas para regresar a Bogotá es clave, dado el alto volumen de operaciones aéreas que maneja la ciudad", expresó la titular de ProColombia.
Point of Care Testing (POCT)
El Aeropuerto Internacional El Dorado ha inaugurado este Miércoles 23/09 un laboratorio propio para la toma de pruebas de detección de coronavirus para los viajeros de vuelos domésticos e internacionales que las requieran. "Quise acompañar el lanzamiento de la alianza entre OPAIN y el laboratorio Synlab para poner al servicio el primer laboratorio in house en el aeropuerto para realizar pruebas PCR", dijo la Ministra de Transporte, Ángela María Orozco, durante la presentación inaugural. Con esta estrategia, de la que Colombia es pionera en la región, las autoridades esperan garantizar la seguridad y tranquilidad de los pasajeros cumpliendo con todos los protocolos de bioseguridad.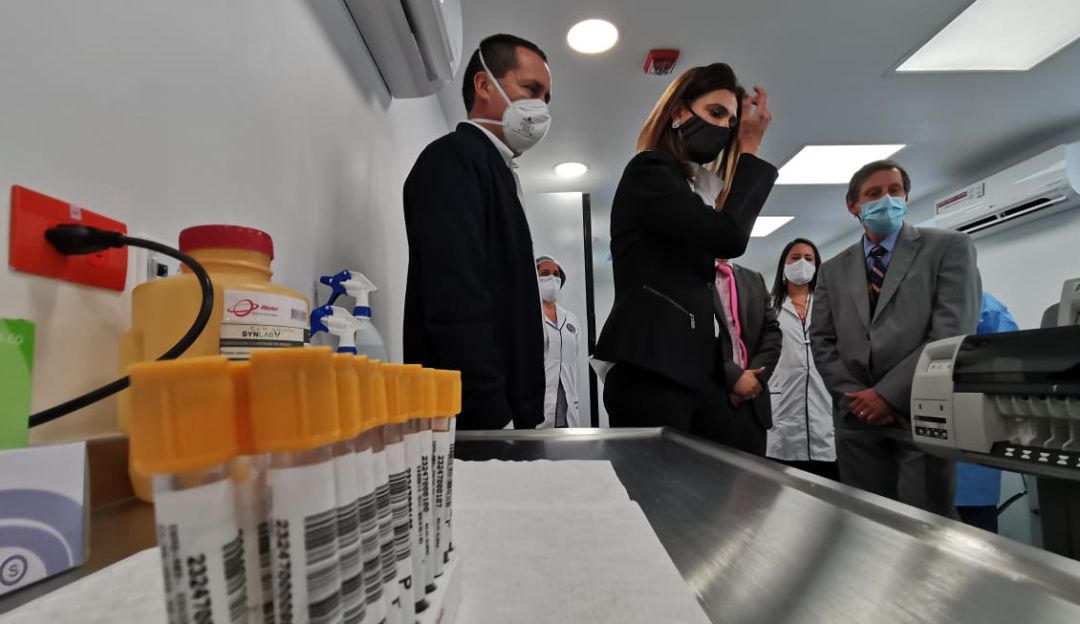 El Test Center de Coronavirus de El Dorado ofrece cuatro tipos de pruebas diagnósticas: la de anticuerpos, la de antígeno, la PCR y la Point of Care Testing (POCT). "Esta sede fue adecuada en tiempo récord, hoy lo estamos inaugurando y aquí atendemos a los trabajadores y también a los viajeros. Esta es una primicia aquí (en Colombia) y creo que es de fácil acceso para los viajeros", dijo el Director Ejecutivo de Synlab en Colombia, Sandor Spakovszky.
El centro de diagnóstico tiene capacidad para procesar hasta 2.000 pruebas diarias, una cifra que puede llegar a ser mayor gracias a un plan de apoyo diseñado por Synlab para atender la demanda requerida. "Todas las pruebas, con excepción de la PCR clásica, las ofrecemos al usuario aquí en el aeropuerto en dos horas máximo en un horario Domingo a Domingo de 06:00 hs de la mañana a 20:00 hs de la noche", agregó Sandor Spakovszky. Según la administración de El Dorado, el aeropuerto beneficia a más de 25.000 personas que dependen de su operación.
La semana pasada, al anunciar la reanudación gradual de vuelos internacionales, el Gobierno colombiano dijo que las primeras operaciones serán con ciudades de Estados Unidos, Ecuador, México, Bolivia, Brasil, República Dominicana y Guatemala. "Hemos encontrado en estos aliados (OPAIN y SynLab) los mejores aliados para sacar adelante el restablecimiento del transporte aéreo doméstico y el internacional de una manera segura", subrayó la Ministra de Transporte Ángela María Orozco.
Restablecimiento ops aeropuertos
El Dorado y los aeropuertos Alfonso Bonilla Aragón (Cali) y José María Córdova (Medellín) reanudaron el Lunes 21/09 de manera gradual los vuelos internacionales que fueron suspendidos el pasado 23 de Marzo 2020 como medida para contener la propagación del virus, mientras que el Aeropuerto Rafael Núñez (Cartagena) ha reanudado sus operaciones el Sábado 19/09 con vuelos de prueba piloto.
Requerimientos PAX Aeropuerto
Para volar a Colombia, los viajeros deberán presentar una prueba PCR negativa de COVID-19 que haya sido tomada al menos 96 horas antes de la salida del vuelo, así como deberán usar mascarilla todo el tiempo. Igualmente, el Aeropuerto El Dorado, cuya operación estuvo paralizada casi medio año por la pandemia de COVID-19, está utilizando la tecnología para evitar que los viajeros tengan contacto con superficies y para tomar la temperatura corporal.
Airlines request runway in El Dorado
Airlines request to return to Bogotá Airport, Colombia
More than half a dozen airlines are requesting a runway to return to operations at the Bogotá/El Dorado Internationa Airport of the Republic of Colombia, whose international air connectivity could be reactivated as of October 2020, reported this Friday 09/25 the State Promotion Agency ProColombia. "In a coordinated manner and under strict biosafety protocols, airlines are requesting a runway in Bogotá, one of the most important cities for international air connections and which is part of the first reactivation phase to begin operations gradually", he explained. the President of ProColombia, Flavia Santoro.
Aeroméxico, American Airlines, Delta Air Lines, Spirit Airlines, United Airlines, Wingo Air and Avianca Airlines have confirmed their landing at El Dorado International Airport starting in October 2020. "The reopening of El Dorado Airport is great news For all Colombians, we know that the operation of national and international flights will have a positive impact on the economic reactivation of the country. We count on the collaboration of all travelers to make this process safe and comfortable. This step allows us to reconnect to the country with the worl", said Natali Leal, Manager of Institutional and Legal Affairs of Opain, operator of the air terminal.
The Colombian Government projects that the reactivation will allow the restart of operations of routes to countries such as the United States, Bolivia, Brazil, Ecuador, Guatemala, Mexico and the Dominican Republic. For this reason, Aeroméxico will begin flights from Mexico City; American Airlines from Dallas and Miami; Delta Air Lines from Atlanta; Spirit Airlines from Fort Lauderdale, United Airlines from Newark and Houston; Wingo Air from Santo Domingo, Punta Cana, Quito, Guayaquil and Cancun and Avianca Airlines from cities in the US, Brazil, Ecuador, Mexico, Guatemala, Bolivia and the Dominican Republic.
"We are focused on recovering the route network that we had before the situation, in order to achieve a gradual reestablishment of air capacity. The objective is that by the end of the year there will be" 40% of the supply in chairs and frequencies for one week typical that we had in February 2020. The confidence of the airlines to return to Bogotá is key, given the high volume of air operations handled by the city", said the head of ProColombia.
Point of Care Testing (POCT)
The El Dorado International Airport has inaugurated this Wednesday 09/23 its own laboratory for taking coronavirus detection tests for travelers on domestic and international flights that require them. "I wanted to accompany the launch of the alliance between OPAIN and the Synlab laboratory to put into service the first in-house laboratory at the airport to carry out PCR tests", said the Minister of Transportation, Angela María Orozco, during the opening presentation. With this strategy, of which Colombia is a pioneer in the region, the authorities hope to guarantee the safety and tranquility of passengers by complying with all biosecurity protocols.
The El Dorado Coronavirus Test Center offers four types of diagnostic tests: antibody, antigen, PCR, and Point of Care Testing (POCT). "This headquarters was adequate in record time, today we are inaugurating it and here we serve workers and also travelers. This is a first here (in Colombia) and I think it is easy for travelers to access", said Synlab Colombia Executive Director Sandor Spakovszky.
The diagnostic center has the capacity to process up to 2,000 tests per day, a figure that can be higher thanks to a support plan designed by Synlab to meet the required demand. "All tests, with the exception of the classic PCR, are offered to the user here at the airport in a maximum of two hours from Sunday to Sunday from 06:00 in the morning to 20:00 at night", added Sandor Spakovszky. According to the El Dorado administration, the airport benefits more than 25,000 people who depend on its operation.
Last week, when announcing the gradual resumption of international flights, the Colombian government said that the first operations will be with cities in the United States, Ecuador, Mexico, Bolivia, Brazil, the Dominican Republic and Guatemala. "We have found in these allies (OPAIN and SynLab) the best allies to carry out the reestablishment of domestic and international air transport in a safe way", stressed the Minister of Transport Angela María Orozco.
Reset ops airports
El Dorado and the airports Alfonso Bonilla Aragón (Cali) and José María Córdova (Medellín) gradually resumed on Monday 09/21 international flights that were suspended on March 23, 2020 as a measure to contain the spread of the virus, while Rafael Núñez Airport (Cartagena) has resumed operations on Saturday 09/19 with pilot test flights.
PAX Airport Requirements
To fly to Colombia, travelers must present a negative PCR test for COVID-19 that has been taken at least 96 hours before flight departure, as well as must wear a mask at all times. Likewise, El Dorado Airport, whose operation was paralyzed for almost half a year due to the COVID-19 pandemic, is using technology to prevent travelers from having contact with surfaces and to take body temperature.

PUBLISHER: Airgways.com
DBk: Mintransporte.gov.co / Eldorado.aero / Procolombmia.co / Airgways.com / Efe.com / Santiago Vergara
AW-POST: 202009251433AR
A\W A I R G W A Y S ®