AW | 2018 04 04 13:45 | INDUSTRY
Embraer efectúa primera entrega del E190-E2 a Widerøe Airlines
Embraer entrega este miércoles en las instalaciones de Sao José dos Campos, Brasil, la primera aeronave E190-E2 al cliente de lanzamiento noruego Widerøe Airlines. La nueva aeronave producida en serie del nuevo modelo denominado "Etapa 2" es una variante mejorada del prototipo Embraer E190-100 original.
El contrato firmado con Embraer, permitirá a Widerøe Airlines adquirir 15 E190-E2 siendo tres pedidos firmes para el E190-E2 y derechos de compra para otras 12 aeronaves. La solicitud tiene un valor potencial de hasta U$S 873 millones de dólares, a precio de lista, con todos los derechos de compra que se ejercen.
ENTREGA DEL PRIMER EMBRAER E190-E2 AL CLIENTE LANZAMIENTO WIDERØE AIRLINES
Embraer Etapa 2
La entrega marca el inicio de una nueva jornada para el tercer mayor fabricante de aviones en el mundo, detrás de Boeing y Airbus. "El primer integrante de los E-Jets E2 es un triunfo del talento, de la ingeniería y de la pura determinación en desarrollar el jet de corredor único más avanzado, ecológico y eficiente en combustible del mundo", dice Embraer. Además del modelo E190-E2, también forman parte de la nueva familia de jets comerciales el E195-E2 y el E175-E2, con previsiones de entrega en 2019 y 2020, respectivamente.
Actualmente, Embraer tiene 80 pedidos firmes y 77 opciones de compra para el E190-E2. Si todos los derechos de compra se ejercen, los contratos pueden llegar a U$S 9.200 millones. Desde que el programa de los E-Jets E2 fue lanzado en 2013, Embraer recibió un total de 275 pedidos firmes más 415 opciones y derechos de compra.
La empresa lidera la fabricación de jets comerciales de hasta 150 asientos y espera aumentar su presencia global con el nuevo avión. La evaluación es que el mercado mundial para aeronaves entre 70 y 130 asientos es de 6.400 aviones hasta 2035, lo que equivale a U$S 300 mil millones.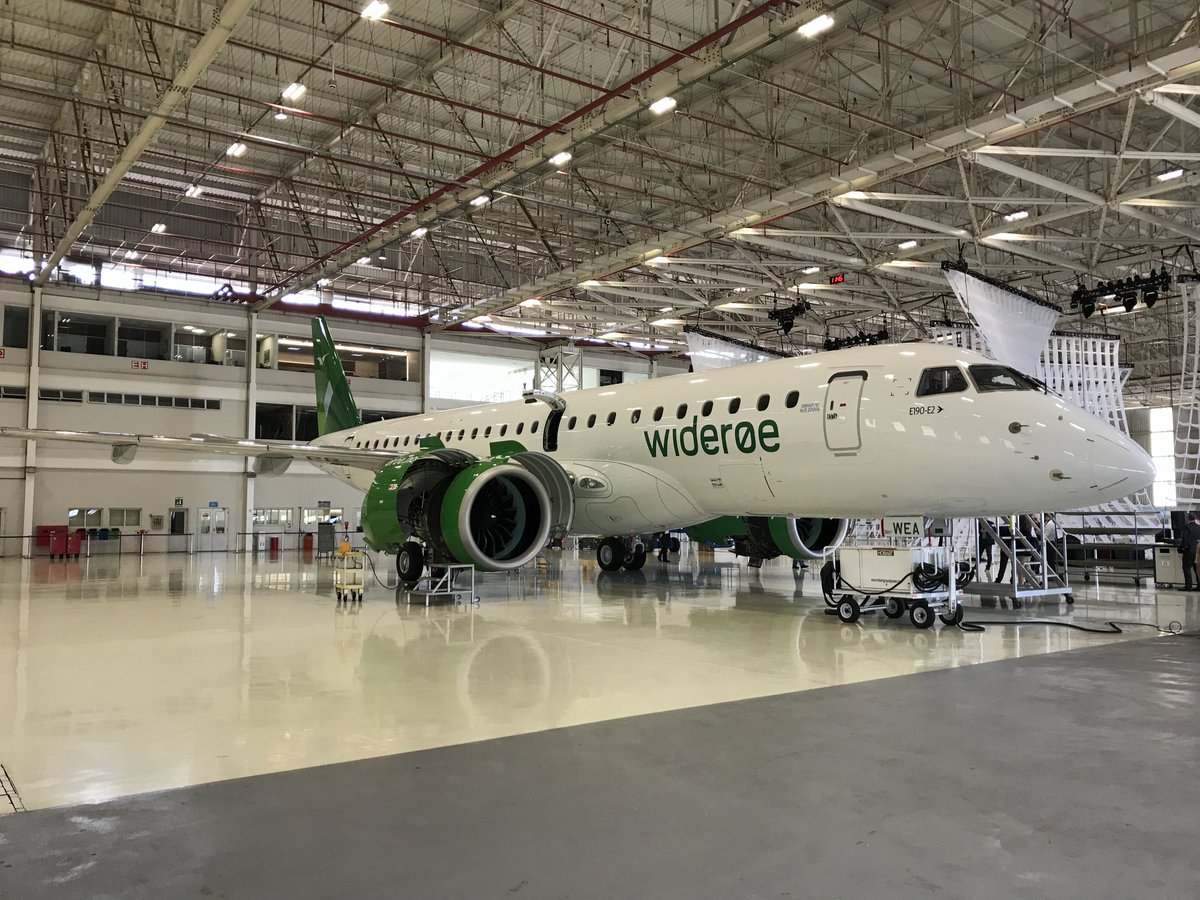 Embraer delivers first Embraer E190-E2
Embraer makes first delivery of the E190-E2 to Widerøe Airlines
Embraer delivers on Wednesday at the facilities of Sao Jose dos Campos, Brazil, the first aircraft E190-E2 to the Norwegian launch customer Widerøe Airlines. The new aircraft produced in series of the new model called "Stage 2" is an improved variant of the original Embraer E190-100 prototype.
The contract signed with Embraer will allow Widerøe Airlines to acquire 15 E190-E2 with three firm orders for the E190-E2 and purchase rights for another 12 aircraft. The request has a potential value of up to US $ 873 million dollars, at the list price, with all the purchase rights that are exercised.
Embraer Stage 2
The delivery marks the beginning of a new day for the third largest aircraft manufacturer in the world, behind Boeing and Airbus. "The first member of E-Jets E2 is a triumph of talent, engineering and pure determination in developing the world's most advanced, eco-friendly and fuel-efficient single corridor jet", says Embraer. In addition to the model E190-E2, the E195-E2 and the E175-E2 are also part of the new family of commercial jets, with delivery forecasts in 2019 and 2020, respectively.
Currently, Embraer has 80 firm orders and 77 purchase options for the E190-E2. If all the purchase rights are exercised, the contracts can reach U$S 9,200 million. Since the E2 E-Jets program was launched in 2013, Embraer received a total of 275 firm orders plus 415 options and purchase rights.
The company leads the production of commercial jets of up to 150 seats and hopes to increase its global presence with the new jet. The assessment is that the global market for aircraft between 70 and 130 seats is 6,400 aircraft until 2035, which is equivalent to U$S 300 billion. A \ W
Embraer entrega o primeiro Embraer E190-E2
Embraer faz primeira entrega do E190-E2 para a Widerøe Airlines
A Embraer entrega na quarta-feira nas instalações de São José dos Campos, no Brasil, a primeira aeronave Embraer E190-E2 para o cliente de lançamento norueguês Widerøe Airlines. A nova aeronave produzida em série do novo modelo chamado "Stage 2" é uma variante aprimorada do protótipo original da Embraer E190-100.

O contrato assinado com a Embraer permitirá que a Widerøe Airlines adquira 15 E190-E2 com três pedidos firmes para o E190-E2 e direitos de compra para outras 12 aeronaves. A solicitação tem um valor potencial de até U$S 873 milhões de dólares, pelo preço de lista, com todos os direitos de compra exercidos.
MAPA DAS ROTAS DE WIDERØE AIRLINES
Estágio Embraer 2
A entrega marca o início de um novo dia para o terceiro maior fabricante de aeronaves do mundo, atrás da Boeing e da Airbus. "O primeiro membro da E-Jets E2 é um triunfo do talento, engenharia e pura determinação em desenvolver a mais avançada do mundo, eco-friendly e único corredor jet-fuel eficiente", diz Embraer. Em adição ao modelo E190-E2, a E2-E195 e E175 o-E2 são também parte da nova família de jactos comerciais, com a entrega em 2019 e 2020 Previsões, respectivamente.
Atualmente, a Embraer possui 80 pedidos firmes e 77 opções de compra para o E190-E2. Se todos os direitos de compra forem exercidos, os contratos podem chegar a US $ 9,2 bilhões. Desde o lançamento do programa E2 E-Jets, em 2013, a Embraer recebeu um total de 275 pedidos firmes, mais 415 opções e direitos de compra.
A empresa lidera a produção de jatos comerciais de até 150 assentos e espera aumentar sua presença global com o novo jato. A avaliação é que o mercado global de aeronaves entre 70 e 130 assentos é de 6.400 aeronaves até 2035, o equivalente a U$S 300 bilhões. A\W
Ξ A I R G W A Y S Ξ
SOURCE:  Airgways.com
DBk: Embraer.com / Airgways.com / Paul Thompson (FlyingPhotog)
AW-POST: 201804041345AR
A\W   A I R G W A Y S ®