AW | 2018 04 04 14:24 | AIRPORTS
El Nuevo Aeropuerto de Estambul será el más grande del mundo
El Nuevo Aeropuerto de Estambul (İstanbul Yeni Havalimanı) es un aeropuerto internacional en construcción en el Distrito de Arnavutköy en el lado europeo de Estambul, Turquía.
El aeropuerto está planeado como el aeropuerto más grande del mundo, con una capacidad anual de 150 millones de pasajeros en su última etapa de expansión planificada, mientras que se puede actualizar para manejar 200 millones de pasajeros anuales si es necesario en el futuro. El aeropuerto fue planeado debido a una supuesta falta de capacidad en los aeropuertos existentes de Estambul. Será el tercer aeropuerto internacional que se construirá en Estambul después del aeropuerto Atatürk y el Aeropuerto Sabiha Gökçen. El Aeropuerto de Atatürk se cerrará para vuelos regulares de pasajeros una vez que el nuevo aeropuerto esté en funcionamiento; y su código IATA IST se transferirán al nuevo aeropuerto.
A partir de marzo de 2018, se completa alrededor del 80% de la primera etapa de la construcción. La inauguración del aeropuerto está prevista para el 29 de octubre de 2018. Se informó que el primer aterrizaje de prueba en el aeropuerto se llevaría a cabo el 26 de febrero de 2018, sin embargo, esto no sucedió.
EL NUEVO AEROPUERTO INTERNACIONAL DE ESTAMBUL SERÁ EL MÁS GRANDE DEL MUNDO
La construcción del tercer aeropuerto de Estambul se completará a tiempo, dijo el martes el Ministro de Transporte, Asuntos Marítimos y Comunicaciones de Turquía, Ahmet Arslan. El Ministro de Transporte, Ahmet Arslan, dice que el cuello de botella financiero está fuera de duda en el proyecto. "El cuello de botella [financiero] está fuera de cuestión en el proyecto. El proyecto se completará a tiempo", dijo Arslan a la Agencia Anadolu. Las declaraciones de Arslan se produjeron después de que los medios de comunicación afirmaron que "la dificultad financiera aparece en el proyecto aeroportuario más grande del mundo". Agregó que alrededor del 85% de la construcción del aeropuerto se ha completado. Arslan dijo que el contratista continúa su inversión de acuerdo con el programa de trabajo aprobado.
La inauguración oficial de la primera fase del nuevo aeropuerto está prevista para el 29 Octubre 2018, el día en que Turquía celebra su Día de la República. Cuando se complete, el nuevo aeropuerto asumirá la mayor parte del tráfico de pasajeros del Aeropuerto Internacional Ataturk, que alberga 250 aerolíneas que vuelan a más de 350 destinos, lo que lo convierte en uno de los centros de transporte más grandes del mundo.
Cuando se complete la primera fase en 2018, tendrá la terminal más grande del mundo bajo un mismo techo, con un área de piso bruto de casi 11 millones de pies cuadrados y la capacidad de atender a 90 millones de pasajeros al año. Con la finalización de todas las fases, se espera que el aeropuerto sea el más activo del mundo, con vuelos a más de 350 destinos y, finalmente, una capacidad anual de 200 millones de pasajeros.  
New Istambul Airport will be completed on time
The New Istanbul Airport will be the largest in the world
The New Istanbul Airport (İstanbul Yeni Havalimanı) is an international airport under construction in the Arnavutköy District on the European side of Istanbul, Turkey.
The airport is planned as the largest airport in the world, with an annual capacity of 150 million passengers in its last stage of planned expansion, while it can be updated to handle 200 million passengers per year if necessary in the future. The airport was planned due to a supposed lack of capacity in the existing airports of Istanbul. It will be the third international airport to be built in Istanbul after Atatürk Airport and Sabiha Gökçen Airport. Atatürk Airport will be closed for regular passenger flights once the new airport is operational; and your IATA IST code will be transferred to the new airport.
As of March 2018, about 80% of the first stage of construction is completed. The inauguration of the airport is scheduled for October 29, 2018. It was reported that the first test landing at the airport would take place on February 26, 2018, however, this did not happen.
MAP OF THE AREA OF THE NEW ISTANBUL INTERNATIONAL AIRPORT
The construction of Istanbul's third airport will be completed on time, Turkey's Minister of Transport, Maritime Affairs and Communications, Ahmet Arslan, said on Tuesday. The Minister of Transport, Ahmet Arslan, says that the financial bottleneck is beyond doubt in the project. "The [financial] bottleneck is out of the question in the project, the project will be completed on time", Arslan told Anadolu Agency. Arslan's statements came after the media claimed that "the financial difficulty appears in the largest airport project in the world". He added that around 85% of the construction of the airport has been completed. Arslan said that the contractor continues its investment in accordance with the approved work program.
The official opening of the first phase of the new airport is scheduled for October 29, 2018, the day Turkey celebrates its Republic Day. When completed, the new airport will take over most of the passenger traffic from the Ataturk International Airport, which houses 250 airlines that fly to more than 350 destinations, making it one of the largest transportation hubs in the world.
When the first phase is completed in 2018, it will have the largest terminal in the world under one roof, with a gross floor area of ​​almost 11 million square feet and the capacity to serve 90 million passengers a year. With the completion of all phases, the airport is expected to be the busiest in the world, with flights to more than 350 destinations and, finally, an annual capacity of 200 million passengers. A \ W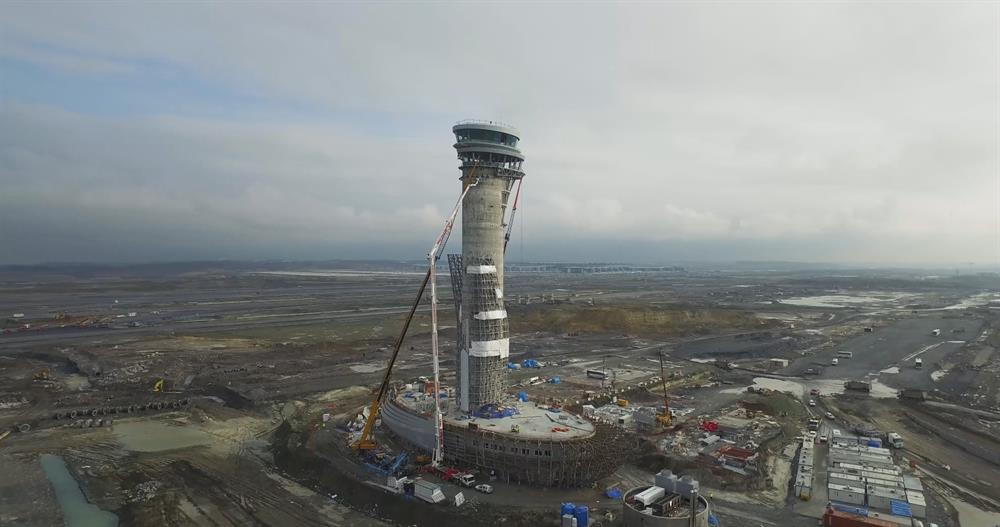 Yeni Istambul Havaalanı zamanında tamamlanacak
Yeni İstanbul Havalimanı dünyanın en büyüğü olacak
İstanbul Yeni Havalimanı, İstanbul'un Avrupa yakasında Arnavutköy İlçesi'nde yapım aşamasında olan uluslararası bir havalimanıdır.
Havalimanı, planlanan genişlemenin son aşamasında yıllık 150 milyon yolcu kapasitesine sahip, dünyanın en büyük havalimanı olarak planlanırken, gerektiğinde yılda 200 milyon yolcunun idare edilmesi için güncellenebilir. Havalimanı, İstanbul'un mevcut havalimanlarında sözde kapasite eksikliği nedeniyle planlandı. Atatürk Havalimanı ve Sabiha Gökçen Havalimanı'ndan sonra İstanbul'da yapılacak üçüncü uluslararası havalimanı olacak. Yeni havalimanı işletmeye alındıktan sonra Atatürk Havalimanı düzenli yolcu seferleri için kapalı olacaktır; ve IATA IST kodunuz yeni havalimanına aktarılacaktır.
Mart 2018 itibariyle, inşaatın ilk aşamasının yaklaşık% 80'i tamamlandı. Havaalanının açılışı 29 Ekim 2018 olarak planlanıyor. Havalimanına ilk test inişinin 26 Şubat 2018'de gerçekleşeceği, ancak bunun gerçekleşmediği bildirildi.
Yeni İstanbul Havalimanı'nda 500 uçaklık otoparkı bulunan 6.500.000 metrekarelik bir platform bulunacak. Türkiye'nin başlıca havayolları lehine olacak
İstanbul'un üçüncü havalimanının inşaatının zamanında tamamlanacağını söyleyen Bakan, Türkiye Ulaştırma, Denizcilik ve Haberleşme Bakanı Ahmet Arslan, Salı günü yaptığı açıklamada şunları söyledi. Ulaştırma Bakanı Ahmet Arslan, mali darboğazın projede şüphenin ötesinde olduğunu söyledi. Anadolu Ajansı'na konuşan Arslan, "[Mali] darboğaz projedeki sorunun dışında, proje zamanında tamamlanacak". Arslan'ın açıklamaları, medyanın "finansal zorlukların dünyanın en büyük havalimanı projesinde yer aldığını" iddia etmesi sonrasında geldi. Havalimanının inşaatının yaklaşık% 85'inin tamamlandığını ekledi. Arslan, yüklenicinin onaylanmış çalışma programına uygun olarak yatırımlarına devam ettiğini söyledi.
Yeni havalimanının ilk aşamasının resmi açılışı, Türkiye Cumhuriyet Bayramı'nı kutladığında 29 Ekim 2018 günü yapılacak. Tamamlandığında, yeni havalimanı, dünya çapında en büyük ulaşım merkezlerinden biri haline gelen, 350'den fazla destinasyona uçuş yapan 250 havayolunun bulunduğu Atatürk Uluslararası Havalimanı'ndan yolcu trafiğinin çoğunu üstlenecek.
İlk aşama 2018'de tamamlandığında, dünyanın en büyük terminali, yaklaşık 11 milyon metrekarelik brüt taban alanı ve yılda 90 milyon yolcuya hizmet verme kapasitesiyle tek çatı altında olacak. Tüm aşamaların tamamlanmasıyla, havalimanının dünyanın en yoğun, 350'den fazla destinasyona ve son olarak da yıllık 200 milyon yolcu kapasitesine sahip olması bekleniyor. A \ W
Ξ A I R G W A Y S Ξ
SOURCE:  Airgways.com
DBk: Yenisafak.com / Wikimedia.org  / Ahvalnews.com / Elektron.tr.com /
AW-POST: 201804041424AR
A\W   A I R G W A Y S ®